20 Top THINGS TO DO IN PAI THAILAND
This post may contain affiliate links. Never leave home without travel insurance. Click for the travel insurance I use  or check out this recommended trip insurance finder tool.
Nestled in the foothills of Northern Thailand, just three hours and close to 800 curves from Chiang Mai and two hours from the caves of Bangmapha, is Pai, a little hippie Thai backpacker haven filled with restaurants, funky boutique shops, cafes and alaid back friendly attitude.  With wheat grass juice, fruit shakes and trendy cafes, it almost doesn't feel like it's Thai, if not for the surrounding local residents and Thai artists, which have helped transform it.
Pai has become popular as a Northern Thailand destination, even with Thai tourists. However, the intimacy of the Thai-European artisan town merged with the fact you can roam it's lush outer perimeters of country fields and waterfalls, makes it redeemable despite it's tourist backpacker buzz.
You will still fall in love with traveling Pai.
20 Top Things to Do in Pai
1.  Pai Town
Part hippie, part Thai, Pai has a fusion that makes it comfortable for western travelers and the Thai that reside there. As crowded as the little town can get with tourists, the overall laid-back, easy-going vibe of Pai is always the same and its country surroundings offer respite and peace from the hoards.
2.  Driving in Pai: Rent a motorbike 
You'll hear locals say that "All roads lead to Pai" and that's literally the case. It's virtually impossible to get lost as many of the country roads will lead you back to Pai town. Driving in Pai can feel easy, as there's not a lot of road traffic. I learned to ride a motorbike in Pai.
Motorbikes cost around 150 baht and 200 for a rental of a new bike.  Dirt bikes can go for much higher. Operators will ask you to leave your passport with the rental as insurance. Some travelers feel uncomfortable with this.
Travel Tip: Carry a xerox copy of your passport and submit that. Ask your hotel for reputable operators.  Read Motorbike Tips in Thailand.
Note: A lot of accidents happen due to unskilled motorbike tourists driving in Pai. Be safe and don't end up in the Thai hospital. I've seen over five motorbike victims in bandages over the course of two days! A good tip is to drive slowly and cautiously. If you do not know how to ride a bike, I recommend taking motorbike lessons before renting a bike.
3. Visit the Countryside in Pai
Visiting Pai, you'll find much beauty if you venture outside of town into the countryside.  Mountains, waterfalls, hot springs and farm fields… you'll not have to go far to find romance in Pai. Get lost and let the road lead you to Pai's gems.
4. Coffee in Love
If you are traveling to Pai Canyon or headed towards Chiang Mai,  it's hard to miss Coffee in Love . The giant free standing sign will catch your eye and you'll immediately fall in love with the view.  The view overlooks the crest of mountains . You can see the giant white buddha in the distance.   You can hang out for coffee, snap photos of the view or selfies galore in some of its most picturesque spots, such as a fairytale-like cottage and a field of flowers (located behind the house). The location is also said to be a film location for a popular 2009 Thai movie, Pai in Love. The landscape is certainly a romantic's dream.
5. Roadside Theme Cafes
After visiting Pai in Love, you'll notice more giant freestanding signs for roadside theme cafes along your way. Each sign and cafe has their own visual theme and range from cutesy, idyllic and designer-like. Pai's artistry and creative craftsmanship stands out to make the area unique in this regard.
6. Wat Toong Pong
Upon entering Wat Toong Pong, you'll notice a spiritual park housing various shrines belonging to different religions. However, the most impressive memorial rests in the back. There's a serpentine bridge that interestingly interchanges colors at the end. The bridge leads to a beautiful and giant, iridescent white Buddha.  This was by far, my most favorite wat (even in comparison to Wat Mae Yen aka "Temple on the Hill").
7. Visit Pai Canyon
Visiting Pai Canyon to watch the sunset is a must.  Getting up to the top of the canyon entails an easy 10 minute walk that might barely draw sweat. There are different peaks to the canyon so you can explore which offers the best sitting view for your sunset. Be prepared for a tourist crowd. While it's not to the point of being overwhelming yet, there's still enough people to create a buzz.  Recommendation:  Many travelers head out to the Giant White Buddha to watch the sunset, but in my opinion, the canyon is the most beautiful spot.  If you're looking for the best sunset in the region , then Pai Canyon is it..  Location: Highway 1095, 13 km from Pai.
8. Memorial Bridge
Just  9km south of psi on Highway 1095, you'll arrive into Ta Pai village, where you'll see the Pai Memorial Bridge, otherwise known as the World War II Bridge.  During World War II, Japanese used POWs and local Thai to construct a wooden bridge across the Pai River. In 1944 the bridge was burnt down, but locals reconstructed it.  Today it's a memorial to the memory of this part of history.
 You can take photos on the bridge, sit in the rickshaw or motorcycle for selfless or pose with a solider, dressed in old attire.  Location: Highway 1095, past Pai Canyon.
9. Massages
When in Thailand, the word "massage" is ubiquitous. I always get a regular dose of massages when traveling this country. Thai massage therapists are good and inexpensive; you won't ever find these prices at home. Cost starts at 250 baht.
10. Pai Walking Streets
Pai has nightly walking streets. Like a block party, the walking streets are closed to wheeled traffic in order for vendors and food hawkers to line up and sell their wares. What sets Pai Walking Streets apart from other walking streets in Thailand or night markets in Southeast Asia, is that the local artisans of Pai will bring out their uniquely designed crafts and cute, but funky fashion. You'll be tempted to splurge, as  Pai artists have a flair for creativity and design!
Sunday walking streets occur on Sundays. When the walking streets get more crowded and more liveliness ensues!
11. Local wats
There are many wats in Pai, so take your pick! But if you were short on time, there's two I'd recommend as noteworthy.
12. Country stores 
One of my favorite pastimes are stopping into in countryside stores. You never know what you're going to find or learn about the Thai culture and lifestyle until you go through the standard items their store is stocked with. Video coming later.
13. Wat Nam Hoo
On your way to the Pai Chinese Village you'll find Wat Nam Hoo.  It's said to house a holy Buddha that once emitted water from it's head. However, what's impressive is the lake shrine and the sculptural rooster collection that is the emblem and mascot, honoring the venerated warrior and king,  King Naresuan the Great, whose statue resides in the shrine.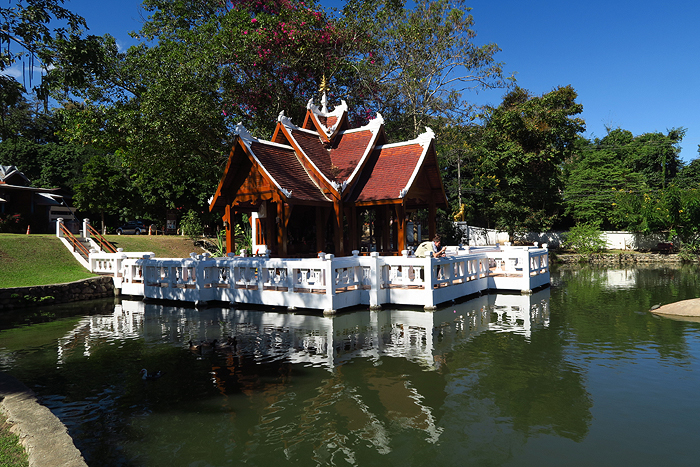 14. Pai Airport
Located 10-15 minutes outside of Pai town, you'll find Pai Airport (Mae Hong Son), which has one of the shortest runways I've seen yet.
15. Pai Chinese Village
The Pai Chinese Village (or Santichon Village) is an odd village of Chinese souvenir shops.  Most shops sell similar things from dried seeds and fruits, tea cups, Chinese decorative cha-chas.  It doesn't feel quite authentic, but a bit like a weird resort theme shop area. See Map here.
16. Mor Paeng Waterfall
Pai has a handful of waterfalls and hot springs. Located a small distance from Pai Chinese Village, the Mor Paeng Waterfall is easy to find and one that was recommended as the loveliest.
17. Temple on the Hill (aka Wat Mae Yen or "Giant White Buddha")
 Set into the mountains that are lined with guesthouses outside the town of Pai, Wat Mae Yen can go by a few names such as Temple on the Hill (or Wat Mae Yen).  I like to call it Giant White Buddha, because the Buddha is white and  can be seen from a distance.
Although the stairs leading up to the buddha is undergoing some redesign and renovation, it's a lovely break of walking after a day of motorbike riding. The regal white buddha sits at the top and it's a lovely place to catch a sunset. The landmark also has a wonderful view of Pai town and the countryside..
Location: Rural Rd Mae Hong Son (east of Pai town)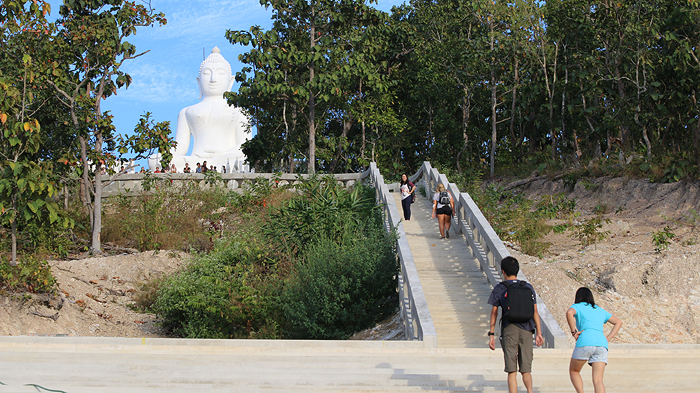 Must Try Foods of Pai
Pai has a lot of restaurants from vegetarian, Thai to international.
18. Khao Soy
When in Northern Thailand, the one dish to try is Khao Soy. It's a bowl of tasty flat noodles in a spicy coconut soup with sprinkles of crunchy bits. Cost ranges from 50-80 baht, depending upon whether you have tofu, beef or pork.  Recommended:  Nong Beer Restaurant, Pai Walking Street (west)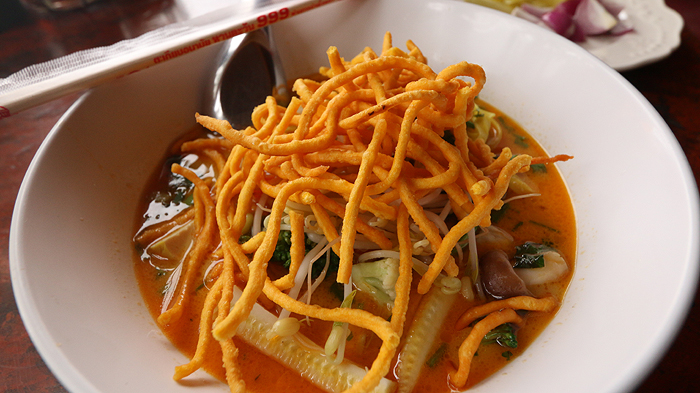 Must Try Street Snacks
You'll easily find smoothies and thai iced coffee and Thailand has its share of street snacks. Here's some to keep an eye out for…
19.  Deep Fried Banana (with coconut shavings) 
On one of the main roads going into central Pai, there's a morning street food hawker which deep fries delectables up a storm. Deep Fried bananas are one of her repetoire as well as the next snack below. Watch the video below!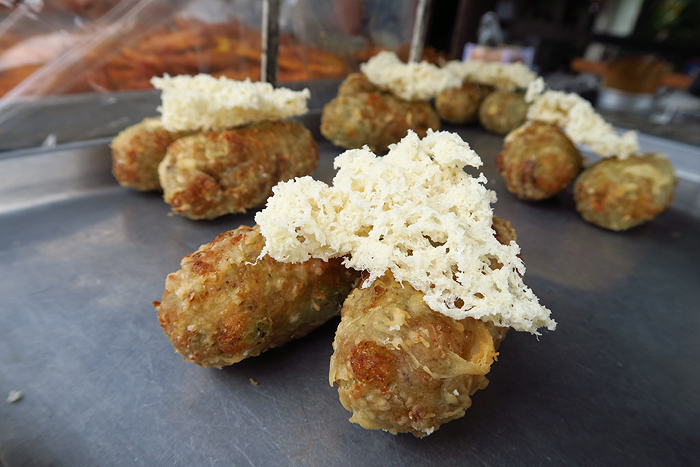 20. Deep Fried Mochi Balls (Houtong)
Deep-fried mochi balls are one of my favorite snacks and something I discovered first, in Pai.  It's a deep-fried mochi balls with glazed sugar and hollowed out with the exception of a tiny bit of yellow bean paste.   At 1 baht per ball and 10 baht for a bag of ten, it was hard to discipline to keep to my diet.
Must Try Restaurants
One would expect Pai to have as many vegetarian or vegan restaurants as Chiang Mai. It doesn't house as many as you'd think… Fortunately, Thailand is a street foodie haven. Between the street food at the nightly walking streets, my old vegetarian cafe hub, my morning glory habit, an Indian restaurant and by asking restaurant cooks to withhold meat in my dishes, I ate well.
The Good Life
If you want to feel clean and healthy with the food you eat, The Good Life will serve up, just that. It has a vegetarian menu and the fruit shakes are wonderful here. Some of the dishes can be hit or miss with flavor. But overall, it aims at delivering health.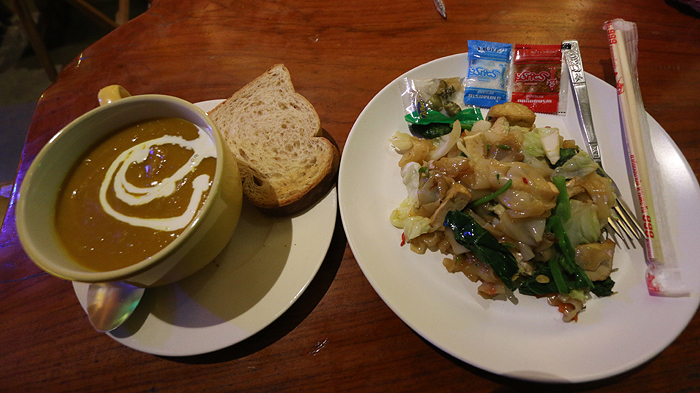 Nong Beer Restaurant
Despite the pub crawl-sounding name, the Nong Beer Restaurant is a popular place for food.  The Khao Soi is highly recommended here and they can make it vegetarian style substituting meat with tofu. To be candid, I'm not a fan of tofu in Northern Thailand. It's a different texture and flavor that takes a little bit of getting used to.
Chew Xin Jai
Chew Xin Jai is a Chinese restaurant that is 100% vegetarian. Unfortunately, I haven't gotten to experience it yet, but if you're vegan or vegetarian and don't want to deal with mistakes in ordering, Chew Xin Jai offers a good menu of variety.
Where to Stay in Pai
When I arrived into Pai, I didn't have any accommodations in Pai planned. So I proceeded to find one on foot. Pai can be a bit of a party town and a hotbed of activity. Accommodations in central Pai town will garner you central access, however, you'll pay a lot for very little.  The inner peace of Pai is better found on the outskirt of the town. Just over the bridge on Rural Road (the southernmost main road parallel to the walking street), there are guesthouses tucked alongside the mountains, and the vibe there is cooler and lusher. This is the area I've always sought to stay in. Budget accommodations similar to what I paid in Chiang Mai or Soppong for a single room or bungalow were not easy to find, initially.  Pai is a little more pricy, although not by much.
High
Pai Village Boutique Resort & Farm focuses on a green environment. Located conveniently in the heart of Pai. Bungalows and suites are available.
Moderate
Beung Pai Fish Farm was my first accommodation in Pai back in 2009, it focuses on an eco-conscious environment.  While it was tucked into farmlands in the outskirts of Pai, it was a heavenly experience!   The resort is a catch-and-release fishing resort with a vegetarian menu that is delicious and feels healthy. The owners were so kind in teaching me how to drive a motorbike for the first time! Read my review here.  Location: 185 Moo 5, Tambon Mae Hee, Amphur Pai
Budget
At Buzza Backpackers Pai has dorms and bungalows (with toilet ensuite). The property is designed like a retreat hangout; being in the countryside, the surroundings are a bit quieter and more chill.  My bungalow cost around 300-400 baht and it came with free WiFi and a wonderful balcony view! My bathroom was oddly, downstairs and on a slope. Location: 67 moo 1, Mae Yen, Pai, on Rural Road, just past the coffeehouse with the giant blowup duck!  (More later; until then, watch my video at 0:53)
Just down the road from Buzzas is Circus School Hostel/Resort. It has actual circus programs. I met a 20s traveler who said he was staying there- he liked it, but his complaint was that it was "a 24-hour party magnet" and he couldn't get any sleep.
Getting around Pai
The heart of Pai is very walkable. But if you want ultimate freedom to explore Pai, being able to drive a motorbike is a strong asset. Driving in Pai, kinda reminds me of driving in Bali. You'll get more out of your trip if you know how to drive a motorbike. Read How To tips on riding a motorbike in Thailand (I take you through step-by-step in my video).
However, there are always taxis and a wealth of travel agents that will be happy to show you their day tours.
Note: There are a lot of motorbike accidents among travelers and I've seen a lot in this city.
Getting To Pai from Chiang Mai
Transportation in Thailand is varied, inexpensive and easy. Chiang Mai offers mini van buses to Pai. Cost runs around 200 baht and pickup is generally at your hotel or guesthouse. Duration: Around 3 hours. Bus makes one rest/bathroom stop along the way. There are over 800 curves getting to Pai, so best take motion sickness tablets in advance if you have a sensitive stomach.
Read: Ways to Get around Thailand (transportation guide)
Pai Bus Station: Located on the Pai Walking Street  (Central Pai). Buses go to Northern Pai, Mae Hong Son, BangMapha/Soppong (1+ hours from Pai, for really cool caving and trekking experiences you won't regret), Chiang Mai.  Check local bus/tour agencies for buses onward to Laos. 
You can also make your onward bus bookings through your guesthouse; for some locations, the bus will conveniently pick you up at the guesthouse!
Should you get Travel Insurance in Thailand ?
YES. Travel insurance is always recommended for all travel but I highly recommend it for Thailand. Thailand is an adventurous destination and a fun one. I like to get adventure trip insurance with World Nomads, because there are a lot of cool adventure activities from snorkeling, trekking,  scuba diving certification, caving, rock climbing, etc.. that you might want to do when you're there.  While their urban cities have very good medical facilities, you never know what can happen in motorbike accidents or transportation. I've seen some bad motorbike spills in Thailand (especially Pai where tourists are learning for the first time!) and I've seen travelers come down with dengue. You always want to be prepared. You can use this recommended trip insurance finder tool to find an insurance that matches your trip and budget..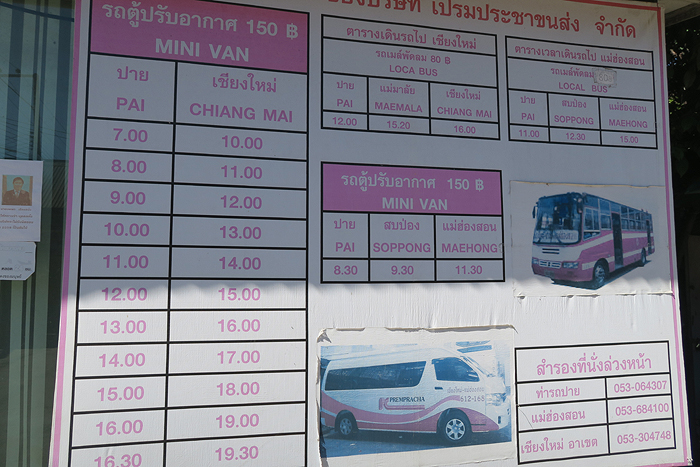 Watch my experiential video
---
Disclaimer: This post contains affiliate links to services I use when I travel. By booking your travels through them it helps me maintain the work on this site.