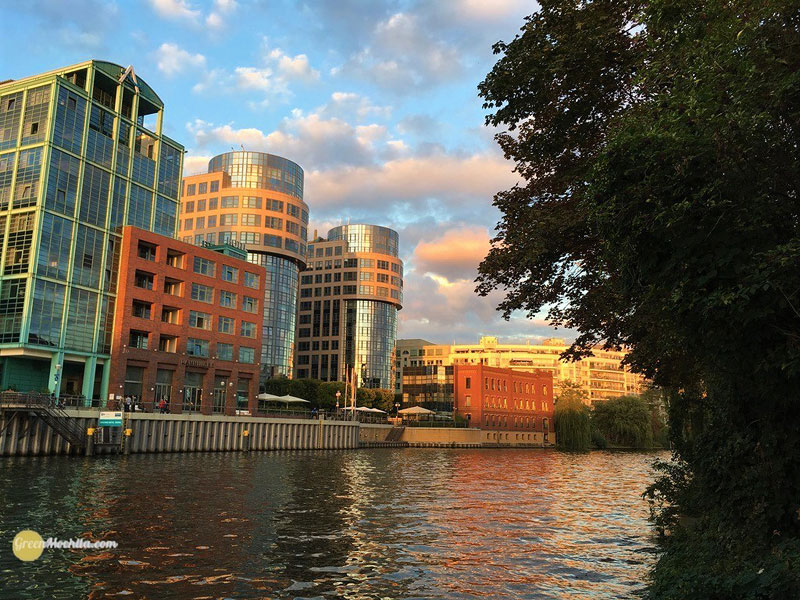 Under our Expert Traveler series, this guest post is written by Anthony, of the eco travel and responsible tourism duo Green Mochila. He's lived in Berlin for eight years and knows both the brightest and the darkest secrets of the German capital. Anthony will be your 48 hour Berlin travel guide through the best things to do in Berlin.
You step out of the train station with a funny-sounding name and the biting wind greets you. The air vaguely smells of sausage, you hear the distant roar of a demonstration, and someone looks bad at you for standing in the doorway. That's it, you're traveling Berlin in 48 hours.
Of course you heard so much about the city that you're full of expectations. So leave your backpack in a locker and follow me. Brace yourself: it's going to be a crazy ride!
Let's go! We'll start our 48 hours traveling Berlin with the tourist mile…
Explore the Best Districts in Berlin
Mitte
The Brandenburg gate is close to Berlin's main train station. It's also the gate to East Berlin. This is the starting point of the large Unter den Linden avenue, named after its linden trees. There's not much local life here; it's lined mainly with offices, museums and a large university. If the avenue is so wide, it was meant for tanks and troops of Soviet Russia to march.
Travel Tip: Learn about the tumultuous history of Germany by taking a Third Reich and Cold War walking tour.
Rent a bike and visit the Cathedral (9am – 8pm, 7€) . Choose one of the five museums in the so-called Museums Island. My favourite is Pergamon (10am – 6pm, 19€) for the impressive architectural works from different cultures. Berlin is definitely not a concrete jungle
Alexanderplatz
Walk on and you end up on the famous Alexanderplatz, that Berliners affectionately call "Alex". Its famous landmark is the TV Tower, that one can see from anywhere in the city; it will always help you find your direction. It's also possible to go up for an indecent price: I advise against it.
Friedrichshain
East of Alexanderplatz, this district is famous for its international and chilled atmosphere, with its many bars and cafés. Here you'll discover an important aspect of Berlin life: the "let's grab a cheap beer from the corner shop and drink it in the park" part of life. If most foreigners stop doing that around October, many Germans carry on through December. The heart of the district beats at Boxhagener Platz.
RAW Gelände
One of my favourite parts of Friedrichshain is RAW Gelände (Revaler Str.). It's an old factory space converted in bars, restaurants, an outdoor climbing wall, an indoor skate park and a concert venue. It's open all day long and there's a flea market on Sundays.
Bike along the Warschauer Avenue southward until the River Spree, you may see street musicians by the metro station, entertaining large crowd. There are food shops but they're pricey for an average quality.
East Side Gallery
Along the River Spree, stretches the East Side Gallery, an open air museum (see map). It's a 1,316 m (4,318 ft) long remaining piece of the Berlin Wall, covered with graffiti that advocate piece and unity. Imagine: this was the Wall. The Wall divided the population in two, it was a feature of people's everyday life. This open air museum is a must!
Also, don't forget to visit Checkpoint Charlie, where East Germans used to flee from the GDR regime! If you have time, then nearby, take a walking tour of the Berlin wall museum to learn about the history.
Oberbaum
Let's now cross the river on the right side, so you can enjoy the florid architecture of the Oberbaum double-decker bridge (Schlesisches Tor U-bahn). Underneath, there are always street musicians and artists who speak all the languages of Babel. Across the river lies…
Kreuzberg
This district used to be a suburb of the divided Berlin and is now one of the trendiest areas. But trendy in a rough kind of way; this is the cradle of Germany's punk scene and is still home to most of its counterculture. Nowadays, it's developing in a way that many residents oppose.
Schlesische Str
Schlesische Str (Falkensteinst or Taborstr stations) is a street vibrant with nightlife. It's mostly an international crowd, rather to avoid if you're looking for a local immersion.
Markthalle IX
One of my favourite places in Kreuzberg is Markthalle IX (Eisenbahn str. 42/43), an old market place now converted in food forum for small producers. Yes, I like converted places. It's a bit hipster, therefore a bit pricey, but they sell quality street food, from real Italian focaccia to vegan burgers to regional wines. They also organize events; check the website (in German) for opening times.
Admirals bridge
When it's time for a rest, head over to the canal at the Admirals bridge. You'll find many people chilling on its grassy shores, whatever the time of day or night. The little bridge fills up at night with people for a drink and a chat. Until the police decide they've had enough and chase everyone away.
Expert travel tip! If you like parks, I recommend Hasenheide, a lively greenery with woods, a small pond, an unexpected zoo and many many people; and Gleisdreieck, an even-larger and cleaner park more to the west.
Neukölln
Neukölln is one of Berlin's districts with the largest Turkish and Arabic communities. Expect a messy traffic, cheap prices and probably the best Middle-Eastern food in Western Europe!
Tempelhof park
Tempelhof park was once an airport. Today, it is Berlin's largest park (airstrip included!). True enough, it's very flat and has very few trees. But it's always buzzing with life and it's a particular joy to ride a bike on the runway airstrip, where planes used to take off. If airports are your thing, take a 2 hour guided walking tour of the airport building. There's also a community garden made up of recycled wood and objects. For directions, see how to get to Tempelhof.
Schiller Promenade
Schiller Promenade is a cosy cobblestone walk stretched around a church, which serves as the central nerve of the area. The whole world seems to be meeting up here: blonde mums carrying their baby, young Turks on mopeds, leftist youth with race bikes, migrant families… A great place for a bite to eat or an ice cream.
Visiting Historical Berlin
Your 48 hours in Berlin are coming to an end and it's almost time to get back to the station. There are several places I recommend to visit on your way back, especially if you're interested in the history of Berlin.
Topographie des Terrors
Topographie des Terrors is an outdoor and indoor museum about the crimes of the Nazi regime. It's an important, albeit rather dismal, explanation of what life was in Berlin under Hitler. To get there, head over to the large blue "Die Welt" balloon in the sky. You see it? Well it's right there, close to the very interesting Gropius-Bau art museum. Hours: 10am – 8pm. Admission: free. Nearest Stn: Potsdamer Platz or Kochstraße station
 Memorial to the Murdered Jews of Europe
The famous Memorial to the Murdered Jews of Europe  is close to Potsdamer Platz and a pleasant open-air spot per se. Still, wandering in its alleyways will have you ponder about what humankind is capable of…  Hours: Mon-Sun  10a-7p, Admission: 2-3 Euro
Reichstag
Last but not least, a guided tour of the Reichstag dome will provide a great view on the surroundings together with an explanation of the important buildings nearby. It's important to book in advance to avoid long queuing. Good news though: it's free. Information and registration on the official website.
More Best Things to Do in Berlin in 48 Hours
If you've got some time left and you're not sure what to do with it. Here are a few more things to do in Berlin in 48 hours:
Escape rooms
Are you a fan of Escape rooms? This attraction, invented in Budapest, kicked off drastically in Berlin. My favourite is the Lost Treasure room in a place simply called The Room (Ruschestraße 64-66, Lichtenberg).
Flea Markets
I personally love Flea markets! Even though I hardly buy anything, they're a good way to spend a few hours out, meet people and get inspired. My favourites are the Nowkoelln Flowmarkt (Maybachufer 31, along the canal) and the one in the Prinzessinen Gardens (Prinzen str. 35-38). They alternate every Sunday so check which one is running on their website (in German).
Expert Travel Tip! Buy a tote bag to keep handy during shopping. Berliners love them – everyone has a tote and they call it "jute beutel" [pronounced: yoota boytal ]. Berlin is pushing towards being an environmentally friendly city. Many shops and markets here do not give plastic bags.
Boat Tours
Did you know it's possible to go all around the centre of Berlin on a boat? You can board a boat tour from anywhere along the canals. Reederei Riedel and Stern und Kreis are the main companies.
Recommended Electro Clubs in Berlin
You're only 48 hours in Berlin and you think about sleeping? The German capital could well be dubbed the City That Never Sleeps, like its counterparts New York and Tokyo. So let's make the most of your little time. Let's go clubbing!
You've probably read about the infamous Berghain already in every blog, magazine and newspaper. While it's probably a must-experience for hardcore electronic music aficionados, I recommend you spend your time queuing in places where you have real chances to make it in. Some of them are also twice as cool.
Berlin clubs are renowned to be real dumps. And it's true – that's what makes their charm. They're often located in abandoned factories so expect lots of cement, metal and palette wood.
The good thing about Zur wilden Renate (or simply "Wilde Renate") is that it's very central; only a few minute walk from the metro stations of either Ostkreuz or Treptower Park. They have different kinds of themed parties every weekend.
If you visit in the spring or the summer, there is another club nearby I strongly recommend: About Blank. Its wide garden area makes it an ideal place to chill between dancing sessions. It's also politically committed and regularly hosts social events and fundraisers.
Two other places have put much effort into their gardens: Sisyphos in Rummelsburg (Gustav-Holzmann-Str. tramway stop), and Griessmuehle in Neukölln (Sonnenallee metro station). Both are quite far from the centre and rather hard to find the first time. I recommend to go only with people who already know the place. No, not me, I need to sleep.
Must Try Foods (& Drinks) in Berlin
Berlin is the paradise of take-away food, sold in a myriad of small shops the Germans call "Imbiss".
Being such a multicultural city ("Multi-Kulti"), you won't have any problem finding Indian, Japanese or other Asian food; South or Central American specialities; even African or Middle-Eastern restaurants.
Currywurst
Strangely enough, the "Currywurst" is a speciality of Berlin. It's a sausage (that's the "Wurst" part of the name) covered with a spicy curry sauce and heavily drowned in ketchup and mayo. Definitely not a delicacy but does the job on a late drinking night. The version I can recommend is made of tofu and sold in Bergmann str., close to the Marheineke market place.
Döner Kebab & Falafels
Another invention made in Berlin comes from the massive Turkish community that has been living there for decades. One of them decided almost 50 years ago to serve the traditional cuisine of his country in a bread, and created the Döner Kebab. A modern version of it will satisfy the vegetarians and the vegans: find Vöner in Friedrichshain, at Boxhagener Str. 56.
There was a time when I tried to taste all the falafels in Berlin; I even thought of writing a guide about it. I gave up the idea when I realised just how many there were! My favourites to date are Maroush in Kreuzberg (Adalbert str. 93) and Jakoub in Neukölln (Weser str. 14).
German Pretzel
For little snacks, I still always enjoy a good German pretzel! The dough is called "Laugen" and comes in different shapes: the famous "Laugenbretzel"; a small round bread called "Laugenbrötchen"; the tiny baguette shaped "Laugenstange"; and as a croissant.
Berlin Must try Drinks
As far as drinks are concerned, do I need to mention beer? The mainstream Berlin beer brands too look for are Berliner and the less famous Schultheiss.
Craft beer
After eventually breaking the century-old German beer tradition, the craft beer scene is getting bigger and bigger. Berlin is of course no exception. The Rollberger is made in an old factory in Neukölln. The Südstern Brewery is right by the Hasenheide park. BRLO is a young brewery based in the Gleisdreieck park. Hops & Barley have two drinking venues in Friedrichshain. The leftists among you will go for the cooperative-made 1312, available at your local squat.
Berliner Luft
For a proper night out, try Berliner Luft, a local spirit with a strong taste of menthol. You either love it or think it's a mouthwash… Me? Oh, I love it!
Mexikaner
Mexikaner is a shot made of vodka and hot sauce, originally from Hamburg but very big in Berlin too. It's often homemade by the bars so the quality can vary greatly.
Club Mate
There are also many sodas produced in Germany. You'll find at least one of every kind. For a kick, try the Berlin-born Club Mate made of Argentine mate tea. Bitter and energizing! After 8pm, people who go out start adding in some vodka for an explosive mix.
Where to Stay in Berlin
If you're not of the partying type, we can find you plenty of cheap accommodation in different parts of town. The areas around Kottbusser Tor and Schlesische Str. (both in Kreuzberg), Revaler Str. and Boxhagener Platz (in Friedrichshain) are backpackers' hubs; great if you still want a drink out and don't mind the noise.
It'll probably be quieter around Mehringdamm (another part of Kreuzberg) or Tor str. (between the districts of Mitte and Schöneberg).
From my window near the metro station Anhalter Bahnhof, I can see the 3 Pigs Hostel. It seems cheap and cosy enough. If you stay there, we can have an early start in the morning.

Getting around Berlin
The German capital is one the largest cities in Europe so from one district to the other, we'll need to move around by bus or by metro. Within a district, I recommend walking or Berliners' favourite: riding a bike. You can rent one in almost any area for 8 to 12€ a day.
The capital has been rebuilt after the Second World War with the bicycle in mind; not only there are bike lanes everywhere, but car and bus drivers are also very respectful and attentive. That cannot be said of every city.
The underground network is very efficient, clean, safe and goes about everywhere. For these 48 hours, we'll get you either a Berlin Welcome Card (20€) or a City Tour Card (about 17€). You'll find the metro station under large U signposts, for the German word "U-Bahn". There's also an "S-Bahn" (big S signs) eg. the one circling town.
Don't want to deal with metros and getting lost, take a hop on hop off bus tour of Berlin and shoot directly to Berlin top attractions.
Expert travel tip! You'll find the WiFi in every metro station. So whenever you need connection, head over to a large U sign!
There's also a tramway network, but only in the Eastern part of town. Remember that Berlin used to be divided by a wall? Since it fell in 1991, there are still a few landmarks by which the two sides are recognisable; the tramway is one of them.
Safety Tips for Solo Travellers
Traveling Berlin is generally a safe city, despite the obvious savings made on public lighting. Even as a lone woman, you shouldn't have to worry wandering about day or night, or riding the metro.
Parks are one place you shouldn't cross at night. Most of them have no lighting whatsoever and I've heard distant stories of assault.
Unfortunately, pickpockets have appeared in the last years and roam busy areas, especially in the evenings. Keep your eyes peeled, in particular in metro stations. Read tips: How to protect valuables from pickpockets
Some dancing bars are known to be "pick up places" and some guys can be a bit heavy handed. In Berlin though, women's welfare is particularly important, so if you feel uncomfortable somewhere, talk to the staff. Ultimately, leave the place and have fun somewhere else.
48 hours in Berlin Conclusion
48 hours of traveling Berlin is like going to an all-you-can-eat and have only the salad. So make sure you come back for more! I hope this guide will help you make the most of your little time in one of the most vibrant and enjoyable cities in Europe. If you enjoyed my company, come over and say hi on my blog or on social media!
Best Travel Insurance for Berlin
American travelers often pay a premium on travel insurance.  World Nomads offers economic solutions for travelers who seek security and peace of mind.  It covers 150 countries.