Last Updated on
Unlike Kolkata, street food is not as readily common in Varanasi. At least not in the ghat area.  There are tourist cafes, but to get Indian street  foods in Varanasi, one needs to either do research in advance or hit up some locals for recommendations. I was  fortunate to  accidentally come across popular Indian street eats and  eateries!  Furthermore, I was finally able to try Indian chaat!
Indian Street Foods in Varanasi:  What is Indian chaat?
Indian chaat is something you'll find at roadside hawker stalls or at small cafes. Chaat are little snacks, which can occasionally be as filling as a small meal. It usually holds a mixture of flavors from sweet, sour, and salty and all these flavors together feed the hunger and desire for the other.  It's an absolute must!
Indians are masters at blending spices in a harmonious way. Indian food is a subtle blend of spices, where seldom does one spice overpower. I'm not sure if that has to do with India's history as the origin of Ayurvedic medicine, Indian spices are commonly used in balanced blend to aid or counteract imbalances in a body. In fact, with Ayurvedic medicine, meals must contain six elements: sweet, sour, bitter, salty, astringent, pungent,  similar to the concept of chaat.
Tip:  If you're at a restaurant or cafe, you might try asking for your dish to be "without chillies" or mild spice.
Decoding chutney: Indian Condiments
One useful bit to know when diving into Indian food is their occasional use of condiments or chutney sauces. Chutney can come as small as a spoonful dab or in a tiny condiment dish served with your dish. It has been a lifesaver for me when I've hit a spicy dish.   Common ones I've noticed are mint sauce (the green sauce), coconut sauce (a watery sauce of coconut milk and strained coconut), dahi  (a watery yogurt),  etc…   These mix a symphony of flavours into your meal.
Tip: For those who can't take too much heated spice, if you see dahi on your plate, you're in luck. Often these can accompany spicy dishes for the very reason that the yogurt soothes and coats the spice. It erases the heat while keeping the flavor.
5 Must try Indian street foods in Varanasi
The beauty of India is that a lot of it is vegetarian, because a large population is on Hindu diet. That doesn't mean that there aren't meat dishes and that Indians don't love them. Some other religions like Muslim, do have meat in their diet. Still, for the most part,  I didn't have to worry about the foods I ate.
Read My Ultimate Varanasi Travel Guide & Things to Know Varanasi
1. Golgappa (aka Pani Puri)
Golgappa ( otherwise known as Pani Puri or puschka in other regions of India ) is a refreshing and super popular snack with locals.  The vendors are unmistakable to miss; they cart round, dough balls of thin, crispy goodness.  The puschka or dough balls are hollow inside. The top is broken and the ball is filled with a slightly sour lime or vinegar water, mashed potatoes or chickpeas, chopped onions and other fixings. They are inexpensive and usually ordered in a bowl of several.  Eat them fast as the water will eventually make the crisp soggy. I paid 15 cents for 5 golgappas.
Tip: Always ask local Indians (usually women, children/teens or a guide; in this case, an Indian family I stayed with reommended this vendor) for recommendation of safe pani puri vendors, which use filtered water. I hold back on pani puri vendors because one of the primary ingredients requires water. It's hard to say which vendor uses filtered water because street food vendors have a small budget, but once I find myself a recommended golgappa vendor I can trust, I gorge myself on them.
2. Barnarsi chaat
Banares chaat is a mixture of mashed aloo (potatoes), channa (chickpeas), chopped onions, crushed puschka. The dish is served with a spoonful of a sweet/sour sauce and a yogurt dressing.  The texture is a little pastey. This was a spicy dish for me and the yogurt is used to cool the mouth or counteract the spice.
Local teens from an Indian family I was staying with introduced me to the vendor as one of their favorites (in flavor and food safety). The vendor is generally off to the side of Durga Mandir Temple (the side closest to Tulsi Manas Mandir).
Location: Durga Mandir Temple, 27, Durgakund Rd, Jawahar Nagar Colony, Bhelupur, Varanasi, Uttar Pradesh 221005, India
3.  Aloo Tikki Chaat
Aloo Tikki Chaat is well-known in the north, where it's said to have originated. Recommended to me by one of the staff, it was the motherlode of chaat. It was a heavy, power hitter dish and very filling, with mashed aloo, chutney, onions, sev, parsley and yogurt. It's like having a Costcos' seven layer bean dip!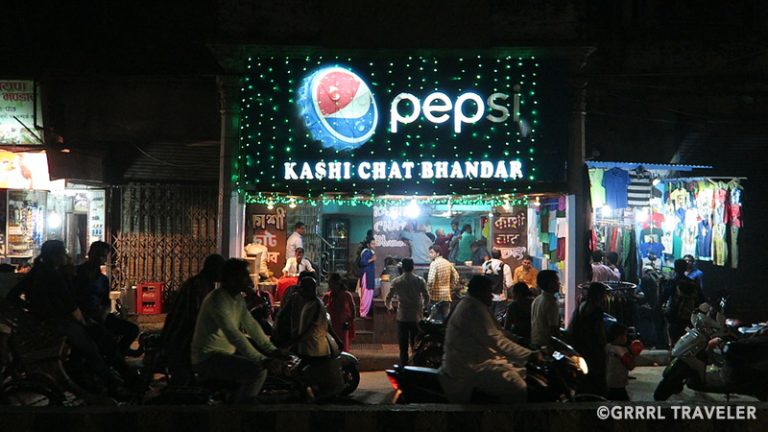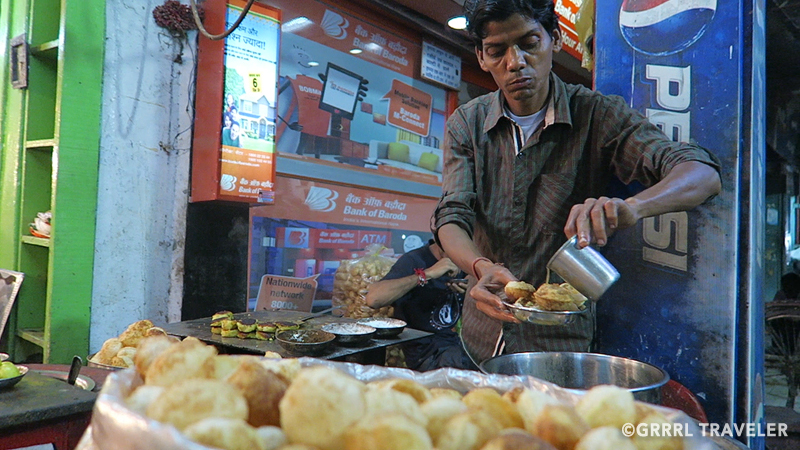 4. Dahi Puri
Dahi Puri is  like a child of Aloo Tikki Chaat (with all its fixings) and golgappa.  While golgappa is light, dahi puri is loaded with substantial ingredients of chole, channa, onions, a quantum physics of flavors sweet, sour and salty all balled into one. It was heaven in my mouth, but whoa calories on my waistline.
Location:  Kashi Chat House, D.37/49, Luxa Rd, Godowalia  | Hours: Open today · 3–10:30PM | Ph: +91 542 241 2116
5.  Indian Sweets
Technically, Indian sweets are not a street food, but I can never resist them! In India, sampling sweets, you can't go wrong. Indians have a sweet tooth and of sweets, they have a wild assortment. You'll find sweet offerings being given to gods and also being handed out by priests, as a form of prassad or  blessing.  You might say it's tied into their culture through religion!
 Shree Rajbandhu Sweets is a well-known and favored landmark sweet shop. They have a vast selection of sweets. Tucked away in one of the side streets near Old Vishwanath Temple, it's easy to miss them. Their interior is unmistakable however. The shop looks like an old-fashioned  ice cream parlor, where cleanliness is their pride.
Tip: Buy a small box and sample an assortment.  As samples, you'll be charged per piece, however due to the fact Indians usually order for their family as well, it's a local standard to be charged by weight.
 Jelebis are deep-fried pretzels drowned in syrup. It's practically a national sweet due to popular love . Sweet, doughy ladoo balls are another favorite for Indians, especially during celebrations.  My favorite is barfi, dried and sweetened milk solids.  But really, they're all good!
Shree Rajbandhu Sweets, Kachaudi Gali, Chowk (not far from Old Vishwanath Temple) | Hours: Daily 8:20AM–11:59PM| Phone: +91 542 240 5055
What 5 Must Try  Indian Street Foods in Varanasi would you recommend?
For India travel, I highly recommend travel insurance. This is the one I take on my India trips
American travelers often pay a premium on travel insurance.  World Nomads offers economic solutions for travelers who seek security and peace of mind.  It covers 150 countries.