I have a confession to make I'm a secret yoga snob.
After leaving New York City and my wonderful home at Jivamukti Yoga Center, I was convinced nothing would offer me solace for my yoga guru loss.  Moving to teach English in Korea, I was bereft lover, I was prepared to let my yogic muscles atrophy than to have another's watery imprint on my body. So when a girlfriend told me about Daegu's Ayurveda Yoga Camp in Muju, I was skeptical.
Overcoming the "My yoga is better than yours" syndrome
Sometimes, finding your guru can feel like a curse. The inevitable is bound to happen. The moment you develop a passionate preference for something– a gym, a dance or step aerobics class, a psychologist, a personal trainer…– it becomes a "guru", making it hard to find room in your heart to follow another.
My perfect yoga home took years of seeking. I sampled different yogas as one might lovers, trying  various asanas, philosophies, teachers, wearing it even if it didn't fit or was un-fulfilling. When I found Jivamukti, everything fell into place. It offered me everything I sought in a workout high mixed with a rich spiritual practice of body work, meditation, spiritual lessons and kirtan chanting. It was the next best thing to studying yoga in India. Yoga technique  was the base of the ladder to becoming an enlightened yogi and each class opened illumined discoveries about where my body led me on this journey.
If yoga was my prayer; Jivamukti was my church…my guru. I did not want to leave it.
Discovering yoga in Korea with Ayurveda Yoga
Korea is probably the last place a foreign expat or traveler might think of finding yoga. New York, Los Angeles, San Francisco, maybe…. not Korea. Many Koreans think of yoga as a stretching workout– a kind of workout gym yoga vs spiritual practice. The next challenge is that even if you were to find a yoga studio in Korea, it's more helpful to find one in English!
But then I heard about a yoga camp in Muju (a ski capital in Korea), I felt a strange lift of hope.
Muju is generally known for it's ski resorts, powder and it's natural landscape of forestry. But on a crisp fall day, I arrived at the Ayurveda Yoga Camp in Muju, a wooded area  filled with the sights, sounds and fresh smells of pine trees and falling leaves.
It was a yogatastic weekend at the Ayurveda Yoga Camp at the Muju Farm Life Center
Learning to love yoga away from your home studio is not easy. But it is possible.
The heart can have many loves, but learning to love again after you've found a great love, isn't easy.    Some Daegu expat friends, studying for their yoga teacher training at Daegu's Ayurveda Yoga Academy were excitedly attending the camp. I was curious. The theme of the camp was  "Eat Pray Love".
I know what you're thinking- anything that's named after a Julia Roberts-Hollywood movie has to be cheesy. I was skeptical also. But if it was cheesy, I assure you, the cheese was good…
Ayurveda Yoga Camp Muju wasn't what I expected which was a good thing.
Ayurveda Yoga Camp Muju was my first yoga retreat and the last thing I wanted was to remember my old  guru. One can find frustration in comparisons. So I'd decided I'd keep an open mind and use the retreat "to get my sweat on". Pure and basic.
Drawing an international crowd from Korea to U.S., Canada and the U.K., the camp was conducted simultaneously in English and Korean.
Meals were all vegetarian and were on community tables. Some of the meal times we practiced silent eating or conscious eating. This is a similar practice you will find at a Korean Buddhist temple stay. The objective is to be conscious of what you're putting into your body and each bite. No talking allowed.  The food prepared was delicious with a lot of root veggies.
Being a vegetarian in Korea has not been easy, so I really appreciated this.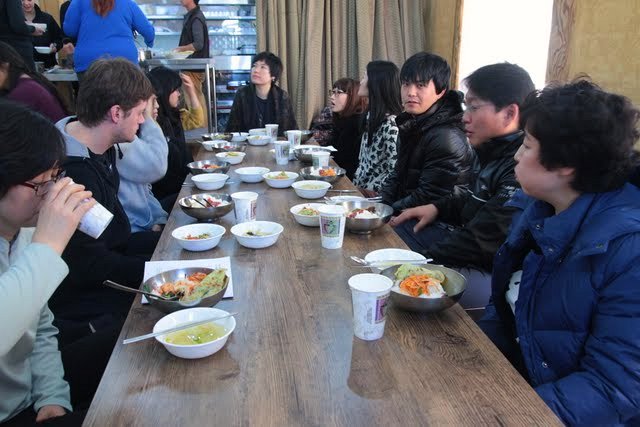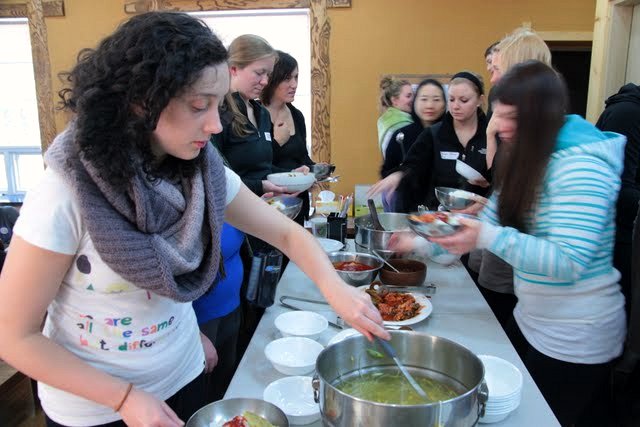 A yoga practice isn't about perfecting a bunch of sun salutations and downward dogs.
To my surprise, there weren't many workout yoga classes to drown myself in. Instead, the folks at Ayurveda Yoga opened my mind to re-sculpting expectations of what yoga is and can be, by drawing on other means of meditation, art, dance and forms that could be yoga.
The camp wasn't just focused on the physical body and yoga. Instead, the camp served to awaken your inner guru.
Drawing from Acro Yoga, Ashtanga and meditation classes, ranging from Vipassana,  drawing and dance; the program served up surprising one–hour experiential samplers aimed to inspire us to basic yogic tools and creative self-expression. There was even a class on how to use a neti!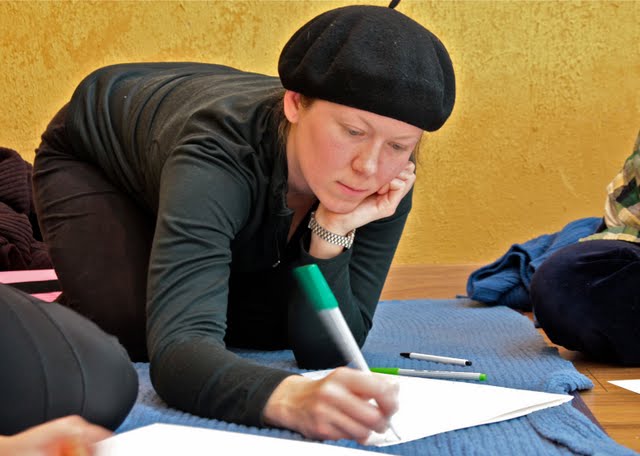 Forest Walking Meditation
My favorite activity in the camp was a Osho inspired forest walking meditation.
The camp helped me push through my yoga baggage, sharing what a yogic practice can embrace in creativity, self-exploration and experiencing. I was a baby bird again and surprised that a little yoga studio in Korea could offer classes inspired by known yogic practices.
Am I still skeptical of finding my yoga love life in Korea? Sure. But the Ayurveda Yoga Camp gave me the first step to opening myself to love's possibility again. I was rediscovering my own inner guru- opening my mat, mind and heart.
Any yoga-love stories to tell about finding their guru abroad?
.
Information:
If you're living in Daegu and would like to attend Ayurvedic Yoga, here's some information:
Facebook site for English
Their site for Korean
Locations in Siji and Manchon.
.
Related articles