Last Updated on June 7, 2023 by Christine Kaaloa
How many times can I look at Buddhas and temples?
Ordinarily, my tolerance isn't high for seeing the same things over and over.
Variation is key.
For instance, living in Korea if you've seen one buddhist temple, you've pretty near seen them all. The architecture doesn't change much and the buddhas wear the look of a staunch, Fu Man Chu-looking Confucianist.
Thailand is different. Whether it's a hundred Buddhas lined up in a row, statuettes in varied pose symbolizing different days of the week or a giant Buddha reclined in daydream, I'm pretty bedazzled… and they all wear the warm smiles of the Thai.
Sukhothai vs Ayutthaya: How does it compare?

Both, Sukhothai Historical Park and Ayuttaya city are UNESCO world heritage sites, featuring grand ancient ruins. Ayutthaya's location (info on getting there here) makes it a convenient day trip if you're in Bangkok. The ruins feel more varied in the way of chedis, wats and palaces, with a few grand buddhas sculptures to make you gawk. If you're a fan of Buddha pageantry, with the exception of the wat (photo below), there's less of them in Ayutthaya. But Ayutthaya is also a city and its sights are spread out, so it's ideal to hire a taxi to get around to all the different sites, since it's also hot.
Cons: Ayutthaya is a bit more of an arid area and the "hot" part, I didn't enjoy. Also, having to drive around to get between sites wasn't as fun.  You either need to know exactly which temples you want to hit or trust the driver to take you to the best ones. Each wat has different admission fees, so your visit could add up. It's easier if you can go with friends to split taxi costs and it will take an entire day.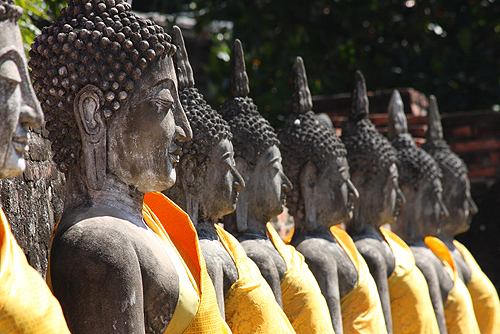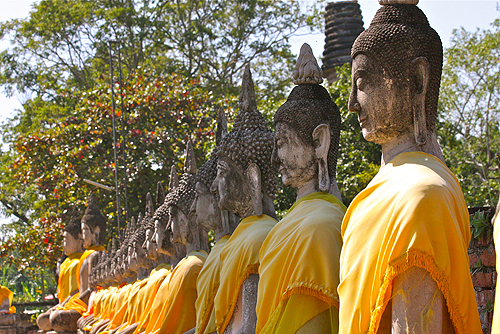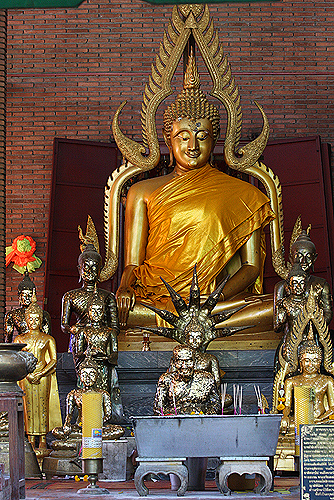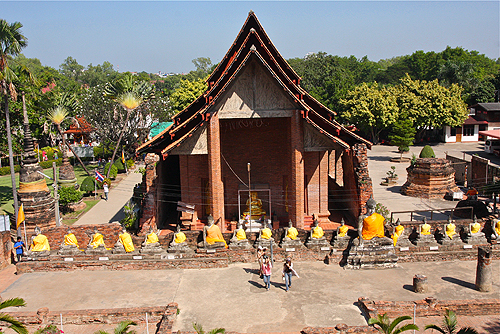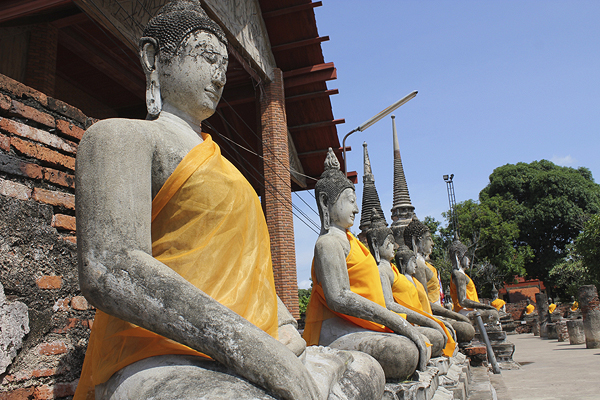 Buddhas for each day of the week
Sukhothai Historical Park is in Central Thailand, between Bangkok and Chiang Mai. Though you'll probably need to book a stay overnight in Sukhothai, the park is  compact  and split into two zones- North and South– which require only two separate admissions. You can sight see the park from a bike or tram, making it a leisurely expedition. I rented a bike and quite enjoyed the leisurely and scenic ride through tree lined roads or open aired pastures.  The overall theme of this park are lakes, massive Buddhas and chedis. There's two parts to the part and you pay a fee per park entrance. I felt I got to see more in the least time and at a calm rate.
Cons: It's a definite overnight stay. Outside of the park, there's not much more to do. Still, there's always ways to get into trouble and have fun with locals.
As I'm more of a fan of Buddhas and not architectural ruins, Sukhothai was my favorite. As my personal winner of the two, I'll be giving more information below.
Sukhothai means Dawn of Happiness.
Sukhothai Historical Park is approx. 30 minutes from the bus station and budget guesthouses in New Sukhothai. Acres of wats (aka temples) and monument ruins unroll in peaceful contemplation, gloriously preserved against the crumble of time. The park's 193 ruins commemorate a 13th century kingdom, which was once the capital of Thailand.
Taking a songthaeuw to Sukhothai park

Boarding a blue songthaeuw from New Sukhothai, I was just in time to hit peak after-school traffic. Loads of students filed into the truck, with some hanging onto a bar and step out on the back. A fare collector maneuvered her way around the crowd collecting fare. The cost: a little under 50 cents. Each time a passenger wanted to signal a stop for the driver , they pressed a buzzer to a bell. I didn't know where the hell the push button for that buzzer was, even though it kept sounding, but fortunately, the park was the last stop on my route.
Waiting at the bus stop for the songtheuw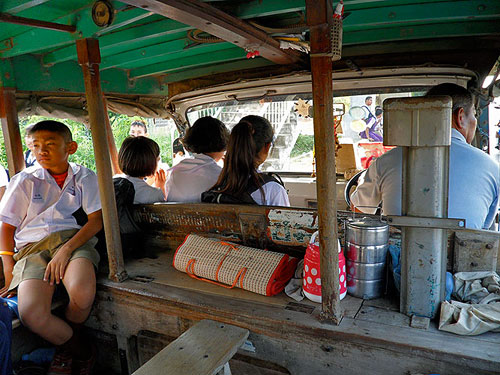 The songtheauw dropped me off near one of the exits of the park. The bike rental shops weren't far.
Bike rentals are perhaps the best way to get around as they're inexpensive (about 40-60Baht/day …a little under $2) and you can take your time. Another alternative is to take a guided tram tour.
I grabbed a bike and pedalled my way through the park, discovering the grandeur of spire chedis and massive meditating Buddhas.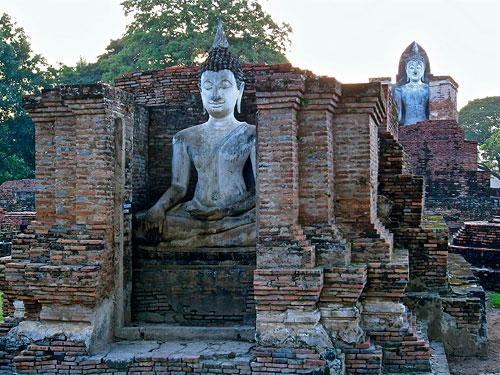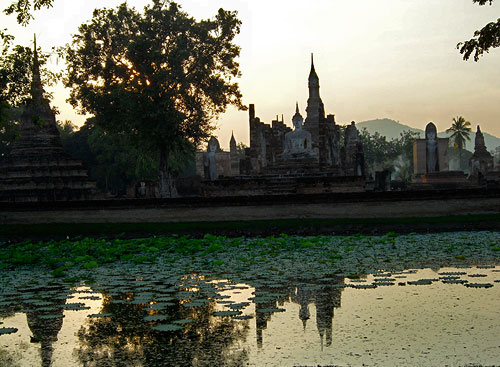 Wat Mahathat sunset?
Making a movie at Wat Mahathat

On occasion, I've had the fun of running into film shoots when I travel. Fortunately or unfortunately (depending on how you look at it) this prevented me from actually setting foot upon one of the most famous wat ruins in the park, Wat Mahathat. When I arrived, a Thai production company was filming a Muay thai kick-boxing scene. I wonder how much location fees run for shooting on UNESCO relics like this?

I'm guessing this is a TV show. If anyone knows if this is TV or film, give a holler.
 Getting to Old Sukhothai Park:
A songthaeuw (take the blue one) or tuk-tuk is your best vehicle to the park. From New Sukhothai, it takes approx 30 minutes to get to the park. The songthaeuw stops running at either 5 or 6P; a bit before the park closes. After that, your only option back to you guesthouse/hotel are tuk-tuks.
Getting to Sukhothai:
via Train and bus:
Take the train to Phitsanulok (approx 6-7 hours) off of the Bangkok-Chiang Mai main line. At Phitsanulok station, take the local bus (runs 7AM-7PM; approx. 1 hour) to Sukhothai bus station in New Sukhothai. It may seem the boonies but there's a handful of budget guesthouses located walking distance across the field or via tuk-tuk ride into town.
VIP Buses:
Chiang Mai-bound buses (to/from Sukhothai) are approx 4-6 hours.
Bangkok-bound buses have AC, with spacious reclined seats and may offer meals, a movie and rest stops. Duration  6-7 hours to Bangkok's Mochit station.