Last Updated on June 23, 2020 by Christine Kaaloa
Bangkok is an enthralling city to photograph during the day, but it transforms into a sexier city at night!  In the evening, the city casts an electric glow, as travelers can drink in the city through night entertainment, night markets and foot traffic. A new life hums with street food hawkers, flower market vendors, bars clamoring to draw you in and hauntingly beautiful temple lights. It's a perfect time to hop aboard a Bangkok tuk tuk tour to see and eat the city's highlights !
Disclosure: I received complimentary admission in order to review this tour. All opinions are my own.
Taking a Bangkok Tuk Tuk Tour at night
Being that Bangkok is a city I love visiting, I've already seen many landmark sights. Due to the fact, I always stay in downtown Bangkok  however, and only venture to Old Bangkok in the day, I've never actually seen Old Bangkok at night!
Now ordinarily, I might be tempted to say that taking a tuk tuk tour in Bangkok is a bucket list must .  However, in reality, because there are many ways for a solo traveler to get around Bangkok on their own, I generally avoid using tuk tuks. Much like taxis in Bangkok, I've never felt confident trusting them.  I've always known tuk-tuk drivers to want to charge me 100 baht for a ride of a few blocks and generally, some have been known to push scam-like tuk tuk tours onto unsuspecting travelers .
But when I researched Bangkok sightseeing tours and stumbled upon Expique Tours'  photos featuring neon lit tuk tuks, carting travelers around…  I couldn't resist.  The tuk-tuks have clear plastic ceilings, enabling you to see the sky; and they're specifically designed so you experience a unique side of Bangkok. Furthermore, with an English-speaking Thai guide helming the tour, it felt reputable and safe!
A brief history of  Thonburi
I met my Expique Thai guide, Nat, at Krung Thonburi BTS station in the district of Thonburi. A procession of 4-5 glowing tuk-tuks waited outside the station for our arrival. Our drivers introduced themselves one by one, bearing hearty Thai smiles.  I felt immediately at ease. My Bangkok Night Lights Tuk Tuk tour had begun.
At first I didn't understand why we started in Thonburi, but Nat explained that during a brief period of fifteen years, after the fall of Ayutthaya, Thonburi was one of the ruling capitals of Thailand.  Located west of the Chao Phraya River, you'll find it houses major landmarks such as Wat Arun (aka the Temple of Dawn), the Royal Barge Museum and Wat Prayoon.
But what was there to see in Thonburi at night?  We jumped into our rock-n-roll tuk tuks and they sped off.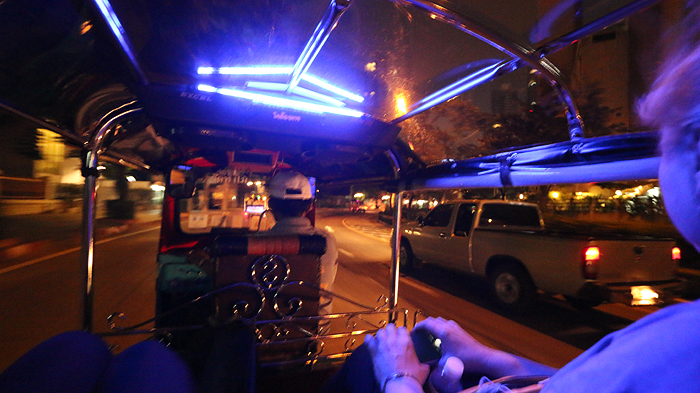 Klongsan Market
Khlong San Market is a small local night market of food, accessories and stalls and stalls of clothing. It's certainly one of the humbler Bangkok markets I've been to and more local.  Items here seem to attract Thai middle class shoppers, who want something inexpensive but still fashionable. We explored the fashion stalls and Natt told us about the Bangkokian fashion trends— colored eye lenses!
We walked down the street and sampled some Bangkok street foods. I got a rice dumpling with slightly sweetened soy or black bean sauce and peanut filling. It was my vegetarian substitute for a meat stick that the rest of the group tried. I was in heaven.
However, my favorite part of this market was a temple room, with a larger-than-life statue of a monk!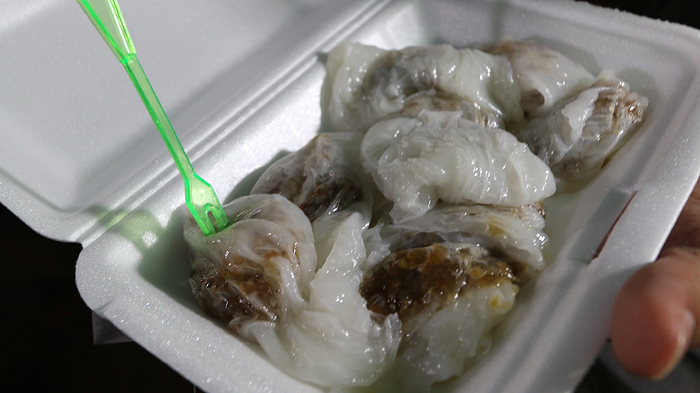 Memorial bridge (aka Saphan Phut)
In the past, the protection of rivers and canals,  made Bangkok (aka Krung Thep) an ideal location. The Memorial bridge is 150 years old and it bridges Thonburi side to Bangkok main.
As we stood near the base of the bridge, Natt regaled the history of how Bangkok came to be the capital city as we nibbled on fried rice cake snacks. Fried rice cakes happen to be one of my favorite Thai snacks.  The rice is fried into a circular paddy and often they have anything from honey drizzles to nuts and sesame.
Wat Prayoon
A short drive from Memorial Bridge was Wat Prayoon.  Built during King Rama III's reign, it features a bell-shaped chedi and houses a pond, where you can feed resident turtles.
The Giant Swing
We were halfway through the tour and the tuk tuks whizzed us the river to popular sights of Old Bangkok. Although we learned about the Bangkok City Hall, I was more interested in the monument across of it… The Giant Swing , an enormous red arched swing, which was once used as part of a Brahmin ceremony, during harvest season. Young men would ride the swing high while trying to grab a bag of gold coins with their teeth.  Due to the inherent danger in this challenge, the event was eventually discontinued. But the swing still stands today as part of Wat Suthat temple.
Location: Bamrung Muang Road, Old City (Rattanakosin), opposite Bangkok City Hall
Bangkok's Best Pad Thai at Thip Samai
The next tuk tuk stop was a quintessential one for Bangkok foodies and one I was grateful for due to the fact I was getting hungry.  Having won a national contest, Thip Samai continues to hold hearts as a the home of Bangkok's Best Pad Thai.  In fact, it's so popular and well-known among Thai, that you'll see a waiting line outside its door!
Pad Thai (pad means "stir fried") is Thailand's national noodle and it's a popular dish for both, locals and travelers.  Commonly, it's stir fried noodles with bean sprouts, fish sauce, and scrambled eggs.
The menu at Thip Samai is small and the rice flour noodles are made fresh. While Thailand can be very good about modifying dishes for vegetarians, it seems vegetarian Pad Thai can take longer to cook on a busy night. Everyone else's dish came out, but mine took time and by the time my meal arrived,  I had to wolf it down to catch up with the group.
As I don't like eggs, I got tofu and mushrooms as a substitute.  My pad thai was a little on the sweet side. The meatier options seemed to be very favorable to the rest of the group.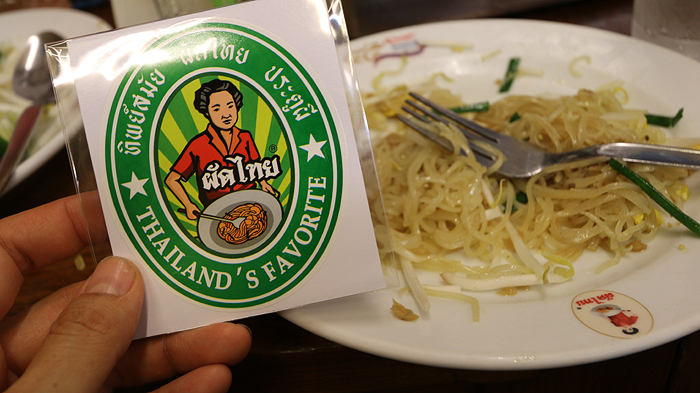 Bangkok Flower market (Pak Klong Talad)
The Pak Klong Talad Flower Market is the biggest 24 hour wholesale and retail flower market in Thailand. Located in the old city of Bangkok, it's a kaleidoscope of colors and flowers and you'll find the area well-perfumed.  Best times to come: 2-3am, although it begins to get active around midnight.
Location: Chak Phet Road, the Memorial Bridge or Saphan Phut Chao Phraya pier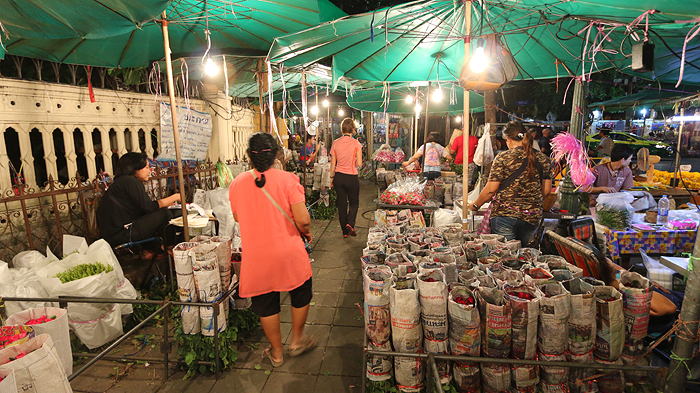 Wat Pho (Temple of the Reclining Buddha),
 I was always curious what it would be like to walk around Wat Pho at night, as many wats are illuminated with lights. Fortunately, this was one of the tour's main highlights.
By day, Wat Pho is a must. Not only is it the home of a giant reclining gold Buddha, but it houses a massage school, which gives training in the traditional art of Thai massage and medicine. You can actually get an authentic Thai massage there.
While you'll see and experience more of a wat in daylight hours when there's more activity, it's undeniable that seeing the wat at night is breath-taking!  If you love photography, then it's your chance to finally get a clean shot.. many in fact! The wat is lit with an ethereal, eerie and quiet glow and you'll notice more details pronounced in the architecture. From architectural details to statues of Buddhas, everything seems to speak to you its own thoughts.
Day Admission: 100Baht.  Hours: 8:30a-6:30p  Website: www.watpho.com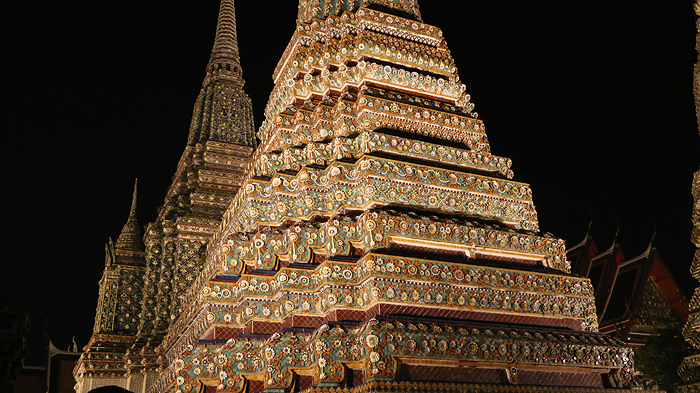 Yaowarat (aka Chinatown)
Yaowarat (aka Chinatown) was the last stop on the tour and we were back to Downtown Bangkok and nearer to my hostel. If you love Chinese food, Yaowarat is a foodie paradise.  Being that it was October and the Vegetarian Festival in town, the streets were buzzing with street food hawkers and hungry crowd.  Yellow flags signifying vegetarian safe food decorated streets and food stands.
Nat led us into a Chinese restaurant, where we were greeted with dessert dishes of mango with sweet sticky rice, a popular Thai dessert.  Accompanying the dish were two side bowls of baby fried mung beans and coconut milk.
The tour had come to a end and we were given the choice to stay in Chinatown for our own exploration or hire the tuk-tuk or taxi back. Sightseeing, eating and rocking around Bangkok in glowing tuk-tuks was a perfect way to spend a solo evening in a sexy city like Bangkok!
Expique Bangkok Tours Review
Expique | Experience Unique Bangkok
Website: www.expique.com
To see what else you can experience with Expique and Old Bangkok, watch my video below!
Get my BANGKOK Travel Secrets Eguide for information on Bangkok dentists, medical tourism and more!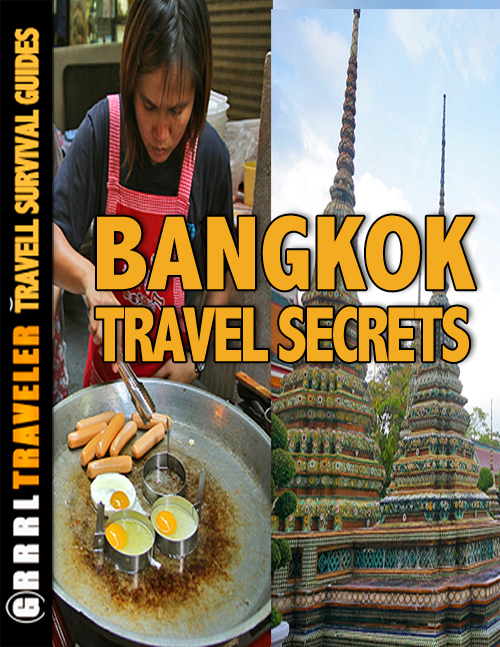 Book your Thailand bus and train tickets in advance

Best Travel Insurance for Thailand
American travelers often pay a premium on travel insurance.  World Nomads offers economic solutions for travelers who seek security and peace of mind.  It covers 150 countries. Read reasons you NEED travel insurance.
Watch Thailand Travel Guide videos for Solo Travelers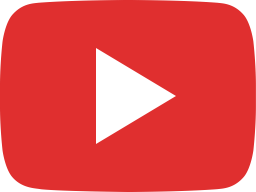 10 THINGS TO DO IN PHUKET | Phuket Travel Guide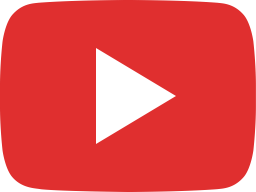 HOW TO USE BIDET SPRAYER TOILETS ( aka BUM GUNS IN THAILAND !!)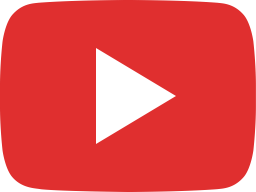 7 ELEVEN IN THAILAND | Shopping in Thailand