Last Updated on March 24, 2023 by Christine Kaaloa
This post may contain affiliate links. Never leave home without travel insurance. Click for the best travel insurance and inexpensive insurance for COVID.
Memphis is the birthplace of Rock and Roll and it is also a city with a rich history would surprise you. As an outsider, it is easy to think it like any other city, but it is not. Memphis runs deep. This Memphis travel guide will share the best things to do in Memphis which will amaze you!
The city is one of the most affordable places in America with plenty of free museums, parks, and historic sites to explore. You can take your pick from any number of Memphis attractions or create your own itinerary based on what you want to see or do while in town.
Watch Best things to Do in Memphis
Check out my
Memphis travel guide
.
Best things to Do in Memphis which will Amaze you
Memphis, Tennessee has a lot to offer for those who are looking for fun things to do. I came for a travel conference and did not realize how rich the city is! It is the birthplace of rock and roll where Elvis Presley cut his first record and a transformative point in the civil rights movement when Dr. Martin Luther King was assassinated. Memphis also has an authentic blues scene that you will not find anywhere else in the world.
1. Crystal Shrine Grotto
The Crystal Shrine Grotto is a man-made cave artwork in Memphis' Memorial Park Cemetery, across the street from the grave of soul musician, Isaac Hayes. The Memorial park cemetery houses countless nameless soldiers of the Civil War. But the Crystal Shrine Grotto is unique in its own right– it is a 60-foot hill that covers a bizarre rock and crystal stalactite cave grotto filled with neon lights and religious scenes. Erected in 1938, this religious folk art grotto shrine was the work of Mexican artist Dionicio Rodríguez. It uses five tons of crystal quartz!
A definite must if you enjoy off-beat attractions. I only had time to visit the grotto but there is more to this area than meets first glance.
2. Elwood Cemetary
Elmwood Cemetery was unlike any cemetery I've seen and is one of Memphis's most historical sites. The cemetery is 80 acres and while it may not house world-famous names, it holds some very affluent names in Memphis history with grave plots to show its wealth. Some tombstones fashion elaborately tall Gothic statues; other plots belong to one person but will hold their family in a plot space equivalent to a living room! Walking down some of the plots, I felt like I was walking down a neighborhood block with housing lawns belonging to families. It houses a bird sanctuary and arboretum to boot!
Tip: Elmwood Cemetery is also special due to its history of yellow fever deaths. Take a guided tour of the cemetery so you can appreciate the nuances! They offer docent tours and self-guided tours where you can download a $10 audio tour for your car.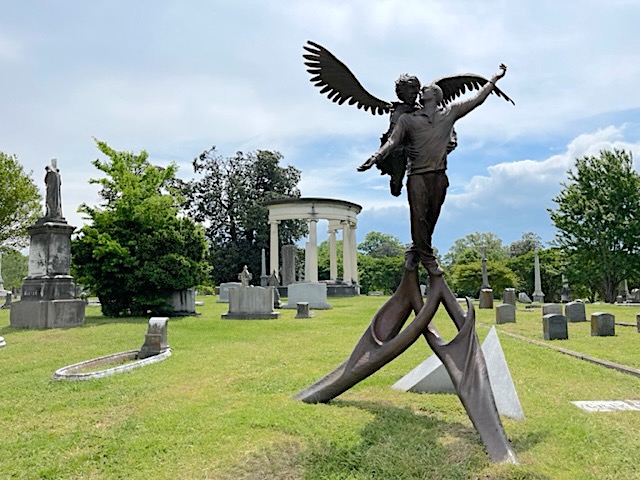 3. Sun Studio
Sun Studio is the legitimate home of Rock n' Roll place and where Elvis, Jerry Lee Lewis, Howlin Wolf, B.B King, Johnny Cash, and countless other musical icons launched their careers. See the famous studio, hear stories, get up close with music history memorabilia and take a guided, 45-minute tour of The Birthplace of Rock'n'roll..  Check the timetables in advance. If you miss a tour time, you will have to wait for the next tour! I did not realize the only way to enter was through the tour and stood by as my tour went in and missed it.
Tip: Around the corner half a block away there is a souvenir shop where you can get fun Elvis and Memphis souvenirs. There are also some beautiful murals on buildings down this street. Check them out!
Located 706 Union Avenue, corner of Union and Marshall. Hours: Closes at 5 pm. Admission: Yes. Website: https://www.sunstudio.com/
Tip: Are you a fan of Memphis music history? Do a Mojo bus tour to Sun Studio while passing by the houses of music greats. Or do a Memphis Rock n Soul and Hall of Fame combo
4. Stax Museum of American Soul Music
The Stax Museum of American Soul Music is a museum memorializing Stax Records, American Soul Music, and its artists, such as Otis Redding, Isaac Hayes, Booker T. and many more. I was really surprised by how much I enjoyed this museum and gained a stronger appreciation of soul music and its roots. Check out Isaac Hayes' Gold plated Cadillac~ it is a sight to see! Located: 926 East McLemore Avenue
 

View this post on Instagram

 
5. Graceland
Elvis Presley's estate, Graceland has impressively grown from a mansion to a full-fledged museum grounds with sections and sections dedicated to the various interests and the grandiose lifestyle Elvis Presley lived.  I visited over a decade ago when it was just the mansion but since they've bought the lot across the street and expanded it. Now you can walk aboard his private jets and explore his vintage car collection, which is huge, varied, and insanely jaw-dropping as a car museum!
There is even a digital interactive area where you can take a photo with Elvis or dress as the King!  There is so much going on in Graceland; highly worth the price of the ticket. Admission $44 Memphis & Planes tour (tour of his planes and cars); $77 for the Graceland Mansion tour (this is the one you want)
Insider Tip: Are you an Elvis fan? Take an Elvis Upbringing tour and visit his birth home of Tupelo or hop a private Elvis Tour and skip the line at Graceland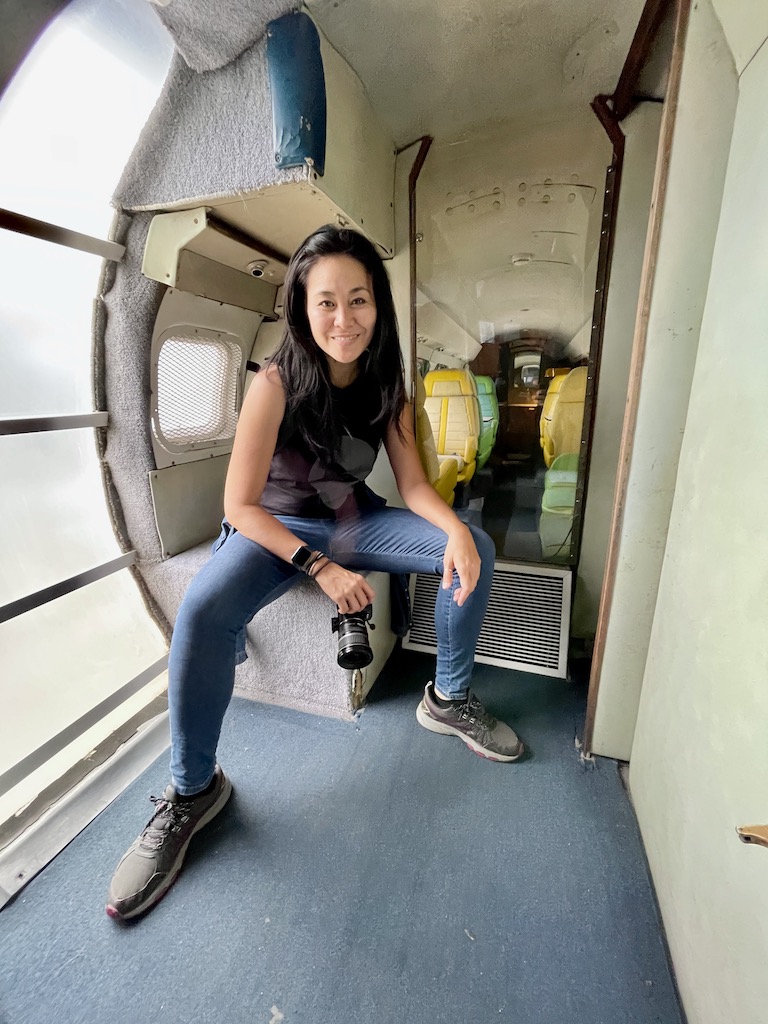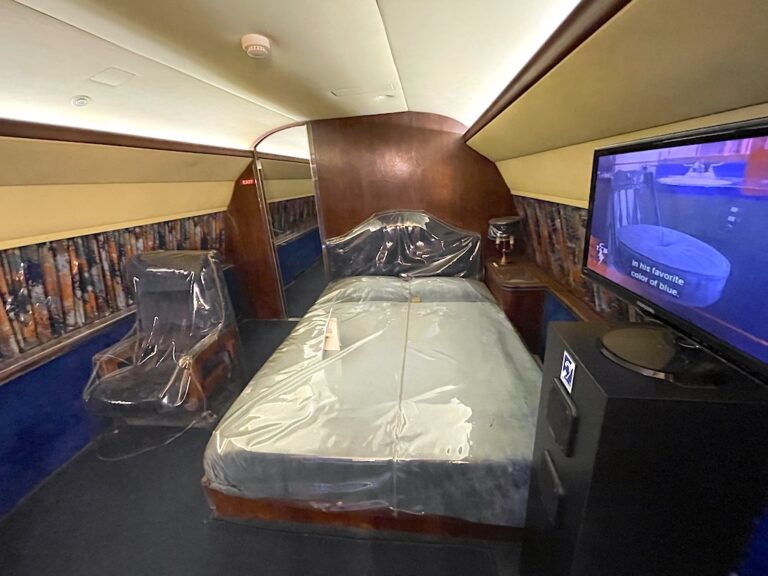 Tip: Getting around in Memphis can take time and public transportation cannot take you everywhere. Take a Memphis city hop-on-hop-off bus tour to see the highlights and get around
6. National Civil Rights Museum
From stories of slaves escaping via the Underground Railroad, to segregation and the sanitation worker strike to the assassination of Dr. Luther King at the Lorraine Motel, the transformation of civil rights history goes deep in Memphis. Visiting the Civil Rights Museum is a must if you want to understand the history that made Memphis what it is today. Joined to the Lorraine Motel, the museum gives you a peek into Martin Luther King's motel room and more!  Many travel bloggers I spoke to had only great things to say and unfortunately, the one day I had time to see it, it was closed.  While you're at it, check out Slave Haven/Burkle Estate as well.
7. Visit the Lorraine Motel
The Lorraine Motel is a memorial to Dr Martin Luther King and it sits next door to the Civil Rights Museum.  On April 4, 1968, Dr. King was assassinated on the balcony of Room 201 at the Lorraine Motel.  He was there to lead a march for the sanitation worker's strike.
The motel is memorialized. Outside there is a plaque to commemorate the site and installation kiosks are sprinkled through the length of the motel with old archived video  recordings of the events that led up to it. Very fascinating spot. Admission is free.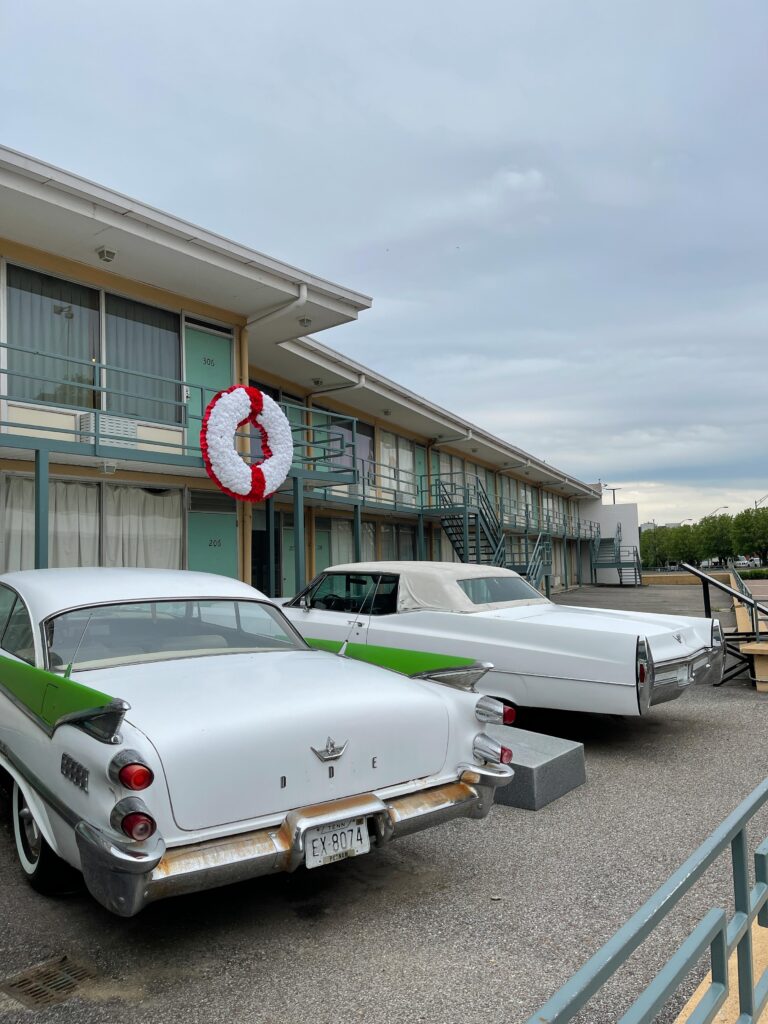 8. Beale Street
Beale Street was once the thriving heart of African American-owned businesses, barbershops, and dance halls. But today it has grown into Memphis's biggest tourist welcome with bars, restaurants, souvenir shops, and enough neon to light up dark streets. It reminds you of a smaller version of the Las Vegas Strip! Visit day or night. During the weekend evenings, there is a line to get onto Beale and it comes with an admission fee of $5.
Tip: You can legally carry alcoholic beverages on Beale Street and in front of the police!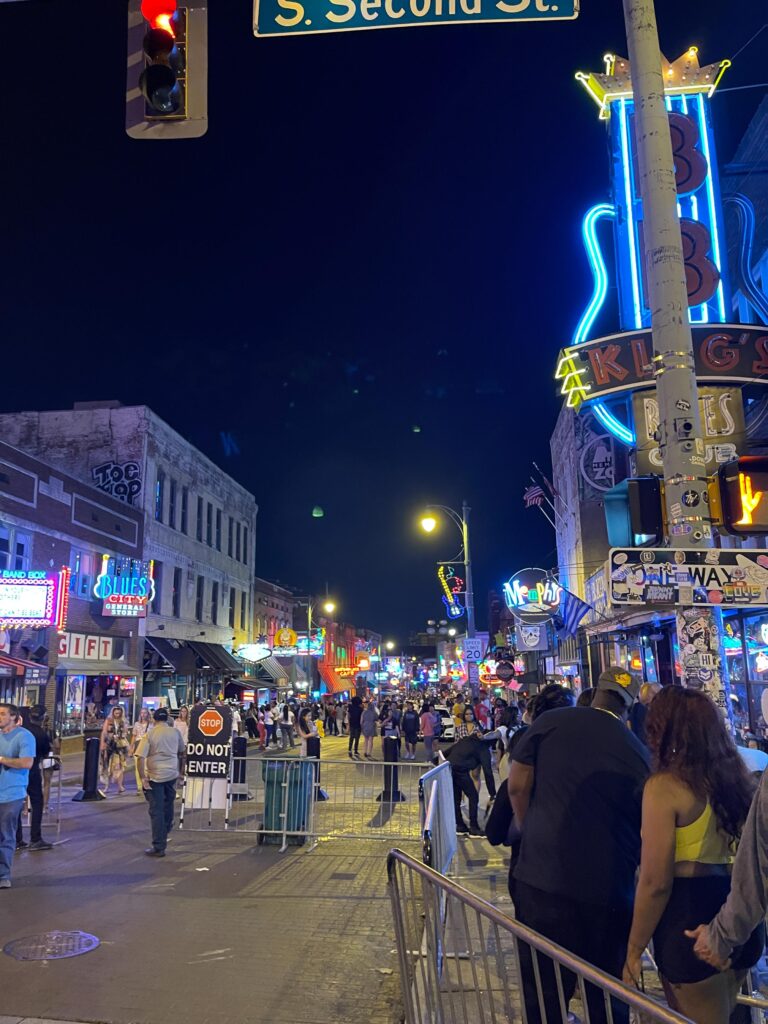 9. Mosaic Walk on South Main
There are many murals in Memphis, but the Mosaic Walk on South Main is central to Beale Street and is easily accessible by foot. It is eight temporary outdoor installations.
The "I am a Man" mural by Marcellous Lovelace is a surefire favorite for its vibrant color and homage to the Civil Rights Movement and "I am a Man" march of sanitation workers, ultimately leading to the assassination of Dr. Martin Luther King Jr.
Continue walking down south of Main and you'll find more murals, such as the Poetry Panels and Modern Hieroglyphics. See a downtown Memphis mural guide. Explore the city and you'll find wonderful murals tucked away in alleys, on commercial buildings. Be on the lookout for I love Memphis iconic murals and murals on telephone boxes. This city won't stop surprising you with its artistry.
10. Memphis Rock 'n' Soul Museum
From sharecroppers' blues and gospel hymnal music of the Mississippi Delta to the soul music and rock and roll streaming into segregated communities through airwaves at night, black, whites and social change came together under Memphis history and the  Memphis Rock 'n' Soul Museum tells its story. There's more to Memphis than just good BBQ and Graceland. Learn about the history of a city that changed the face of music and segregation. Hours: 10:00am – 5:00pm. Location: 191 Beale Street.
11. Memphis Music Hall of Fame Museum
Each year, the Memphis Music Hall of Fame Museum inducts new musical artists into their Hall of Fame. Location: 192 Beale Street next to Hard Rock Cafe' Soul Museum.
12. Orpheum Theater
Born in 1890, the Orpheum Theater is Memphis's oldest performance venue, spanning vaudeville to Broadway. Today it Memphis's main performance arts and education center. If you look at the ground you'll see the sidewalk has plaque names of famous musicians and performers. Location: 203 Main Street crossing with Beale St. You cannot miss its neon lit sign at night.
13. Old Dominick Distillery
The Old Dominick Distillery is a 150-year-old distillery of well-aged spirits. They offer a  45-minute tour that shares the history of Old Dominick, its founder Domenico Canale, and their signature grain-to-glass fermentation process at the distilling facility. They claim one of their secret ingredients is the Memphis drinking water which is known to be real good.  The distillery tour includes a curated tasting experience of Old Dominick's well-aged spirits.
Tour Fee: $15. Free to enter the bar/restaurant. Located: 305 South Front Street.  Hours: Distillery 3-7 pm; Bar 3-9 pm
14. The Memphis sign at Mud Island River Park
There are a handful of Memphis mural signs around the city to take photos with. The biggest one that is not a mural is the installation at Mud Island River Park. It is way out back past the huge water fountain installation on the great lawn.
Getting to Mud Island River Park requires a car, Uber or tour.

15. Mud Island River Park
Mud Island River Park is an island right off of downtown, where you can pose with a giant Memphis sign while enjoying the water installation as you take in the downtown skyline across the Mississippi River.
Initially, I was going to skip it because I didn't want to Uber it, but it's got a couple of cool outdoor installations and a museum.  The coolest installation is a topographical design with a stream that snakes through the park symbolizing the Mississippi River and all the states it passes through. It's quite impressive. Ultimately, it converges into a beautifully huge water fountain installation Getting to Mud Island River Park requires a car as you will need to cross the bridge to enter the island. Parking there costs $5. When you arrive to park, signs direct you to pay through an app online.
Tip: Getting around in Memphis can take time and public transportation cannot take you everywhere. Take a Memphis city hop-on-hop-off bus tour to see the highlights and get around
16. Avoid The Pyramid (aka the Bass Pro Shop)
 The Pyramid (aka the Bass Pro Shop) is a gold pyramid that looks like the Luxor in Las Vegas. On blogs I've read, they place this a must-see spot. I'd say it's a Must Not unless you are a game hunter or belong to the NRA. Yeah, it's a giant pyramid that's turned into a huge sports hunting and fishing mall You'll find stuffed trophy animal heads and animals from former sport hunt. There is a shooting range and a bowling alley, but it is an odd place that made me feel queasy because I love animals and abhor the use of them as hunting trophy decor!
The restaurant at the top of the pyramid is said to have the best bass dishes in town as well as an incredible view of the city. Seeing the large bass swimming in the aquarium and courtyard display, I'm gauging they just grab them from there for the plate. Yech!
17. The Arcade Restaurant
Arcade Restaurant is Memphis' oldest cafe. Speros Zepatos founded the diner in 1919, it is located in the historical South Main Arts District and has a feeling like a retro diner. Elvis Presley used to be a customer there and his booth is still there- it is all the way in the back.  Location: the corner of South Main Street and G.E. Patterson, near the National Civil Rights Museum.
Here's a list of iconic food experiences and places to eat in Memphis! From Bacon Maple donuts, to BBQ and Elvis's favorite sandwich, one thing is certain after your trip to Memphis… you'll be hitting the gym!
18. Gibson Donuts
Maple bacon donut anyone? Who would've thought that combination would work but at Gibson's Donuts they're surprisingly tasty. Gibsons Donuts is a family-owned shop specializing in donuts, which is rare these days and what makes them special. But more so, they are to Memphis what Dunkin Donuts or Krispy Kreme is to the rest of the U.S. They are a favorite in Memphis!
They are all priced inexpensively, which means you can order many without puncturing your wallet😋
Read: Must try foods around the globe
19. Wiseacre Brewing Co
Finally, something for beer lovers! Wiseacre Brewing Co is a 10-year-old craft brewery started by brewmaster brothers, Davin & Kellan Bartosch. The brewery has a back patio for enjoying your beer. They offer two brewery tours- a tasting and pairing- on Saturdays through reservation. Tours duration is about 45 minutes. Cost $15
Two Locations: 398 South B.B. King Boulevard and at 2783 Broad Avenue
20. Ride on the Trolley
Memphis has a trolley system downtown. Wahoo! You'd think it's like San Francisco; it's not but it's still vintage. I took the Main Street Rail Line but there's a Riverfront Line (offering a view of the Mississippi) and Madison Line too.
The Main Street line will get you to many of the main museum attractions in downtown. They all operate on slightly different hours, with the Main Street Rail Line operating the latest (around midnight on weekdays and Saturday, but ending at 6pm on Sundays.
The trolley costs $1 per way or $3.50 unlimited/day. Check out the hours here.
21. Mojo Bus Tour
Are you a fan of Memphis music history? Do a Mojo bus tour to Sun Studio and pass by the houses of Memphis's musical greats and hear their story as your guide strums his own tunes.
22. Slave Haven Underground Railroad Museum (Burkle Estate)
The Slave Haven Underground Railroad Museum (Burkle Estate) is a house originally owned by a livestock trader and bakery owner Jospeh Burkle, who helped slaves to freedom as part of the Underground Railroad. You'll see artifacts sharing the plight of the Underground Railroad but the main focus of the museum is the cellar where slaves were smuggled. Learn the secret messaging system, the journey and route that slaves took and the slave trade.
Is Memphis Safe for Solo Travelers?
Read: Safety tips for Solo Travelers
What would you recommend to add to this Best things to Do in Memphis post?
[web_stories title="false" excerpt="false" author="false" date="false" archive_link="true" archive_link_label="" circle_size="150″ sharp_corners="false" image_alignment="left" number_of_columns="1″ number_of_stories="5″ order="DESC" orderby="post_title" view="circles" /]