Guide to Transportation in Bangkok
In Bangkok,  all roads may not lead to Rome, but you'll at least, have many avenues to get there; and each conveyance presents a unique face of Thai urban life! I'll be frank- one of my absolute loves of Bangkok is it's transportation.  As a female solo traveler, it' my magic city of easy independence and I've made it my adventure theme park mission, to sample as many of its rides as I can.
Read my Guide about 20 Ways to Get Around Thailand | Transportation Guide
10 Amazing Ways to Get Around Bangkok:
1. Walking
Sound obvious? There's more to this than meets the eye! Beware, Bangkok's pedestrian aisles will seduce the baht right out of you! Bangkok's two favorite pedestrian diversions are eating and shopping.  Explore Bangkok's backstreets, while grinding on fried mochi balls and fresh spring rolls from a morning line of food hawker stalls. Slurp piping hot pho on an outdoor table in an alley or buy random trinkets from the street vendors.  The best time to take to foot is in the evening, when the streets unfold into a crazy sidewalk shopping culture.
But a word of advice: at night, foot traffic will also be at its worst as locals come out to shop.
Best sidewalks and streets to walk: Khao San Road area and off the BTS Skytrain : Sala Deng, Siam and  Victory Monument.
2. City bus
Bangkok by bus inspires my three "C"s: comfortable, cheap and convenient. Best of all, it offers front row seats to the real Bangkok. Interestingly, this vehicle is seemingly off-the-grid for most tourists, but its a viable and simple way to get around. Just brush up on a few insider tips to catching the bus first and you'll be good to go.
Fare: 7 to 22 baht, depending on distance. Fare is collected after you board.
Hours: Day buses run from 5AM to 11Pm; night buses run 24 hours.
Tips: Avoid peak traffic hours and always carry small change, as the fare collectors generally don't carry change for larger bills.
Information:  Find your bus route number  or go to the BMTA website.
3. Chao Phraya River ferry
If you enjoy boat cruises, the river ferry along the Chao Phraya River is a scenic ride you shouldn't miss. From the grandeur of gilded wats and glitzy skyscrapers to dilapidated river houses on stilts, you'll see a different side of Bangkok from its waterways.  The ferry always runs the same route. Unless it's the Express ferry, it'll make a stops on both sides of the bank and on each docking station on the line.
This will get you to farther provinces and avert bumper-to-bumper traffic during peak traffic hours. Just a head's up- the boat can get crowded later in the day and close to closing.
Fare: 10-29 baht, depending on distance and boat type (regular or express). Unlimited day passes are sold at 150 baht.
Fare rates run like the city bus system and are often collected on the boat. Some docks may pose exceptions and collect them before boarding. In either case, after paying you'll receive a receipt for proof of payment.
Hours: 6:15A to 7P
Information:  Boat types & hours here.  Map of the ferry routes here.
.
5.   Skytrain and  Subway
In the sweat of Thai heat, flying over the city traffic by Skytrain or zipping underground on the metro, presents an air-conditioned luxury. The BTS Skytrain offers beautiful aerial views over the city, while the MRT subway serves up a no-frills straight shot to your destination. Both are perfect solutions to averting Bangkok's god awful peak-time traffic!
Fare:  15-40 baht and based on zone. An all-day unlimited card pass is 120 baht. Tickets are sold at kiosk stations and take only coins; you can get change at the nearby information window. The Skytrain issues card tickets, while the subway gives out token tickets.
Hours: 6A- midnight.
Maps here & Cool iPhone app: Bangkok transport map (Free)
6 . Long-tail and khlong boats
The khlongs (aka canals) off the Chao Phraya River hold a waterway life, flavored with river houses and floating markets. Long-tail boats are sightseeing taxis to explore it with. At the floating markets, there are fixed price stations but if you want your own personal hire, you'll have to bargain with the boat driver.
One thing I haven't tried yet are the khlong boats (or water taxis) in the inner city. They run 18 kilometers along the Khlong Saen Saep river, making access to and from Siam Square quick and easy. Not to mention, they serve the practical purpose of escaping rush hour traffic.
Fare for long-tail boats: Prices vary as boats can be hired as a group or individually.
Fare for khlong boats: 10-40 baht, based on distance.
Hours: 5:30A-8:30PM
Khlong route information here.

7. Motorbike taxis
What's the Bangkok scene without these cowboy bandits? These vest-wearing Soi knights skirt through the streets on petrol-filled tanks offering rides. The Thai don't seem to mind. For locals, men and women alike, this is the perfect way to get to work in a direct shot. Hop on the back of one of these babies and off you go! It's so common that the Thai have become amazing at riding side-saddle. Watch women sit cross-legged on the back, while talking on the phone or applying makeup.
Lugging a backpack and some bags? No worries. These guys are sure to oblige you and your luggage for the ride. No is not in their vocabulary and they'll make your bags fit. Who says chivalry is dead?
.
8. Tuk-tuks
You go low and they'll go high; that's the art of haggling with tuk-tuk drivers. It's not my favorite ride, especially when there's cheaper and haggle-free motors to choose from. Still, tourists occasionally like to use them.
.
9. Taxis
With Bangkok traffic being the meaner than the L.A. freeway, the taxi is probably the last thing you'll want to take! On one occasion it took me close to 30 minutes just to move one block! Thankfully, I was on the bus at that time; my baht was still in tact.  But taxis have their moments too. It's perfect for getting around in the evening, after the river ferry and Skytrainclose.
Hours: 24 hours
Tips: Always make sure your taxi uses a meter.
.
10. Long Distance and Overnight Trains
By daylight, it's a regular train, but at night it can transform into a first-rate hotel on wheels! By far, one of my favorite rides, the Thai railway system strives for hospitably, cleanliness and order.   Train stewards patrol the aisle to set up your meal table or to transform your seats into a freshly sheeted berth bed of curtain-drawn privacy. Both, western and asian toilets are in each car and if you want to have a drink or eat in the restaurant car, that's available also.
Hours: 24 hours
Information: train routes and schedules.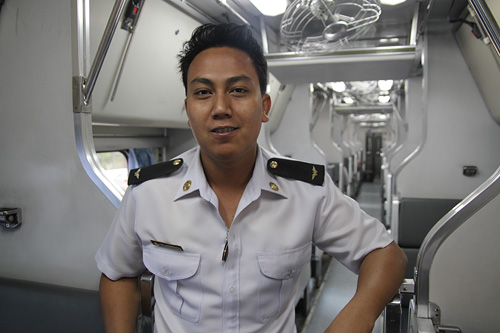 .
What is your favorite mode for getting around in Bangkok?