Last Updated on June 7, 2023 by Christine Kaaloa
I've long been waiting to visit Japan. But I kept holding myself back. Why?
The truth is that everyone I've spoken to came back reporting one thing,  "Japan is expensive."  How expensive?  One  brave friend recommended a budget of $100/day in Tokyo.  Someone else termed it wallet rape.
I may come across as sorta brave for being a woman traveling alone, but one thing I'm not courageous about is cutting a hole in my wallet, during economic recession or when I'm relatively unemployed. I thought about avoiding Tokyo altogether… or doing a chicken run of something short, like two days.
If you've read my Japan posts, you know traveling budget Japan has led to an adventure! But my Tokyo Budget Travel guide was the start of it.
Tokyo Budget Travel Guide
My fear turned into a challenge. I had a feeling Tokyo could be traveled for cheaper. My travel needs are simple.  So I booked five days in Tokyo and the rest split with Kyoto, Osaka and Fukuoka. My budget cost me on the average $30/day . 
Top 10 Free Tokyo attractions 
The good news is there's a lot you can do in Tokyo, cheaply or for free.  Not everything in Tokyo costs money and there's budget deals to help you get around Tokyo on the cheap and easy.
1.   Asakusa
Asakusa (pronounced Asah-kusa) is known for its old world charm. You can wander some of the streets in the old district to take you back to a time when Tokyo felt more Japanese vs. the sprawling modern, corporate, shopping mall it is today.
Tokyo's biggest and oldest Buddhist temple, the Senso-ji is the popular attraction, along with the marketplace of souvenirs and Japanese delicacies. Watch food craftsmen create culinary snacks with care and watch your wallet. There's a lot of cute Japanese souvenirs, kimonos, keychains and nom-cious snacks to  tempt your splurge!
Where to stay in Asakusa: There are many options in Asakusa from hostels, capsule hotels to hotels in the area, starting from $22. I stayed at Asakusa Smile Hostel, but wouldn't recommend it. (It's cheap but very old facilities with cigarette scent from the bar below).
Khaosan World Asakusa. Trendy feel. Tokyo cool.
Bunka Style Hostel Fun find and rave reviews. Bunka Style Hostel is a boutique? hostel with unique capsule-like bunk beds for a comfortable, private sleep experience and a story to tell your friends back home.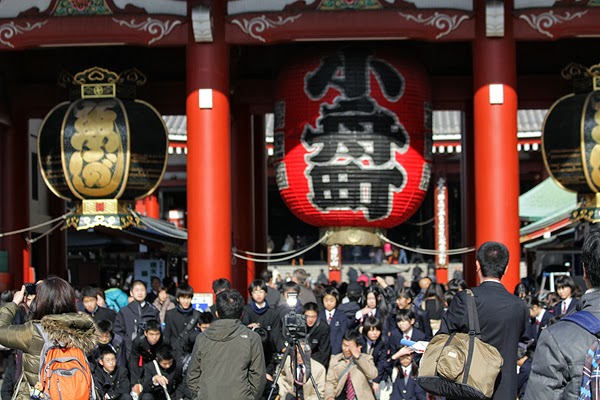 .2.  The Sumo Museum at Ryogoku Kokugikan
Tokyo has a handful of free museums for the backpacker budget. The Sumo Museum at the Ryogoku Kokugikan arena in Ryogoku is simple, humble and more like a Sumo Hall of Fame, but this little museum topped the list of interests for me. Of course, this is nothing compared to seeing an actual sumo tournament and if your trip falls in sumo season, you might just want to splurge for a ticket. Sumo season is two weeks in Jan, May & Sept.
Otherwise, you might be able to catch a glimpse of sumo wrestler trainees (I saw one biking down the street in a yukata) in the area, as the neighborhood houses sumo stables, where the athletes train and live. The museum is free, small and showcases wrestlers in the Sumo Hall of Fame.

3.  Tsukiji Fish Market
Want to watch tuna bidding at the largest fish market in all of Japan? The Tsukiji Fish market opens at 5 am but come earlier. Only 120 people are allowed into the bidding. Afterwards, the market is open to all.  Subways don't open that early however, so you'll either need to take a taxi or stay somewhere nearby. There are sushi restaurants outside the market so you can sample fresh catch. Location: Take the Oedo line to Tsukiji-Shijo station, exit A1. Or take the Hibiya line of the Tokyo Metro to Tsukiji station.
Places to stay in Tsukiji: As subways don't open at 5:00am, it's best to stay in the area if you can. Here's a map of accommodations near Tsukiji Fish Market.
Watch my experiential video of the Foods to Eat at Tsukiji Market 
4.   A view Tokyo from the Tokyo Metropolitan Government Building
Forget paying to see a view of the city from Tokyo Tower!  There are other alternative spots for a good city view.The Tokyo Metropolitan Government Building, spans 243 meters high and offers sprawling views of Tokyo for FREE.  Read more of best things to do in Shinjuku.
Location:  JR Shinjuku Station west exit requires a 10-15 minute walk to the building and note, Shinjuku Station is big and crowded.
Getting Around Tokyo on the cheap and easy.
5.  Shibuya Crossing
 Shibuya Crossing is dubbed the Times Square of Tokyo, it's a crossing that's lit up big and bright by surrounding stores and a great spot to capture one of the premiere photo shots of Tokyo. It's known for  its massive crowd and intersection, which allows multiple pedestrian crossings to take place when the traffic light hits red.
Location:  Outside Hachiko Station, an interesting nearby landmark is a memorial statue of a dog, Hachiko. The story goes that Hachiko was a faithful dog, who waited for his master at the station each day, long after his master's death. Hence, that's what the station is named after, Hachiko station.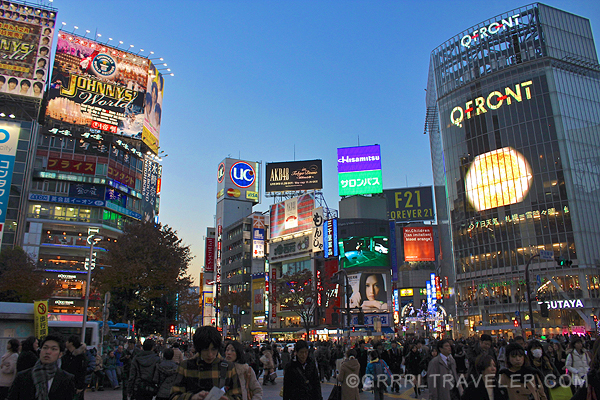 6.  Kiddy land
One of the favorite stores for tourists  to visit is Kiddy land . Five floors of cuteness from Hello Kitty to favorite Japanese character dolls and anime colllectable figurines. Kiddies will love it, but so will adults.
Location: On Omoetaesando Street, between two stations- Omoetaesando and Meiji Jingumae.
 7.  Omotesando
The walk from Shibuya to Harajuku is known as Tokyo's Champs Elysees. Lined with trees, it's packed with tons of shopping and flagship stores, but the architectural designs can be impressive. Some side streets spin-off into pockets of cute cafes, boutique stores and hair salons.
Location: Harajuku Station to Omotesando Station.
8.  Harajuku
Harajuku is a popular  fashion hangout district in Japan, known for its quirky cosplay, anime and goth fashion.  The weekends are especially crowded and that's when the trends and quirks of fashions come out. Dip into a Tokyo idol shop, to see what stars hold Japanese hearts. Or get a surreal beauty makeover at a photo booth shop and see what you'd look like if you were your own plastic surgeon.
Where to stay: Here's a map of  hotels in Harajuku.
Read Japan Culture Shock: Cute or Crazy?
9.  Akhihabara
Have you ever felt possessed by a personal hobby? Akhihabara is the home of otaku culture and nerd central.
Those obsessed with manga, electronic stores, pachinko parlors and maid cafes all gravitate here to live in a world outside the norm. Home of the girl group, AKB48, this area is said to have some of the best maid cafes in Tokyo. But the back alleys can feel a little seedy as you see those workers solicit male customers. Unless you're into manga or electronics, there's little to see or do here other than shop and look at manga magazines.
Read  Akihabara and the Fetish Otaku Culture 
Where to Stay in Akihabara:
Akihabara Bay Hotel. An all female capsule hotel which will leave you well-rested and pretty. Great location 5 minutes from the Akihabara stations. More hotels in Akihabara.
 10.  Visit parks, temples, cemeteries
As you wander around the city, you may stumble upon an occasional park, temple or cemetery. Taking your lunch to the park is a nice way to relax and feel removed from the bustle of Tokyo. Temples can also be one of the more interesting places to visit, next to cemeteries. Each temple has a different significance. Many have fortune telling stations, where you'll either shake a box of sticks for a fortune or buy one from a machine.
 Budget Eats in Tokyo
Surprisingly, not only can you sightsee Tokyo for cheap, but you can also eat inexpensively too. What are some budget eats in Tokyo to enjoy?
•  Street shops and 7-11s sell bowls of ramen or udon for around 500 yen.
•  Onegiri (aka rice balls, filled with fish, meat or seaweed) is often goes for 100 -150 yen.
•  Basement food floors in the department store and supermarket 'Take Out' sections sell pre-made meals for discount prices.    Tip: After 8-9pm grocery stores do a mark down on foods in the take out section.
•  Shop at a grocery store and cook at your hostel.
•  100 Yen shops and stores, like Daiso sell drinks, Japanese knick-knacks and snacks for 100 yen.
•  Japanese food machines  also offer meals in the 500 yen range. They have pay machines out front (see photo below), where you order your meal, pay for it, then eat it inside.
Read Budget Travel Tips: Japan
 Getting Around Tokyo cheaply

Transportation is a silent killer of budgets in Japan. But there's a way to get around that. Buying unlimited or tourist day passes help immeasurably and taking the slower local trains will reduce your travel expenses, over  express and bullet trains. While there may be more transfers involved, you'll get to where you're going all the same.  If you've already bought a JR pass to get around Japan, you can use it for the subway system.
JR Passes
Passes are sold at 7 day, 14 day and 21 day categories, includes all trains (shinkasen, express, local,etc..) and a few highway buses .  You must pre-purchase your passes in advance. Also big note: you can only buy these passes outside of Japan.
Unlimited day passes or tourist day passes
These handy passes are a godsend. If you buy one, you can get unlimited transportation for anywhere from one day to three. The catch is that 1) you can only buy these tourist passes at the airport (Haneda or Narita Airport) and 2) you can only use the local metro trains (not express trains). Why is the latter a big deal? The express routes, zip direct to the main districts that most tourists want to go, while to get to main districts, you may need to transfer a couple of times.
 Where to Stay in Tokyo for Cheap
Obviously, hotels in Tokyo are going to run your budget higher than what I quoted. But there are other places where you can sleep for cheap. Some examples are business hotels (such as Toyoko Inn chains), hostels, ryokans (traditional styled guesthouses), manga internet cafes (I stayed at a friend's house, a hostel and a manga cafe when I was in Tokyo. Manga cafes were the cheapest option!) and AirBnB ($40 off if you use my code!).
---
Tokyo for Solo Travelers (video playlist)
 Buy the Japan e-guide
If you enjoyed this post, why not buy the eGuide. Packed with information from this post Travel Survival Guides are a travel cheat sheet, breaking down the essentials of traveling with information, maps and directions to take on-the-run.
48 Hours : Japan on $30/day
---
| | | | |
| --- | --- | --- | --- |
| | | Pin on Pinterest | Tokyo on a Budget & Tokyo Budget Travel Guide | |