Last Updated on March 25, 2019 by Christine Kaaloa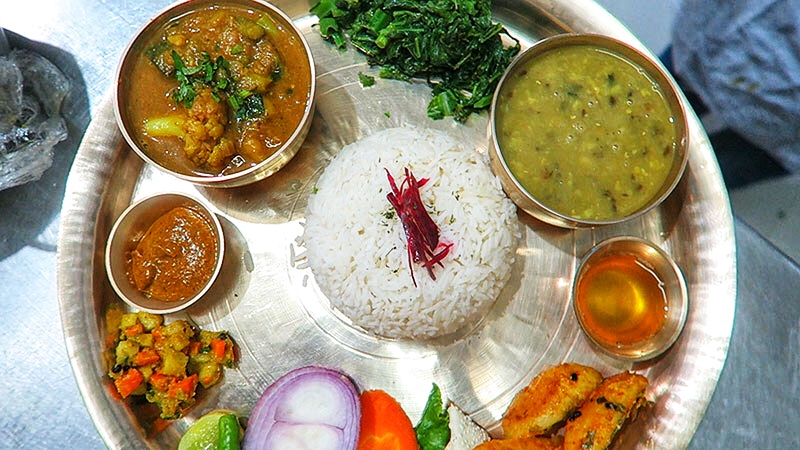 So far I've been trying various types of Nepali street food and loving Nepali food. I've purposely held back from going to the obvious players in the country like momos and dal bhat.
But it's hard to not love dal bhat and the symphony of tastes embedded within it. With a variety of dishes and flavorings to help you curate your tastebud's choice, you can tweak what you want. I decided to learn how to cook dal bhat.
Dal Bhat ( Nepali: दालभात, Bengali: ডাল ভাত, Gujarati: દાળ ભાત, Marathi: डाळ भात, Assamese: দাইল ভাত dail bhat / ডালি ভাত dali bhat) is a  national traditional dish of Nepal and is popular in Nepal, India and Bangladesh.  Dal Bhat means lentil soup (dal) and rice (bhat) but the Nepalese also know it as a full set meal with at least four to seven other dishes! it's easy for travelers to get confused. For years, I thought dal bhat was only the soup and rice and only until this last trip, was I corrected.
This dish is a Nepalese Thali and it is a substantial meal which Nepali can alter, either by adding or subtracting dishes. It is rumored that Nepali eat it almost twice a day and it's surprisingly easy and quick to make. If you were invited into a Nepalese home, it's likely you'll your host will be generous with the side dishes to welcome you. But if you were Nepali and getting a quick bite, you might find the portions smaller or less. It is known primarily to be vegetarian.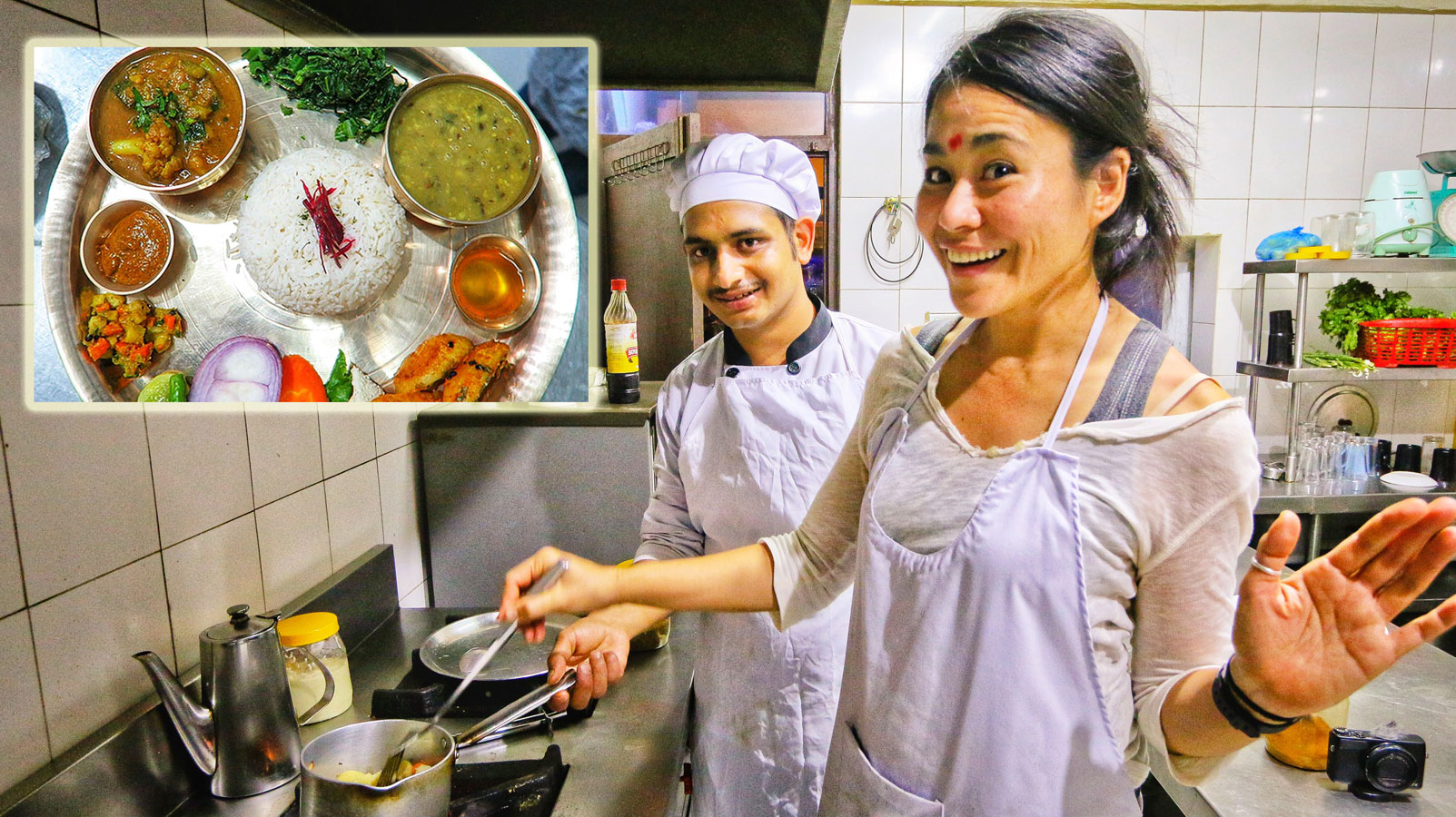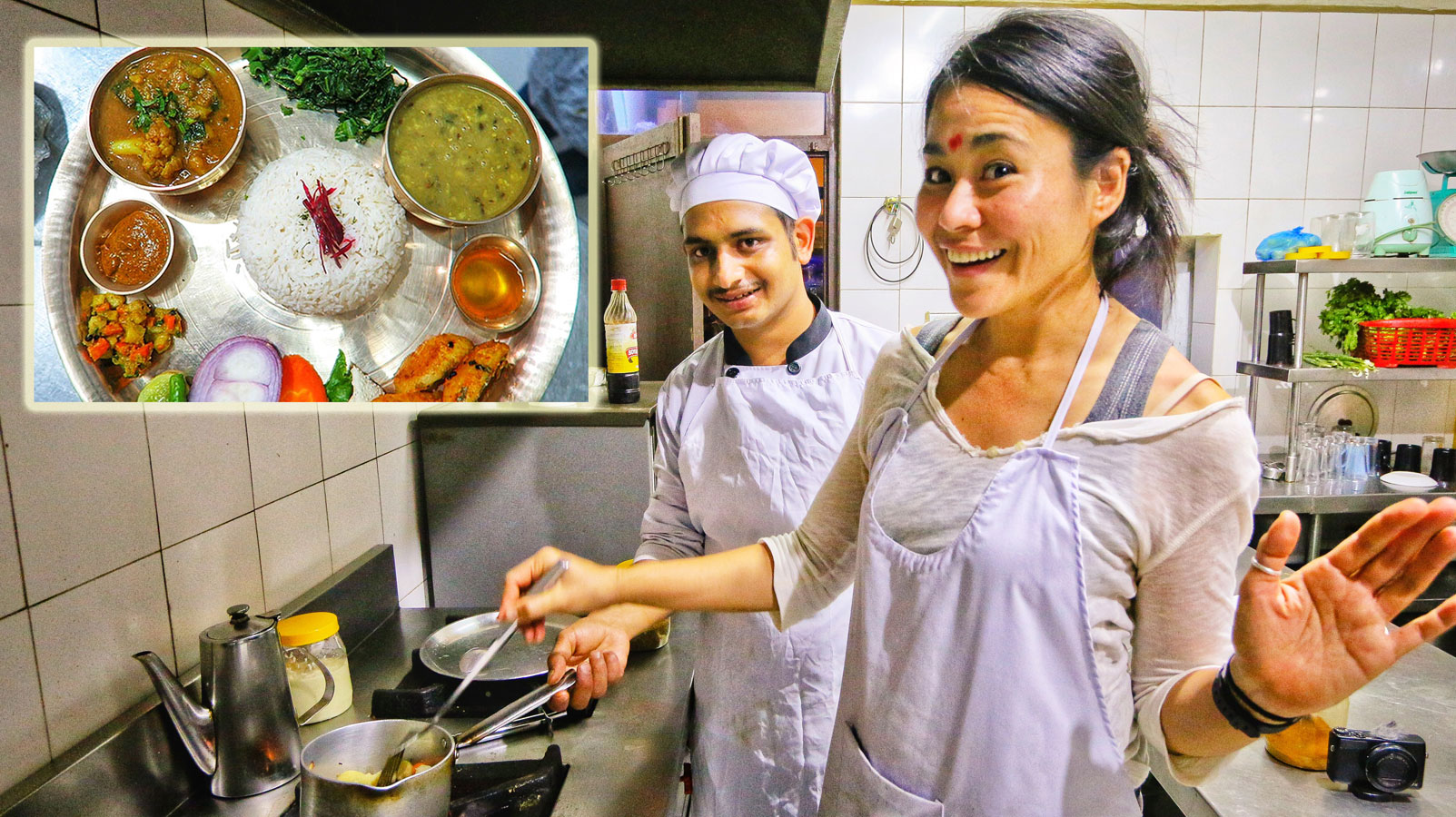 GRRR Watch How to Make Dhal Bhat | Cooking recipe
I was in Dhulikhel – about an hour away from Kathmandu in the hills- at staying at a wonderful Dhulikhel hotel, Gaia Holiday Home. As part of my customized trek with Wanderlust Himalaya Adventures, I met with chef Asok and was allowed to step inside their Nepali hotel kitchen to learn how to cook Dal Bhat.
I never know what will happen when I film my travels. My guide Nabaraj arranged an unofficial cooking class as part of my customized trek, knowing I love to explore and film traditional and must try foods (check out my Kathmandu food series one and two). But I was not prepared to film in a busy Nepali hotel kitchen and to be honest, I did not know dal bhat had several dishes, outside of lentil soup and rice!
When I learned Asok would be making seven dishes as part of the dal bhat process, I was taken aback, wondering how much camera battery I had left to film.  But Asok is like a maestro, mixing, stirring, frying several  dishes at the same time and dhal bhat is surprisingly simple to make when you have a few seasonings and veggies at your fingertips! Working at Gaia Holiday Home hotel for three years, Asok orchestrates a symphony of flavors into his skillet from salt, cumin powder, coriander, lime and tomato paste… that was just for fenugreek potatoes alone!
An adventure is always an adventure when you know the least of what will happen. But traveling is where I get to learn and work it all out. Enjoy watching this cooking video!
What does traditional dal bhat consist of?
The variety of ingredients and number of dishes can change, but the dishes are often mixed together to create a symphony of flavor against the dal and rice. You can tweak and adjust each to create the desired reach you want from salty, savory, spicy and sour. A base structure of dal bhat dish looks something like this:
Dal (Lentil Soup)
Bhat (rice)
Vegetable Curry (aka takari)
Potatoes
Mustard Greens (aka sag)
Spicy Pickles
Salad & Pappadum
Information:
Interested in cultural activities, cooking classes and food tours in Kathmandu, see here.
Gaia Holiday Home (review coming soon | book here)
Note: My accommodations were sponsored by Gaia Holiday Home , a Dhulikhel hotel to help make my trekking route possible. But they also generously allowed me into their kitchen with their chef to make this video. All opinions are my own.
If you love food, read related posts:
Street Food Tips : Eating while avoid getting sick
Top Must Try Foods of the Philippines
Must Try Foods Around the World
Enjoy this post? Pin or Share it to your Pinterest board
Looking for travel insurance?
American travelers often pay a premium on travel insurance.  World Nomads offers economic solutions for travelers who seek security and peace of mind.  It covers 150 countries.