Last Updated on November 28, 2023 by Christine Kaaloa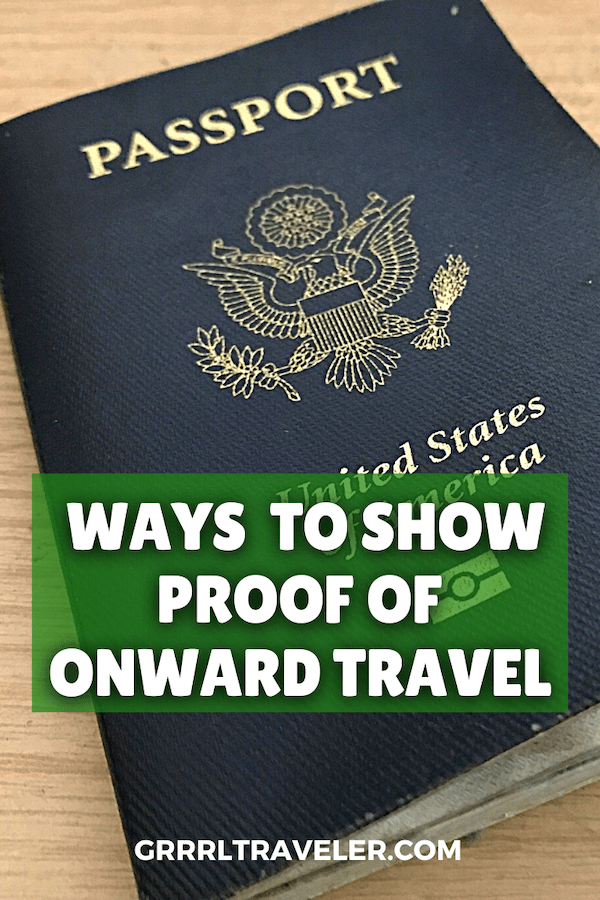 If you're a long-term backpacker doing an around the world trip, a digital nomad, or spontaneous traveler on a multi-trip journey with no locked plans and reservations, then you've likely come across the need for proof of onward travel. But how to provide proof of onward travel?
I was on a seven month trip with no set plans — each destination inspired the next and my length of stay was inspired by my energy to explore.  I wanted to travel India but I didn't know where I wanted to travel onward to afterwards.  On my India visa application, it told me I needed to provide proof of onward travel.
Proof of onward travel?
What the heck is that?! I was an independent traveler with an open-ended ticket.
This post contains affiliate links. I never leave home without travel insurance- I use World Nomads as it covers travel theft and adventure activities that basic plans don't. But here's a trip insurance finder tool  to find a plan that matches your budget.  
What is proof of onward travel?
To provide proof of onward travel, means you have made concrete plans to leave. It tells immigration authorities that you will not be overstaying your visa or staying in the country illegally. If you cannot show proof, you will not be allowed to board your flight.
Often, the airlines are responsible for collecting this proof in advance, when you check into your flight.  They can refuse your boarding the aircraft if you fail to show proof of onward travel connections.  The reason that they are firstly responsible is that if you arrive at your destination and immigration declines you, the airline is responsible for deporting you by sending you back to your country and possibly paying the fees involved.
Why do countries have these laws?
The reason these laws exist is to make sure the traveler is not going to be illegal resident of the country and that this is indeed, a vacation trip. Sometimes, travelers may have insufficient funds for their vacation and fall into working illegally in the country or begging. They can become an illegal resident of the country. Countries want to avoid this problem.
  This is also why certain countries will ask you to show proof of bank statements to show that you have sufficient money to travel there. The laws ensure travelers have solid plans so they won't not be overstaying their visa or the country they visit.
5 Ways to Provide Proof of Onward Travel
For travelers without locked plans or reservations, proving onward travel becomes a challenge. Here are effective solutions:
1. Proof of Reservations Elsewhere
If you can demonstrate that you are expected elsewhere by showing additional bookings or reservations, this shows proof of onward travel.
Although I did not have a flight departing India to show proof I'd be leaving in three months, I did possess a return flight ticket that I was continually pushing back to extend my travels abroad. It was dated to fly out from Bangkok to return to Honolulu at a future date.  This was an accepted form .
I did something similar on my recent trip to Pakistan. I did not have a onward flight booked departing Pakistan, as I was waiting to see if I could cross the Pakistan-India border on foot. But I knew that I had to be back in the U.S. by a certain date for a freelance client, so I booked an one-way return flight from Delhi.  Although onward travel was not a question posed on my Pakistan visa application, the airlines check-in counter in Honolulu checked to see if I had onward flight arrangements.  I showed the airlines my return flight to the U.S. from India. It was sufficient proof.
That said, presenting a bus, train, ferry ticket or even a group tour receipt for booking reservations that take place in another country- technically – is proof of onward travel as it sets booking reservations in motion for you to be in another country at a later date. Booking hotel accommodations in your next destination can be anotherform of proof.  Booking.com offers free cancellation on some bookings.  I've had friends who got by with this method for a while. However, it is important to note, that I've not tested the other above ideas and most travel blogs only talk about onward travel from the destination itself.
Tip: For emergenices, its always good to have wifi or internet access available. Some travelers use their home mobile service, but at $10/day, it's not cost effective. A local SIM or eSIM is always more economical.Local SIMs aren't always easy. But an eSIM you can buy on the internet. Airalo is an e-SIM I started using for Pakistan to India, it worked great.  I recommend it.
Wanna travel with me? Check out my next group adventure and join my travel family.
2. Book a Ticket with a 24 hour cancellation policy
U.S. airlines often offer a 24-hour refundable ticket policy on flight bookings, which provides a safety net for last-minute changes and buyer's remorse.  Thus, you can book your flight just before you leave the country so that you have a safe 24 hour cycle to pass through immigration, arrive at your destination and then cancel your flight reservation. It allows for a truthful experience, so that you have legit proof to show at the airlines check-in counter and immigration.
However, 24 hour refundable ticket policies are up to the individual airlines.  I recently traveled with Qatar Airlines and Emirates Airlines and they have a 24 hour hold on charging your credit card instead of a cancellation policy. Turkish Airlines has this also.
Expedia and Orbitz have been known to have a 24 hour cancellation policy window, however be sure you read the fine print and that the ticket you book is indeed, a 24 hour refundable ticket. It will be stated somewhere before you hit the "Book" button. If you do not see that policy noted, do not book it. They are both third party services so the 24 hour cancellation policy lies in the service itself and not the airlines you bought a ticket for.
3. Use Rewards Points
Using airlines' or credit card rewards points to book travel is a safe and risk free way to book onward travel. Most offer free cancellation within a 24 hour time period.
4. Rent a Dummy Ticket
Typically dummy tickets are real ticket bookings that have been booked and are valid anywhere from 48 hours to 14 days. This is through an onward travel ticket service that offers you the ability to "rent" the ticket. To find an onward travel ticket service provider, just Google: "how to rent an onward travel ticket."
Two popular services that will turn up are OnwardTicket.com and OneWayFly.com. I have not used either services, so this is not an endorsement. From what I read on the website, OnwardTicket charges $12 for a ticket that is live up to a 48 hour period.  Basically, they do exactly what you do in tip #2, but it removes the risk and responsibility of finding and booking a ticket yourself!
5. Book a Cheap Domestic Flight
If you must book something on the spot so you can board the plane,  book a cheap domestic flight in another destination using airport Wi-Fi. The expense is small and you will still show proof. Domestic travel
Tip: I might use the Google Explore page to find the cheapest outbound flight from your destination or just onward plans elsewhere.  In my above case, when I was traveling to Pakistan to host my group trip, I was stopped at check-in and asked for proof of an onward trip from Pakistan. I had already booked a return flight from India to the U.S. because I knew I had to be home for a freelance job by a certain date.  This showed proof I had onward plans elsewhere.
But if I wanted to book a cheap flight on the spot, knowing that it was a throwaway ticket and that India was my next destination succeeding Pakistan, I'd have chosen to fly between two nearby cities in India.  In that sense, even a train or bus booking could technically suffice and it would be even cheaper! (although not necessarily easier given how booking train tickets in India can be). But you get my point…
Expedia and Orbitz will field several cheap outbound flights either from your destination of travel or beyond. And you might still stumble upon a 24 hour refundable ticket!
While immigration and airlines officials are strict in enforcing the proof of onward travel requirement and scrutinize your onward travel information. In other cases, they may just glance at your information. In either case, it's best to have an onward ticket or onward travel plans booked.
\What are your travel tips for providing onwarn proof of travel.