Last Updated on September 3, 2023 by Christine Kaaloa
Whether you're a seasoned traveler or new to the game, flying and passing through airports may not be your cup of tea, like it is for me! Living in Hawaii, a majority of my trips are long-haul flights.
What's a standard long haul flight for me?  Three connections, four airports and an overnight flight (or two!).  A loss of a day or two if i'm traveling somewhere. So I want to share my favorite in-flight essentials for long haul flight that will help you save time, money, and space while keeping you comfortable and stress-free on the plane. Sit back, relax, and enjoy these essential tips and hacks for your next journey!
This post contains affiliate links. I never leave home without travel insurance. Here's an tirip insurance finder tool  to find one that matches your budget. I use World Nomads as it covers adventures . I also get the plan that covers gear and travel theft. 
23 In-Flight Essentials for Long Haul Flights
1. Hidden Money Belt or Pouch
Hidden money belts and pouches keeps your passport, cash, and important documents secure and discreetly concealed under your clothing. For years, i used a money belt -not to wear on me- but to stash in my carry-on backpack so I could keep all my valuables safe and organized in one place.
Then I added the  MaxTop large fanny pack (or bum bag) to my in-flight essentials. This is a good solution for everyday sightseeing and I still use it, especially to keep my vlog camera and phone accessible when travel vlogging (I use it often to go running with Tinker too!).  I can wrap it around my waist or crossbody. It has hidden and organizer pockets. You can see how I'm wearing it in the photo below with the pups I transported as a Flight Angels volunteer.
But one thing that I can't do is keep my flight tickets un-crumpled and accessible. I mean, i'm shifting between camera, mobile phone, passport and tickets…something is bound to fall in the juggle and I won't notice if it's a ticket (which has made me think about e-tickets more…).
Sooo close and yet a little far...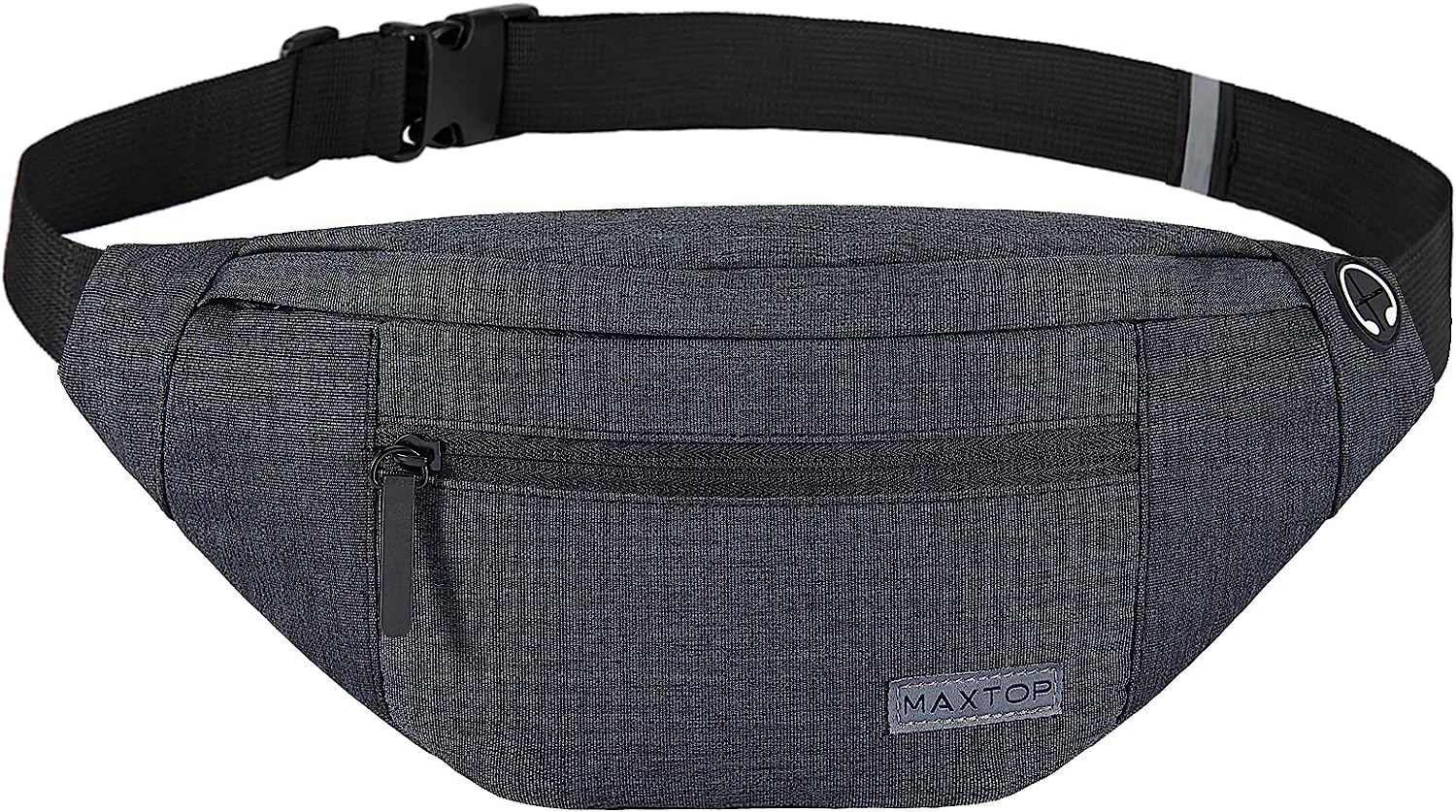 Recently, I added the HERO Neck Wallet with RFID blocking to have and wear strictly for airports, TSA and gate boarding, where I need my identification (usually passport) and boarding tickets. Pockets are a little slim, so the largest you'll fit in it is your mobile phone. But I love the organization and all my TSA -boarding essentials (tickets, passport, phone and some money) are in one pouch around my neck. I love it. For now.
Tip: Look for RFID-blocking features in your money belts and pouches to protect your credit cards from electronic theft. I've never experienced electronic theft personally (knock on wood), so I cannot say if RFID really works or if it's just some extra way of selling something. But in this day and age, it's good to cover all basees. Some money belts even have additional features like slash-resistant fabric for added security.
2. Sleep Mask
I never considered a sleep mask essential until I tried a
Manta Sleep Mask.
These is no ordinary cheapie mask you get  for free. It's a mask specifically made to block out light anywhere. It fits snug and firm over your eyes (I wake up with it still on my face) and it hits pressure points around my eyes which gives me a deep relaxing sleep. I'm in love with these masks!
I am not someone who has problems sleeping anywhere but I started using them on flights and they are ahhhhh. I also like to think they keep my eyes moist during flights.
Get free basic car rental coverage, a free flight (sorta) and free checked luggage on Delta — with this travel rewards card which I love.
3. Multi-port plug
A travel must is a multiport plug. These days much of our devices can be charged from USB and USB-C ports, so I love taking this handy multi port plug with me. It's especially handy when i'm at the airport waiting and want to charge many devices at once or when I get a plane with a multi-plug adapter below the seat. Very useful to pack as an in-flight essential.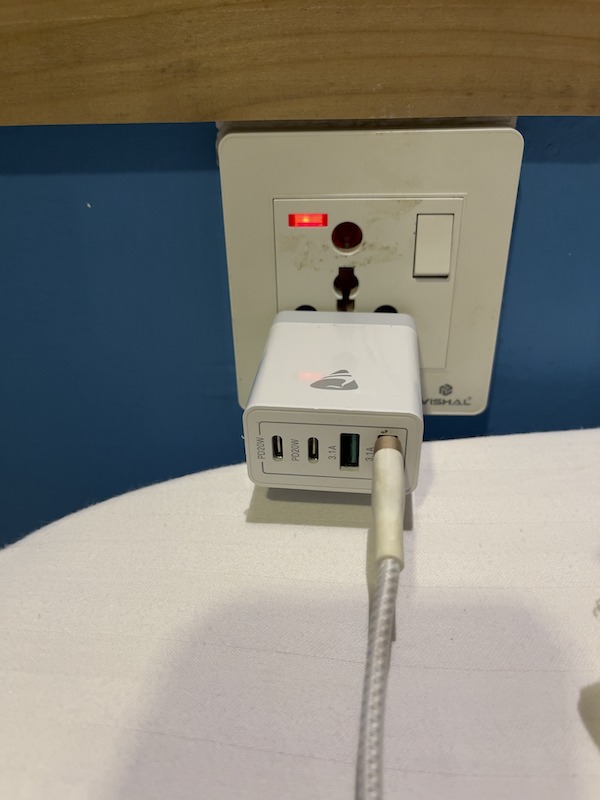 4. Packing Cubes
Packing cubes typically help you organize the contents in your luggage. However, I like to add a small-medium sized packing cube to my in-flight packing list to help me compress flight survival and overnight essentials, like  microfiber no odor undies, GRRRLTRAVELER muscle t-shirt, lightweight jacket, scarf, leggings, etc… These are wonderful for compressing, containing and organizing extra articles of clothing down for me so I'm not carrying bulk.
Bagail Compression Packing Cubes are a game-changing technology of being a compression packing cube that further compresses your packing, thus, reducing the size your clothes take in your luggage.
Amazon Basics 4 pc set. This is an inexpensive and basic four piece packing cube set. Perfect for beginners. 
If you ever felt those large packing cubes just got in the way your using your space efficiently, then Compass Rose Travel Packing Cubes are up your alley. My friend Alex at Travel Fashion Girl has small rectangular packing cubes that are sized to be stackable for carryon luggage.
5. Mesh pouches for in-flight essentials
I'm a big fan of using mesh pouches for travel and especially for in-flight essential organization. Originally, I buy the ones from Daiso, where there is a main and side pocket for organization. But the below photo is very similar. I like mesh because in a dark plane or when your in-flight tote is below a seat and you have to fish for items, it's easy to feel and see your items. Mesh is also very flexible and can warp into many sizes and shapes.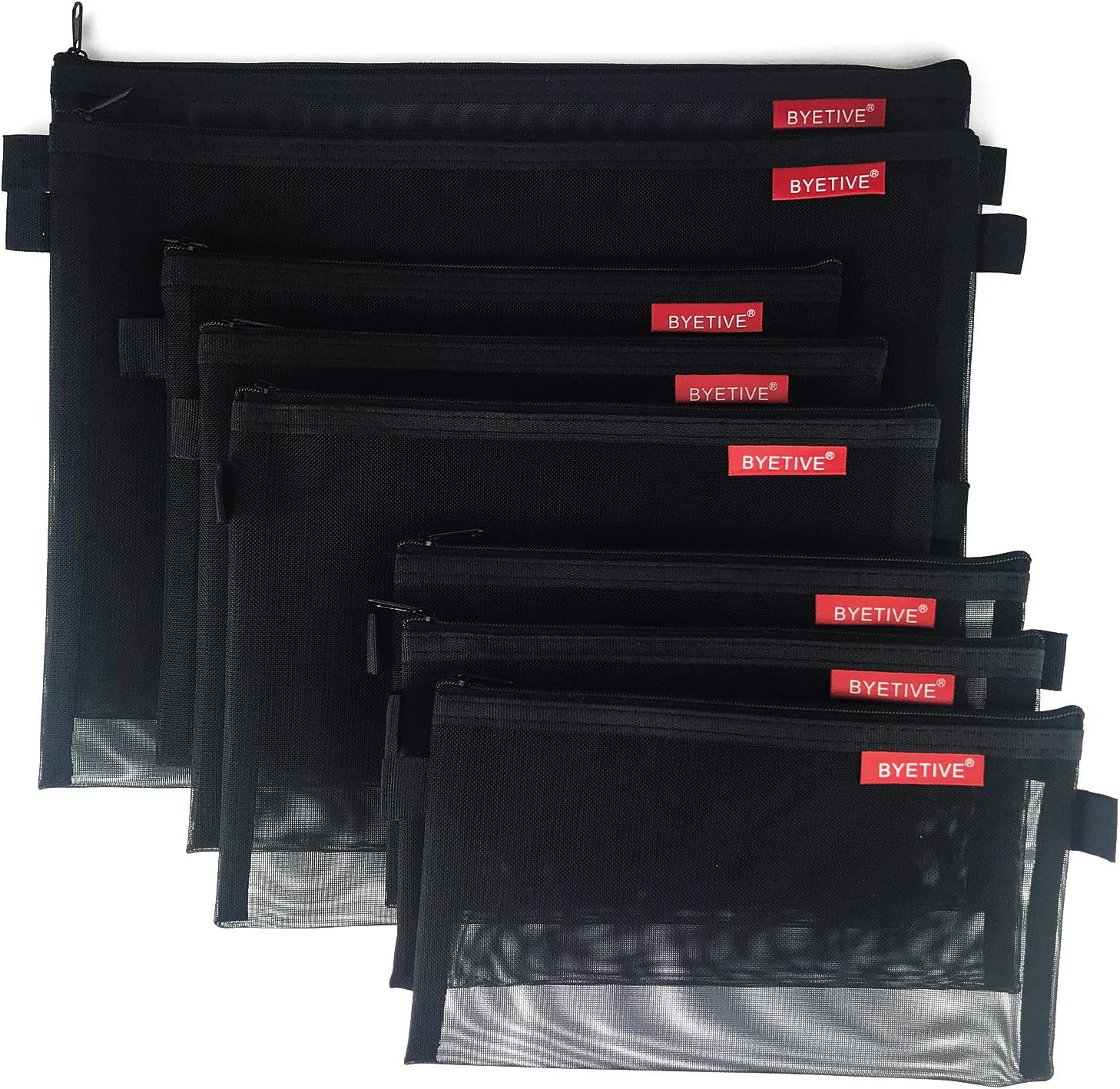 6. Charging cables
I always like to carry a few of my essential cables with me such as my iPhone charging cable , my USB-C cable and vlog camera cable. More planes are beginning to come with USB outlets for charging your mobile device at the very least. But this also means I can charge camera batteries if I ever needed.
7. Cosmetic /Toiletry kit (okay, this is a little more than one item)
In my in-flight toiletry kit essentials i'll carry minimal makeup, such as my BB cream and moisturizer (both, stored in coin-sized creme jars ), eyeliner, mascara, compact foldable travel hair detangler with mirror, tooth brush and toothpaste, panty liner, hair ties and my favorite DoTerra scented oil pen. I fancy natural oils, and this pen is good for a pick-me-up or when you're sitting next to someone who doesn't smell so great (like me and if i'm carrying any pitty or weird odors…which I try to prevent!).

8. Expandable Foldup Travel Tote (Personal Item)
Having a expandable foldup travel tote as a personal item is super handy, when you need the option to reduce your personal item or expand it into a travel tote that can transport your duty free products on your layover !  This bag folds up compact and can be zipped up with its' own zipper.
The dimensions (below) are : 16.5 x 8.7 x 10.6 in size but the bag unzips and expands vertically to 14.6 inches height.I like that I can expand the bottom and I've found that useful returning home with souvenirs! There's also a side that slips over your rolling luggage handle to keep it in place. The thing I don't like is that  the straps slip off my shoulders (however, I've had that problem with every tote and bra strap; I have sloping shoulders). The fabric is a bit more on a slippery side because its made of a water resistant material outside and inside, it's coated with a bit of plastic so that spilled water cannot seep in or out. It's stylish, but generic (and yes, if you look hard, it kinda looks cheap) but it's functional,  durable and best of all… inexpensive!
The BagSmart Women's tote is a chic option as far as travel totes go, with various compartments inside and out to organize anything from your reusable water bottle to iphone and tablet. The inside has a partition that separates either clothes items or your laptop from other items. It even has a flap to hold your yoga mat.
This tote is a ideal as a vacation bag when you want to feel girly or if you are a mom with toddlers or a newborn– it's cute but functional with all various organizer pockets. As a carry-on purse for in-flight travel, you can separate your jacket and snacks from your laptop and then store it under your seat. The material of the bag feels nice and luxurious. It is a high-quality and well-designed bag that is ripe for jet setting or being a travel girl boss on her way to speak at a travel conference.
The bag lays flat if you want to pack it in your luggage.  I got one from attending Women's Travel in Summit for Creators as a speaker and it's beautifully chic.  Take it on your business trips or weekend trip to Cabo with the girls.
9. External Battery Charger
Travel enthusiasts are aware of the value of carrying a portable charger. One of the worst feelings is when your phone dies on you, but a Popsocket x MagGo portable external charger by Anker (see my review & video) will cordlessly charge you a couple times over. The beauty and convenience of the design is that it's magnetic and will stick to your magnetic charging mobile case and charge it while you're using it. Note: It has been known to heat up my iphone, especially in hot climates. But I still love it and won't change.
If you need a charger that can charge multiple items, check out Anker 10,000mAh portable charger. It's a teenie heavier than the others and more the weight of a mobile phone. But it has two USB charging ports!
Alternate option: Lipstick-Sized Portable Charger like MyCharge Hub Mini Portable Charger 3000mAh is perfectly compact to take on the go and it has its own charging cables! Its a compact portable charger, so it is space-efficient. Your device will swiftly be charged, and there will be extra room in your bag for more things.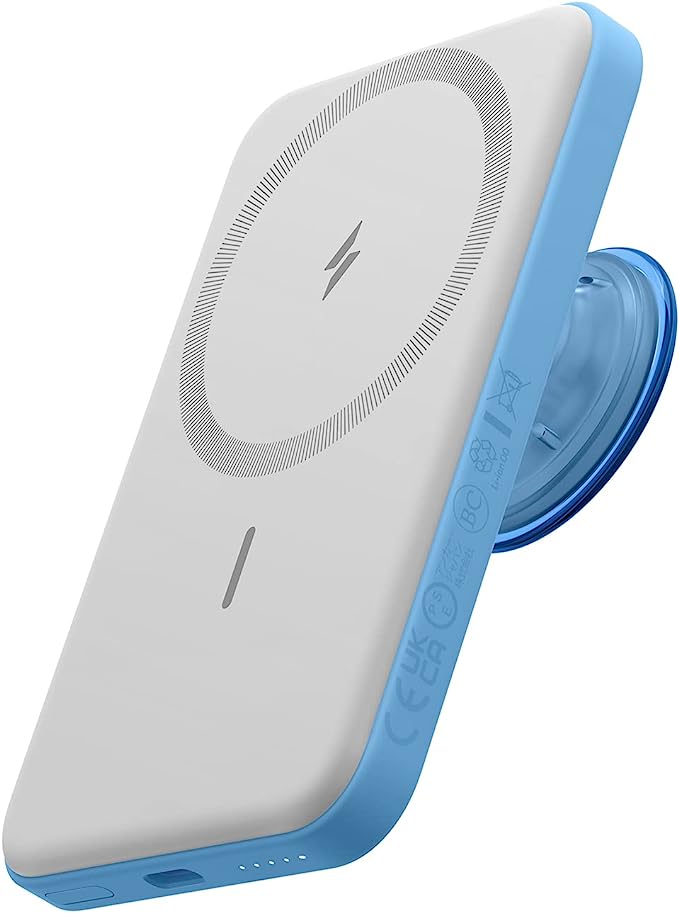 10. Baby wipes
Sitting in recycled air for hours can make you feel stale, and sometimes, you just want to feel fresh. One must pack item for In-flight essentials on long haul flights is biodegradable baby wipes . When you don't have a shower, this comes in handy.
Tip: For ladies, this is ideal when you have your menstrual period and want to feel fresh in the nether regions!
11. Portable Air Purifier (included in my My Covid Kit)
My Covid Kit includes a portable air purifier, N-95 masks, a COVID home test kit, sanitization wipes and lavender hand sanitizer(which also helps scent stale air and clothes).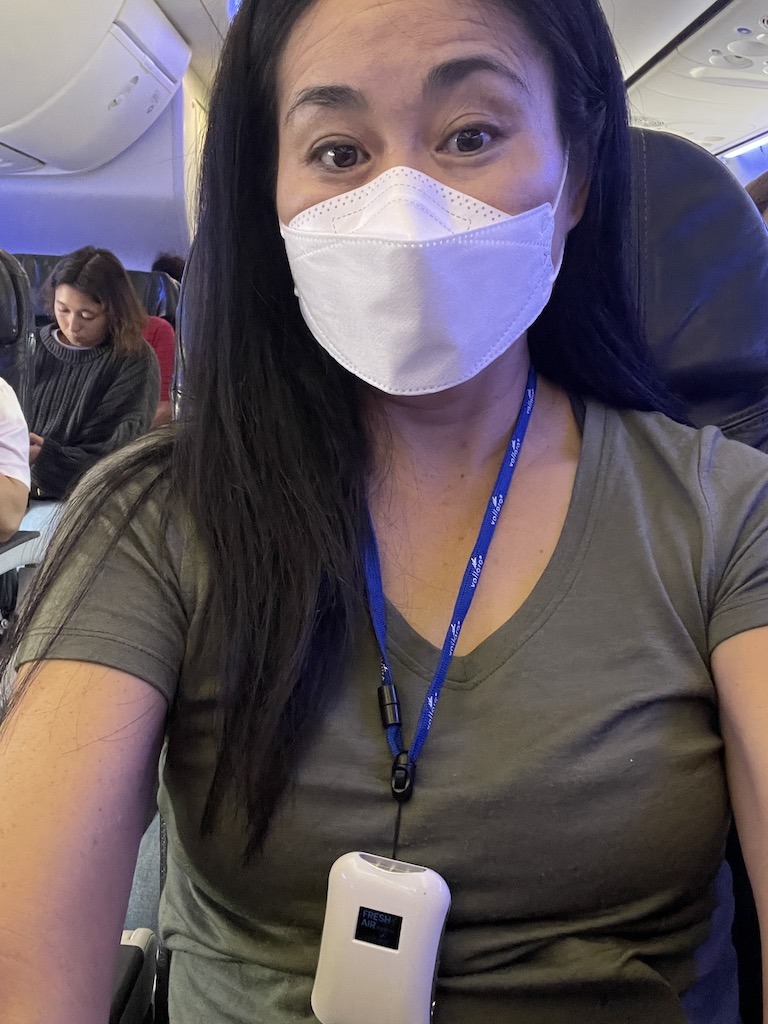 12. Merino Wool Shirt
I've started packing my Unbound Merino shirt  (photo above and read my review – I love and highly recommend their travel dress too!) I love packing it as a backup essential if I want to change into something more comfy, but also classy, moisture wicking, and the caveat is that it does not take on body odor.
For some reason when I travel, my shirts can occasionally take on a very (arm) pitty odor – probably because my arms are pressed to my sides in the seats. With my merino shirt, I don't have to worry about that problem. Additionally the wool fabric is temperature controlling so i'm neither too hot or too cold while wearing the shirt. I've used it in the most humid weather (including Nepal's monsoon season ) and they stand up to the job without me breaking into a sweat while wearing it!
Tip: This one classic t-shirt/blouse substitutes for a few as it lasts longer and doesn't need regular washes like everything else. 
13. Flip Flops
Flip flops are a handy essential footwear to bring for on your trip, but it can also be freeing for your toes when you fly! Please, do not walk on the plane floor or into the lavatories with your bare feet! (woof!) I pack my comfy soft GRRRLTRAVELER flip flops or my super slim Havaianas.
14. Pashmina Scarf
Pashmina scarves are wonderful to add to your in-flight packing list because it's a multipurpose accessory and is longer than most fashion scarves. It has more purposes than fashion but can act as scarf to keep your neck, chest and head warm on the flight. You can turn it into a shawl and ultimately, into a blanket if you're on a long-haul flight that does not offer free blankets.
I've traveled with the same green pashmina on every trip for over two decades!  I've bought other scarves since then, but this is the one I always travel with! If it ain't broke, don't fix it.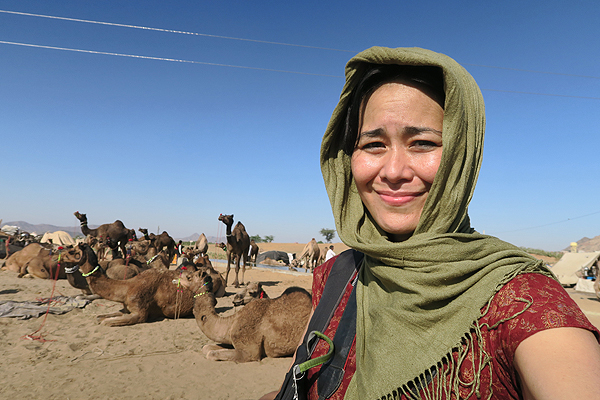 15. Travel Insurance
These days, travel insurance is just a given necessity.  They cover stolen and lost luggage, or if your flights are canceled, but they will even pay your medical bills if you end up needing to see a doctor while you are on vacation. I never travel without it, so don't take any chances by forgoing travel insurance.
When it comes to basic travel insurance to cover my domestic trips, I go with the free trip insurance I get from my travel credit cards. However, when I travel internationally,  World Nomads is my favorite option for adventures. It covers theft and adventures that most travel insurance companies do not cover. Often, I'll stack this on my basic insurance, just for the theft and adventure insurance.
Another good site to check out isTravel Insurance Master. They have a trip finder tool that helps you find a plan to match your needs and budget.
16. Lightweight, packable jacket
Definitely pack a light weight jacket with you. I have three types of jackets and they vary accordign to layover time. '
One that's more for brisk jogging and is stretchable and form-fitting. It can be layered under my lightweight jacket.
Portable, packable jacket (it's Uniqlo, but similar to this ). It comes with a pouch. It's a very thin windbreaker that traps in the heat against my body. Says it's waterproof but they never are and if it rains you'll still feel soaked. But it's good as an extra layer of warmth.
17. Compression socks
A lot of travelers list flight compression socks to keep circulation in your calves and feet. I've only worn compression socks on one flight and didn't like that it felt like I was cutting off circulation.  But it could be that I have large Asian calves or I don't know how to find my right size. I use it more for freelance camera operating when i'm on my feet for the entire day. I'll list it here because it's smart and some travelers will need it. As I get older it certainly becomes more of a consideration for me, especially as I have bad circulation.
18.  Snacks
What to pack for long haul flights? Unless you like ordering from an overpriced plane menu, I always pack snacks. I'll pack my main meal and some power bars and Japanese cracker snacks. Japanese rice crackers are light, neutral food and not packed in fatty grease. They satiate a momentary hunger and are perfect to eat while you're watching your in-flight entertainment.
19.  Reusable water bottle
Bring a reusable water bottle or buy water that comes in reusable, recyclable containers.
In the past, my travel hack was to buy one plastic liter water bottle before my trip and reuse and refill it all the way through. I didn't want to carry a hydroflask, which added to one more item to be responsible for not losing and I wasn't crazy about adding ounces to my already heavy camera backpack. It meant I could lose or forget it and not feel like I was out-of-pocket for the loss. Well, i've found a better water bottle hack…
These days, I've been buying water brands that are packed in reusable flasks, such as Pathwater. The water is 9.5 PH balanced water with electrolytes, but more importantly  to me as a responsible traveler,  it comes in a light-weight, wide-mouth design for easy refilling, and easy to care for. Just hand-wash or shake with a few drops of dish soap and warm water, then rinse.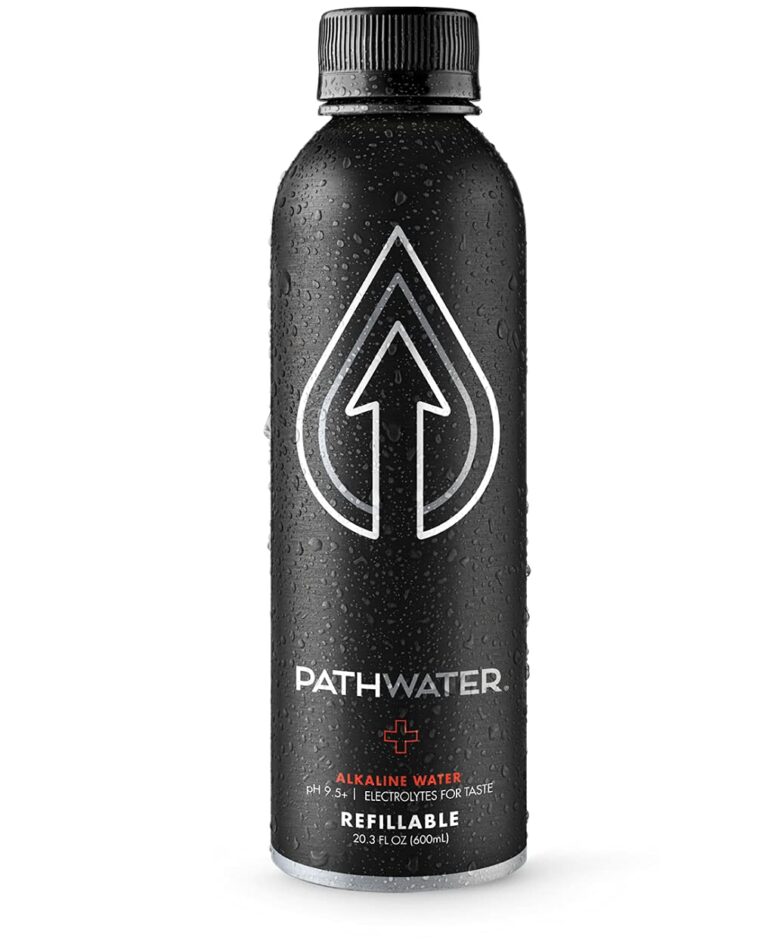 20. Chlorophyll capsules (aka Body Mints)
Sitting in one position for hours can make you feel stale and you can start smelling it too. For times when my body odor acts up I like to pack chlorophyll capsules for the flight. They're like body mints that act as an internal deodorant. It really works and I love it!
Alternatives: I originally used Body Mint brand for years and they're really effective, but it's quite pricy. Nature's Way chlorophyll capsules works equally well.
Tip: Did you know Chlorophyll tablets reduce altitude sickness too? This comes in handy if you're trekking, if you're traveling to high altitude destinations or if you're traveling with me to North Pakistan with me this fall!
21. Keychain Pen
Always carry a pen in your in-flight tote, because it will come in handy when you have to fill out your arrival or customs card.  The last thing you want to have to do is dig in your carryon luggage in the overhead compartment for a pen or feel awkward asking your next door neighbor.  I've been using the Side by Side keychain pens because they're the perfect mini size for me to clip to my neck wallet or tuck into my cable pouch.
22.  Extra undies
I always pack extra microfiber no odor undies because you never know when a flight could get cancelled and you have to spend an extra night somewhere, or if you get period leakage. Usually, I travel with my carryon so I always have clothes available to me.
Underwear is a personal choice, but sharing is caring, so i'll spill. I'm a no-nonsense, practical, athletic and survival-based female solo traveler, who wants sturdy basics with a twist of cool style. I sweat a lot and with long hauls, the crotch is sandwiched in for a long time, so I like Hanes microfiber seamless bikini panties.   Hanes is inexpensive, smart and good value. They're a household name.  I go between their microfiber and cotton bikinis for comfort, design and durability..
23. Anti-theft Travel purse
Anti-theft travel purses can have secret pockets, slash proof straps, RFID pockets and more!  Before taking any ole purse consider one that you can travel with piece of mind safety. I like the Baggallini Comrade 3-Zip Crossbody bag (for the minimalist traveler who likes organization), Ameribag Classic Healthy Backpack bag (if you want something that feels like it has never ending storage and organizer zipper pockets- I've had mine for decades and it is now retired to my camera crew jobs where I carry tools!) and Baggallini Horizon Crossbody (for practical purse style).
Here's stylish and minimal crossbody anti-theft purses.
Thanks for reading! Be sure to check out my long haul flight review videos for a peek inside the airlines I've flown with, airplane foods and airports!
What do you pack for long haul flights? What would you recommend adding to this in-flight packing list?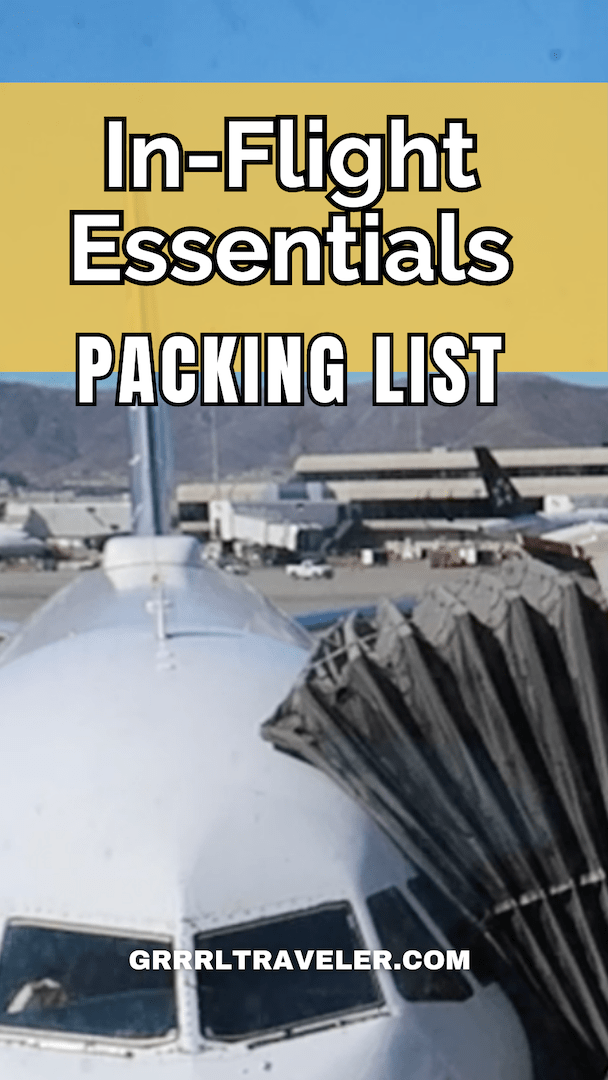 Best selling reef-friendly sunscreen: