Last Updated on June 20, 2021 by Christine Kaaloa
Why do Koreans have such luminous and flawless skin?
For a country fixed on skin-deep aesthetics, plastic surgeons, immaculate dress styles, pinpoint-fluffed hair and healthy diets, it stands to consistent logic that Koreans would know how to 'create' great-looking skin!
Back in the U.S., I used to spend hours in Sephora, dropping anywhere from $40-$70 on various bottles of moisturizer and spot lightening potions. It was a back-breaking, wallet-splitting chore to maintain my face. Results? As noticeable as having taken a placebo!
Then came "foundation makeup"; a necessity for formal affairs and acting auditions. It went on like a thick mask and had my pores gasping for air! I hated it so much, I wore it, only when absolutely necessary and it came off just as quickly.
BB cream in Korea changed all this.
What is BB cream in Korea?
Like Korean face slimming masks, Korea BB cream  (aka Blemish Base) is one of my fun and naughty beauty secrets (shhhhh!).   In Korea, Korean drama stars use it to get flawless-looking, radiant skin on-screen, but Koreans all over use it to create a clean and clear complexion. In fact, BB cream's gotten so popular that it's migrating over to the United States.
BB cream is a 2-in-1 cream, combining Korean skin care and makeup. It goes on like a light foundation, but it has sunscreen, moisturizer, skin brightening, concealer and occasionally, stuff like 'anti-wrinkle' or 'lifting' cream. My skin seems to like it. It conceals my uneven skin tone and appears smooth and natural.  Best of all, my skin looks 10x more rockstar glamorous than it is!
I've used it for the past two years and I'm seriously addicted.
Korean BB Cream whitening: Is it for everyone?
Unfortunately, if you have dark or olive-tanned skin, you're out of luck. BB cream comes in 2 shades: light beige and natural beige (or light and lighter!). As such, my first discovery of BB cream was a rude awakening. Asia is synonymous with whitening solutions and the halo around BB cream is that it gives "radiance " to your skin.
How much radiance?
It was night. I was leaving the store, where I'd discovered and applied a sample of BB cream to my face. I accidentally caught a glimpse of myself in a passing window and gaping shock, accompanied my twinge of horror. My face literally, glowed in the dark. I was a floating head! My face didn't look real on my body; it was my Michael Jackson moment.
However, the next day, I went back, changed my color to the shade darker and applied a thinner spread. It blended quickly into my skin, creating a perfectly smooth, clear and radiant (but natural-looking) surface.
That was it. I was addicted.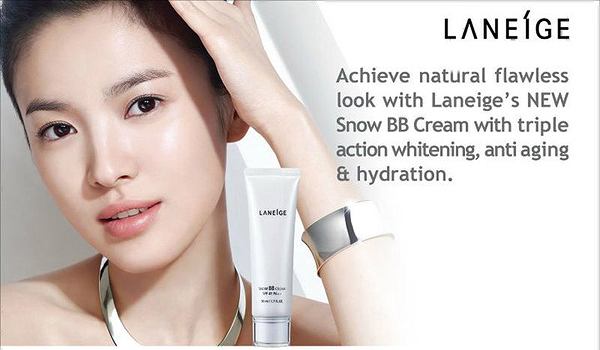 .
BB cream in Korea: Can men wear BB Cream?
Yes and though 'men wearing makeup' feels wrong (by western standards), you'll love the skin on the men who do…  Perhaps part of its draw has to do with its popular Hallyu cover boys. Boys over Flowers stars Lee Min Ho represents Etude House, Kim Hyun Joong is the flawless face for The Face Shop and  Secret Garden's Hyun Bin is one of the many poster boys for Laniege. Yum!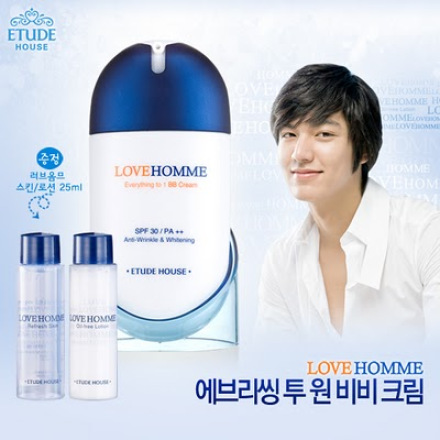 Which Korean BB Cream do I prefer?
There are many types of Korean BB creams out there and under different brands. Your options are bountiful.
I like Face Shop's Face It BB cream and Face Shop's Face It Power Perfection BB Cream
(review here). It goes on light, while forming a smooth, even-toned and radiant palette. I barely know it's there, to the point, I occasionally forget to wash it off!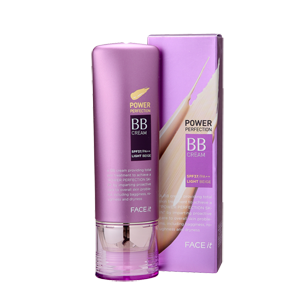 Does prolonged usage improve your skin?
The claim is that BB cream will improve your skin from the inside out, but it's probably packed with no more toxic junk than other skin products. Nevertheless, my skin feels more firm, moisturized, stronger and resilient. I've actually noticed less acne breakouts on my end. My sunspots and freckles are still there, but my acne scars are slow fading.
As a person who's always hated wearing "makeup", it's changed the way I feel, from a zero to a 100. I love the way BB cream makes me look and I love wearing it when I go out. Best of all, it's made my daily regimen of moisturizer and sunscreen, no longer a chore but an incentive to beauty.
Who doesn't want gorgeous skin?
With BB cream, I have it.
.
 Here's a video on the rage over beauty care products in Korea.
[youtube]https://www.youtube.com/watch?v=kXMoSDpEr2g[/youtube]