Last Updated on November 29, 2019 by Christine Kaaloa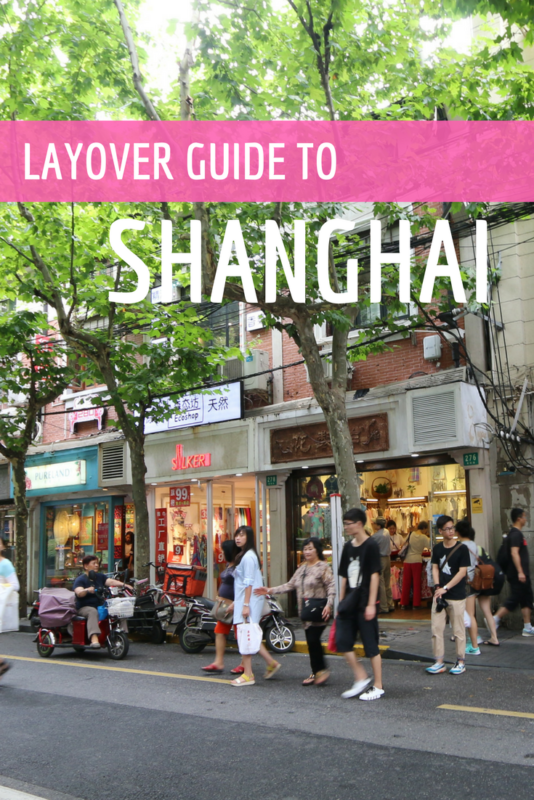 .
Shanghai is a cosmopolitan city. It's a striking blend of modernity paving over ancient days. It has a hip, urban scene but also a backstreet scene of old local markets.  I had a 20 hour layover in Shanghai's Pudong Airport on my way back from Qinghai. 20 hour isn't a lot of time for sightseeing a city, but it's enough time to get a quick tease to keep me wanting to return for more!
The clock is ticking.  Efficiency is key if I want to squeeze the most I can in.
Read Things to Know about Connecting Flights & Layovers
Table of Contents: Shanghai Layover Guide | Things to Do in Shanghai in 24 hours
Shanghai Layover Travel Guide
A 20 hour layover sounds like a lot of sightseeing time. It is and isn't. Here's how I breakdown a layover.
I allot  three hours for transportation to and from the airport, depending upon how far the city center is and what transportation I'm using. In this case, the high speed Maglev promises to shorten my time to around 8 minutes. However, in connecting to subway lines and finding my hotel, I factor in extra time for getting lost.  ▶3 hours
I always allot three hours for airports if I have an international trip. This is for checkin lines and going through TSA and immigration and not wanting to run to my gate.  ▶  3 hours 
With six hours gobbled up, my layover time is more realistic. I have 14 hours left, but as I've arrived in the evening, my sightseeing time is compromised and halved. Realistically, I now have around 7 hours for sightseeing.  Now you know why I schedule long layovers…
Read How to Gain a Free Trip from a Layover (Choose your Layover)
Getting a China 72 hour visa for Layovers
China has a free 72 hour transit visa for flight layovers in major Chinese cities.  Exceptions are if you're from Hong Kong, Japan, Taiwan, Macau and the Bahamas (please check your country requirements beforehand). For trips longer than 72 hours, you'll need to get a regular visa.  For longer visa stays, read here.
Pudong International Airport
Pudong International Airport has crappy WiFi, even with a VPN app. It helps if you buy a China SIM card from one of the SIM service kiosks at the arrival gate. But if you're on layover you might not make much use of it and Google is banned in China, so you can't use Google Maps anyway.  Still, the airport houses a few telecom providers who will sell you a SIM card for 150 RMB ($23 USD). I like China Unicom.  The airport has shops and some charging stations, but they can fill up fast. Outside the gate there are a few better fast food restaurants options than inside the gate.
Getting Around Shanghai
Airport Tourist Information Office
I'm doing the DIY travel version. I'll be finding my way around and creating my own itinerary as I want a little flexibility in my schedule to explore . First stop~ I solicit the help of the Tourist Information Office on the ground level of Pudong International Airport. I pick up a free city/ metro map, hand my small itinerary to the assistant and her circle the best routes and metro stations to tackle my itinerary!
The desk assistant also lets me know about the Maglev roundtrip ticket + Metro One Day pass, 85 RMB (good for 24 hours). Perfect for the layover traveler!  It always helps to stop at tourist information if you haven't researched a trip beforehand.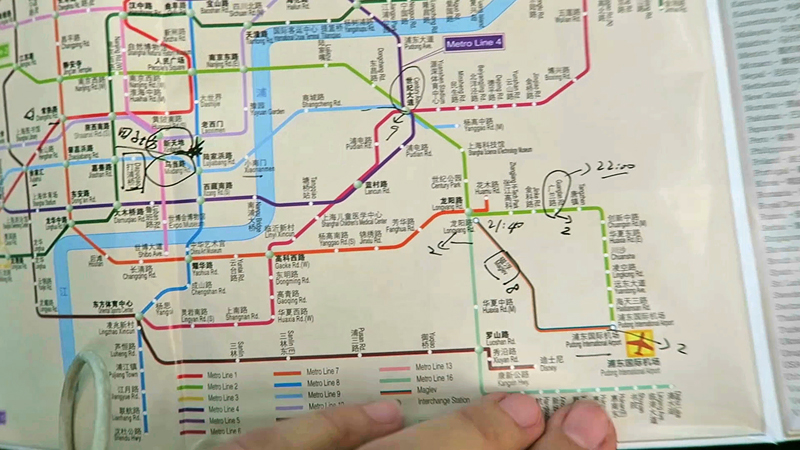 Shanghai Metro & 

The 

Maglev  (Shanghai's rapid speed train)
Shanghai Metro is easy to use and much of the routes/lines are color coded for spotting ease. You can buy an unlimited 24 hour  (18 RMB)  and 72 hour pass (45 RMB).  A single way ticket can range anywhere from 3 to 11 RMB depending upon distance.  Hours run roughly 5:30am to 10:30pm
The Maglev (aka Magnetic Leviton) is Shanghai's high speed train from the airport to Longyang Road (downtown Shanghai). Raised above ground like a monorail, it can go up to 430 kilometers per hour and crunch a 45 minute train ride into eight minutes.  That's super fast. At one point the train was flying on the tracks so fast it was at an angle. If you're running to the airport at the last minute, you want to be on this train. It's the easiest and quickest way to get from airport to downtown Shanghai. With a taxi you'll always have to factor in traffic time.
To catch the metro, you simply transfer at Longyang Road station. The metro is ia separate building adjacent to the maglev station.
Hours of Operation: 7a – 9:40p
Cost: Maglev roundtrip ticket + Metro One Day pass, 85 RMB (good for 24 hours);   80 RMB round trip (good for 7 days) or $12.40 USD.
Shanghai Layover Travel Guide (watch video)
Ultimate Layover Guide to Shanghai
Things to Do in Shanghai in 24 hours
Shanghai Layover Tours
There are layover tours and half day tours for travelers who will in Shanghai for a short duration.  If you're willing to splurge, base tour costs might start you at $80-100.  You'll need to pick and choose what highlights are the most important to you.  Here's some full and half day tours in Shanghai.
 Street Food
Walking along the streets around Xiaoximen station towards The Bund, there's a lot of different street food vendors. Most of them set up tables and chairs on the sidewalk, showcasing raw food for firing up on an open grill. Point at the foods you want and let the vendors grill it up.  I've heard the city of Shanghai has cut down on street food vendors however and much has moved to cafes and restaurants. Still I was fortunate to experience some of this in my neighborhood.
Read Avoid Getting Sick on Street Food
The Bund
A 20 minute walk north of my neighborhood (Xiaoximen) lands me in The Bund,  an international and financial district once occupied by the British. It's one of Shanghai's most famous tourist destinations.  You can stroll along the boardwalk as it runs along the western bank of the Huangpu River .  Across the river you can see the Pudong skyline of modern skyscrapers and the famous Oriental Pearl Tower (the 4th highest tower in Asia, 6th in the world). At night the skyline lights up like a Christmas tree of neon lights.
Nearest Metro: Nanjing E Road.
Nanjing Road & People's Square
I didn't get this far as it was already late in the evening.. but Nanjing Road is notably one of "China's best shopping roads" and if you walk westward, you'll come upon the Peoples' Square.  If you're a shopper, you might want to book accommodations nearby.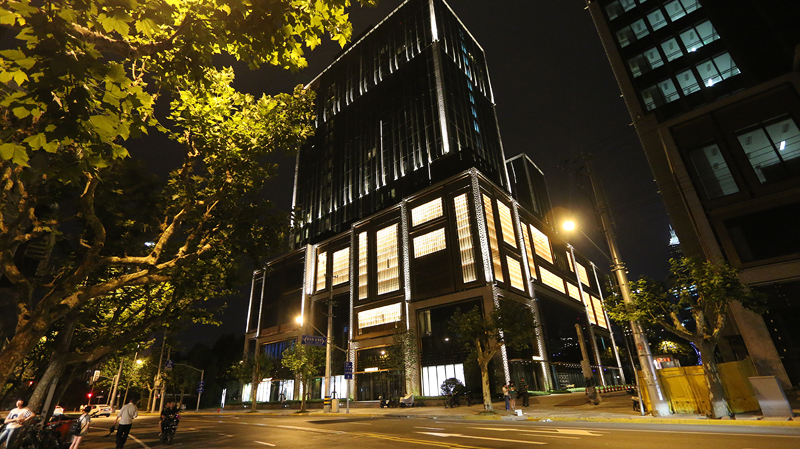 Xiaoximen metro area , Lujiabang fabric market
Sometimes, I like to take a chance and follow a path I find interesting. In the area of my hostel, following Qiaojia Road, there's a triangle area between the corners of Xiaoxinan Metro station, Lujiabang fabric market and the Cool Docks,  where Old Shanghai resides.  Decaying residential apartment buildings and longtang alleyways with vendors, the streets lead you to a traditional marketplace on the streets and where locals do their dinner table shopping.
From a guy skinning frog to another guy beheading turtles, the street is hard core and unique. To see the actual roots of the culture, you get to see and feel how the old Chinese lived.
Cool Docks
The Cool Docks is a  renovated riverside area with chic restaurants, warehouses, showrooms and cafes, south of The Bund (20 minutes from Xiaoxinan Metro,老码头 505 Zhongshan Nan Lu, near Fuxing Dong L. ) I didn't get this far but it's posh and haute cuisine, merged with some of the old style architecture of the Old Docks.
Nearest Metro: Xiaoxinan Metro Station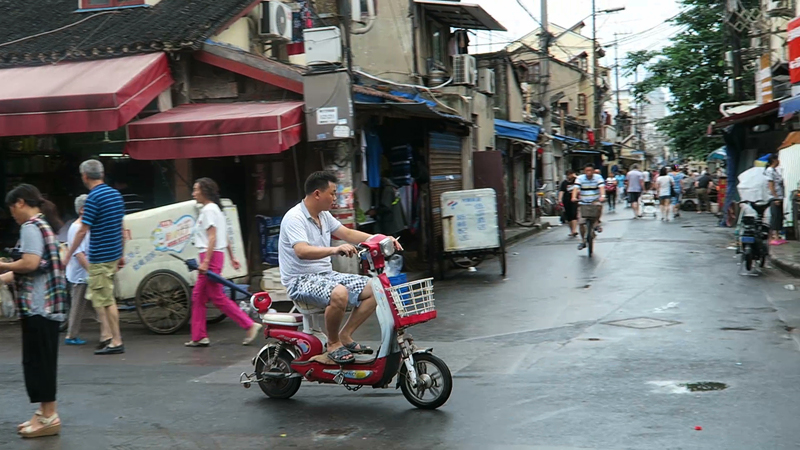 Tianzifang
If you're looking for cool curios and cool bars and boutique shopping then Tiangzifang is the place to be at. As the Soho of Shanghai, you can spend like a couple of hours walking through the old-style streets and winding alleys of Tiangzifang. It's hard to keep your money in your pocket. Every time you walk down one of these streets you feel like buying something.
This is the place were even the non-shopper will want to feel like shopping.  Hours: 10:00-23:00.
Nearest Metro:Exit 1 at Dapuqiao Station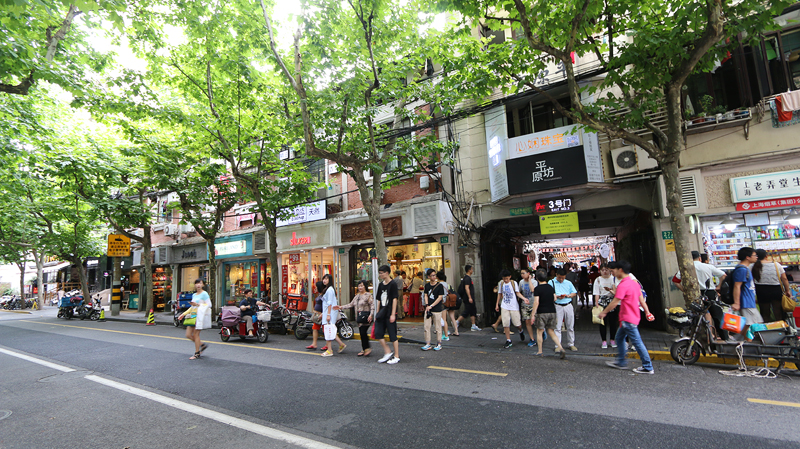 Tuzki Restaurant
Tuzki Restaurant is a cute Tuzki themed cafe with cute Tuzki stationary, food and collectibles   Tuzki is a popular bunny emoji character, created by Beijing illustrator Momo Wang. You'll find is often used in messenger apps, Such as Wechat, Kakaao and Facebook.  If you feel like a lunch splurge, this is a fun place to hang out while messaging your friends of your latest whereabouts. Address: No.190, Taikang Rd.
Nearest metro: Dapuqiao Station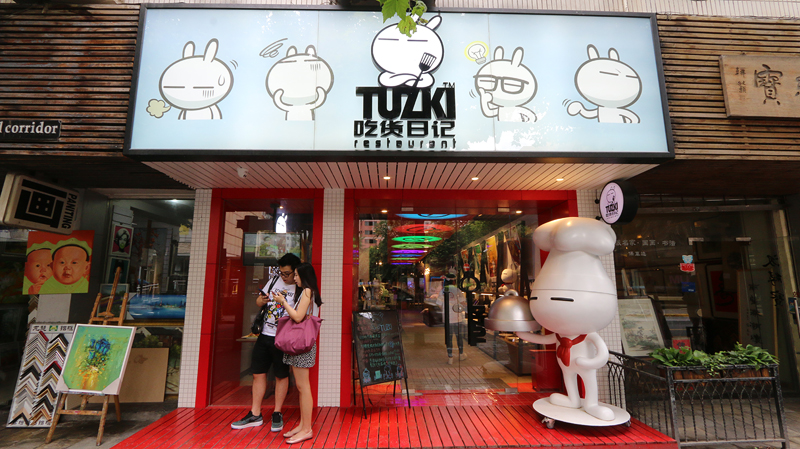 Tianzifang Underground Mall  (Dapuqiao Station)
Below Tianzifang in the Dapuqiao metro station, the shopping doesn't end. You'll find a wealth of snack shops and an underground shopping mall. I'm not sure if it's called Tianzifang Underground Mall, but due to the fact it's located in the station for Tianzifang,  I called it that.
Shanghai layover, you could spend time in just this area alone. Definitely, I would say book a few more days if you can. You gotta love Shanghai.
 Best View of Shanghai
There are a handful of viewing points in the city.  The Shanghai Oriental Pearl Tower is for a longer layover, but it can be a layover in itself, if you were interested in the experience of being in one of Asia's highest towers.
Shanghai Oriental Pearl TV Tower is in Lujiazui across the Huangpu River (shared opposite of The Bund) houses a museum, a glass elevator, 3 sightseeing floors, a revolving restaurant and a glass aerial sightseeing deck where you can look down and see the city under your feet.  Admission to the 1st and 2nd spheres start at 160RMB.  Hours: 8:30am -21:30
Getting there: Take the metro to Lujiazui Station (Exit 1) . You can also take the Huangpu ferry.
 Where to Stay in Shanghai
Hotels are said to be inexpensive in China. As an international cosmopolitan city, Shanghai is one of the more costly cities in China. You'll pay a little extra for posh and luxury. Budget and hostel accommodations can start around $15-20/night.
As I was just doing a layover and knew I'd be doing very little sleeping, I stayed at an 8 person dorm ($14 USD) in the  Shanghai Chi Chen Boutique Hotel.  After staying at 4-5 star hotels in China, I was shocked to find a community squat toilet stall in my hostel. I think I did a baby wipe bath that night. While I would not recommend my hostel for anything more than a budget backpacker layover, they have a hotel version which gains better reviews. It might be worthwhile to upgrade.  Here's some other hotels near the Bund area.
Essentials to Bring to China
Recommended Products for China . Click to Shop 

SHOLDIT Infinity Clutch Wrap Purse Scarf

universal travel adapter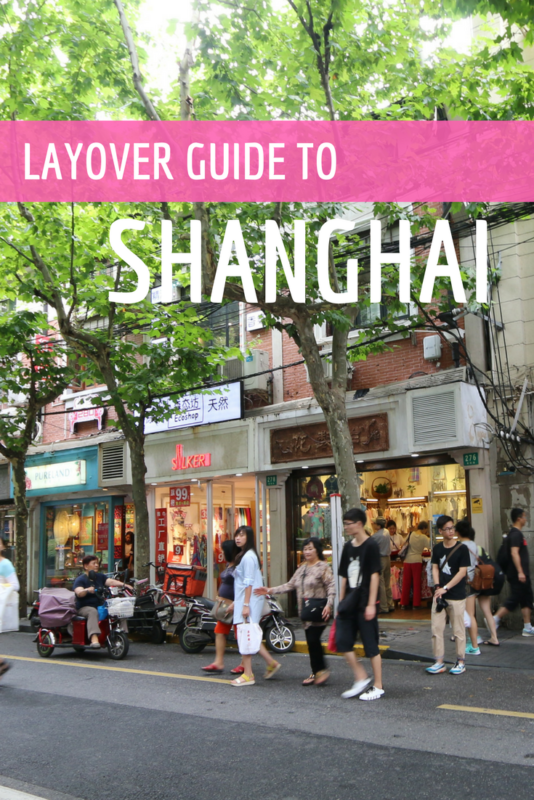 Planning a layover in Shanghai? What would you recommend for this Shanghai layover guide? Leave your comments below!
Related Posts on China & Layovers
Jilin Travel Guide
Qinghai Travel Guide
How to Survive Layovers 
Things to Know Before you Go to China
Why you'll need a VPN in China
More Layover Guides