Last Updated on July 13, 2023 by Christine Kaaloa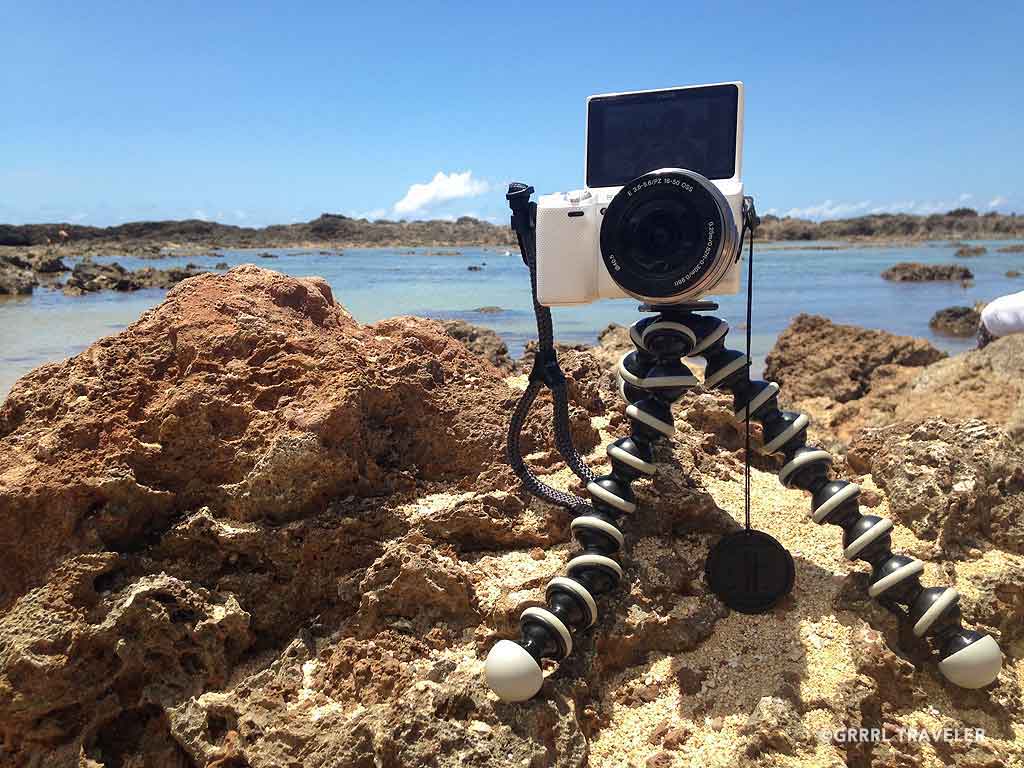 My travel vlogging cameras for YouTube
This post may contain affiliate links. Never leave home without travel insurance. Click for the best travel insurance for gear protection and best insurance for COVID. Want camera gear advice for your film trip? Book a vlogging gear advice session with me.
A lot of viewers want to know what cameras I use for YouTube travel vlogging.
For many of us travel vloggers on YouTubers, the cameras we use for filming travel videos and vlog ourselves are important tools of the YouTube trade. We need ease, reliability, good audio and image.
Travel vlogging cameras with flip-out screens are essential for YouTube
Flip-out screens are essential if you want control over your image and framing.
Some YouTubers use a GoPro because it has an ultra-wide angle lens and the YouTube creator can mentally imagine their composition being in the frame. That is not enough for me. As a travel vlogger and videographer,  I prefer to see myself as I speak on-camera so I know how to frame my shot in composition and to see how I look when I make facial expressions. As a solo female traveler, I also find it helpful to see if anyone is coming up from behind me.
3 Best Travel Vlogging Cameras for YouTube
I have three travel vlogging cameras that I take with me on my travels. All shoot in High Definition and each has its purpose.
•  Automatic video camera with flip-out screen: Samsung MV900F
While I own and shoot with a prosumer Panasonic video camera (the Panasonic DVX100A) for professional work, I fell in love with Samsung pocket cameras when I discovered they offered the capability to do selfie shots. My first Samsung had a front mirror next to the lens which would take photos of me when I smiled. For 2009, being a solo traveler owning this camera… it was divine. Since then, I was on a search for Samsung cameras that offered 'selfie' mode shooting.
The Samsung MV900F is my first YouTube travel vlog camera and it had a flip-out screen when no one else's did. Flip-out screens are essential for travel vlogging. Travel vlogging is like video diary entries where you speak to the camera as you are doing activities. It is helpful to be able to see yourself on the screen so you can compose yourself in the frame the way you want.  With the Samsung MV900F, I like that it's pocket size, automatic and is durable.  It only has automatic features, so it's no fuss and no-nonsense. It will do a decent job that I can trust. The only aspect I'm not keen on is the inability to film smoothly in low lighting.
The cost is more expensive than a normal pocket video camera but cheaper than a DSLR camera, so if someone steals this, I won't cry too much. Okay, maybe I will. I'm sentimental about my belongings.
•  Mirrorless camera with flip-out screen:  Sony NEX5T
 I chose the Sony NEX5T for its flip-out screen, its ability to interchange lenses and it has manual settings, which allows me more control.  This was supposed to take the place of my Canon mini DSLR, which does not have a flip-out screen. But ultimately, I still prefer the footage of the Canon 550D over this camera.
The Sony NEX5T is not nearly as rugged as the Samsung MV900F, because we are stepping up the ladder in manual control settings, stronger resolution and higher quality footage. The zoom lens it came with protrudes a little more than I'm comfortable with at times but it films better in low light though. Update: I dropped it in Meteora and it damaged the lens so the lens could not retract.
The Canon 550D (aka Rebel T2i) is large and bulky, but is small in comparison to the Canon "D" series cameras. It fits a woman's grip perfectly, is solid and does not feel cheap. The mini DSLRs are great for landscapes and b-roll, because it allows me to use manual settings and I feel like the quality of the video is slightly improved from the others. It is definitely improved over the Samsung pocket camera. I have a few lenses I take to get a good wide angle shot, zoom shot and portrait shot. The drawback to the Rebel series is that it does not have a flip-out screen. Big bummer.
I'll probably upgrade it to a Canon 80D at some point, just for the flip-out screen. The caveat of the Rebel series is that video quality is touted to be as good as the higher level but chunkier "D" series DSLR. That's crazy, because this costs almost half the cost of a DSLR camera.
Watch my travel vlogging camera review
Video filmmaking and photography is my passion. Between YouTube, blogging and freelancing in video and television production, I'm not a camera nerd but I know what I want in cameras and specs I need to get by with a decent image.
Watch my video for experiential insight and my reasons for choosing the cameras I have.  I list each camera's pros and cons in the video and ultimately why I like it.

My Vlogging Cameras for YouTube video
What do you think about my travel vlogging cameras for Youtube?
Related Posts on YouTube & Gear