Last Updated on June 28, 2021 by Christine Kaaloa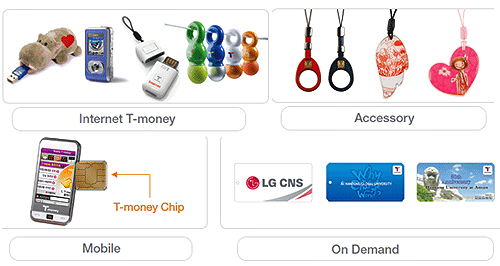 People ask me what I love about living in Korea. One of the things I adore about Korea is that Korean technology makes life feel efficient, easy and pretty darned cool.
12 Ways Technology in Korea will shock you.
1. T-money and rechargeable transportation cards
In big cities, much of Korea's transportation system runs on rechargeable smart cards and smart devices, which take the place of cash.  You can reload money onto your card by placing it down on the card reader; but the technology is powerful and highly sensitive. Rather than search for a card at the bottom of a bag, I've seen frazzled ladies in a rush slap their entire purse on the sensor and have it still read.
How it works:  Touch chips are embedded inside and are readable by card-reading machines. These cards are used primarily for transportation – buses and metros- but in Seoul, which runs under the T-money system, you can use them in some taxis and convenience stores, as well. Supposedly, this touch chip technology are in watches, portable memory sticks, rings, and bands, even cellphones.
Way to go, Korea! Rechargeable devices are more economical and eco-friendly!
2. Bank checkbooks that get written at the ATM
Gone are the days when you had to manually keep record of your bankbook and spending. This is by far one my of favorite conveniences. In Korea, just insert your bankbook into the ATM machine and not only can you use it to withdraw money from the ATM, but it will update your bankbook with your banking transactions. In fact, when your bankbook page is full, the machine will even flip to the next page to continue updating it for you.  Seriously, this saves me a lot of handwriting!
3. Satellite TV is everywhere
I mentioned this in my last post, but I'll mention it again…
Satellite TV is everywhere in Korea: taxis, express buses, restaurants, mobile phones and my dentist's office!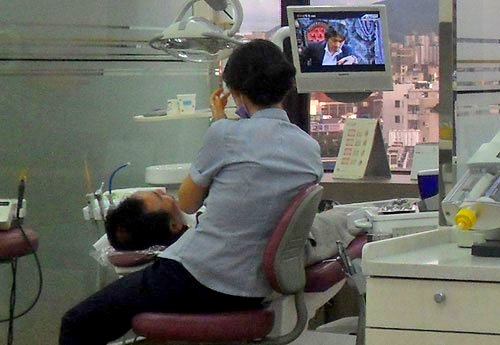 Watching TV as I sit in my dentist's chair and wait.
4. CCTV is Korea's big brother system
One way Korea ensures safety is CCTV, a big brother surveillance system which runs throughout the country. If there ever were a crime, you can easily check out the CCTV footage . They have CCTV cameras installed everywhere: neighborhoods, parks, schools, convenience marts, even on streets and highways , etc…
While literally everything in the public gets surveillance (even the highways), the culture doesn't pervert its use (at least not as far as we know).  Big Brother system helps to effectively reduce crime around the nation. Thus, Korea is one of the safest countries as far as crime and violence goes!

5. Controlled toilets
Korea bounces between its porcelain hole in the ground and it's western bowl and when winter chilling your bum (there's no heating in public places), both are highly unpleasant. Every once in a while however, in hotels or the limelight of Seoul chic, I'd find a heated toilet with bide and uh, air-drying action.  It's got remote buttons to control heating, bide and a small handful of tricks that I've not used.
6. Electronic vacancy signs in bathrooms.

Photo is taken in Busan's train station.
Is the bathroom stall occupied or vacant? The electronic sign will light up to let you know. While this isn't widespread across Korea, you'll occasionally find them in alongside highways at popular rest stop hubs, in bathrooms where there are many stalls.
7.  K-pop!
The Korean wave is heating up and finding global fans with speed with Korean drama and K-pop. When I see Korean pop videos it blows my mind! K-pop is the look, style and flash-n-sparkle that inspires Korean youth, these days. Fun, sexy, innocent, bold and futuristic, K-pop will seduce you with high-beam costumes, high-octane power dance moves and lavish glitz! Just click 'Play', dial the volume up a notch and prepare to be dazzled!
From  2PM's  video "Hands Up"
From  Wondergirls' video "Nobody"
Tara's video "Roly Poly"

Big Bang
8. Mc Donalds 24 hour delivery service
 I was raised with Ronald McDonald and the golden arches and I've only known there to ever be two experiences– sit in dining and drive through. But in Korea, there are McDonalds restaurants with 24 hour and delivery service!  Delivery drivers ride motorbikes and bring your fast food to you.  Dang!  That's pretty state-of-the-art to me!
9. UV light sterilizers
When dining out at restaurants or the mall, you'll often find metal drinking cups , sitting in a glass UV sterilizing cabinet next to the water. The drinking cups are for public use, so they are washed and set to dry in these sterilizers for use.
10. Camera technology
Samsung is known as a leader for television sets and home appliances, but they have not yet gained recognition in camera and video technology which is a shame. They are advanced in that too. I bought my first Samsung point and shoot camera in 2009. My Samsung ST500 camera with dual view LCD screens which allowed you to see your image in the front face of the camera so you could take selfies. It also came with haptic touch screen technology, meaning it vibrated when you selected things on your touch screen view finder and it offered smile detection feature which would take your photo when it recognized your smile.
In 2009, western mobile phones did not have picture taking features and cameras did not have touch screen viewfinders.
11. Plastic surgery
In Korea, plastic surgery is popular with both, young and matured.  The outward appearance has its place in society and Koreans see good physical features as a stepping stone to success and societal placement.  It is not something that is hidden, but spoken of very openly and you'll see billboards in metros and pages of advertisements in fashion magazines.
Double eyelid surgery, nose jobs, jaw shavings, botox injections for lips and jaws are common procedures. Plastic surgeons in Korea are quite good and many foreigners and travelers plan their vacations around plastic surgery procedures and medical tourism.
12.  Skin care and hair treatments
Korea knows beauty and in the area of skin care and hair, there are bold advancements. Unlike many western skin care brands, Korean skin care brands do what they say in moisturizing, plumping and firming skin. Koreans work with the finest ingredients and the scent of their products is calming and lightly fragranced to make you feel beautiful.  One leading advancement was BB cream. They were the first country to truly perfect it so that your skin was protected and the look was natural.
Additionally Korea has two favorite hair salon treatments that you won't find elsewhere~ magic straight and magic volume. These perm treatments seal in a curl or straighten your hair pin-straight so you won't have to worry about blow-drying and styling for half a year or longer! Treatments can take several hours and cost $150-200 USD, but it's highly effective and worth every penny! Read about my experience with Korean perms
What do you think about the technology in Korea ?