Last Updated on November 29, 2019 by Christine Kaaloa
.
Taiwan is very much a foodie capital to explore if you love food and travel! Oh yes, it is.  So of course, I wanted to take a food tour to see and experience the country through its food.  Enter Taipei Eats food tour.
 As the leading food tour in Taipei, Taipei Eats takes you on a walking tour of Taipei, making the trip fun, informative and sprinkled with enough variations of food to give you insight into the culture with every bite. From wet market, to street stalls, hole-in-the-wall cafes and a posh restaurant, the tour covered a variety of gastronomical experiences, balancing sightseeing and eating…. a walking picnic.
Although I've experienced really good food tours, Taipei Eats showed me how great food tours should be.  …And well, now I've been spoiled.
Here's a summary of my memorable Taipei food tour highlights:
Eating Taipei with Taipei Eats Food tour
Personally, the beauty of taking a food tour in a cosmopolitan foodie city like Taipei is to understand what makes Taiwanese food outstanding and different amidst global diets. It also makes gives me confidence that as a vegetarian in Taiwan,  there's always a substitute for a meat dish, if you can find one.
Vegetarian diets are not common in Taiwan, but they exist. The Taiwanese culture recognizes vegetarianism through Buddhism. Some Buddhists have diets, abstaining from eggs and dairy; others might be more strict, avoiding fiery foods like garlic. For myself, either or any of these will suit me just fine.
A Taiwanese Food Guide:
 Wet Markets and popular Taiwanese street snacks
I arrived a little late, to find Napolean, one of the local Taiwanese food guides, waiting for me outside the Yong Chun MRT station.   The food tour's first stop was a wet market tucked inside a nearby street alley.   We caught up with them to find Jean- our second foodie guide, a western expat – explaining some of the popular produce found in Taiwan.
Strolling through Taiwanese markets somehow feels like you're walking through the heart of Taiwanese home cooking. You'll certainly find foods that you'd see in a Taiwanese grandmother's kitchen.
 Thousand Layer Bread
Making our way through the market, we stopped at a vendor who sold scallion pancakes. Scallion pancakes are often sold on the streets of Taipei. Generally, they're a thinly fried crepe pancake with scallions and eggs. The vendor we went to sold a different type of scallion pancake called "Thousand Layer Bread". It was a fluffy pancake with many layers and  it was to die for!
.
The Taiwanese Burger
You might have already heard of Gua Bao (or the "Taiwanese Burger") if you're from the U.S.   The popular New York eatery,  Momofuku, popularized it in some of their dishes.  Gua Bao is a steamed bun filled with braised pork with sweet sauce, peanut powder and cilantro. The one I ate was for vegetarians; it was filled with a steamed mustard greens instead of pork.  A signature Taiwanese style are peanut powder and cilantro.
For Taiwanese, this dish is especially popular  during Chinese New Year celebrations, as it resembles a wallet, which symbolizes good fortune.
Pork Ball Soup  (Vegetarian Substitute:  Seaweed Soup)
At Hong Do ("Red Bean") Restaurant,   pork ball soup was one of the restaurant highlights.  The pork ball soup had a miso broth with egg drop, green onions and …pork balls.  I got a vegetarian soup substitute: a  seaweed soup with light broth. It was something I was quite fine with.
Cold Noodles
Next up, we were given cold noodles with a light miso dressing. These cold noodles are known as a great cure for hangovers (who knew!).  The noodles are bouncy and chewy.  It's a light type of comfort food that's popular with Taiwanese.
Tai Nam Rice Cake (sans pork sauce)
Tai Nam Fish Cake is a simple dish that's influenced by  China. It's a popularized street dish, as it is quick and easy to make on the streets. The main flavor comes from fish floss (aka fish flakes), which Jean explained is commonly used in Taiwanese cooking, due to its strong flavor. Pickled radish, boiled peanuts and sticky rice (similar to mochi rice).  The dish is usually made with a pork sauce, but mine was sans pork.
.
Stinky Tofu
Chodofu or Stinky Tofu is stinky by western standards, but Taiwanese appreciate the smell.  "We usually like it stinkier," remarked Napolean. Somehow, I expected him to say that.
 On a breezy day, you can find a vendor based on smell alone. A strong, pungent smell wafts through the air, kinda like the smell of dirty socks. Tofu is naturally fermented,  so the stink is attributed to the aged brine.  The first bite is a little off-putting, as it tastes the way it smells. A couple bites later, it will grow on you.  Sometimes, the chodofu is accompanied by pickled cabbage and hot sauce. They both enhance the flavor in a good way.  If you love tofu, check out the tofu town of Daxi in Taoyuan.
Check out more interesting things to know about traveling Taipei.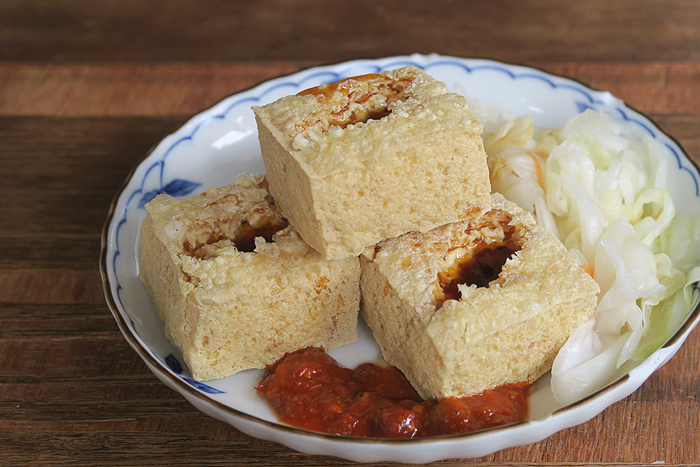 Betel Nut
 This next stop was a secret highlight for me and it wasn't about food… it was to sample betel nut. Betel nut is a mild intoxicant similar to having a can of beer.  The cheesy blinking neon sign, is unassuming, but if you're a taxi or bus driver in-the-know, you'd probably stop for it.
Now we were delving deep into food culture for more adventurous travelers…
 In countries like India and Myanmar,you'll notice dark red stains on the teeth of those who chew it regularly. I'd long been tempted to try it, but  I never wanted to try it unguided.  The seller reached into her refrigerator and pulled out a packet of several nuts wrapped in a leaf. This was my once-in-a-lifetime opportunity to enter forbidden territory. Jean gave us guided instructions on how to chew it.
I chewed off the top of the betel nut and proceeded to chew. The taste filled my mouth with a bitter taste of grass and leaf. … very bitter. I spat it all out, with my lips now painted a blush of red. Two minutes later, my head felt a little light, buzzed and a little short of breath.  I finally understood why Asian/Southesast Asian working class men are drawn to with this little seeded nut.
Taipei contemporary posh to  Taiwanese desserts
We made our way through the streets to Songshan Cultural and Creative Park.  The park was once a tobacco factory. Now it's transformed into a sprawling park, with a multi-story building of artist workshops and restaurants. The park is mildly reminiscent of Central Park and has raised the cost of rent in the area to astronomical prices.
The artist creative labs and studios are open for public use and holds anything from innovative items for sale to studios, where you can learn how to blow glass, make clay sculptures and jewelry. It's a favorite for parents, enrolling their children in a day of extracurricular arts.
But we weren't here just to see the creative labs and to shop. We were here to try our next dish…
Soup Dumplings
Did you know that Taiwan has dumplings which contain soup?  If you're a fan of dim sum, then you probably heard of a popular dim sum restaurant chain, called Din Fai Tung.  They're renowned for xiao long bao dumplings ( aka soup dumplings).  In the Sonshan Creative Park building, housed on the bottom level, we visited Din Fai Tung's competitor, Gai Chi restaurant (Shanghai inspired Dim Sum). It was a chance to sample the contemporary side of traditional Taiwanese cuisine, taste some Taiwanese beer (yeah-huh!) and tea.
Xiao Long Bao are soup dumplings that often contain a pork or seafood meat but I was given one filled with vegetables and mushrooms.  The beauty of being a vegetarian on a food tour is this often, you don't have competition with your food.  I got a whole plate to myself.
Of course, I shared.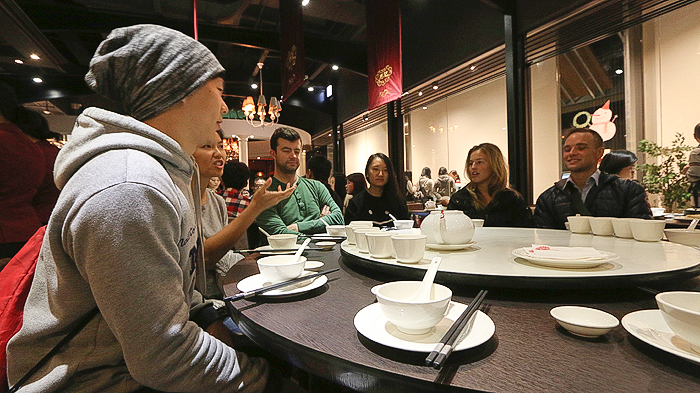 Taiwanese Beer and Tea
The Taiwan Beer is a Taiwanese beer lover's favorite. I'm not a beer lover, but let's put it this way– I didn't hate the taste. It was smooth.
The tea, I indulged in and appreciated.  In Taiwan, the tea is one of Taiwan's top exports!
Popular Taiwanese Desserts
Next door to Gai Chi restaurant was a bakery. Walking through Taipei, you'll see many bakeries. I've noticed that breads are seen as bakery desserts.
I'm not a big fan of eggs, yet custard pudding tart (aka egg custard) was the next dessert. If all custard pudding tarts were like this, I'd easily convert to the dark side. It was the most perfect and smooth non-eggy tasting custard I've had.  We also sampled a pineapple tart cake, a favorite souvenir for travelers, who want to take home a bite of Taiwan.
This made me realize that Taiwanese foods and desserts have a very subtle beauty to their flavor.  Foods and flavors work in harmony with each other to produce something smooth and not overpowering.
Exiting the park our two guides, led us  through the Sun Yat Sen memorial, explaining some of the history and to catch a glimpse of the Taipei 101 building.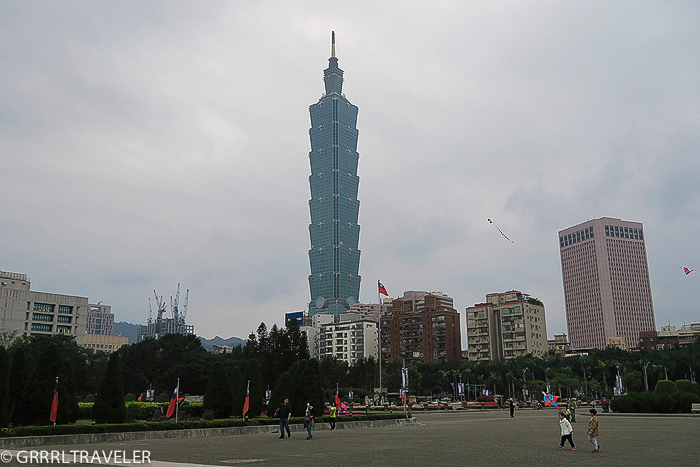 Taiwanese Sorbet
We were sampling many different types of food from street to posh.  The finish line, heralded the dessert category.  We walked down a residential side street in the expensive and trendy Dongchu area.  Beimen Fong Lee Bing (bing means "ice") is easy to miss as a sorbet shop. The shop's furnishings are minimal, due to the high cost of rent.
Pineapple, Salted plum, Lichi, Taro, Dragon Eyes… are the top sellers on their menu. The servings are pretty large (with exception to the lichee which is their most expensive ingredient ).
From well-spoken guides with cultural insight into food culture, to dishes ranging from popular Taiwanese street snacks to desserts and posh experiences, our sightseeing picnic took us through a nice balance of landmark/local sightseeing and its variations of food.
Taipei Eats is a model example of how great food tours are and should be.  I'd highly recommending making this day tour as part of your next trip to Taipei!  Your stomach won't regret it.
Information:
Taipei Eats (website: www.taipeieats.com)
*At the end of your tour, they can send you a list of top eateries to visit to experience more tastes of Taipei!  Additionally, thanks to Jean who sent me a great list of restaurant recommendations for my vegetarian diet.
(You'll find some of these foods and my food tour experience in my 16 Top Taipei Street Foods guide and my video below).
Note: Thanks to Taipei Eats for sponsoring this trip so I could review this tour. Companies like these make my job as a travel blogger easier.  As always, my travel and stomach's opinions are my own.
Related Posts
Top Reasons to visit  Northern Taiwan
7-Eleven in Taiwan
Taipei Travel Guide | Best Things to Do Taipei (Part 1)
Taipei Travel Guide | Unusual Things to Do in Taipei (Part 2) 
Top Must Try Taiwanese foods