Last Updated on June 7, 2023 by Christine Kaaloa
The Overnight Train from Bangkok to Chiangmai: My rail attendant
I never leave home without travel insurance. Click for the travel insurance I use or check out this recommended trip insurance finder tool.
When it comes to ways to conveniently get around Thailand for cheap, the Thai certainly know how to do it right!  Riverboat, scooter, motorbike taxi, Skytrain, metro… I enjoyed them all. But my favorite transport by far is the overnight train from Bangkok to Chiang Mai.
Reasons you'll love the overnight train from Bangkok to Chiang Mai
Train travel may seem standard across the globe to some, but after experiencing India's sleeper trains and Laos's overnight seater train, the sleeper trains in Thailand reminds you of service you might almost get on an airline's premier class seating.
1.  The cost of the Thai overnight train is inexpensive
From Bangkok to Chiang Mai the cost of a seat and sleeper berth of an overnight train ride stacks up to approximately $30 one-way. Seriously, not breaking the piggy bank here for a long-distance ride with service and comfortable sleeping.
I recommend booking the 2nd class A.C. sleeper and the bottom bunk so I paid around $25. But there are several options and times available. If you want 1st class and your own private compartment, that would be around $40. There are also cheaper options such as overnight seaters in non-a.c. cars and that can run from $8-14.  So there are options for everyone.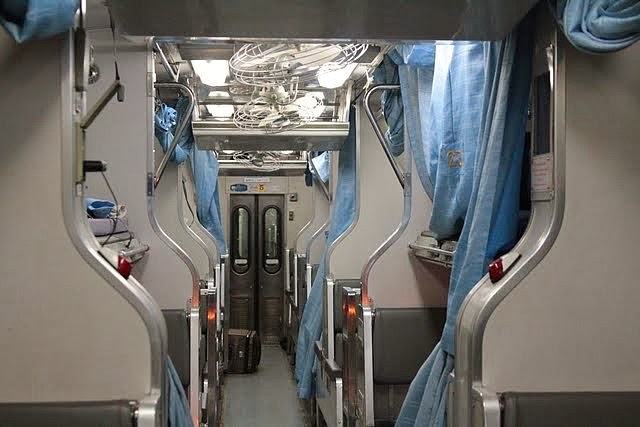 2.  You can buy meals on Thai Trains
When dinner time rolls around, the steward or train attendant comes around and sets up a table. You have the choice of eating in your seat or in the dining car. You can buy a dinner meal from a menu of set meals (you're given around two or three options) or you can whip open snacks you brought with you. The train food is inexpensive, delicious, and better than what you'd get fed on a plane.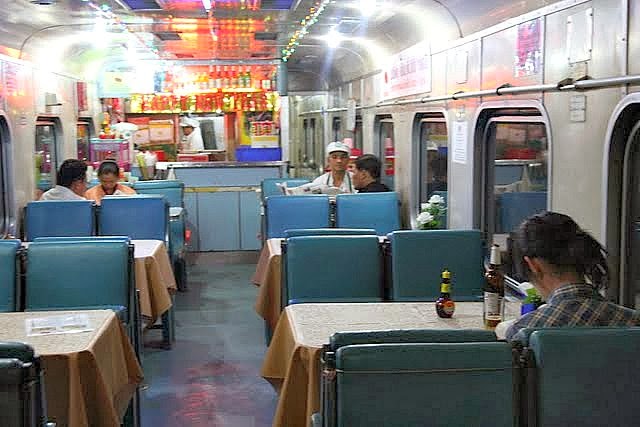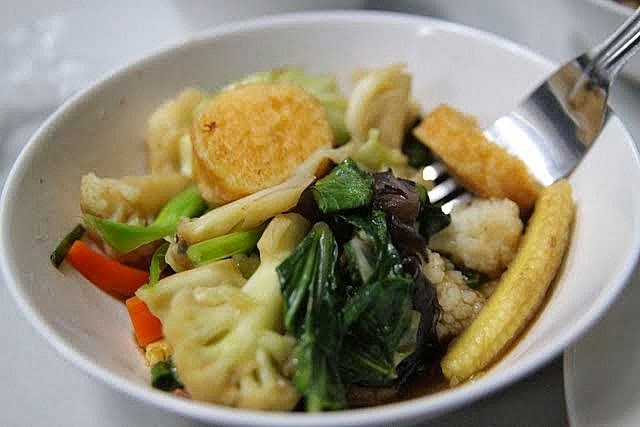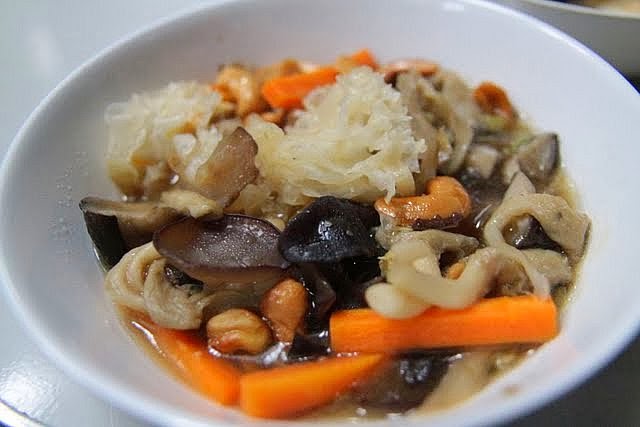 3. Your bed is prepared for you.
After your dinner has had time to settle and you agree with the other person in your compartment about bedtime, the attendant arrives again to make your bed.
What may make travel geeks like me excited is watching the attendant make the bed. They are quick, slick and each practices a method that makes them able to set up and break down a bed in about, a minute or under. It's like watching a Thai magic trick. Out comes a curtain and a pillow. …Freshly laundered white sheets get removed from a sealed package, along with a clean blanket.
It's like having a flight attendant and hotel housekeeper in one but snazzy like!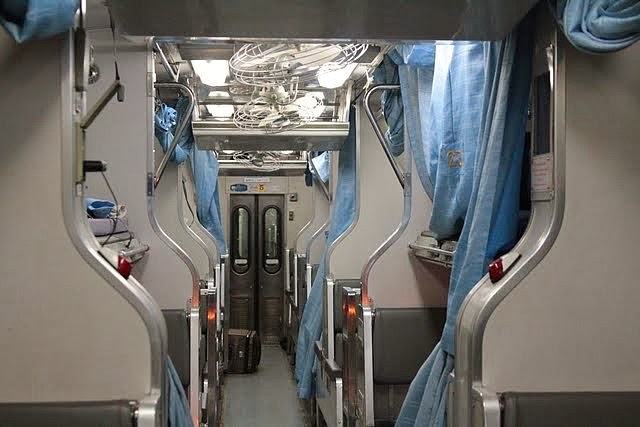 4.  The overnight Thai train is comfortable
When you first arrive, your train compartment houses an ordinary seater- two seat births facing each other. I booked the 2nd class A.C. sleeper bunk, so my compartment sat only two people- myself and another person. That meant I had my seat all to myself. Unless it's Loy Krathong or Yee Ping festival time or you're in high tourist season, I've never experienced an overcrowded train.  Usually, there are only two people to each berth and unless your compartment partners are horribly rude, you're good to go.
Although I'm a heavy sleeper, I normally get cold when there's air conditioning and the Thai generally love their air conditioning on high. But the trains I've been on are pleasant. Beds are spacious, firm, and private. You get your own nightlight and pouch to hold water, a shelf to rest a bag or book.
The car is readied for sleeping & Voila! My bed.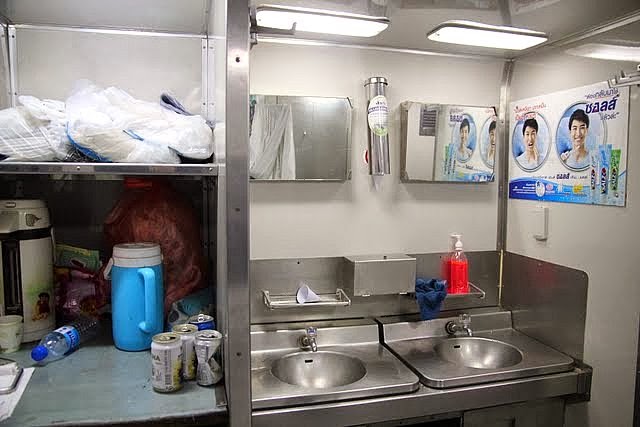 Wash basin where you brush your teeth and fluff yourself.
5. The train is a bed and transportation in one price.
The travel time from Bangkok to Chiang Mai by train is fourteen hours. Not a killer, but it might make some gasp.
But taking an overnight train in Thailand costs less than a hotel or a plane flight and the quality you'll receive will be about the same. You won't lose sightseeing time and if you've never rode an overnight train in Thailand before, I'd consider it– the experience alone is a sightseeing experience in itself! The Thai are known for their hospitality and pampering. This is good luxury for a train. Just look at some of the other trains I've been on (India, Laos,  Vietnam)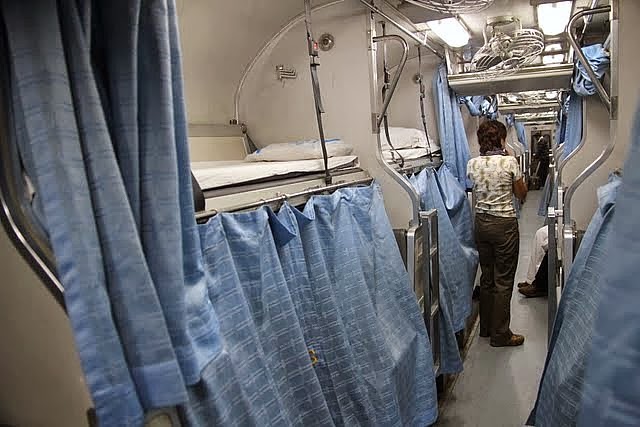 Tips for traveling on trains in Thailand
The 1st and 2nd class sleepers, the service can feel pretty flawless. However, …
Toilets can smell on all trains.
The good news is that they have generally have both, a western toilet and squat toilet. Honestly, sometimes it's cleaner just to use the squat toilet, although on moving trains, you have to have powerful squatter legs. So here's my trick with using Thai western toilets. Thailand is known for having "bum gun" toilets, equipped with  a power hose to shoot your bum after you use the bathroom. I use the hose to hose down the seat and the floor before I use the toilet. Always remember your hand sanitizer and toilet paper. They are not provided.
No running water in the toilet/bathroom sink
Tip:  You'll need to take hand sanitizer to wash your hands or wait until you get outside to the community sink. I'd even go as far to say, buy a package of baby wipes from 7-Eleven (yes, Thai 7 Elevens are rockstar!).
Don't drink the train water
If the water in the faucet works, you still shouldn't use it for brushing your teeth. Tip:  Take a bottle of water with you to brush your teeth and baby wipes for your shower.
You won't see the landscape as you pass by.
Well, actually, you can see some landscapes if either, you leave before the sun sets or wake up when the sun rises. Then again, if you were traveling on a plane, you'd not see anything at all.
If you're a snacker, buy light snacks and bottled water before you board
If you like to munch as I do, bring your snacks before arriving at the train station. Hua Lamphong snack options kinda suck. But in either case, they don't sell bottled water on the train, and before you don't need water like a camel, you'll need water to brush your teeth.
The Thai love air conditioning. Bring a light jacket.
Although I've not yet experienced uncomfortable train frost from the air conditioning, I don't know your body heat. For some, the fourteen-hour ride may be cold.
I use World Nomads, which is perfect for backpackers. While Thai train travel has decent reputation, there have been years in which the train derailed and it was a huge mess. We're hoping it's been fixed and fortunately the casualties were minimal, but you never know.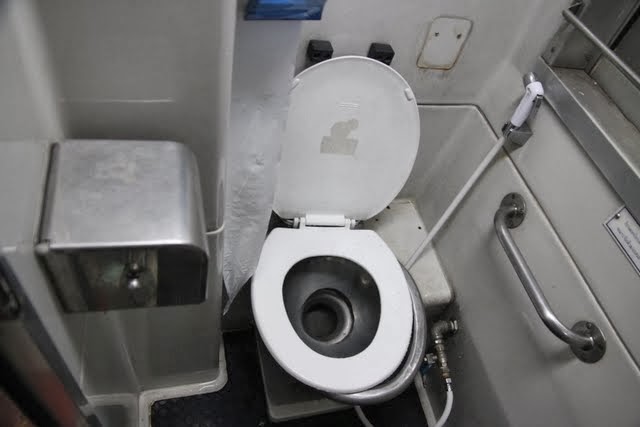 How to book train travel in Thailand
Booking train tickets in Thailand is easy. My recommendation is to always go to the train station in person so you know what you're getting. This is the way many Thai do it as well as the Thailand Railways does not have an online booking website. For travelers who want to book Thai train travel in advance, you can either have your guesthouse or hotel book it for you (generally, they'll make reservations and send someone to pickup the tickets or you can use a the 12G.Asia service I occasionally use for booking bus and train tickets at the last minute (they're actually good for trip planning, pricing routes and learning timetables!

How to book an overnight train from Bangkok to Chiang Mai
Start Location:  Hua Lampong Train Station (the last stop on MRT Subway line).
Fare: 2nd class A.C. sleeper around $25 , 1st class A.C. sleeper around $40
Times for the direct train (Bangkok to Chiang Mai)

Bangkok :  6:10pm, 7:35pm, 10:00pm
Chiang Mai:   8:15am, 9:55 am, 1:05pm
Should you get Travel Insurance in Thailand ?
YES. Travel insurance is always recommended for all travel but I highly recommend it for Thailand. Thailand is an adventurous destination and a fun one. I like to get adventure trip insurance with World Nomads, because there are a lot of cool adventure activities from snorkeling, trekking,  scuba diving certification, caving, rock climbing, etc.. that you might want to do when you're there.  While their urban cities have very good medical facilities, you never know what can happen in motorbike accidents or transportation. I've seen some bad motorbike spills in Thailand (especially Pai where tourists are learning for the first time!) and I've seen travelers come down with dengue. You always want to be prepared. You can use this recommended trip insurance finder tool to find an insurance that matches your trip and budget..
Travel Essentials for Thailand
Get my Bangkok Travel Secrets guide
20 Ways to Get Around Thailand  (watch video)