Last Updated on September 14, 2021 by Christine Kaaloa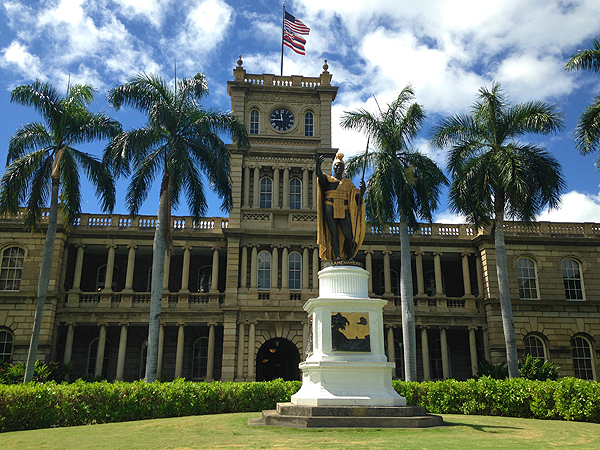 Hawaii trip planning can feel overwhelming, so we teamed up with Expedia.com to make it easier for you. There's things to do on Oahu, from amazing beaches, hopping nightlife, hiking trails, Hawaii festivals and delicious western Pan-Asian food. You need to plan your Hawaii vacation strategically.
Top 10 Things to Do on Oahu
There's a lot of top Hawaii attractions to fill a trip Hawaii itinerary, so I'm narrowing it down to famous landmarks, which will give you an overview into the Oahu's history, landscape and culture. Click here to see some amazing photos of Oahu at Expedia.com.
1.  Diamond Head
If you want the best lookout of Honolulu, hike Diamond Head crater. Once as a strategic military point, today Diamond Head is an extinct volcano crater open for tourists. The attraction of Diamond Head its hike to a drop dead panoramic view of Oahu's coastline from Waikiki to downtown Honolulu.  The hike takes approximately 45 minutes to the summit, depending on your condition.  The hike is mild with a steep staircase inclined closer to the top.
Diamond Head , Hours: Daily 6am- 6pm, gates close at 4:30pm,  Admission: $1 , Parking: $5
Tip: Start early morning as it will be hot by noon. Wear your sunscreen and a hat. There are no shaded resting spots.
2. Waikiki
Waikiki is tourist central and where all the action happens from Waikiki hotels, shopping, beaches, nightlife and tons of sun worshipping activities.  Grab your unicorn floating because there is a range of beaches to choose from: Kaimana Beach, Sunset Beach, Waikiki Beach , Fort DeRussy Beach, you can laze in the sun, watch beach volleyball, take a surf lesson and maybe even have a run-in with a swimming turtle. Pay an homage to the Duke Kahanamoku statue, have tea at Waikiki's landmark hotel, the Moana Surfrider and end the day, with a mahi mahi fish plate at Duke's Restaurant and Bar.
3.  Hanauma Bay
If you want to see schools of fish and an occasional turtle, Hawaii's unequivocably best snorkel spot is Hanauma Bay Nature Preserve.  Hanauma Bay is an ocean-life preserve, a friendly cove with life guards and is my top spot to snorkel with family or alone. Before entering you're required to watch a video laying rules to a safe and environmentally smart stay.  It's the next best thing to snorkeling in a giant aquarium.
Hanauma Bay Nature Preserve  Hours: 6am -7pm, daily (except Tuesdays), Admission: $7.50, Check the website for snorkel tour packages and transportation. Website: www.hanaumabaystatepark.com
Tip: Do not step on the coral reef or feed the fish. Wear eco-friendly sunscreen
to protect the ocean. Check out our Hawaii guide on Ultimate Reef-Safe Sunscreen Guide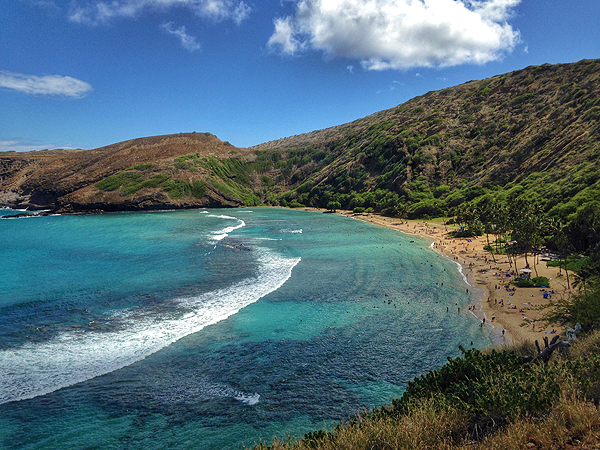 4. Pali Lookout
Pali Lookout is a historical site of Hawaii with an impressive view of the Ko'olau mountain range and the windward side of the island.  The legend is that King Kamehameha threw enemy warriors off the cliffs in a great battle that unified the Hawaiian Islands.
5. Bishop Museum
The Bishop Museum is a history and science museum with Hawaiiana artifacts and the largest collection of Polynesian cultural artifacts in the world. It also houses archives from Hawaii's history as well as documents from the royal family. You can get there by Waikiki trolley or bus.  Check the website for special tours of its collections.
Bishop Museum, 1525 Bernice St, Honolulu   Hours: 9am – 5pm. Website: www.bishopmuseum.org
6.  Pearl Harbor & the U.S.S. Arizona Memorial
A top Hawaii attraction and historical landmark of World War II is Pearl Harbor and the U.S.S. Arizona Memorial. You'll see a 23 minute documentary and then take a boat ride out memorial site. The memorial built over the sunken U.S.S. Arizona; oil leaks bubble up from its underwater grave. Interments are still held for U.S.S. Arizona survivors.  Nearby is the Battleship Missouri, where you can walk the ship deck and explore the cabins and galleys.  Note: No bags/purses allowed (only wallets and cameras). There's lockers you can rent to store your valuables.
Pearl Harbor / U.S.S. Arizona, 1 Arizona Memorial Pl, Honolulu.  Hours: 7am- 5pm daily. Admission: Free but 1,300 tickets are given daily on a first come first serve basis. Audio tours available. Reservations are recommended.
7. Historical Chinatown
On the edge of downtown Honolulu and near the wharf is Chinatown, a historical area occupied by the Chinese-American community. The area makes for great walking streets, where you'll discover historical buildings, a fish and livestock warehouse, lei makers, herbalists, shops and restaurants. It also houses a young artsy urban scene of galleries, bars, salons, tattoo parlors and the Hawaii Theater.
Tip: Each month, it holds First Friday, an evening of entertainment and art culture in the galleries and salons in the area.
8.  Iolani Palace
Did you know Hawaii is the only state in the U.S. to have a monarchy?  A top Hawaii famous landmark is Iolani Palace. The historical palace is preserved as the residence of the Kingdom of Hawaii's royal family. It is also the ultimate prison grounds where the last monarch, Queen Lili'oukalani was held imprisoned when the monarchy was overthrown by business men and sugar plantation owners. Two years later Hawaii was annexed as part of the U.S. territory.  Note: The issue of sovereignty is still a sensitive issue with native Hawaiians .  Nearby Hawaii famous landmarks: King Kamehameha statue and State Capitol building.
Iolani Palace 364 South King Street, Hours: 9am – 4pm, Mon-Sat. Website: https://www.iolanipalace.com
9. Hawaii's Plantation Village 
The Hawaii Plantation Village is a living museum park, sharing the cultural roots of Hawaii's immigrant heritage.  Heritage houses simulate the immigrant lifestyles of the plantation days. Its one-room museum is small and old, but the facts it shares is informative.  Take the guided tour for a better experience; otherwise, you're just looking at a bunch of houses. Some docents can sometimes be a little long-winded; but there is a lot of history here. If you have somewhere to be, let them know.  During Obon-season, you might find a bon dance festival and during Halloween, the village is turned into a haunted theme park . According to night security guards, the village is said to be haunted).
Hawaii's Plantation Village, 94-695 Waipahu St, Waipahu, Hours: 10am-2pm, Mon-Fri. Admission: Adult $13.00 Website: www.hawaiiplantationvillage.org
10. Polynesian Cultural Center
Out in Laie on the North Shore of Oahu, the Polynesian Cultural Center is a living museum park centered around Polynesian culture. It's like a Polynesian Disneyland with interactive activities, live performance shows such as coconut tree climbing and a canoe pageant parade and even nightly luaus. Prices range from general admission to luau packages.
Polynesian Cultural Center   55-370 Kamehameha Hwy, Laie. Hours: noon-6pm, closed Mondays. Website: www.polynesia.com
Getting Around Oahu, Hawaii
Oahu is a medium-small island. You can circumnavigate it in a day. However, to squeeze all its highlights in, you'll need at least three days or longer.
There are always all-inclusive vacation package deals online or you can organize day tours, hop a Waikiki trolley (they make stops at some main attractions) or take TheBus. But if you want to explore more and have flexibility, it's best to rent a car.
Where to Stay in Hawaii
Ko'olina
Ihilani Four Seasons Resorts Luxury resort, favorite Hawaii film location
Disney Aulani Resort. Family friendly and fun hotel located in Kapolei.
Waikiki
Moana Surfrider, Landmark hotel with beach front view. A feeling of old Hawaii history, Duke Kahanamoku days. Afternoon tea on the terrace. My favorite hotel.
What are your top 10 things to do on Oahu? Which Hawaii Famous Landmarks are on your bucket list?