Last Updated on November 29, 2019 by Christine Kaaloa
I'll bet you've seen enviable photos of a Cappadocia trip and they were so stunning that it's on your bucket list for Turkey. Maybe you're planning your itinerary right now! Great.
In this Cappadocia Travel guide, I'm sharing things to know before you go to Cappadocia. I promise, it will enhance your trip as it did mine!
Things to Know before you Go Cappadocia
I've put together this informative  Cappadocia Travel Guide culled from insights that I learned about from my Turkish guides, locals and research.
1. Cappadocia is a UNESCO site
As Cappadocia is a World Heritage UNESCO site and rightfully so for its beautiful and quirky Dali-esque hill and rock terrain and unique history of cave dwellers.  it is important to know that construction is not allowed here outside of restoration. The cave dwellings cannot be touched or transformed into hotels. Thus, most locals, hotels and businesses reside in or near commercial towns like Goreme.  As such, be prepared to see fairy chimneys, pigeon houses, red rock valleys crop out of the land flanking the towns.

2. Cappadocia's History & Cave dwelling past

Cappadocia was inhabited as early as 1800 to 1200 B.C. during the Hitite era, when Christians resided in this area to escape Roman prosecution. Caves were used for hiding and escaping persecution and  they eventually transformed into something people lived in.  There are monastery caves, underground and cavernous caves. Even caves made for pigeons.   Next to the landscape, caves are one of the famous signatures of this region.
Today, some 90% of Cappadocia locals live in apartments. Due to the need for more modern convenience and the fact UNESCO has protected it there's not much else folks can do to modify it other than turn it into hotels. The land is government owned. Farmers can still buy farm lands surrounding it and you'll see occasional tractors driving through town in the place of a car.
3. Cappadocia is not for rock climbing
Many of the rocks are man-made , meanwhile Mother Nature has done her bit with rain, snow, wind and elements of weather! The reason Cappadocia is not for rock climbing,  is because the rock is very porous.  The rock material is made from minerals and volcanic ash, which are easy to carve.
It is said that an entire cave house in Cappadocia was carved and completed in a month.
Things to Know about Cappadocia's main rocks
While it may not occur upon first glance, these alien rock eruptions and much of the impressive rock formations you'll see in Cappadocia are man-made (okay, not all of them). The rock is made from volcanic ash and minerals, making it soft and porous.
Although part of the formations have to do with natural erosion over time, these rocks also were crafted partially by hand to be turned into houses and secret monasteries to hide Orthodox Christians from prosecution.

4. Hike through Love Valley & its Fairy Chimneys
Right outside of Goreme just a 10-15 minute walk is Love Valley.   It's a territory where you'll see a plentitude of Fairy Chimneys, called so because there's a seeming chimney stack on the top of a column.
But the reason why they call it Love Valley… can you guess?  These fairy chimneys actually look like giant monolith penises which stand erect when you enter.  Wonder if anyone brings their dates here?
5. Learning about Pigeon Valley and its valuable poop
Being that farming was a source of food, manure was important for a fertile crop.  This is where pigeons come in. Pigeon poop is a well-known fertilizer to the farmlands of Cappadocia. As a result, farmers built pigeon houses high in the rocks so the pigeons could nest and their poop could be collected. Placing the houses high was also a strategy to keep foxes and predators out.  You can easily spot pigeon rocks due to their multiple holes.  This is best seen from a balloon tour but you can also see it at a distance.
Tip: Bring binoculars or photographers can view it better through a zoom lens.
6. Wander through Open Air Museum
The Open Air Museum is a preserved park of cave monasteries and monk dwellings. Some cave homes are decorated with wall paintings and frescoes; meanwhile, other rooms are empty, unadorned hermit-like cave dwellings. You can climb up a ladder into some of them and it's worthwhile a visit. It's unfathomable to think Christian monks constructed and used them to escape persecution in Cappadocia and that this persecution lasted for some time. You'll find cave dwellings echoed through your Cappadocia trip.  The museum is a scenic walk from Goreme, but if you ask me, after a while, if you seen one cave monastery…
Getting to the Open Air Museum: The Open Air Museum is just about a 20 minute walk outside of Goreme.  You can reach there on foot or you can rent a scooter in Goreme and zoom out.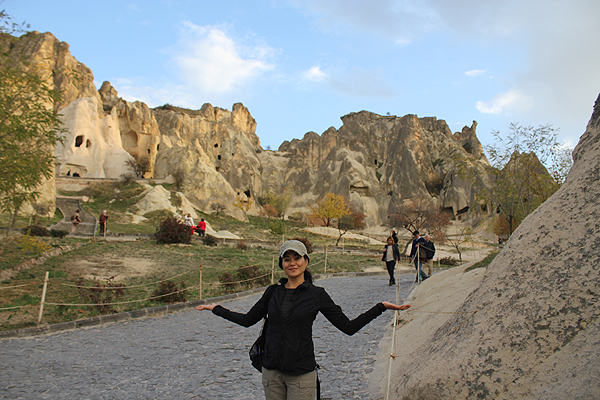 7. Seeing Red Valley
Red Valley is named for the red, pinkish an yellow rocks which reside here. The colors of Cappadocia's Red Valley rocks have to do with the special material in the land.  You can hike to it from Goreme or you can see it from the vantage of a Cappadocia balloon tour.
8. Wandering Uchisar Castle
Uchisar Castle is worth a visit and it's so close to Goreme, you can't pass it up.  The castle looks like a giant rock of Swiss cheese and there is a small town built around and leading up to it.  You can explore the caves and it feels like an archeological site.  When you're done, trek down through to the base of the valley until you hit the main road.
You'll find souvenir stalls and an unmarked bus stop, where you can pick back up on return bus to Goreme or if you're feeling adventurous, there is a hiking trail which supposedly winds through Red Valley on your way back to Goreme.
Getting to Uchisar Castle: Take the Neveshir bus and tell the driver or bus attendant you're going to Uchisar Castle, so they can let you know where to get off..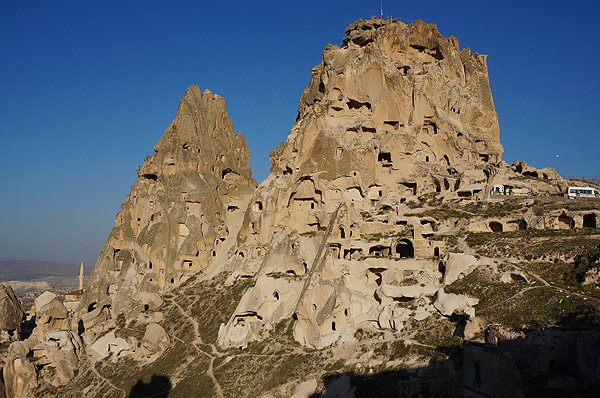 9. Visiting Derinkuyu Underground Museum
Derinkuyu Underground City– It is a multilevel complex that reaches up to 60 meters underground and can house up to 20,000 people, as well as all of their livestock
Did you know Cappadocia has subterranean cities? Thirty-six of them, in fact.  Underground cities were known to provide housing to Hittites who were escaping prosecution. Derinkuyu Underground City is the deepest city of all, spanning eight levels. Churches, livestock, ventilation, wells, etc.. were carved so people could survive underground.  Tunnels can start as standing and then progressively shrink until you're walking like a hunchback.  Admission: 20TL
Getting there: While I took a tour, you can take a local bus from Goreme to Derinkuyu Underground City. While I hear it isn't hard, it involves a transfer in another city before reaching Derinkuyu. It takes around 45 minutes.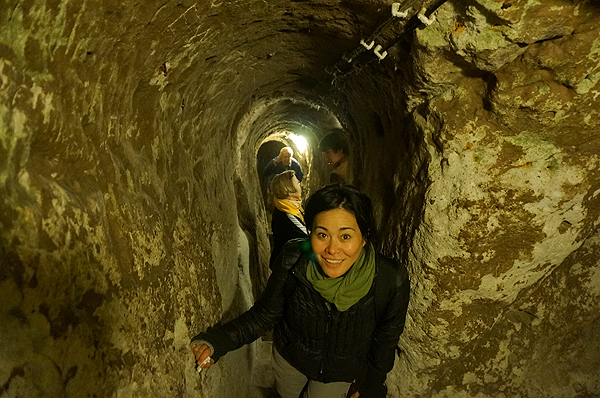 10. Driving out to Soganli
Soganli is a lovely area with old rock monasteries and a beautiful place to spend time in. Unfortunately, the only way to reach it is by car or on a tour.  This is on the second tour of the color coded tours in Cappadocia— the Green Tour. On a tour, you might spend 45 minutes hiking through it and the hike is relatively easy.  While I found many parts of it picturesque, I often wondered what the Blue Tour was like.
10 Best Things to Do in Cappadocia (video)
Read more
here
.
Things to Know about Cappadocia trip planning
11. Stay at a cave hotel
Goreme is a cozy and safe town, sprinkled with cave hotels. Yes, real caves, like the Flintstones!  Okay, sort of.
Today, the entire area is a  World Heritage UNESCO Site, so no building or alteration of these caves and rocks can be done. So it's simply become hotels for tourists.  A cave can run anywhere from 50 Euro to well over 100 Euro. I stayed at Kelebek Hotel (read my review), it had its own Turkish bath, had an awesome buffet of mysterious Turkish food to do taste tests and was only 8 minutes from the Goreme bus station. There are hostel caves as well and well,  just staying in the town, you'll have a priceless view of them all!  Check out some cave hotels here.
Watch Cappadocia : Cave Hotels, Turkish Baths, Göreme & Kelebek Hotel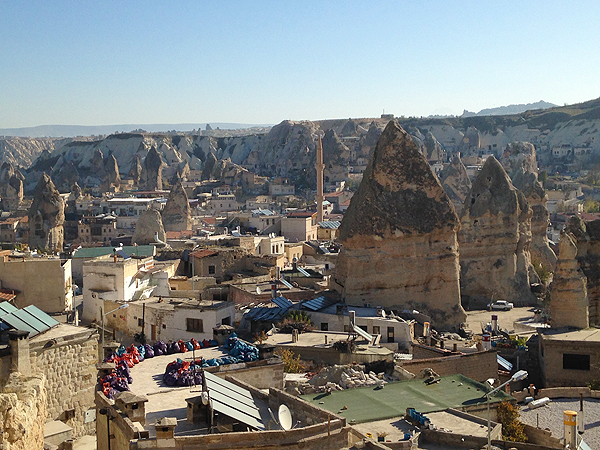 12. Do the balloon ride
I always wondered what the big deal was hot air balloon rides (read my review of Voyager Balloons ) . Now I know.  It's pretty friggin amazing to be floated up 1,500 feet to see the lay of the land.  The first high you'll feel other than floating up, is to see 100 balloons (well, 99 counting yours) fill the air at around the same time. The second high comes from the height you're floating at and finally, the magnificent sight you'll see sprawled out before you in rock formations from fairy chimneys to pigeon houses, red rocks and more.  Rates start at $200, but a reputable agency will be a little more.  Do the balloon ride. It's a once-in-a-lifetime thing to do; you won't regret it.  Book balloon tours here and here
Watch my Guide to Hot Air Ballooning in Cappadocia | Sights of Cappadocia
.
13. Take a color-coded tour
Red, green, blue… are Cappadocia's color-coded tours worth the splurge?
Yes! The history here is remarkable and you will appreciate traveling Cappadocia more when you learn about its past and how it came to be. Firstly, the tours are color-coded and all go in different directions.  They each start at around 50 Euro.  Lunch and entry fees are included,  but drinks at lunch are not.
Depending on which tour agency you go with Tours #2 (Blue Tour) and Tour #3 (Green Tour) can make slightly different stops but overall, visit Cappadocia's similar regions.
The popular tour route is Tour #3 or the Green Tour as it goes the farthest to beautiful Soganli and Durinkuyu, the largest Underground City in Cappadocia.
Meanwhile, the red tour #1 is a tour of Goreme sights from the Open Air Museum to Fairy Chimneys.
Depending on who you speak to, there's a contest between the Green and Blue. My hotel recommended the Blue tour because the places were more historical, etc.. and there were aspects like Sognali, which I'm glad I saw.  Still, I wish I had taken the Green. The Green Tour is widely recommended because it tackles places that are much further away and that you definitely need a car for!
14. Bring Hiking Shoes to Cappadocia
Traveling Cappadocia, some of the trails are slippery slopes and the due to the porous land material, rocks can crumbly. Tread slowly and be prepared to slide. I brought runners on my Cappadocia trip and I regretted it.  Definitely avoid flip flops and sandals.
15. Bring vitamin C and cold medicine
Blame the volcanic ash material of Cappadocia rocks. As I said, they're soft and crumble easily and the dust is fine. But for me it started with a sore throat and at first I thought it was just travelers cold. But I quickly realized a lot of people I met either at my hotel or on tours seemed to be coming down with the same cold.   If you have a sick mask, that might be a good idea too. There is a local pharmacy in Goreme but you may need someone to translate your illness.
16. Give your Cappadocia trip
at least 

 four days

Visiting Cappadocia, you'll find it is a vast region, with a handful of towns and rocks and valleys in between. While you can do some of it independently via bus, scooter or on foot, many also go to hike trails to see more sights. Some travelers might want to rent a car.

My Cappadocia trip was for 3.5 days.  It was not enough and I felt rushed trying to squeeze it all in.  Filming three videos only made things take longer also, despite the fact I work quick.
Goreme
 You can easily spend 2-3 days in Goreme, just walking and exploring the trails of Love Valley, Red Valley and the Open Air Museum.
Uchisar Castle
Uchisar Castle is a 5 minute bus ride away, but you'll want to spend some time hiking and exploring the caves.  That's just Goreme area.  To get to other parts of Cappadocia, such as Sognali and the Derinkuyu Underground Museum, plan for at least two days.
Where to Stay in Cappadocia
There are many breathtaking places to stay in Cappadocia. I stayed in Goreme (the most popular) a small and safe main town of Cappadocia. It's a preferred town due to its walking proximity to Love Valley, Red Valley and the Open Air Museum. It's a ten minute bus ride to Uchisar Castle located in Uchisar, another town tourists will stay at.
Cappadocia is known for its cave hotels. Long ago, the residents used to live in caves in this region and while most families have moved to apartments, cave hotels are a fun attraction for tourists.
Kelebek Hotel(read my review) had cave rooms/partial cave rooms, rooms include your own modest Turkish bath (and regular shower) and was only 8 minutes from the Goreme bus station.   Location was on a hill overlooking Goreme.
Cappadocia Cave Suites  You've seen its rooftop on instagram. 8 minutes from the Open Air Museum, this palace-like hotel is a complex of cave dwellings made of materials sourced from local formations. You can stay in a cave room or fairy chimney room.
Getting Around Cappadocia
Traveling Cappadocia can be done with public transportation, tour or car rental. The cost of a car rental is the near the cost of a tour, but if you're skimming the dime, you could easily post a notice or spread the word in your hotel or hostel to see if anyone wants to chip in to join you.  This would be better than a tour as you can pick the places you want to visit and stay as long as you like.
You can rent a car or scooter in Goreme town, near the otogar (bus station). You can also get around by local bus, take a colored tour or hike. Either way, traveling Cappadocia is awesome for solo travelers. The well-trodden trails are visible and in some areas, you have multiple ones converging and crossing as if to say, All roads lead to home.
Cappadocia bus station
Taxis, local buses and long-distance and overnight buses are all located centrally in town at the otogar (aka Station). You can't miss it, the otogar is fairly small and is the only one in the town.  You'll have several long-distance bus carriers to choose from if you want to springboard to other popular destinations. I took an overnight bus from Istanbul to Cappadocia and it cost 70 L. My cost returning to Istanbul was 60L
Safety Tips for Solo Travelers in Cappadocia
Overall, traveling Cappadocia, didn't encounter anything there by way of scams or criminal intention. It's a fairly small island, where people know people, so it can feel pretty safe and touristy. However, there are always exceptions to the rule so one should always practice street smarts.
Read  Dealing with Touts, Scams, Beggars
.
Best Travel Insurance for Cappadocia
American travelers often pay a premium on travel insurance.  World Nomads offers economic solutions for travelers who seek security and peace of mind.  It covers 150 countries.
What would you recommend in this Cappadocia travel guide ? What are things to know before you go Cappadocia?
Turkey for Solo Travelers (video playlist)