Last Updated on July 10, 2019 by Christine Kaaloa
Watch video: Tibetan Momos and Darjeeling Culture Shock
Darjeeling is a peaceful, hill station town surrounded by mountains and tea fields. Like any place, it has its own cultural surprises, which might make you scratch your head. That's part of the fun of travel however. Here's insights into the unique attributes of Darjeeling for new visitors.
Note: Please check travel warnings before visiting Darjeeling. It is usually a safe destination but as of June 2017, they were closed due to political controversy with West Bengal.
What is Culture Shock?
Culture shock can seem negative to some, but it's all perspective. Some travelers may feel out of their comfort zone, while others might embrace an adventure. Culture shock is cultural difference and this is neither black nor white and can affect you even if you travel to a neighboring town. According to Wikipedia it is:
The feeling of disorientation experienced by someone who is suddenly subjected to an unfamiliar culture, way of life, or set of attitudes.
In my opinion, it's the reason why many of leave home to experience another culture.
Things to Know Before you go to Darjeeling
1. The map of the city is … steep.
Darjeeling city map works a little like a rice terrace field. The city sits mountainside, so the roads are tiered and inclined. Cars might do some mild zigzagging; it's almost quicker to take to the stairs if you're traveling on foot.If you didn't hire a taxi, some attractions can take  a good 20-45 minute walk, depending upon your fitness level.
This was surprisingly one of the more challenging aspects I found about Darjeeling as a traveler who likes to walk everywhere.
2. Shared jeep taxis
Jeep Taxi are a common mode of transportation once you get to the mountainous region of upper West Bengal and Sikkim. I suspect it has to do with the inclined roads and the fact vehicles need a little more horse power and off-roading ability. Higher into the hills the taxi drivers get younger and you'll find them with music blaring and whipping around tight corners.  I got a seat in a shared 5 person jeep taxi (Tata Sumo) from New Jalgaipuri Station to Darjeeling for 200 Rs.  200-250 Rs/foreign passenger seems to be the going rate,  while locals pay less. Going further up into the Sikkimese hills, prices per seat may drop. If you're large or require more room, paying a little more for your seat might help secure it.
3. Traffic, exhaust fumes &  honking
Darjeeling is busier than I expected it to be. As a main town, it is also a transportation hub, with a lot of jeeps and jeep taxis clamoring for the roads. Thus, there is a lot of honking …and fumes. The fumes and occasional black exhaust come from diesel fuel, which is something India still uses and western countries have banned. I caught a cold from inhaling a lot of exhaust.
4. Hillside houses are built high
Being a hill station city, many apartment houses are stacked vertically similar to San Francisco.  Tourists in hotels off Gandhi Road will notice there's much climbing to get to the lobby floor. Unless you're in shape, porters are most helpful in this region.
5. Darjeeling doesn't feel  like India
If you're wondering why Darjeeling doesn't feel like the rest of India, that is because the majority of population is part Sikkimese, Tibetan, Bhutia and Nepalese. This is due to their bordering countries and the cross history.  This means it's not like certain touristy parts of India, where you experience aggressive touts and merchants. Darjeeling is chill, laidback and fairly peaceful.
6. The pride of Gorkhaland
The people of Darjeeling are proud of their Gorkha heritage. It has much to do with history. Darjeeling was once under the kingdom of Sikkim, belonging to the Lepchas (Sikkimese). Eventually it was overthrown by the kingdom of Gorkha which is now known as Nepal. Gorkhas were known as fierce warriors. Today, Indian Gorkhas are made up of Indo-Aryan castes and Mongoloid clans.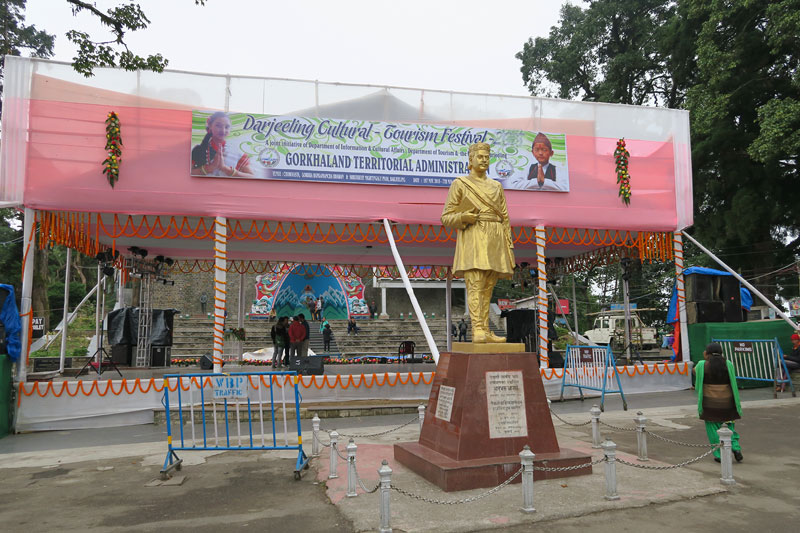 7. Buddhism & Prayer flags
Due to the ethnic minority population, Buddhism is the prominent religion and you'll find Buddhist monasteries, peace pagodas and prayer flags. However, there are hindu temples as well and both religions coexist peacefully with each other in Darjeeling.
8. There's an industry of tailor shops
There were an unusually high amount of tailors in this town. I don't know how they get work- either clothes must break often or maybe Darjeeling is a high exporter of suits.  In the upper Chauk area, you'll find a street lined with tailor shops. There are other pockets of town which you might more tailors and in the lower chowk you'll notice seamstress shops which specialize in knit garments. Watch my video.
9. Momos, momos, momos!
The  dish to try in Darjeeling aside from tea is momos, Tibetan dumplings. You can have them steamed, fried, or in soup, either with chicken, cheese or vegetable.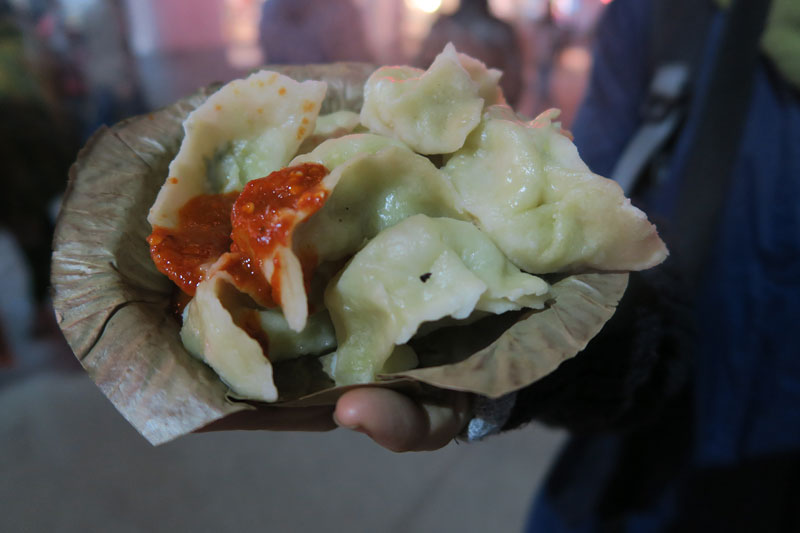 10. Never ask "how long it will take to get to"…
Perhaps this advice pertains to all of India vs just this region, but:
"How long will it take to get to the Ropeway? I asked inquisitively.
"Around 25 minutes", was the response.
"So I can walk there?" I returned.
"Yes." was the response.
That didn't sound very far.  One hour later, I was wondering when this ropeway would appear. I realized locals probably don't take taxis everywhere but walk and their ability to maneuver the hilly streets are good.   Instead of asking a local how long it takes, try asking "How far is it…". You're likely to get a better gauge of your abilities.
11.  The head/skull is the strongest part of the human body
You might be shocked to notice some locals carrying giant objects with a mere strap around their head.  I've often seen this way of working in the mountains and more rural areas in countries like Nepal. The reason they don't carry things with their arms or back is because the head or skull is considered the strongest bone part of the human body, capable of bearing weight.
Ever been to Darjeeling? What are things to know before you go to Darjeeling?
Related Posts
Darjeeling Travel Guide
Getting to Darjeeling
Getting to Pelling from Darjeeling
Pelling & Yoksum Travel Guide  to West Sikkim
Survival Guide to the Indian Trains
Varanasi Travel Guide