Last Updated on June 7, 2023 by Christine Kaaloa
You can tell a lot about a country by their differences.  Welcome to Yangon!  As the capital of Myanmar, Yangon city it's the largest city with the wealthiest population of over 5 million people. But it's quickly growing and spaces are filling. Overseas business companies are excitedly entering, promising future urban developments to house their companies and employees. Myanmar is on the cusp of change, but in many ways, this change has started long before.
Things to Know Before traveling Yangon (Watch video)
8 Things to Know Before you Go to Yangon
Yangon is on the cusp of change! Eager travelers are flocking to Myanmar. It's become a bit of a traveler's hype and yet, there are many reasons to visit this country before big business enter and develop the country further.
1. Yangon's stunning colonial architecture
Yangon has a national heritage law,  protecting any structure over a 100 years old. This is mostly to preserve archeological sites like Bagan, but Yangon is hoping that other architecture in the city will be preserved from urban development.
Many buildings still show evidence of the British Colonial rule; like strong artifacts, they defy age, despite desertion. Yangon has the most colonial buildings of all of Southeast Asia. Buildings many tourist like visiting are the Secretariat, Strand Hotel, City Hall and Sofaer's Building.
Sofaer's Building at the corner of Merchant Road
2. Call shops in Yangon: Need a land phone?
Besides having rickety internet on slow speed, people may tell you there's no cellphones in Myanmar and that their infrastructure isn't quite set for it. For the most part, this is true. But I've seen Facebook pages open and smartphones in the hands of more affluent Burmese.
The majority of Burmese use public phones, however. Generally, these are phone booths and street tables with monitoring sales attendants ready to collect your kyat if you need to make a call.
 3. Burmese Beauty and Fashion
Visible are the longhi (long skirts for men) and sarong-wearing (for women) in the street fashion of Yangon and everywhere you look, you'll see faces of women and children, smudged with dried Thanaka (a yellow paste minced down from a bark).
Some of the fashions can be a little surprising. For instance, I walked by a barber shop to find Korean drama and K-pop star hair styles posing as part of the selection. I guess the Burmese like to keep current with the latest fashions too.
4.  Yangon manual labor jobs are a bit behind times
There's many beauties to traveling in a developing nation. For me, one of them happens to be  how man-power churns the big industrial wheel; not automation.  Myanmar isn't as tenfold in manpower as India's wallah workers, but the way the Burmese work will occasionally effect a gaping jaw response from tourists.  It's pretty refreshing and sobering to see hard manual labor in effect.
5.  Yangon Street Food is cheap
In Yangon, street food and outdoor cafes are more common than actual restaurants.  There's a myriad of interesting dining experiences to try, from barbeque-type stalls, where people pick their meats and grill them before an open hibachi, to stalls selling noodle dishes.
As there's a heavy Indian influence, you'll may also find a couple of Indian restaurants or chai sellers along your stroll. There's two dishes I really enjoyed in Myanmar: fried chickpeas (super simple) for breakfast and Lahphet thoke—a pickled or fermented tea leaf salad with a bit of dried anchovies.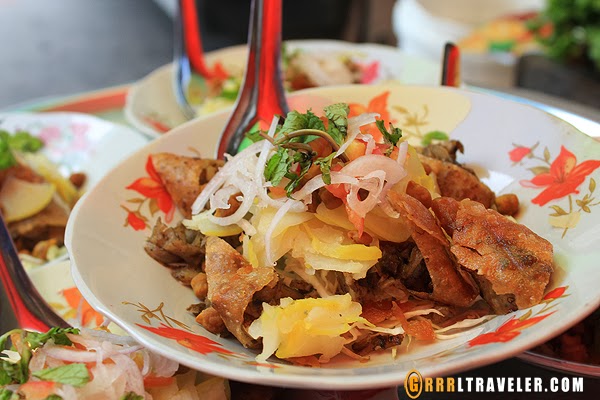 6. The Cost of an Apartment in Yangon City
In Yangon city, most Burmese live in apartments. The cost of an apartment in Yangon city have risen quickly, due to foreign investors and the new need for office and apartment rental space.  A one bedroom apartment goes for around $600/ month. To put this into perspective next to it's Southeast Asian neighbors, "the average rental rate in Yangon (is) at nearly $80 per square meter, compared to about $25 in Bangkok, …" claimed Collier's International, a real estate firm which recently set up an office in Yangon.  Even Manhattan prices are lower at $49.95.
7. Yangon Markets
Who doesn't love markets?  If you've already traveled through Southeast Asia, then the markets in Yangon will feel familiar. Yangon markets are stocked with common Southeast Asian fruits and produce.  Bogyoke Market (aka Scott Market) is the infamous black market where people used to exchange their currency. Today, Bogyoke Market is a mecca of shopping anywhere from Burmese souvenirs, jewelry, clothing and food. It is fun to stroll the market grounds to see what vendors are selling.
Ways Yangon will surprise you… shock you even!.
8. Yangon Bus Terminal: Aung Mingalar Highway Bus Station
Aung Mingalar Highway Bus Station is the largest and main bus station in Yangon. This station fuels buses to all the main cities, such as Bagan, Mandalay, Inle. There are many private bus companies and they range in standard. Some of the VIP private buses are extremely good— with recliner seats, touch screen televisions, a bus attendant going down the aisle serving refreshments, and even giving you a toothbrush if you're on an overnight bus. Then there are buses which are just okay. The Aung Mingalar Highway Bus Station is 9 kilometers from Myanmar's airport in Yangon.  It's easier to take a taxi to it and have the taxi drop you off by your bus.  Getting a bus from inside the station is easy too, even though it's a bit of a zoo. The moment your bus arrives into the station, you'll have taxi guys swarming you. It' s best to know your prices in advance and to know how to  haggle.
Read    16 Tips for Traveling Alone by Night Bus
9.  Yangon has ATMS
Yangon has ATMs and although they're not widespread, I expect they'll be more common over time. Yangon International Airport has ATMS, i've seen them outside some banks and at large grocery/household stores.
10.  Cash is king in Yangon
Cash is king and Yangon is no different from the rest of Myanmar in its preference towards stiff and crisp dollar bills. Kyat is certainly accepted but so are American dollars.
Tip: Use your dollars for large purchases like the long distance bus and your hotel bill. Use the kyat for smaller local transactions like admission fees, shopping, food, etc…
11.  Always use crisp and clean U.S. dollar bills in Myanmar
The Burmese are extremely particular about the quality of U.S. dollars they receive .  They only accept crisp and unmarked American dollar bills. The Burmese have learned through history to distrust their own currency (the Kyat). Due to corrupt dictatorship and  widespread corruption of banks, a $100 in Myanmar currency could go from worth $100 to $0 overnight, due to the government toying with the value of the currency. Burmese sometimes resorted to bribing tellers to withdraw their money. Thus, there is a huge distrust between Burmese and currency. The one thing Burmese could always trust was the power and value of American currency, which was always set in and by the West and they would secretly store their dollars in books to keep them fresh, crisp and in mint condition.
It's best to come with clean and crisp currency. You may find difficulty getting fresh bills at the airport or bank ATMs and even these facilities are seeking fresh and crisp currency as well and are less likely to offer them.
Read Dealing with Currency in Myanmar | Burma (VIDEO)
12. Take the public bus in Yangon
It's fun to take the local bus to get to places in Yangon . Only problem is that taking the bus in Yangon can be a tad tricky.  If you can get good directions about spotting bus signs (they're written in Burmese) and directions to getting to the places you want to go, give it a whirl. Or if you don't have a strict itinerary, you can do what I did and wing it! Read tips on how I used the bus for traveling Yangon.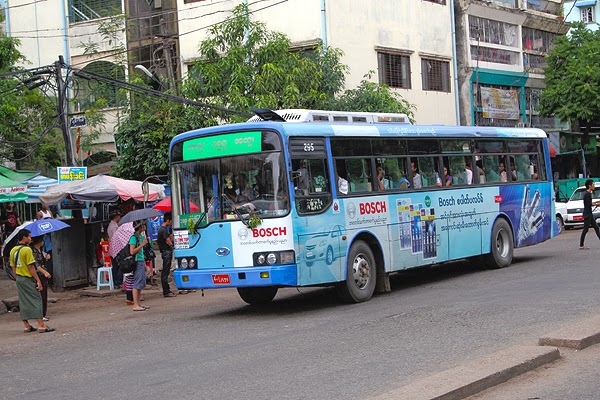 13. Explore the area around Shwe Dagon
Explore the area around Shwe Dagon. The Shwe dagon pagoda is a gorgeous sparkling jewel of Buddhist reverence and art. But if you're like me, you'll find the Burmese culture even more interesting than the famous pagoda itself! From local vendors selling betel nut to a gathering crowd to local seamstresses or statue sculptors, you'll find the neighborhood is a cultural wealth of varying characters of Burmese living.
Getting around in Yangon
If you can't wait to get there and book your tickets in person, book your Myanmar trip tickets in advance. I used 12GoAsia to book transportation for my Thailand trip.

Where to Stay in Yangon:
I stayed at Mother Land 2 Inn, which is a little on the fringe of downtown. They're a little over-priced for what they offer, as the hotel is old and there's no wifi. I got a room with double beds, a fan and outside shower for  $27/night. You can still access the internet through their computers, which charge by the hour. Believe me, you'll need that hour with the speed. The redeeming factor is that they have free airport pickup and they have good exchange rates on money. Location: 433 Lower Pazundaung Rd Botataung Yangon.
If you'd like more options closer to the Sule Pagoda, I recommend using Agoda.com.
What are things to know before you go to Yangon?