You can tell a lot about a country by their differences.  Welcome to Yangon!  As the capital of Myanmar, Yangon city it's the largest city with the wealthiest population of over 5 million people. But it's quickly growing and spaces are filling. Overseas business companies are excitedly entering, promising future urban developments to house their companies and employees. Myanmar is on the cusp of change, but in many ways, this change has started long before.
Watch the video for my first impressions
7 Things to Know Before you Go to Yangon
Yangon is on the cusp of change! Eager travelers are flocking to Myanmar. It's become a bit of a traveler's hype and yet, there are many reasons to visit this country before big business enter and develop the country further.
Read 19 Things to Know before you go to Myanmar
1. Yangon's architectural influence
Yangon has a national heritage law,  protecting any structure over a 100 years old. This is mostly to preserve archeological sites like Bagan, but Yangon is hoping that other architecture in the city will be preserved from urban development.
Many buildings still show evidence of the British Colonial rule; like strong artifacts, they defy age, despite desertion. Yangon has the most colonial buildings of all of Southeast Asia. Buildings many tourist like visiting are the Secretariat, Strand Hotel, City Hall and Sofaer's Building.
Sofaer's Building at the corner of Merchant Road
2. Call shops in Yangon
The country is still lagging in technology.  Besides having rickety internet on slow speed, people may tell you there's no cellphones in Myanmar and that their infrastructure isn't quite set for it. For the most part, this is true. But I've seen Facebook pages open and smartphones in the hands of more affluent Burmese.
The majority of Burmese use public phones, however. Generally, these are phone booths and street tables with monitoring sales attendants ready to collect your kyat if you need to make a call.
 3. Burmese Beauty and Fashion
Visible are the longhi (long skirts for men) and sarong-wearing (for women) in the street fashion of Yangon and everywhere you look, you'll see faces of women and children, smudged with dried Thanaka (a yellow paste minced down from a bark).
Some of the fashions can be a little surprising. For instance, I walked by a barber shop to find Korean drama and K-pop star hair styles posing as part of the selection. I guess the Burmese like to keep current with the latest fashions too.
4.  Yangon workforce and manpower
There's many beauties to traveling in a developing nation. For me, one of them happens to be  how man-power churns the big industrial wheel; not automation.  Myanmar isn't as tenfold in manpower as India's wallah workers, but the way the Burmese work will occasionally effect a gaping jaw response from tourists.  It's pretty refreshing and sobering to see hard manual labor in effect.
5.  Yangon Street Food
In Yangon, street food and outdoor cafes are more common than actual restaurants.  There's a myriad of interesting dining experiences to try, from barbeque-type stalls, where people pick their meats and grill them before an open hibachi, to stalls selling noodle dishes.
As there's a heavy Indian influence, you'll may also find a couple of Indian restaurants or chai sellers along your stroll.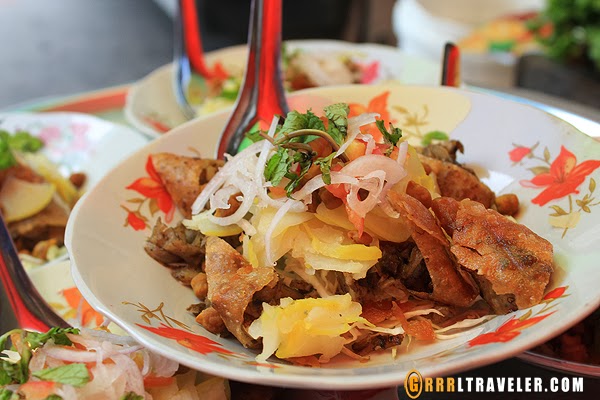 6. Yangon  City Lifestyle
In Yangon city, most Burmese live in apartments. The cost of apartments have risen quickly, due to foreign investors and the new need for office and apartment rental space.  A one bedroom apartment goes for around $600/ month. To put this into perspective next to it's Southeast Asian neighbors, "the average rental rate in Yangon (is) at nearly $80 per square meter, compared to about $25 in Bangkok, …" claimed Collier's International, a real estate firm which recently set up an office in Yangon.  Even Manhattan prices are lower at $49.95.
7. Yangon Markets
Who doesn't love markets?  If you've already traveled through Southeast Asia, then the markets in Yangon may familiar.  It's stocked with common Southeast Asian fruits and produce.  Bogyoke Market (aka Scott Market) is the infamous black market where people used to exchange their currency. Now, it's just a huge mecca of shopping anywhere from Burmese souvenirs, jewelry, clothing and food.
Ways Yangon will surprise you… shock you even!.
Where to Stay in Yangon:
I stayed at Mother Land 2 Inn, which is a little on the fringe of downtown. They're a little over-priced for what they offer, as the hotel is old and there's no wifi. I got a room with double beds, a fan and outside shower for  $27/night. You can still access the internet through their computers, which charge by the hour. Believe me, you'll need that hour with the speed. The redeeming factor is that they have free airport pickup and they have good exchange rates on money. Location: 433 Lower Pazundaung Rd Botataung Yangon.
If you'd like more options closer to the Sule Pagoda, I recommend using Agoda.com.
What are things to know before you go to Yangon?