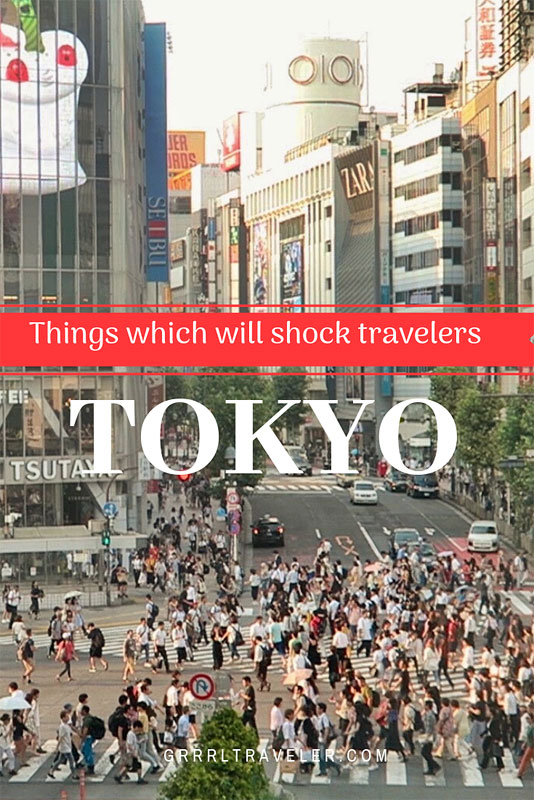 Tokyo is a sprawling cosmopolitan city a polite and orderly culture steeped in traditional and culinary arts it also has a history of mixing tradition and innovation and although I'm half Japanese, like any other country, Tokyo can present some fun culture shock for travelers like myself. In this Tokyo travel guide I'm sharing things to know before traveling Tokyo!
Watch my First Impressions of Tokyo
20 Things to Know Before Traveling Tokyo
1. Tokyo's Dense Crowds
I've always assumed China and India would have dense crowds due to the outstanding size of these countries and measured populations.   But upon arrival what really surprised me was Tokyo's dense crowds. Tokyo and its prefectures has a population of up to 13 million people and while there's plenty of space per person, these are some of the biggest crowds I've seen in a city, let alone crossing streets. If you ever want to see how bad it can go to Shinjuku Station just before midnight and you'll see Japanese converge upon the station to make their last train.
2. Vending Machine Restaurants
Vending machines are ubiquitous in Tokyo. They're virtually everywhere which is good when you're looking for a cold drink. The going range for these type of drinks are probably at roughly around $1 USD, but they even have vending machine restaurants and I think this has to do with Tokyo folks being busy and needing quick convenience.
Food in these restaurants are prepared fast but by hand and made with care. The vending machines which take your food order are outside the restaurant. There are pictures on the buttons, so you can see what the dish is (just in case you are a foreigner who cannot interpret it). Some may have a display case of numbered plastic food instead. The number of the plastic dish relates to the number on the ordering button. After your order is placed, you get a ticket which you will give to the cook inside. Then you wait for your meal to be ready.
Read 15 Things to Know Before you Go to Japan 
3. Japanese luxury toilets
Japanese luxury toilets or Toto toilets are something you might find in public restrooms. They've got a remote on the side, where each button has a feature, such as bidet, front or back… there's even a button for flushing sounds, so you can have a bit of privacy when you do your business.
4. Motherhood, Seniors, and Family Priority
What I loved is that Tokyo seems to think about motherhood. In Tokyo, you'll occasionally find mother and child stalls with special seats for the child. Sometimes they even have their own private family bathroom. On trains, you'll see seat reserved for seniors, handicapped and pregnant mothers and while you might find that in other countries, Japanese folk do reserve that for those categories and will only use it if there is no one of that category there.
5. Rush Hour Traffic
As part of Tokyo's dense crowds sometimes pedestrian traffic during rush hour can be a challenge. When you're arriving early in the morning when all the businessmen or the business folk are like passing through the Metros, it's kind of hard to cross. You have to wait to kinda like zig your way, zagging through. Um, like joining the pedestrian flow in a metro is another thing I found challenging. It's almost like trying to figure out when to jump in when you're skipping rope, because the flow can be pretty continuous and in one direction. It's almost people streaming in a line. It's a fairly organized line. One directional stream.  I'm gonna have to either wait for th8 Street Smart Safety Tips for Solo Travelers11 Things to Know Before Traveling to San Franciscoe flow to die or I'm gonna have to zip!
A lot of my initial excitement happening in Tokyo metro stations because you'll need them to get around. Yes i think i've got the stream of traffic right now, because I was coming in and a lot of people were coming towards me. If you're going counter traffic I think you just hug the outside. That's what I'm getting. The people who are going counter (traffic) just kind of hug to the outside or I don't know… maybe that's the flow of direction. Okay, let's let's just merge… just like a little tadpole swimming… merging with the pod.
6. Orderly
Another thing about Tokyo and Japanese culture is that it's very orderly. Take for instance standing in line while waiting for your train. There's definitely no pushing and shoving.
7. Escalator etiquette
Escalator etiquette is an unspoken etiquette you'll find in other Asian countries like Taiwan and Korea. The left side is for standing right side is for passing. Do not stand in the passing lane. In cities such as Osaka, Kyoto and Kobe, the reverse is true- left side is for passing and right side is for standing.
8. Pedestrian culture and walking
Tokyo is a pedestrian culture and you can get around by foot, bus or metro. If you ride the Metro be prepared to walk, stand and climb, as escalator and elevators can't always be relied upon.
9.  Signs, Directions and Large metro stations
In Tokyo you always find directions and signs. The only problem is sometimes, it can get to be a bit much. Okay, so this is going to Akihabara. You've got that side that's going down. You've got this side that's going up. It's also color-coded to some level.
Some metros are big… like, really big. You can almost certainly get lost, due to the fact they're hub stations with many connections. The most famous station for getting lost is Shinjuku Station, which is the largest station in Tokyo. The station has over 200 exits with subterranean walking paths which connect to nearby stations. If you get lost, take a deep breath. Even locals can get lost in some of these large metro stations. Whether you're looking for trains, a JR line or an exit just to get out… large metro stations can be confusing. If you need to get anywhere in a timely manner, factor in time to find your way to the correct exit. You can also enlist the help of information booth guards, who will point you in the direction you need.
10. JR trains may have same names as local trains
One thing to always check is whether your train is a regular train or a JR station. JR stations and trains are owned by a private company. So they may have the same stop name as a regular train/station, but their location may be separate from the local station.  If looking for directions or asking for help, always check if it's a JR first.
Tip: The Japan Rail Pass is the ideal way to travel cities if your itinerary is crunched with little time. Options are sold in 7 day, 14 day and 21 day categories, and it includes all JR trains (Shinkasen, Express, Local, etc..), the monorail to/from Tokyo's Haneda airport,  highway buses and more! Most popular : 5 day flexible East Tohoku JR Pass
 11. Jobs for Smaller Details
In Akihabara, I saw a patrol man helping guide the crosswalk intersection but it was for a very small and tangential intersection, which barely held legitimate traffic. Even though there was a crosswalk and a traffic light nearby, he was still there to direct small traffic. Some folks have mentioned Japan finds odd jobs for the unemployed people and this may be true, as I've also seen uniformed trash pickers walking down the sidewalk scooping up small street trash to keep the neighborhood clean.  In either case, there are jobs for some of the smallest details of society.
12. Public Restrooms but not trash bins
Very similar to Korea,  metro stations in Tokyo have restrooms! This is handy to know. So while you might not find many trash bins commonly available on the streets, you'd at least know that there are restrooms that are in the train stations. I feel like in the United States, it's a different story. You've got a lot of trash bins everywhere and no restrooms in sight. Note: Paper towels and soap can occasionally be hard to find in the restrooms.
13. "No smoking on the streets"
In Tokyo culture, there's no smoking on public streets , except for where smoking is actually allowed. Fine for getting caught is 2000 yen or $20 USD.
14. Clothing Store Dressing Rooms
I was very excited to visit one of my favorite clothing shops- Uniqlo which originates in Japan. But there are some cultural differences… Shoes are left outside the rooms and when trying on clothes in Japan, they give you a cloth mask to protect their clothes from makeup.
15. Japanese Sizes
Although we have a Uniqlo in the West, it doesn't mean our sizes run the same as Japan's. The sizes in Japan run small.. very small.  In Tokyo,  I was between a large or an extra-large blouse, whereas normally in the U.S.,  I'm a medium-small.
16. No public seating
In a pedestrian city like Tokyo, sometimes you just want to sit. Unfortunately, one of the challenges of Tokyo is finding free public seating. In Tokyo, seats are generally reserved for patrons. Aside from parks, restaurants and cafes are the only establishments you'll find seating and to use it, you'll need to be a patron. If you're with a partner and think you'll purchase a snack or dish and share the cost so you can have an excuse to sit in an establishment, think again.  Some of these places enforce a 'one order per seated patron' rule. Whether the dish is big or small, you each need to buy one if you both want to sit.
Furthermore, in establishments where there is limited seating, one is expected to eat and leave. Dilly dallying around or leisurely splitting your time between chit chat and bites is seen a bit as rude. This is because while you are wasting time, the establishment is losing money when it could be ushering in the next patron.
17.  Kawaii culture
From cute animal mascots per prefecture to being the makers of Hello Kitty, anime and just cute-cute things, Japan has a strong kawaii (aka cute) culture, holding innocence in prized regard.  You'll even hear the word kawaii as a catch-all word when expressing sentiments like pretty, beautiful or cool or nice, etc.. 
Read Japan Culture Shock
18. Japan is a polite culture
Most Japanese will keep to themselves and if they speak, most of what is said is polite. Gomen-nasai and Sumi-masen which both sorta mean- "excuse me, I'm sorry". If you are their guest, they will be very hospitable, thoughtful and attentive to the details of your stay.
19. Sick masks
Often you'll see Japanese walking around wearing sick masks.
Reasons that Japanese wear sick masks:  Either someone is sick and wants to avoid infecting others, or it is spring and one wants to avoid pollen.
20. Don Quijote and Yodobaishi
Even if you are not a shopping type of traveler, Japan will seduce you to shop. There are two big discount chain stores in Japan.
Don Quijote (lovingly called "donki")  is one of the best discount stores in Japan for just about everything. From novelty Japanese snacks to weird-but-cool health and quirky Japanese miracle beauty products, apparel, tech and food, Don Quijote satisfies your every need!
Yodaibashi Camera is Japan's biggest camera and tech store and they've got an overwhelming melange of camera technology you've never seen or heard of. This is my second favorite store because they have "Japan exports" along with familiar western models.
Getting Around Tokyo
Tokyo is quite large. With a population of 13.8 billion people the city is sprawling.
Traveling Japan on a budget? Check out my trip guides for Osaka and Tokyo.Also, buy my Tokyo Secrets eguide to explore the behind-the-scenes spots of my YouTube videos.
Tokyo Tips for taking the Metro & Bus
If you plan to only stay in Tokyo,  its best to buy a PASMO or SUICA card (good for all trains and buses) and load money onto it. If there is a day where you will be using the metro a lot, then I'd buy an unlimited metro pass (which I believe is only available at the airport for travelers). Fares are charged by distance and JR trains cost just a little more.
If Tokyo is not your only stop but you will be traveling onward through Japan, you may consider getting a JR train pass which can be used on the local trains, JR trains (this is a private company) throughout Japan.  You will need to buy a JR pass in advance outside of Japan.  See more JR Pass Options below
Recommended: Download either Navitime Japan or  Hyperdia mobile apps to find your metro and JR routes with ease. Apps come with route options, estimated time and costs per trip. They are helpful with Japan's busy and sometimes, overwhelming metro systems.
Getting Around Japan
Japan Railway | Japan Rail Pass (JR Pass)
Many travelers opt to skirt around Japan by way of the Japan Railway. The Japan Rail Pass is the perfect option if your itinerary is crunched with cities and very little time. JR Pass Options are sold in 7 day, 14 day and 21 day categories, and it includes all JR trains (Shinkasen, Express, Local, etc..), the monorail to/from Haneda airport,  highway buses and more!   Rates start at 28,000 yen and you must pre-purchase your passes in advance.
[maxbutton id="3″ url="https://www.klook.com/en-US/city/100-jr-pass/?aid=6792″ text="See a List of JR Pass Options" ]
Most popular : 5 day flexible East Tohoku JR Pass
(surrounding Tokyo area to countryside; Shinkasen, Narita Express, Tokyo Monorail included)
Note: you can only buy these passes outside of Japan. Plan ahead.  The pass offers tourists a big discount on travel; however, if you only have a few cities to visit, it may be more cost-efficient to book point-to-point travel.
Best Travel Insurance for Tokyo
American travelers often pay a premium on travel insurance.  World Nomads offers economic solutions for travelers who seek security and peace of mind.  It covers 150 countries.
Tokyo travel guide video playlist