Last Updated on June 20, 2021 by Christine Kaaloa
On my recent trip to Korea, the subject of souvenir gifts weighed as a topic on my mind. What cool souvenirs from Korea should I get for friends and family?
If you're visiting Korea and shopping for holiday stocking stuffers or just bringing back some good ole souvenirs for friends and family, which won't load down your luggage like a bag of bricks, here's 5 best souvenirs from Korea. Check out my video and buying tips.
5 Best souvenirs from Korea
1. K-drama and K-pop paraphernalia
If you have friends and family who are fans of popular Korean dramas and K-pop like I do, then this is probably at the top of your list! You can find calendars, socks and notebooks, all plastered with the faces of your favorite Korean celebs! But idol shops aren't easy to find and there aren't as many as you'd think. You'll find a few in Seoul's Insadong, Namdaemun usually doubling as souvenir shops; but according to Khanh in Korea, Myeongdong is your shopping haven .
But just an interesting note for the idol obsessed: while Korea manufactures the star power, it's Japan that's got the dibs on carrying variety when it comes to fan-obsessed glitteratzi! As I recently found on my trip to Japan, they've got a broader selection ranging from stickers, coffee mugs, posters, mini cards, keychains… you name it!
2.  Socks
Korea has the leverage on fun socks if you ask me. Maybe it has to do with the Korean custom of removing your shoes in exchange for house slippers and not wanting to expose your bare feet…
But it doesn't matter what age you are, you'll be tempted to buy them because they're just fun and plain adorable! Some are like couple outfits but for your feet; others are cute enough to make you wish you were a kid again. And then there are socks for those who want to have their favorite celebs pandering at their feet.
3.  Electronics
Korea is cutting edge when it comes to electronic accessories; as such, they've gotten proficient at squeezing them down to sizes ranging from micro-mini and cute. In Seoul, the places to go which are often said to hold bargains are Yong-san Electronics Mall and Techno Mart.
But if you're from the U.S., I can't promise you you'll find savings which will beat the online prices of Amazon, even if you're buying Korean products like Samsung. Korea is known for it's technology but just because they manufacture it, it doesn't mean it'll be cheaper there. For some reason, in Korea, that's not the rule of thumb. I'd save the big equipment for when you get home and shop for the smaller items.
4. Get the cute cultural souvenirs but don't forget the silverware!
Keychains displaying traditional Korean clothing are obvious, but there are subtler things, which carry equal importance for Koreans and happen to make for practical gift giving! Metal chopsticks are ubiquitous to Korea (get wooden or bamboo ones and you're actually spelling a different country!) and long-stemmed metal spoons with round scoops are also strictly Korean (the next size down will be the size of baby spoons used for yogurt).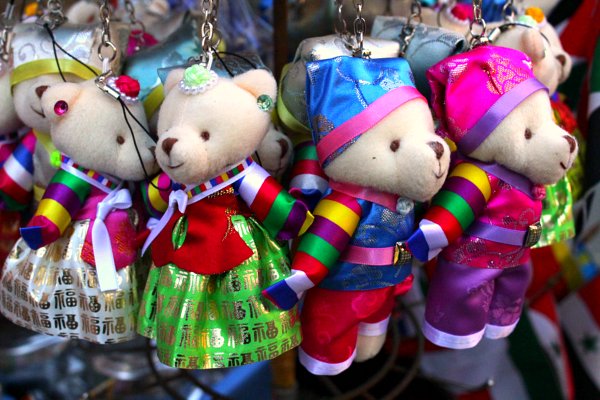 5. Korean beauty products and Korean makeup
Koreans believe in looking good, when they step out of the house. As such, you'll find a wealth of skin care shops, all endorsing a famous face to sell their product.  Missha, The Faceshop, Nature Republic, Skin Food, Hanskin, etc… But another reason to buy skin care products and Korean BB cream (read here)  is that Korean skin care is generating global interest, for using high-quality natural ingredients and its showing good results. Compared to brand name wrinkle creams and moisturizers in the U.S., they're also significantly cheaper!
Best all-purpose and super simple self-pampering souvenirs  (under $5) are Korean face masks, nail polish and hand cream. They're popular in Korea and regularly used as a beauty regimen or maintenance.
Asia in general has a different aesthetic from the West.  So you'll find curious novelty items that you might not ordinarily see at home.  How about some double-eyelid tape, a jaw massager to reduce your jawline or even a facial slimming mask (watch my video on how it worked for me)?
Sometimes, it helps to just sift through Daiso and 1,000 won stores.
What best souvenirs from Korea do you recommend?
Travel Resources for your Korea trip
Booking.com – Hotel bookings. No cancellation fees
Safety Wing – affordable travel insurance with COVID coverage
NordVPN – Online security and the ability to watch Netflix. Use "grrrltraveler" for 70% off 3-year plan + 1 month free
Klook – Book tours in Korea and Asia
Get your Guide – book tours in Korea
Korea SIMs – for prepaid travel SIM Cards
Korea Rail Pass – for getting around Korea
Related Posts:
Cool things to do in Seoul
How to make a Korean drama film tour
Things to Do Jeju Island
Watch my Korea Tips