Looking at the sea out from Baga Beach, the sea is shining, and teasing, much like the vibe of the locals and beaches in Goa. Goa is the party central of India. It has many beaches, making it a challenge to narrow it down to choosing top 5 beaches in Goa.
As a female who's been nervous about traveling india alone, I feel surprisingly safe here. Waves tickling my feet, a pineapple lassi in hand, I look out at the beach. Female travelers in swimwear (…and not saris), …even the cows are catching their daily dose of sand and rays.
"Goa is one of the friendliest spots in India. "
That's why, Tara, a native Kolkatan, is back in Goa for a six-month stint of work at one of Baga's beachside restaurants, Shining Star. I asked Tara for his perspective of some of the well-known cities in India. Tara didn't waste any words.
Mumbai. Too busy.  Bangalore. Nice, clean, posh. Home of the venerable IT industry.  Delhi. Full of cheaters (they cheat even locals!).  Kolkata. Nice but old. Some houses have been there for over a 100 years and are still standing (just maybe not upright).
Goa. Beautiful beaches. One of the friendliest spots in India.  Laid-back.
In the few days I've been here, Goa has been a respite from the craziness of Mumbai.  But Goa is also nothing what I imagined it to be like. Being from Hawaii, I know crowded tourist beaches and mellow local ones. I did not find the beaches in Goa to be particularly stunning like Thailand or lovely and clean like Hawaii. They seemed purposeful for the entertaining activities you can enjoy on them.
Exploring Goa's scene, its beaches go into a kind of hyperdrive- many are either for the Indian vacationer or the foreign traveler so its more of a playground. There's a lot of sand until you get to the water, so the beaches can get hot with little shade. Definitely take your sunscreen. The only way to escape the heat is to hit the water or find a local bar or restaurant.
Exploring Goa from a motorbike
If you ask me to name the best part of exploring Goa, it's not discovering its beaches, rave parties or hippie scene. The best part of traveling Goa was the simple fact I could a good deal of it and its countryside, from the vantage point of a rented scooter! No windows or doors for shelter; just two wheels, a motor and the land. Driving a scooter makes me feel like Marco Polo, zooming along the coastline, visiting beaches. Goa traffic is chill and driving through the Goan countryside is relaxing and a nice break from the heat.
Once away from the tourist hype, Goa is a breath of fresh air. The land stretches into lush serenity and its natives are warm and full of curiosity.  Feeling the wind in my hair on a hot Indian day is definitely an inviting perk!  Travel Goa's countryside is a must if you want to feel centered.
Tip: Take a ride along the coast (Arambol- Mandrem-Querem- Calgunate- Baga Beach)
From central Goa to its northern tip, a lot can be covered in day for only 200 rupees (the cost of a scooter rental). Orange-colored petrol sits in liter water bottles, outside shops and along roadsides. They glisten warmly in the sun and remind me– that unlike Thailand— I needn't worry about running out of gas, as long as I have 70 rupees!

5 Best Beaches in Goa
Compared to many parts of India, Goa is its own overdrive of culture shock when it comes to tourism. For tourists, Goa is a long-standing Hippie-ville of beaches, Euro-rave partying… and more. Being a beach region, Goa has several beaches along its coast. Here's a list of top 5 beaches in Goa.
1.  Anjuna, Goa
Anjuna Beach is the best beach in Goa for raves and the trance scene.  The moment I set foot on Anjuna sands… pumping sounds of trance vibes boomed on a giant loudspeaker, as giant umbrellas and beach chairs fronted shoreline restaurants, with Europeans laying out for the sun bake. Some tourists bake topless. Fruit and massage women walk the beach selling fruits and ZZZs as you bask-relax next to lazing cows. Anjuna Beach is the hippie Euro beach with relaxed vibes you might see in a Bollywood movie of a young Indian managing their own bar. Day or night, you'll find the DJs pumping tunes for chilled out vacationers. It felt like a weird Indian French Riveira. If I were in my twenties, I'd love it.
Where to stay in Anjuna: I stayed at Peaceland for 1000Rs/double + fan. No internet or free wifi. Accommodations are okay and clean, but pricey for what it is.  There's a German bakery which is always popular, along with some bars and restaurants. Here's more Anjuna accommodations.
2.  Mandrem Beach, Goa
Mandrem beach flairs towards peace and privacy.
A bit more removed from the rest of the Goa craziness, Mandrem beach is a secluded getaway. The sands are so white you'll have to squint from the glare. Wooden boardwalks jut out, linking resort to the exclusivity of beach lined cabanas, which have attendants. It's so private, nudist sunbathers are kept from passing gawkers. Not a lot of options for cafes unless you journey into town, which offers a cafe or two & a small handful of local restaurants.
3.  Arambol, Goa
Arambol is the best beach if you like a small community feel. Backpacker central, it has Indian clothing stands pack into the winding line of the main road, squeezing out cafes and restaurants. The budget holiday shops cater to the cult of Bob Marley, tie dye, sundresses, Ali-Baba pants, hash bongs and a new look of motorcycle-riding, Rastafarian dred-locked She-Ra women with high cut sandals, short skirts and utility belts.  If you love to shop or get your healthy banana smoothies, this beach was the best in a small travel community feel.
If you really want to be in the heart of all dreadlock and rave action, this crazy backpacker's mecca is your place to go. It's a bit overdone but if you're into a good rave party, you'll love it here.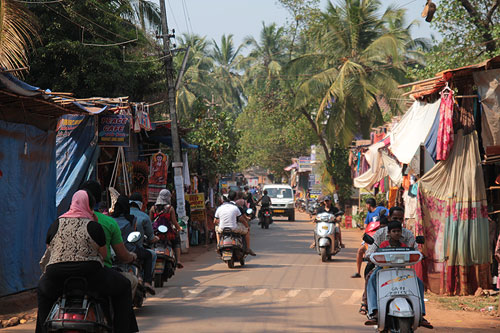 4.  Baga Beach, Goa
Indian locals flock to activity-inclined Baga Beach where you can dine on the beach and participate in water sports. This was the closest to my favorite beach. It's the chill sister of Calgunate and much more tolerable with it's beach side restaurants. Baga Beach is all about water sports, from paragliding, jet skiing, a speedboat towing an inflated passenger boat at full-speed. It's a bit of a playful water sport carnival with a mellow but active vibe.  "Is this still India?" you might ask. Incidentally, it's the first predominantly "Indian" beach crowd I've seen in Goa!
Check out Britto's, a bar restaurant that's served beachside customers for over five decades. Beer, live music, fun… it's legendary.
Where to Stay in Baga Beach:  Baga has a swarm of guesthouses to resorts, but is more of a resort area. Guesthouse wise– closer to the beach, you'll pay a higher price for a non-air-conditioned room, even though quality might be lacking. I stayed at Frank's Guesthouse, which lacked a bit of appeal and a cool breeze but it was a block from the beach. Here's other options in Baga Beach.
5. Calangute Beach, Goa
If beaches were on crack, Calangute Beach feels like it is it. Calangute is the Queen of Beaches in Goa and the largest beach. It's one of the most crowded beaches with a deep shoreline. Crossing sands from pavement to ocean waters, is a bit of a walk. It wasn't my favorite beach due to the crowds and the heat. There's very little shade on that beach. Still, there's watersports to enjoy and a healthy nightlife scene.
Is it easy to travel solo in Goa ?
Just because I've traveled a handful of countries by myself, doesn't mean it eliminates my fears, self-doubts and uncertainties with solo travel. As a female solo traveler in India, I'm still finding my footing. Before I came to India, …
India intimidated me. Was I ready to tackle India alone?
Traveling alone in Goa wasn't bad. Once I had my motorbike, I was fine and had the independence to see anything I wanted. India is a challenging country, which demands all my attention and focus as I weave and dodge through the car honking traffic, touts, scams, stares and swirls of action. Balance is an important key and you have to be quick on your toes.

How to get to Goa
Getting from Mumbai to Goa:
Paulo Overnight Bus, 600 rs .  Tip: Avoid the VIP bus sleeper berth section — two people per berth and bed size is small. The air-conditioned bus is freezing.  The long distance bus will arrive into Goa Bus Station and you'll need to take a local bus to the beach.
c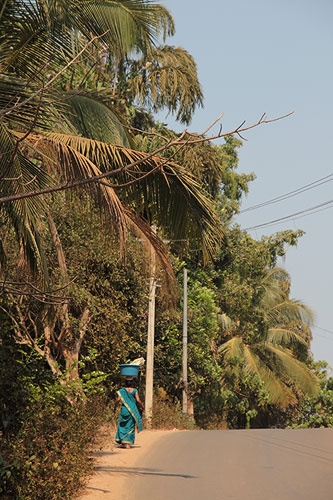 .
Getting from Goa to Hampi:
Paulo VIP/Tourist Overnight Bus (book with an agent or online) 600rs/seater Non-AC
Tip: Seater/sleepers are recommended. Leg room is moderate and seats recline back. Non AC buses can still be cold when the windows are open.
What would you recommend as the top 5 beaches in Goa?