Last Updated on December 22, 2019 by Christine Kaaloa
Travel Essentials for Seoul (Part 1 of 2)
Getting ready to travel to Seoul?
Seoul is a bustling cosmopolitan city. It's the home of Korean drama, K-pop, theme cafes and a lot of cool modern technology (ya don't want to miss out this one!).  Here's some essential travel tips to make your trip to Seoul a breeze!
 Top 5 Travel Essentials for Seoul
1.  The Seoul Metro
There's a lot of sightseeing to do in Seoul (afterall, there's 9 amazing neighborhoods to see), so the Seoul Metro system is huge. What distinguishes it from all the metro and subway systems across the world is their technology (it even beats out New York City)
The metros use T-cards, which are cards you can reload and reuse. You put money on them, called T-money, and you'll be able to use this on Seoul taxis, buses, toll booths and some convenience marts will allow you purchase things on them. The fare on them is slightly discounted over a single journey fare and you don't have to wait in lines to buy rides. The cost of a T-card however,  is non-refundable.  2,500 won (regular card) or 5,000-8,000 won (a key chain design –-some are really cute!).  There's a sensor chip inside these cards so your card can be anywhere in your wallet or purse and rather than dig for them, you can just place your wallet/purse over the turnstile card reader and it will detect it.
For those who aren't inclined to spend the extra money to buy their own card, you can purchase normal single journey rides. You'll get a paper card for a 500 won deposit and you can recharge them with however many rides you want. At the end of your trip, you can return your card for a refund of your 500 won deposit.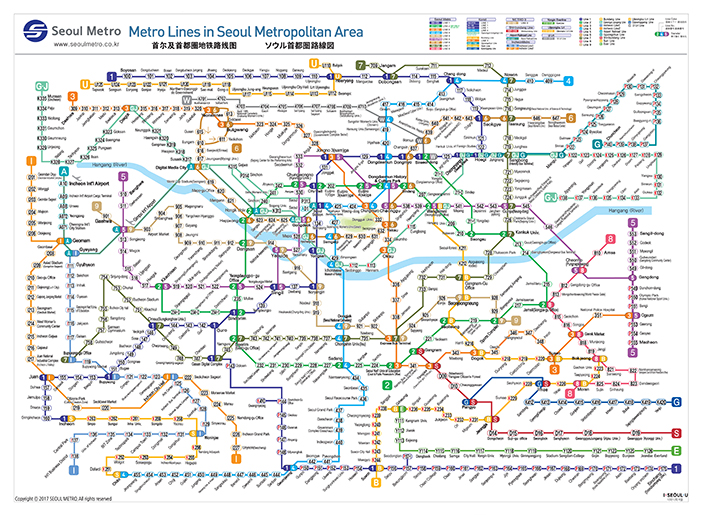 2. Mobile Travel Apps
Metro Apps you'll want to download if you plan to use the metro:
Subway Korea Lite is a simple downloadable offline map which you can zoom in and out of.
 Subway Korea is a slightly more intense but specific route map which will plot your connections exactly, down to the subway platform to stand on for a quick exit. It' an awesome app and a must if you're navigating Seoul metro.
Watch the video for more or read  4 Essential iPhone apps for Korea
3. Taking Taxis in Seoul
  Taking a taxi in Seoul is relatively easy and inexpensive.  All drives are metered and/or should be.  Always take the taxis with the 'International' sign on them. Supposedly, the drivers are more equipped to dealing with foreigners (aka, they know English), but I didn't find this consistent.  I avoid the black sedan taxis.  They can be a little more expensive, are privately owned and I've heard more shady stuff about them.  These days, there is ridesharing and Uber has pushed its way into the transit system.  While the government and taxi unions in Korea are trying to outlaw them, it's up to travelers if they want to use their Uber app to hail them.
Tip: Always take your hotel business card whereever you go. Business cards in Korea are double-sided with an English and a Korean version. This will help if you get lost and need to enlist the help of a local or a taxi driver that does not speak English.
4. Language Barriers
Being that Seoul is an international city but English is still not a widely used language. Therefore, travel survival tools for unblocking language barriers are:  taking a Korean travel survival phrase book, learning some survival phrases, taking a map to point at things, miming and gesturing.
Before I started taking Korean language classes, I used these techniques to get around in Korea for a year.
Travel Tip: Always take your hotel business cards.  In the case your taxi driver or a local you're soliciting help from, doesn't know English, your hotel business card will have their address written in Korean. Most Korean business cards are double-sided with English on one side and Korean on the other.
5. Where to Find WiFi  in Korea
Korean technology can be advanced, so WiFi in Korea is fast, but finding free WiFi is tricky.  Many require passwords from a Korean account. Sometimes if you're really nice, barista are kind and will lend you their passwords to log on.   But if you need a dedicated WiFi signal for your work, the airport has mobile service providers. For WiFi in Korea, you can rent an egg hotspot, a mobile SIM or a rent a phone.   The rates per day on a mobile phone tend to be inexpensive.
If you plan to visit Korea often, some mobile providers give you discounts when you return.  I often rent from SK Telecomm and each time I return, the discounts make the rental more attractive.
Buying a Korean SIM online and then picking it up at the airport is the easiest way. Not all airports in Korea sell SIM cards. For instance, domestic airports in Korea generally do not sell rental phones and SIM cards to travelers. Not to mention, with buying it online, at least you don't have to stress about it when you get there. Unless you know you are flying into Incheon Airport, it is just easiest to pick up a SIM online.
What are your travel essentials for Seoul? What tips would you recommend for travelers to Korea?
Related Korea Posts:
A Guide to Cool Things to Buy in Korea