Last Updated on August 11, 2023 by Christine Kaaloa
This post may contain affiliate links. I never leave home without travel insurance. Click for the insurance finder tool or check out popular insurance options that travelers use.
To off-set the crowds and damage that tourism reaps upon Venice, I researched Veneto cities that might I promote as contenders to Venice. I came upon Treviso and created this Treviso trip guide.
Travel blogs listed Treviso as an alternative Venice due to its canals and the fact that the old part of the city is surrounded by a waterway. So I visited Treviso to see if it could hold up to Venice.
Is Treviso a substitute for Venice?
To say that Treviso is a replacement for Venice is stretching it.  Venice is a lot to live up to as a city on the water with a lifestyle of working waterways and Venetians transporting passengers and goods through the canals. From the naked eye, Treviso doesn't use their waterways like that. They use it like most other cities — it's there and it adds to its aesthetic charm. Though feel free to correct me if I'm wrong.
Treviso however, is a uniquely different city and while it is no substitute for the Venice experience, it is a neighboring Veneto city worthy of exploration. Located in the Veneto region of Italy, Treviso is a small but charming, cosmopolitan and historic city that is often overlooked by tourists. From beautiful canals to its beautiful architecture, delicious food, and rich cultural heritage.
Watch an experiential tour of Treviso
Best things to do in Treviso
1. Historic City Center
Treviso's historic city center is a maze of narrow cobbled-stoned streets, beautiful piazzas, porticoes and elegant buildings.  It is a walled city surrounded by 4km of walls from the16th century with waterway canals
2. Piazza dei Signori
The heart of the city is Piazza dei Signori, which is lined with medieval and Renaissance-era buildings and is the perfect place to soak up the city's atmosphere. Its red brick gives it a little extra warmth than the pastel and ivory shopping buildings. The Piazza features a stunning fountain and the Palazzo dei Trecento, a grand palace that was once the seat of power in the city. You'll find locals hanging out at the surrounding cafes' outdoor tables.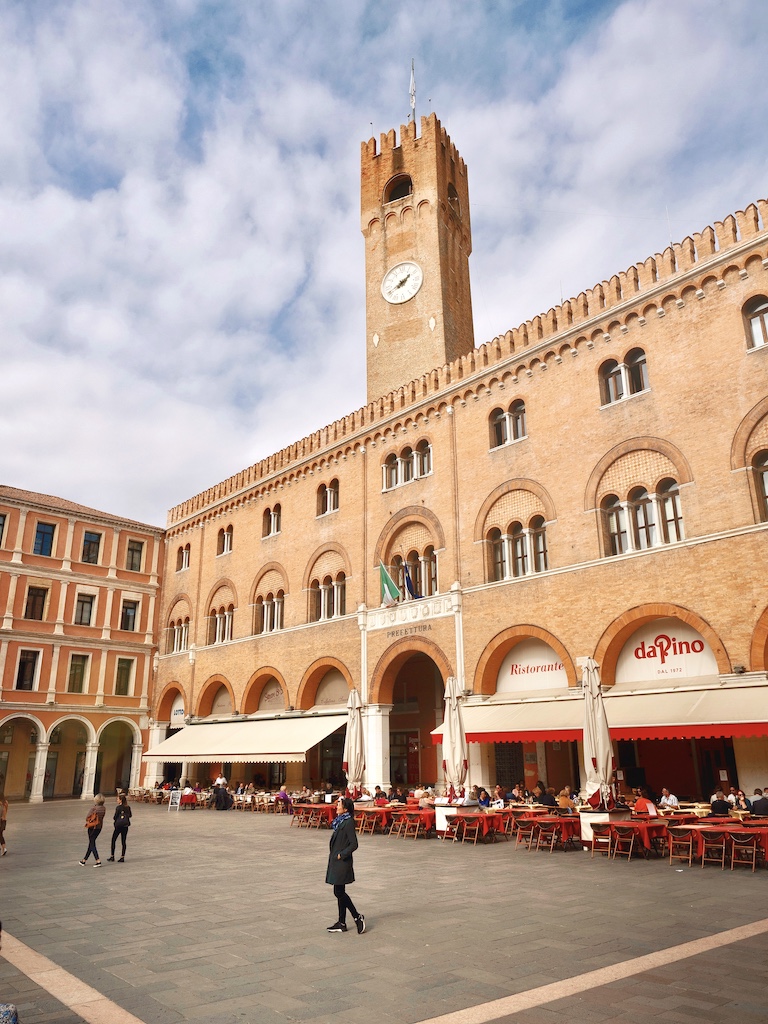 3. Canals and Waterways
Similar to Venice, Treviso is also built on a series of canals and waterways. However, these are picturesque waterways, lined with trees and colorful buildings, and there are plenty of opportunities to stroll along the banks and over  walking bridges. It's much more serene and lovely, whereas Venice has working waterways with water I might not want to fall into.
4. Experience Treviso food and wine
Treviso is also known for its wine. The region is famous for its Prosecco, which is made from the Glera grape and is a must-try when in Treviso. It's also known for radicchio and it is thought to have been the origin of the popular Italian dessert Tiramisù. Unfortunately, Treviso was a very spur of the moment kinda idea, so I didn't know all that to try it.
There's excellent restaurants, serving traditional Italian dishes like pasta, risotto, and grilled meats. I had little research going into the city, so I grabbed lunch the first open restaurant-  Pizzeria Ristorantino da Roberto. They are centrally located and I got a whole pizza, dessert and wine for less than the cost of a pizza in Venice.
Other fun Treviso food experiences is to take a local cooking class or have a dining experience in a local's home. Interacting and learning from locals is an ideal way to learn about Treviso as you'll gain more insight into customs, etiquette and local facts about the city that you cannot gain through observation.
5. Markets in Treviso
Fish island market or Pescheria Island sits on the Cagnan River to provide seafood to the locals. There's a farmers' market three times a week in Piazza Giustinian, and the favorite market amongst locals is the Saturday's street market outside the San Tomaso gate, where they'll have everything from fashion to local specialities!  Take a market tour with a local expert and shop for ingredients you'll cook with in a local kitchen!
5. Santa Caterina Museum
Treviso is steeped in cultural heritage, with many historic buildings and museums to explore. One of the most impressive is the Santa Caterina Museum, which is housed in a former monastery and contains a collection of artwork and religious artifacts. The complex of buildings have a Tuscan air about it its architecture adds a convivial mood for the nature of reflection.
6. Chiesa di San Francesco
Chiesa di San Francesco (Church of St.Francis) erected in 1230 appears as a standard red brick Italian church from the outside. But inside, there's beautiful spiritual artwork along the walls and on columns.
7. Treviso Cathedral
The Treviso Cathedral is not something you see all in one shot.  The front of the building looks an impressive cross between a government court building with walkway steps leading up to tall vanilla Roman columns. There's definitely an air of distinction. Meanwhile, if you're on foot, the green dome tops you can only really see from the side of the building.  Walking inside, the vaulted ceilings are high and cavernous in feeling. You'd definitely feel like your silent prayers would still echo and find their way to God. There's an underground crypt you can visit for free, but it's quite dark. Paying for light is 1 Euro.
Treviso Cathedral sits next to the Battistero di San Giovanni.
8. Gelato
A trip to Treviso would not be complete without gelato! I went to Galeteria de Romania del 194, a gelato shop with baked treats such as crumbles and gelato sandwiches. I got the biscotto della nonna al latte, with chunks of biscotti in them.  I love how Italian gelato holds chunky surprises. Yummy!
9. Shop United Colors of Benetton
A little fun trivia is that Treviso is the headquarters and home of United Colors of Benetton. The Benetton family still lives in Treviso .
10. Day trip to Venice
Treviso makes either a lovely day trip from Venice or a wonderfully economical launch base to other Veneto cities like Venice and Verona. As a city that is off-the-beaten path, it's not as touristy or expensive as Venice.  To Venice, you can take TrenItalia train from Treviso to Venice's main station Venezia Santa Lucia for around 30-45 minutes.    I booked my train tickets through OMIO (they have a mobile app too). Check out their routes and timetables.
Venice is clearly a no-brainer. I wanted to find a city that could substitute for it, but there literally is none that equals the experience you will get from Venice and the fact it is a city built around water.
Check out my 24 Hour Venice written trip guide to make use of your time in Venice.
Watch my experiential trip guide of Venice
11. Day trip to Verona
Treviso makes a wonderful launch base to other Veneto cities like Verona.   From Treviso to Verona Porta Nuova station is approximately 2 hours. I booked my train tickets through OMIO (they have a mobile app too). Check out their routes and timetables.
In my opinion, Verona is a such a romantic and charming city. Set around the Shakespearean drama Romeo & Juliet,  this walled city with easy access to the surrounding rolling hills is a Must Visit, just as Venice would be.
Things to Do in Verona for first timers
Conclusion
In conclusion, Treviso may be a small city, but it offers visitors an abundance of cultural, historical, and culinary delights. With its beautiful canals, stunning architecture, and delicious food and wine, Treviso is a hidden gem that is well worth a visit. Treviso is much less crowded and more affordable than Venice, making it an excellent alternative home base for those looking for a quieter and more relaxed experience.
While I enjoyed Treviso, it's certainly not a substitute for Venice. Venice has a clear wow-factor and lovely canals are buzzing with busy work traffic; whereas Treviso is much mellower as a living Italian city with lovely canals and a modern sensibility. Top attractions can feel like you're stumbling upon them and they're well blended in. If you're looking for a lovely off-the-beaten-path city Treviso is it.
Getting to Treviso
I flew into Ravenna for a conference but I booked most of my Italy trains  through OMIO transportation booking app (it's so convenient, you can book on the bus to the train station or at the train station waiting for your train!). I booked my day trips from Venice such as Treviso and Verona! Check out their routes and timetables. 
Tip: Also, if you're there for a day trip while in-transit to another city, check out Radical Storage. It's cheaper than storing your bags at the train holding service. It allows you to keep your bags at local places near the train station,  like restaurants (that's where I stored my bags) .
Getting your Italy Prepaid SIM card
SIM cards are not always sold at the airports in Italy. When I arrived in Italy, I found a local telecomm shop that sold SIM cards. I brought my passport and I was up and running in 10 minutes. (See my Ravenna video). I recommend the TIM card for Italy. My network was solid and you can also use TIM in Europe, so it's not only for Italy. If you're type of person who does not want to waste time or stress looking for a Prepaid SIM for Italy, you can buy Italy Prepaid SIM cards in advance and  Europe eSim.
Safety Tips for Solo Travelers in Treviso
As a female solo traveler on an Italy trip, small cities like Ravenna, Treviso, Modena felt safe and laid back.  There are very little tourists compared to bigger cities like Rome, Florence, Venice.
What did you think of this Treviso trip guide? What would you recommend as best things to do in Treviso?
Best selling reef-friendly sunscreen: