Last Updated on August 3, 2023 by Christine Kaaloa
Ready to book that trip to New York City?
This quick New York travel guide for sightseeing Manhattan will take you through Best Things to Do in New York City. It will take you through the top attractions in New York City. Activities are listed by neighborhood so you can tackle this itinerary easily.
If you think this Big Bad Apple is exciting, charged and quick-paced, then you're right!  The city doesn't sleep and for its ladder-climbing-strap-holding citizens, that's a good thing. Life is lived on the run. Just like the way Manhattanites like it!
Anything I miss any top New York attractions? I'm sure I did, the list is extensive so leave your recommendation in the comments section below.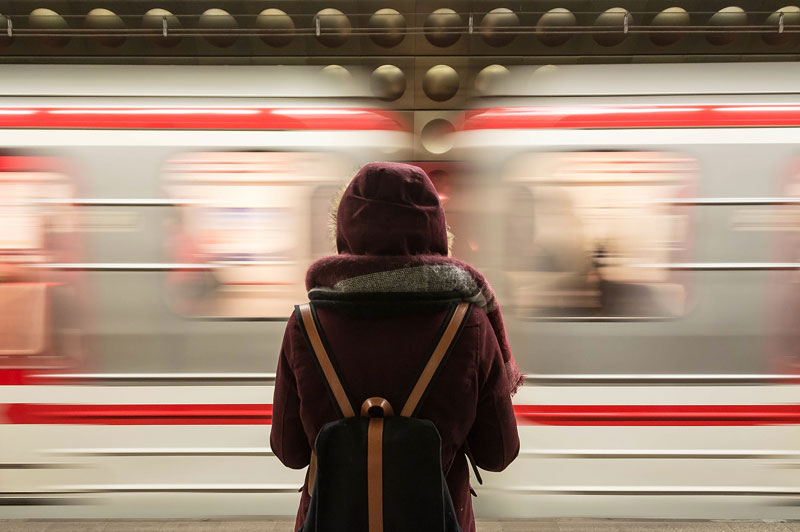 New York Travel Guide
42 Best Things to Do in New York City
Note: Relevant information is in the video and details summarized below. This written New York Travel Guide is to aid you if you're planning a trip to New York City.
What to Do in Lower Manhattan
Downtown Manhattan is the financial  and business district and holds a lot of top New York attractions. The home of Wall Street, the wharf, World Trade enter towers. You can take the ferry to Staten Island,  pass the Lady Liberty and look back at  the New York City skyline.
1.  The Freedom Tower and the 9/11 Ground Zero Fountain
The Freedom Tower and the  9/11 outdoor memorial are in honor of the World Trade Center Twin Towers. The Freedom Tower, designed by architect, David Childs – whom also design Dubai's Burj Khalifa–   is the 6th tallest building in the world. The 9/11 Ground Zero fountain is nearby, and stands as a big, beautiful fountain of falling water, surrounding by victims names engraved in marble.
Subways: A, C, 1, 2, 3 to Chambers Street;  A, C, J, Z, 2, 3, 4, or 5 trains to Fulton Street;  2 or 3 trains to Park Place;  E train to World Trade Center
2.  9/11 Museum
One of the top New York attractions is the 9/11 museum is a powerful memorial to the victims of 9/11. They house a comprehensive exhibition and collection of the history of the towers, parts of its ruins, artifacts from the site from charred clothes, old emergency calls from that day and documentary video stories about the fall heros and victims.  Walking through it takes at least 3 hours and you can download 9/11 museum app to guide you through the exhibitions.  Admission: $24, Tuesdays  Free after 6pm,  Buy your ticket here. See Website for more information.
3.  Wall Street Charging Bull
The Wall Street Charging bull is a bronze sculpture designed by artist Arturo Di Modica as a symbol of the courageous and can-do American spirit, in the face of the 1987 stock market crash.
By subway: Take 4 or 5 train to Bowling Green station or 1 train to Rector Street or South Ferry station (where you get the Staten Island Ferry) . Walking map here.
Broadway and Morris Street
4.  Wall Street & New York Stock Exchange
"Greed is good," were the famous lines of Michael Douglas in the 1987 film, Wall Street. Known for housing the world's most powerful financial traders, this cobble stoned area are the streets dedicated to the world's most powerful institution … money.  Unless you know the history and what goes on, there's not much to see. I highly recommend taking a Wall Street tour from a Wall Street Insider, where you'll be taken inside the history and stories of real lives of those who work there.
Location: Between Broad and Wall Street . Map here. By subway: Take 4 or 5 train to Bowling Green station or 1 train to Rector Street or South Ferry station (where you get the Staten Island Ferry) . 
5.  Federal Hall Memorial
Wanna see New York City's first City Hall? The Federal Hall Memorial can't be missed as it sits proudly at the end of Wall Street in impressive Greek revival architecture. This is where George Washington was inaugurated and home to the first Congress and Supreme Court. Today it is the proud home of the U.S. National Park Service which heralds over 22 parks in New York.  They organization also holds a National Park Service's Junior Ranger program which was adopted to help kids and families explore and learn about their national parks.  Location: 26 Wall Street
6.  Walking Brooklyn Bridge.
Did you know there are over 2,000 bridges in New York City?  The Brooklyn Bridge is one of the city's popular bridges, connecting Brooklyn to Manhattan. It is 1.1 miles long and has a pedestrian walkway for those commuting to and from the city on bike or foot.  Free tours by foot offers free (tips not included) walking tours from Manhattan to DUMBO (a well-known Brooklyn arts neighborhood of galleries) or a night tour.
Take Subways:  4, 5, 6, J, Z and R lines to City Hall/Centre Street. Enter the street near Centre Street. See map here.
7.  Statue of Liberty on Liberty Island
Plan in advance if you want to visit the Statue of Liberty on Liberty Ilsand. Travelers who want to visit the museum, pedestal, or crown must make advance reservations. For access to the crown, some have to make reservations at least six months in advance! Some Satue of Liberty ferry tickets include a visit to Ellis Island Museum of Immigration.
Getting there: Take the subway 4,5 to Bowling Green, R to Whitehall Street, 1 to South Ferry Station and head to Statue Cruises in Battery Park. More info for reservations and directions.  Get your tickets in advance!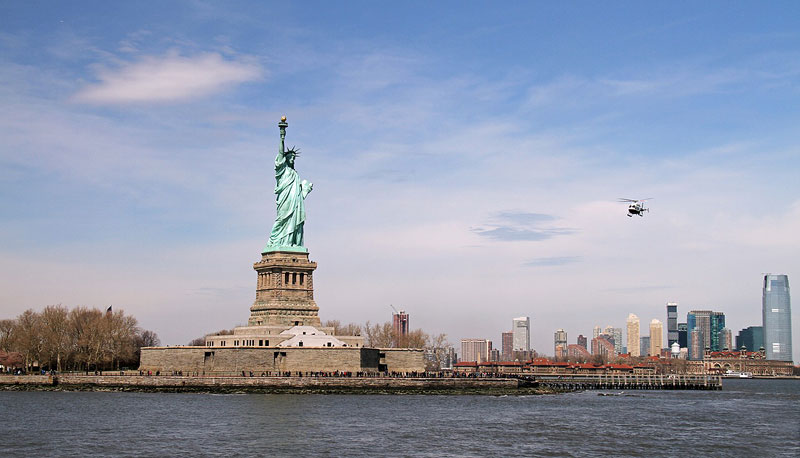 Statue of Liberty on Governors Island . Photo: Monica Volpin, Creative Commons CC0
8.  Staten Island Ferry
Taking a ride on the Staten Island Ferry will give you a peaceful view of Lower Manhattan skyline and the Statue of Liberty. Hours: 7am-11pm Duration: 25 minutes. Admission: Free.  Staten Island Ferry website here.
Getting There: Take the 1, 4, 5, J, Z, R to  Whitehall Terminal / 4th South Street in Lower Manhattan. Lower East Side
9. Katz's Famous Delicatessen
Want a good New York deli pastrami sandwich or maybe you just want to reminisce over your favorite, When Harry Met Sally fake orgasm scene.  This favorite no frills, grouchy service landmark it embodies the bustle and grit of New York city.
Getting There: 205 E Houston St / Allen Street.  Subways: 2nd Ave, Delancy, Essex  See map here.
What to Do in New York City Chinatown
Manhattan harbors one of the grittiest Chinatowns you'll experience in fishy smells, budget eats and a Chinese community and culture, which can make you feel like you're in China.  The typical subway stop is Canal Street (yellow line).
Planning to visit Boston, Washington D.C, Philidelphia or Baltimore for a day, the Chinatown Bus offers great long-distance bus service for cheap prices! See website here or visit Gotobus for long-distance bus coverage throughout the U.S.
Neighbors: Little Italy and Soho.
10.  Explore Chinatown
New York City's Chinatown is one of the world's best, if you ask me. It embodies the grit and smells that can be found in small grocery shops, herb shops, street vendors and local fish shops of Chinese cities. You might even find a few fun designer knock-offs. Canal street is the main street of Chinatown. Head east and the off-shoot streets house restaurants, parks and small Chinese grocery marts.  Nearest Subway: Canal Street
11.  Drink Boba Tea in Chinatown
Boba tea was really invented in Taiwan as a way to chew your drink but you'll find it a favorite drink in Chinatown as well, with boba cafes hidden in Chinatown's gritty exterior. Here's a map of the best tea shops in Chinatown.
Top boba tea shops:
Vivi Bubble tea, 49 Bayard St. Map here.
Auntea, 19 Mott Street, Opens 11am
Teado Tea Shop, Opens at noon.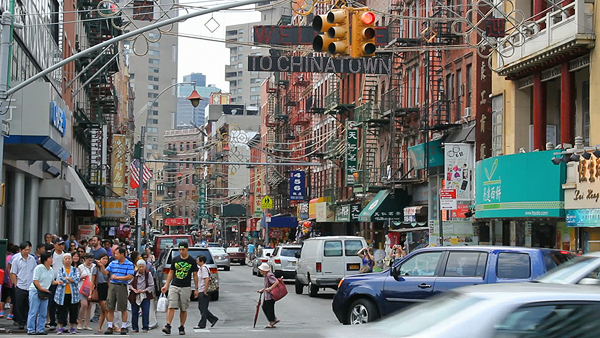 What to Do in Little Italy
Oh Mama Mia! If you're looking for a bit of pasta, canoli and a little Italian flavor, then Little Italy has got a lot of character for you.
12.  Explore Little Italy
Little Italy is the hub of Italian restaurants and delis. Its main stretch is actually quite small, so the best is when there's a block party or at night, when vendors come out and all is aglow. Mulberry is the main street heading from Noho to Chinatown. The street is primarily a footpath street and closed to vehicles that do not have a permit.   If you're in the city during September then check out the annual San Gennaro Festival, one of the liveliest religious festivals in Manhattan.    Best Subway: Canal Street
13.  Italian Food and Cannoli
Walking down the street, you'll have your pick of Italian restaurants to choose from. Take a walking food tour of Little Italy to visit neighboring delis and bakeries to sample the Italian flavors in pizza, cheeses and cannoli. Cannoli is a Sicilian dessert, which looks like a deep fried crusted tube filled with sweet ricotta cheese.
     Recommended Canoli cafes:
Cafe Palermo, 148 Mulberry St (btwn Grand & Hester St)
Ferrara Bakery, 195 Grand St (btwn Mott & Mulberry St)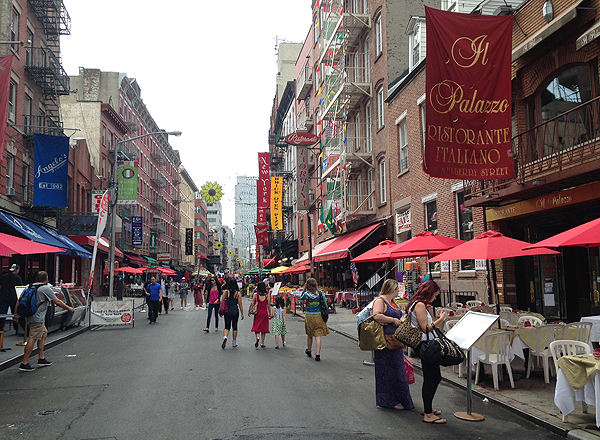 What to Do in Soho
Soho is recognizable by its cast iron facades and cobblestone streets, Soho's playground has been the background for several New York film locations.   If you want to experience the trendy side of New York, with lots of people and fashion watching,  Soho is it.
Soho sports a handful of well-known boutique hotels : The James Hotel, NOMO SOHO, Mercer Hotel, with still posh but less expensive Arlo Hotel, Sixty Soho Hotel. If you're gonna splurge, go in Soho style!
14.  Shopping in Soho
The famous shopping district is known for its high-end boutique shops, art galleries and shopping. On weekends, a few street vendors and artists come out to sell their crafts for interested artsy buyers.
Subway stations: Spring St,  Prince St. and Broadway-Lafayette
15.  Soho's most filmed cobblestone streets
You've seen them in films shot in Manhattan, cobble stone streets in the heart of Soho. Soho streets like Mercer, Greene, Bond & Wooster Streets are in a protected historic district. You will also find cobble streets on Perry and Bank Streets and in DUMBO Brooklyn and are reminiscent of freight car days.  Cobble stone streets are made of Belgian granite brought over in the 1830s.
What to Do in West Village
If you're looking for upscale small boutiques with a bit of old money charm or a quiet brunch cafe with an air of upper class, the West Village holds a quiet and subdued atmosphere. This is where Sex in the City's Carrie Bradshaw's apartment  resides ( I did a Sex in the City location tour!).
16.  Magnolia Bakery for cupcakes
Touted as one of the best cupcakes in town, for years, this bakery had lines out their front door. Location: 401 Bleeker Street/11th St
Interested in seductive cupcake fun?
Tip: Take a 2 Hour Cupcake Tour in Greenwhich, sampling popular crazes, gelato and build your own cupcake!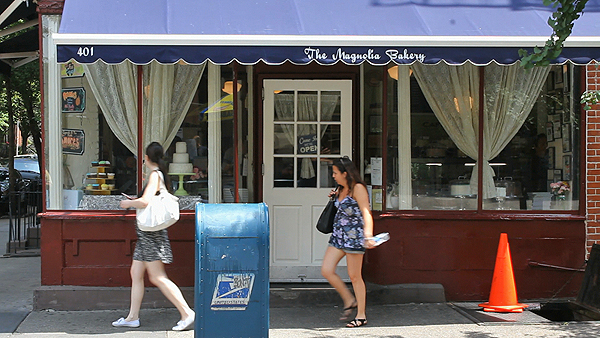 What to Do in Union Square
If you're staging a peace rally, demonstration or event you want to voice, this is the main park to do it at. The park square is surrounded by restaurants and shopping, a Whole Foods, Best Buy and more.
Great nearby hotels: The W Hotel.
17.  Union Square Park
Union Square or 14th Street/Broadway is one of the main transfer hubs on the subway and I'd qualify it as a top New York City attraction simply because it's one of the most feel good parks. It's 'the gathering place' for many with a Sunday fresh market, a small dog park for New Yorkers to give their furry babies flirtatious fun and lots of people watching. And during 9/11 it was a heavy convergence spot for locals to light candles, unite and mourn the fallen. During summer, New Yorkers like to bring a blanket and a laptop and sprawl on the lawns. It's a people park despite being a center with lots of action. Getting there: Take subway to West 14th & Broadway
What to Do in Meatpacking District to Chelsea
Warehouses, designer boutiques and art galleries stretch these west side districts starting at 14th Street and 10th Avenue, alll the way to 23rd Street.  At night the meatpacking district is alit with restaurants and bar/clubs.
18.  High Line Park
High Line Park is an old railroad renovated into a raised urban walkway, with innovative architecture, cafes and places for New Yorkers to adore the busy streets from above.  Watch my video above.
Location: Gansevoort St to West 30th St/9th-11th Aves
Top Tours of New York City
19.  Hop on Hop Off tour
It's helpful to get your bearings of a city so you know what to tackle. A good way to see top attractions in New York City is through a Hop-On-Hop-Off bus tour (they even offer these bus tours at night, when Times Square is lit up like a Christmas tree). They range starting from $40/day and it will give you a quick oversight to the city. From there you can see what you'd like to go back to revisit.  I like to get a little creative so on this trip, I went with a thematic tour like the one below.
20. Film location tours
Sex and the City film location tour
Carrie, Samantha, Miranda and Charlotte,… I'll bet many of us know them by heart. Sex and the City was a popular HBO show which aired from 1998- 2004. The  Sex & the City film location tour is a bus tour that takes you to locations around Manhattan, where you can relive scenes from your favorite show.  Read my review.
Wanna visit the elite playground of Upper East Side's Blair and Serena?  With a  Gossip Girl Location Tour you'll explore the sights of Manhattan through a 3 hour bus tour revisiting favorite scenes of the popular tv show.
Sex & the City film location: The Plaza Hotel
Best Things to Do in Midtown Manhattan
Midtown Manhattan isn't the prettiest, but quite possibly one of the busiest. Sharing activity from the fashion, shopping and business districts, it's a place you go with a purpose.
Hotels near/in Times Square: which are decent inexpensive but still trendy: Yotel (it has robots!), The New Yorker, A Wyndham Hotel, Row NYC, Element, The Gregory
20. Subway performances
Subway performances are an ongoing thing in Manhattan with occasional performers hopping from train to train or at 42nd street/Times Square. Whether its a down-on-their-luck artists, a student, a begging scam or a street performance act, some of these performers can make well over a $100/day. That's one way to keep the arts alive.  It's not as abundant as Hollywood films make it out to be, but as a city which never sleeps, it's there.
21.  Empire State Building
An Affair to Remember, Sleepless in Seattle,.. the Empire State Building is a star in New York City.  the building is one of the top three tallest buildings in New York at 1,250 feet tall. The building also lights up at night and changes lighting designs for different occasional. Admission:$39.00. Buy tickets and skip the line.  Location: 350 5th Ave
22.  B & H Photo and Video Store
If you're a photographer, audio engineer or you just want to shop reputable technology with a Hassidic Jew twist, visit B&H Photo and Video Store is the largest store for photography, video and audio equipment in the in U.S.    Location: 34th St & 9th Ave . Hours: 9a-7p Daily, closed on Saturdays
23.  Surf free internet at the New York Public Library
The New York Public Library is a historic landmark and public library founded in the 19th Century. It's a photogenic building guarded by two marble lions. In 1911 it was considered the largest marble building of its time and the 4th largest library in the U.S. for its volumes. It has 125 miles of bookstacks.  Nearest subway : 40-42nd Street and 5th Avenue
24.  Bryant Park (especially during Fashion Week!)
Bryant Park is a public park located in midtown Manhattan on the outer edge of the Fashion district. It's a relaxing place for lunch and lounging. It's in back of the New York Public Library. The Annual Mercedes Benz New York Fashion Week usually takes place in the month of September and the park will be covered with white tents.  Nearest subway : 42nd Street. 40 -42nd streets
25. Chrysler Building
Designed by architect, William Van Allen, it was supposed to become the tallest building in the world as hoped by Walter P Chrysler.  At 1,046 feet, the Chrysler building was ultimately surpassed by the Empire State Building. Location: 405 Lexington Avenue, near Grand Central Station.
26. Grand Central Station
Located on the Manhattan's East Side, Grand Central Station was created in 1951 as a hub for railroad lines in Manhattan. Today it  has 44 tracks, the most in the world. Subway lines include: 4, 5, 6, 7 and S (a shuttle between Times Square and Grand Central).  Location: 89 East 42nd St
27. Times Square
New York's Times Square needs no introduction as one of the top attractions in New York City. It's the hub for the theater district with bright lights, Broadway shows, flagship stores and giant billboard ads. The energy is crazy beautiful here, but packed with tourists. It's hard not to feel a little overwhelmed with the visual stimulus.
Location:  Broadway Ave/ West 42nd- 53rd St, Getting There: Times Square metro station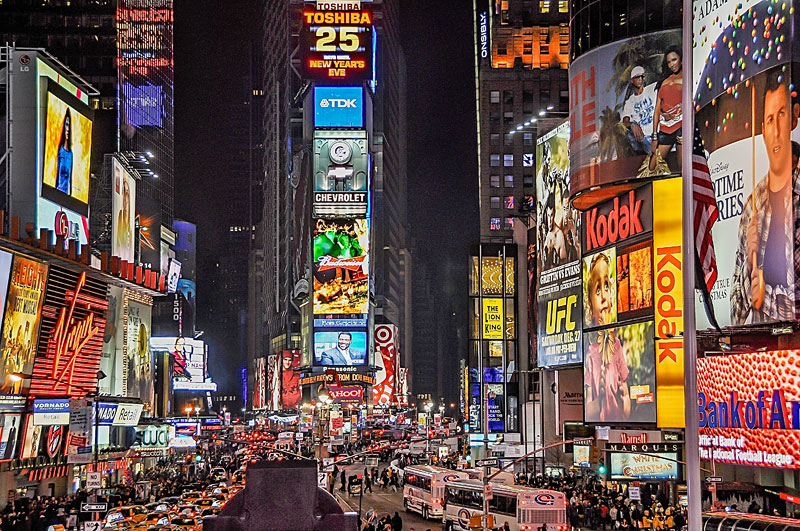 28.  See a Broadway Show
Manhattan draws the biggest talents and the best of the music and dance scene with the Broadway Theater District. From cabaret shows to hotel bars and Broadway shows featuring your (insert favorite Hollywood actor). For discounted tickets to Broadway shows, visit the Tkts booth at Father Duffy Square (Broadway and 47th Street) and wait in line at the red steps. Ticket offices open at 10am.
Tip: You can get last minute 2-for-1 tickets for Broadway shows at ticket booths. https://www.tdf.org/nyc/7/TKTS-ticket-booths
Broadway District: West 40th-54th Streets, 7th and Broadway,  Getting There: Times Square metro Station.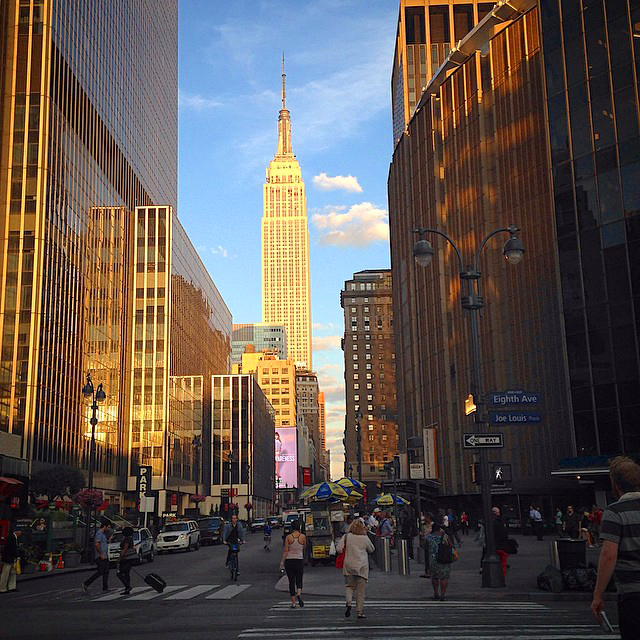 What to Do in 5th Avenue
29.  Rockefeller Center
Rockefeller Center is a complex of 19 commercial buildings covering 48 to 51st streets, facing 5th avenue. Stores here tend to be posh and pricey.  During Christmas season, they put up a giant tree and do an annual tree lighting. They also have an ice skating rink.
30.  Top of the Rock
For a great view of Manhattan, go to the Top of the Rock, a 3-tiered observation deck at 30 Rockefeller Plaza. Admission is $39.20.
31.  FAO Schwartz (next to the giant Apple Store)– Closed
What to Do in and around Central Park
Central Park  is one of the biggest, most visited and most filmed urban park in the U.S.. It offers a range of free outdoor events from concerts in the summer, Shakespeare in the Park and more. Stroll, rent a bike, hire a horse carriage or take a jog through the park.
32.  Columbus Circle
Columbus Circle is a heavily trafficked intersection,. exposing the nearest entrance to Central Park. You might see horse drawn carriages in traffic and The Shops of Columbus Circle is a lovely stop for moderate to high end shopping and restaurants. West 59th & Broadway
33. Central Park
Another top attraction of New York City is Central Park,  the world largest man-made park and one of the most filmed parks in Hollywood films. The park stretches from West 59th to 110th Streets and 5th & 8th Aves.  During the summer they have free events, concerts and Shakespeare in the Park (check here also)and there are many coves worth discovering. If you're a John Lennon fan don't forget to visit Strawberry Fields to take a photo with the Imagine memorial.
34. Bike Rentals & Park Tours at Central Park
 Why walk when you can cover more of the park grounds by renting a bike. Cost ranges from $15+. There are also inexpensive walking tours of the park, so get straight to the main sightseeing and learn historical facts most people don't know.
35.  Pedicab Tours of Central Park
I'm not a fan of horse carriages, because those horses just get no life- day to night, holidays and weekends you always see them on the streets working and awaiting tourists. But pedicab tours might be worthwhile and get you around the park quicker. Costs start at $155+
36. John Lennon's "Imagine" Memorial
If you're a John Lennon fan don't forget to visit Strawberry Fields in Central Park so you can take a photo with the Imagine memorial. Location: Central Park West & 72nd St
What to do in Lincoln Center
37. Lincoln Center for the Performing Arts
Lincoln Center is the home of the high arts such as opera, symphony concerts and ballet. It's also the home of Julliard School and the New York Public Library.  During the summer, Lincoln Center sports an outdoor event program, showcasing the most popular dance companies the Big Apple has to offer… for free! Website: http://lc.lincolncenter.org/
Location: 10 Lincoln Center Plaza (62nd-65th Streets)
38. Take a helicopter ride over New York City
You've probably already seen your favorite Instagrammers and YouTubers dangling over the baddest city on earth in a helicopter ride.  Nab a breathtaking view of the Hudson River,Central Park and Brooklyn Bridge. Yup, a helicopter ride may only be around 15-30 min ride, but it's memories on high for a lifetime.
What to Eat in New York City
When planning your trip to New York City, know that the city is a huge foodie capital in the U.S.A. It's got the finest international food, its fusion and its community neighborhoods like : Little India, Koreatown, Little Italy, Chinatown, and more.  You'll find great food from cheap hole-in-the-wall eateries to five star restaurants or my favorite cheapies, falafel and breakfast trucks.
New York has too many eateries for me to list here and times move with the latest trends in that city. So my best advice is to check out the restaurant section in a Time Out New York Magazine (you can find it at a newsstand or CVS, probably even the airport newsstand. New Yorkers love to check out the newest and trendiest restaurants and this is where you'll find them!
Tip: The good news about dining in New York is that it is friendly for solo travelers.  In a city of ambitious hustlers, the Big Apple is a huge singles scene and dining alone is quite okay.
39.  Take a New York Food Tour
Nom nom nom and walking is what New Yorkers are good at.  The food in this cultural melting pot comes from the world's best flavors, so why not take your sightseeing to a gastronomical level. I took a food tour with Ahoy New York Food Tours to explore the flavors of Chinatown and Little Italy. The tour took me to many hole-in-the-wall joints I never knew existed and shed the culinary history of its neighborhoods.
 Check out some of these New York Food Tours:  2 Hour Midtown Manhattan Food Tour (with 6 tastings and a food truck scene) • New York City Food tour
Check out this list of food tours in New York
40.  New York Breakfast Trucks
One of my favorite New Yorker things to do is grab a bagel and coffee at a breakfast truck. It's simple, no fuss, inexpensive and a lot of New Yorkers love to grab their breakfast or a donut on their way to work. Watch my video to see how it's done.
41.  Halal Food Trucks
The Halal Guys food truck used to be a favorite for late night bar hoppers looking for cheap falafel or chicken sharma (around $6 and up) to fill their bellies. Sometimes, the food is a hit or miss with these guys. Being vegetarian, i had the falafel plate and the falafel came out like little rock pellets with a tahini sauce that tasted like mayonnaise. Luckily, there's a few halal trucks in the area, serving up the same order with similar prices. Location: 51st & 7th Avenue
42.  New York City Pizza
New York is known for having some of the best pizza in the world.. I'd say it sorta competes with Italy.  The iconic New York styled pizza is hand-tossed, soft and thin, but big enough triangles where you can fold it into a sandwich to eat on the run.  If you're on a budget, you can find those triangular pies of oily goodness sold for a dollar at 99 Cent Fresh Pizza (Midtown), 2 Bros Pizza (St Marks), Prince Street Pizza (Nolita) … there's a whole Yelp list here. That's the New York styled pizza. But for pizza gourmets, Manhattan has you covered too. Check out this New York Pizza Guide by 2 Foodtrippers for more spots to try New York's finest!
Getting Around New York City
The Big Apple is a pedestrian city, where residents commute by subway, bus, taxi, Uber and foot. Vulnerable to weather, other people and its zealous ambitions, makes New Yorkers survival based.
Jaywalking is absolutely acceptable and you'll always find yourself standing a foot -or ten- into the street when waiting on the corner for the light to change. It's about getting that extra edge into your day; a way to slice time. Got your running shoes on? 
The subway operates 24 hours a day. Cost per single ride as of 2017 is $2.75.   You can purchase a single, day unlimted, 7 day, 30 day and year unlimited pass.  The unlimited passes work on the public buses as well.
Read Things to Know About New York City
Where to Stay in New York City
You can easily get around Manhattan on a budget, but the one spot the Big Apple might force budget travelers to splurge is New York hotels. New York has the trendiest boutique and luxury hotels and so many of them (as I listed per neighborhood). Often you're paying $100 and up.
Budget hotels in New York
New York Hostels exist, but you'll still pay for them as you might a motel anywhere in the Midwest. New York hostels are limited, can fill up fast and cost you in the ballpark of $50+/night for an okay dorm bed. It doesn't necessarily get much cheaper outside the city, unless you're looking to commute.
Vanderbilt YMCA Hostel (midtown lower east side):Close to major attractions like Times Square and Central Park, its an excellent choice for exploring the city.
Hostelling International (upper west side) appeals to travelers seeking a safe and social atmosphere. It is close to the American Museum of Natural History.
NY Moore Hostel (borough of Brooklyn, outside Manhattan) allows you to experience the diverse and hip vibe of Brooklyn. An affordable stay with easy access to trendy neighborhoods, local cafes, and art scenes.
Bowery House (Historical and a little pricier of the hostels but landmark): Housed in a historic building, Bowery House appeals to travelers seeking a unique stay with a touch of New York's past, offering well-designed shared accommodations in the trendy Bowery neighborhood.
Pod hotels
Due to the space conditions in New York, pod hotels were a fun concept and play off the space deprived Manhattan culture. These are fun, boutique and trendy spaces.
Pod 51 (midtown east side) A popular choice for budget-conscious travelers. It has a rooftop lounge area and is located .7 mi from Radio City Music Hall and 2113 feet from St. Patrick's Cathedral.
Pod 39 (midtown east side) boasts a vibrant rooftop lounge with sweeping city views, trendy accommodations and the convenience of exploring attractions like Grand Central Terminal.
Pod Times Square (near Jacob Javitz Convention Center) in town for a convention? This dripping with style pod hotel has cute bunk pod options and is 400 metres from Restaurant Row .
Swish Boutique Hotels
Value hotels in great locations can take time to research in Manhattan. Here's a small list of hotels. Prices can get down to $100 but often depend upon season and day.
Row NYC Located in the heart of Times Square, this is perfect for getting up close to the high energy Times Square, Broadway shows and Manhattan landmarks.
Hudson Hotel (modern, Phillipe Starck) Chic ambiance, it has a garden terrace, known as the "Sky Terrace," offering stunning views of the city.
Millenium Broadway (heart of Times Square) appeals to travelers who want to visit Broadway theaters.
The Hotel @ New York City (Eastside, Lexington Ave) is in a great location near iconic NYC landmarks like Grand Central Terminal and the United Nations Headquarters.
The Jane Hotel looks like the inside of a ship's cabin, transporting guests to a bygone era. It has a rooftop bar with stunning views of the Hudson River and the Manhattan skyline.
Soho 54– Nestled in the trendy SoHo neighborhood, amidst chic boutiques, art galleries, this hotel offers a rooftop lounge with panoramic views of SoHo.
Safety Tips for Solo Travelers
Having lived in New York City, I'd say there's a medium amount of crime that goes on towards locals and tourists. I learned my travel street smarts just by living there.
Manhattan is okay for night activities as people are on the streets at all hours. But a populated city like NYC has its share of scammers, pickpockets, sexual predators and violence. Tourists are easy to pick out in New York City– they're not focused on where they're going, smile at everything, and they don't pay attention to their belongings. Be the opposite of what I just mentioned.
Metro stations: Do not let anyone stand too close when helping you buy tickets at the metro card dispenser. Hide your Pin number when entering a debit card.  Better yet, use cash and buy your ticket at the ticket window.
To avoid pickpockets, always put a hand on your belongings and look straight ahead. Always be aware of your environment and pay attention to your surroundings.
New York City metros operate 24 hours but late evening/early morning, metro services slow.  Be aware of occasional homeless, drunks or crazy folks waiting in the metro or sleeping in the trains. Winter time, homeless sometimes ride the trains for a warm sleep. They're not violent but they can get rowdy. Read  Dealing with Touts, Scams, Beggars
Getting to the JFK Airport from Manhattan
Taking a taxi is obviously the most expensive way. You can also go to tourist information and inquire about shuttles into Manhattan. Some drop you door-to-door while others may drop you at Grand Central or Penn Station. What I'm sharing here are the public transportation options. JFK is one of the airports where you can take AirTrain to Subway quite easily but it requires a few transfers.
Visit the Official MTA website to learn more.
Getting to JFK by New York Subway to JFK Airtrain
You can connect to JFK AirTrain at New York Subway stations  Howard Beach or Lefferts Boulevard.
Take E, J, Z train to Sutphin Boulevard  then connect to the JFK Airtrain.
Take the A train to Howard Beach then connect to the JFK Airtrain.
Airtrain costs $7.75 Payable by Metro Card (there are Metro Card kiosks at the the Subway stations)
New York Metro costs $2.50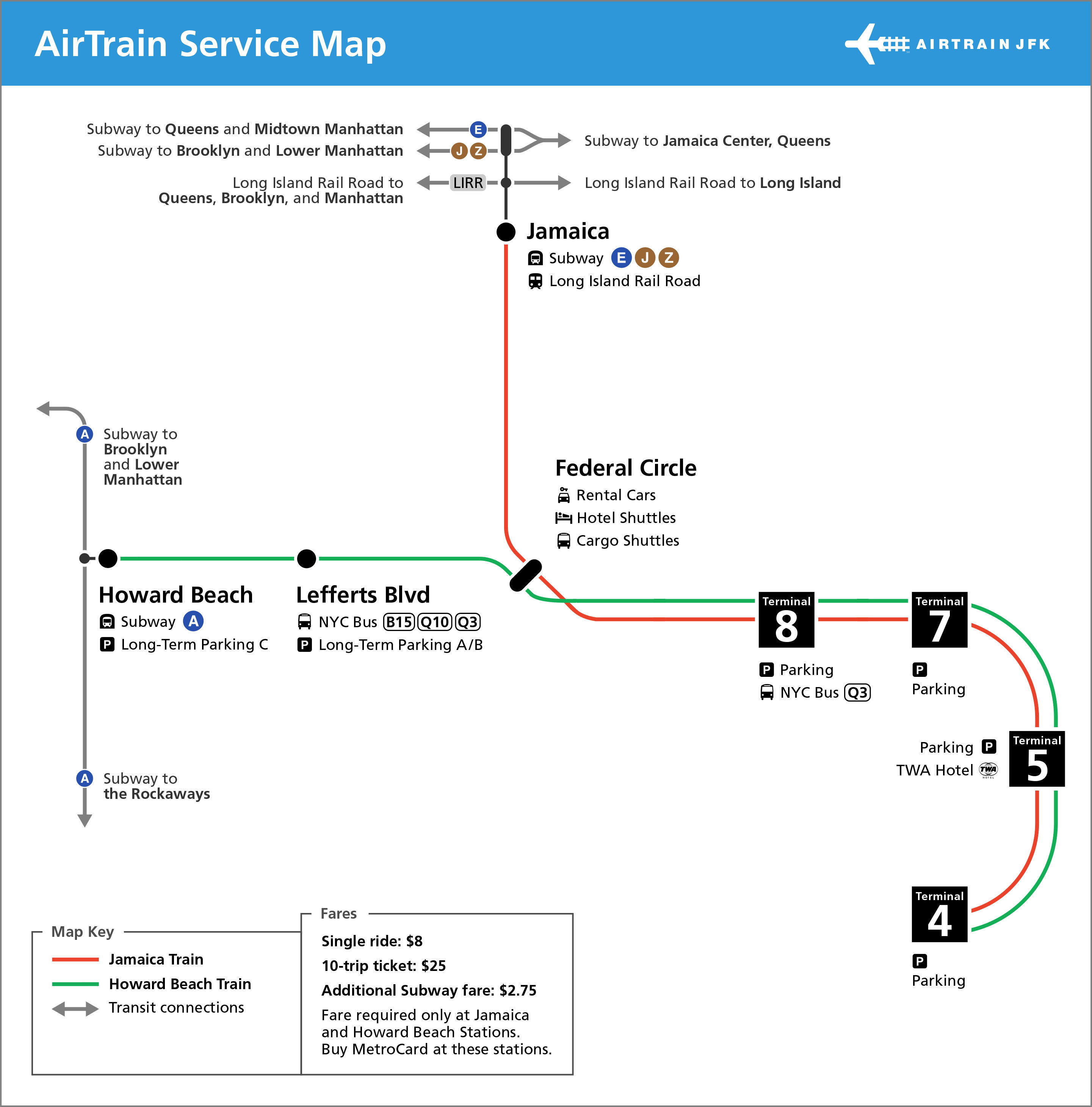 Getting to JFK using Long Island Railroad (LIRR) to JFK AirTrain
You can take the Long Island Railroad (LIRR) from Penn Station to Jamaica and then transfer to the JFK AirTrain..
Getting to LGA from Manhattan
Taking a taxi is obviously the most expensive way. You can also go to tourist information and inquire about shuttles into Manhattan. Some drop you door-to-door while others may drop you at Grand Central or Penn Station. What I'm sharing here are the public transportation options. LGA is one of the airports, where the only public transportation option is a bus to subway.
Visit the Official MTA website to learn more. Check the LGA terminal map to see which bus to take.
Getting to LGA using the Q70 Bus (see route map here)
Take Subway 7 and get off at 74 St- Broadway (in Manhattan) to connect to Q70 LGA Link bus
Take Subway E, M, F, R and get off at Jackson Heights – Roosevelt Av (in Queens), then transfer to the Q70 LGA Link bus
Getting to LGA using the M60 Bus (see route map here)
The M60 bus travels up Upper Manhattan along 125 East. Look at the M60 Bus route map.
You can catch the bus on 116W or 106W and Broadway, 125 E and Madison Street
What would you recommend as best things to do in New York city? What tips would you add to this New York Travel Guide?
Related Posts about New York:
Things to Know about New York
Insider Bible to New York City
Travel Essentials for Manhattan
Recommended Essentials for Manhattan.  Click to Shop.
---
New York Travel tips playlist (videos)
---
Planning at trip to New York City? Pin this to Pinterest