Last Updated on January 3, 2014 by Christine Kaaloa
.
2013 was a hot year, literally and figuratively. It's like the whole year I was sweating.
Not only did I travel during summer's peak heat, but it goes without saying that  2013 was a rough year for me.  Humbling, cruel, grueling…  It was as if hell turned up the thermostat for my roast and this affected my travels, financially. Due to my roughtransition back to Hawaii and sliding income, travel wasn't quite possible, but necessary. With an emergency travel fund and some slight budget crunches, I made it happen.
So what were my 13 Hottest Solo Travel Highlights of 2013 ? You might be surprised.
#1   Hottest Drinking Experience
Drinking soda out of a bag in Myanmar.
 I've seen tourists suck drinks out of plastic bags before. Usually, there's alcohol in it and it's all a part of the pretentious novelties of a nightclub or bar. But my experience was due to make-shift sales in a rural environment.
Visiting a small village in Old Bagan, I'd just bought locally-made soda, when I  abruptly had to leave. The vendor needed the glass bottle returned in order to re-fill them, so I couldn't leave with mine. Before I knew it, the village salesgirl whisked my bottle from my hands, turned its contents over into a plastic bag, stuck a straw in it and handed it back to me.
Anyone can pay $6.00 to drink alcohol from a bag at a bar. How many get to pay 30 cents to drink locally-made soda from a plastic bag in a rural village?
#2   Fiery Medical Tourism Moment
Medical tourism in Thailand
In New York City, my dentist's office looked like a stereotypical third world country office and they consistently took me in an hour late. In Hawaii, each dental visit was a $1,000+  expense to a nagging mom, who complained about my bad oral care and practically sealed my crowns with watery glue.  I don't need to sweat costs or time like that.
Read my post Guide to Medical Tourism in Thailand
These days, I try to combine my travels with medical purposes and this results in what feels like, a free vacation!  Abroad, I can slice my dental costs by half; sometimes, by 2/3. For instance, in the U.S., without insurance, I'd pay $1,200 for a porcelain crown. In Thailand, it's costed me $400-550 on average. My savings is the cost of a plane ticket!  In Bangkok, my dentist clinic's office is nicer, professional, filled with specialists, state-of-the-art equipment and free WiFi. Best of all, my dentists are quiet, pleasant, do a solid job and always take me in promptly.

Medical tourism in Thailand



#3   Spiciest Food Discovery
Pickled Tea Leaf Salad in Myanmar
Pickled Tea Salad or Laphet Thote is a common delicacy in Burma /Myanmar and I found it heavenly. There's no way to describe the complex flavor other than nutty, citrusy and crunchy and it's refreshing on a hot Burmese summer day. It's made from actual fermented tea leaves and you'll want to eat it more than once.
#4  Blazing Solo Hobo Challenge
Spending a week at Korean jjimjilbangs, South Korea
I've always had a sweet spot for Korean jjimjilbangs (24 hour spa/overnight stays). But they're not exactly meant to be hotels. However, with an anorexic travel budget, there were times I didn't want to book a hostel or motel. And in Korea, why should I, when jjimjilbangs offer some of the finest herbal baths, heat lamps, sauna rooms, a place to sleep, free group exercise classes and occasionally, free WiFi.  How tempting is that for $8-10 a night?
I spent an entire week j-bang hopping in Seoul, Incheon and Suwon.  It wasn't easy living out of that and train station lockers, but I wasn't crawling for sympathy, either. It was a splashy and steamy way to spend my evenings.   Bear Grylls move over, there's a new type of travel survivalist out there and it's a chick!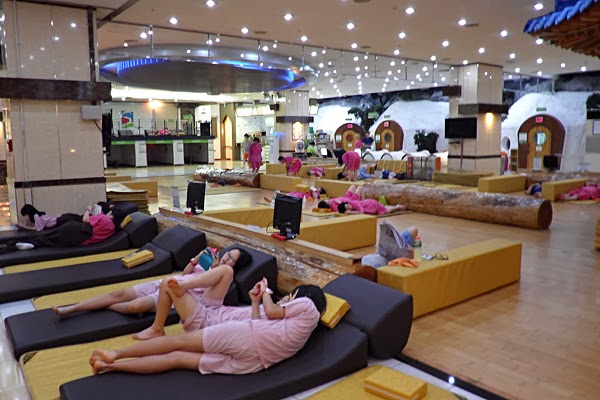 # 5   Red Hot Solo Travel Destination
Myanmar / Burma
In 2013, I re-visited South Korea, Thailand and Japan. They're fantastic countries to visit over and over, which is why I do. But my red hot solo travel destination of the year was Myanmar/ Burma. Myanmar is currently the flaming ticket in Southeast Asia. It's a place many travelers have targeted to visit soon, even if they're not sure why.
As far as Southeast Asian mottos go, it's the one destination that doesn't feel, "Same same,.." . It's got an Indian and Nepalese bite to it and prices are a bit higher than its neighbors. But the big reason I think Myanmar is great for female solo travelers is that crime is low and the Burmese lifestyle is laid back. Solo travelers should feel relatively safe in this country.
For more read : 19 Things you should know about Myanmar before you go.
#6    Boiling Culture Shock Situation
Catching a night bus without knowing the language
If you've read or watched my video post on '
How to catch the bus when you don't know the language
', you'll know I've never had problems taking local transportation, until I hit Burmese buses. Like
buses in India
, the signs are written in the country's language. But in Myanmar,
Burmese numbers
are used too and it can be tricky to navigate, especially when it comes to
night buses
. Why?  Imagine trying to find your bus in a crowded rest stop parking lot. I panicked at the thought of being unable to find my bus (which I forgot my day pack on). Apologies in advance for the low lighting in this video below; it was shot under great duress!
.
.
#7    Steamiest Moment in Solo Travel
Inle Lake, Myanmar
Solo travel has its steamy moments too.   The more I travel solo, the more I surprise myself, by going to places I never dreamt I'd go alone.  Seeing these legendary Burmese fishermen paddling oars with their feet on Inle Lake was something I'd only seen in a National Geographic photo and worlds away from where I thought my travel confidence would go. It took two weeks of indecision and a split minute of panic to book myself a flight for the following week!  I'll tell you a secret– when I act out of spontaneity, it's rarely due to bravery. Occasionally, it's a temporarily open window in my schedule, a long struggle with self-doubt, frustration and indecision and a shot gun reaction of panic, due to rising flight prices. But once I take that unalterable leap, I have no choice  but to find my wings. Traveling alone, I often struggle with moments of not knowing what my wants are. Solo travel teaches me to find my travel g-spot and when I do, that knowledge brings a high that leads me to believe I can do anything. GRRR!
Read:  Solo Travel G-spots and ME-gasms… experienced any lately?


#8    Bubbling Spa Discovery
Erawan Falls, Kanchanaburi, Thailand
I have two favorite catchwords:  free and all natural.  So what about a seven-tiered waterfall park, where the hikes are sweaty, waters are a cooling milky aqua color and there are free-range, skin-nibbling resident fish, which give you natural pedicures. Read  about
my sweaty hike and fish spa experience
.
#9  Sweatiest Ancient Hike
Hiking Suwon Fortress Walls,  South Korea
Okay, so hiking with skinny jeans in searing summer weather probably wasn't too smart. But upon seeing the Suwon's ancient fortress walls, how could I not?  The walls wrap around the perimeter of the city's heart.  A three hour scenic hike, passing fortress gates and military towers, there was much time to reflect on the history and the tactical warfare strategy of a Joseon period.
#10   Spiciest Social Event in Travel Blogging
Digital Innovation Asia Conference,  Bangkok
Many think that travel bloggers just travel and party, write a little post about their experience and then go back to the beach.  True, there's some of that going on. What isn't apparent are the hours spent hunched over a laptop in your cave-like room, bleeding eyes dry while writing, editing video, resizing photos, tweeting, Instagraming, Facebooking and documenting experiences to share.
So what better than meeting travel bloggers and travel industry folk at the Digital Innovation Asia Conference in spicy Bangkok, Thailand. Not only did I meet, compare notes and make friends with a concoction of travel blogging's finest, but thanks to the conference and Khiri Travel, I enjoyed my first press trip too!    How would I rank this event? Let's just say, that being directed by Peter Weller (yes, the actor-turned-director) , being on set with Bradley Cooper and talking to Emma Stone (also part of my 2013)…  fall second to this event. This was the kick-ass social gala of my year.
#11  Sultriest Luxury Room with a View
Lebua at State Tower Hotel, Bangkok
Let me tell you what happens when two hot, forty-something solo travel chicas get together for a sleepover in a sexy luxury suite in Bangkok… insta-sizzle! Stories, gossip, boy-oggling, hair… it all goes flying, but no longer in spunky 'twenties' manner. It's more like fortiess 'Goddess' style. Thanks to my friend, Jeannie of Nomadic Chick, I got to stay a couple of nights on the 57th floor of the sultry Lebua Hotel in Bangkok (check out Jeannie's Lebua review).  Home of the fashionably cool Sky Bar, the rooms have a stunning 180 degree balcony view and a mini condo layout . The hotel is decked out in savory Thai style and guaranteed to turn those sweltering summer nights, into the coolest Bangkok can offer.
Advice on the Sky Bar: Don't forget to pack your sandals and shoes. Dress code is strict when it comes to footwear and  flip flops aren't allowed.
#12   Splashy Adventure Stay
Spending a night on a floating hotel, Kanchanaburi,  Thailand
What is it like staying at a floating hotel on the Kwai river, waking with elephants bathing in the morning and going to sleep with gas lanterns at night for electricity? As a child I used to love Disneyland's Jungle Safari ride and the River Kwai Jungle Rafts floatel reminded me of just, with one exception… living the adventure was much, much better.  If you're not seeing the video below, read my review on it.
Also, if you're visiting the area: Kanchanaburi Guide : Things to See & Do .
#13  Sexiest Work-Travel Location
Banzai Pipeline, North Shore, Hawaii
Living in Hawaii and freelancing in TV production, I occasionally get to visit a lot of beach locations for shoots. So it was hard to pick my favorite Hawaii beach of 2013. Should I share my
jewel-in-the-rough
, the beach with the finest sand or the spot with the most eye-candy action? I picked the latter… Hawaii's sexiest beach.   Each winter, Hawaii houses the
Vans Triple Crown Surf
event. Three events of pro surfers, battling the massive waves of the North Shore. The
Banzai
Pipeline
is infamous to surf and whether or not there's a surf event, there's surfing, tanning, babe-watching and if you're lucky, you'll catch smoking hot celebrity surfers skimming those waves to get into shape. The day I went, I saw pro-surfers,
Kelly Slater
  (on
Twitter
) and
Sunny Garcia
(on
Twitter
).
.
Inside secret: The Billabong surf house is nearby
.
How about you? What were your hottest travel highlights in 2013?
.
.