Last Updated on July 17, 2022 by Christine Kaaloa
One-on-one Solo travel coaching & trip consultation
Aloha, I'm Christine! Got questions?
 I am launching one-on-one solo travel advice & trip consultation calls !  This is a way for you to connect with me privately to gain feedback to travel questions, goals or even just to talk about the meaning of life.
I've been generous with my time and created a lot of free resources in videos and blogs for the public to research and plan their trips. But reading my blog posts and watching my YouTube videos may not answer all your questions. Or you may not have time to invest in researching and seeking your own solutions.
For those situations where you want customized help, I offer trip advice and solo travel coaching sessions tailored to you and your specific questions. In this paid service, I work with you to help you find customized solutions so you can confidently succeed in your trip planning and its execution. Being that you are speaking with a solo travel expert, in one session we might tackle what could take you weeks to months in researching answers!
Best of all, you have my undivided attention, years of authority in the travel/blogging/influencing industry, working with you, to help move your obstacles. I want you to win and succeed in your goals and travel dreams! Let's do this!!!
Join my GRRR Patreon Crew  and you get a one-on-one call + Exclusive behind the scenes content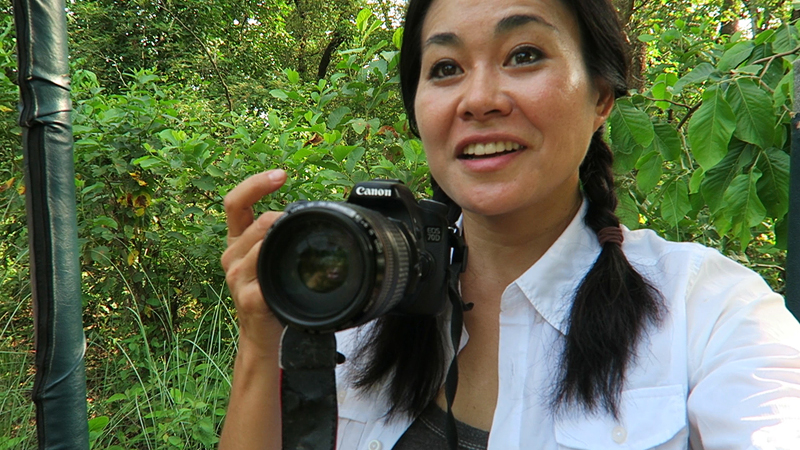 How can I help you?
I am a YouTuber and legacy blogger with 12 years of solo traveling in my belt. Since 2008, it has been my mission to inspire, encourage and empower female and solo travelers to make the leap towards solo adventures and dreams. Juggling filmmaking with traveling alone as a woman is not an easy, but I do it so others feel confidence in the do-ability of a destination.
One of my expert skills is that I can key into people quickly to help troubleshoot obstacles and build actionable plans to hurdle them. I can relate to a lot of backgrounds and am experienced at removing obstacles to make some of the biggest dreams happen.  I have had various careers from fine arts, acting, dance, sports,… I even spent a summer coaching Korean elementary students in acting, singing and dancing for a competition! I have had to reinvent my life several times and have a lot of insight to grab from.
Need help moving past your travel roadblocks?
Need a coach to help you make the leap to solo travel?
–   How to hurdle the fear to find the confidence to travel alone?
–   How to prepare for your first solo trip?
–  What is the best country for me to start my first solo trip?
–  How to plan interesting and unique solo trips based on your interests?
–  What tricks and hacks can you use to help you manage your trip alone?  
I've traveled solo for over 12 years as a traveler, vlogger, blogger creating content around the solo travel experience.   I have never forgotten what my first time traveling alone was like. Bring it!  
Want advice on living/teaching English or studying abroad?

– How to decide which country is best for you?
– What and how should you prepare for before you move?
– What expectations should you have for your new home?
 Living, working and teaching English in Korea was one of the BEST decisions I made in my life! It wasn't without its stumbling blocks and frustrations, but in the end, it grew my blog and was the best way for me to fund my travels and get paid to live abroad.  I also studied yoga and got my Yoga Teacher Training Certification in India, attended various workshops abroad,  and am a conference/university speaker due to my solo travel brand, GRRRLTRAVELER.
Trip Consultation
Asia, Southeast Asia and India travel are my specialties.  
Concerned or worried about your upcoming trip?
Need insight into the country and how to travel it?
*If you are looking for YouTube channel/blog audit or coaching, please visit here.
What I offer:
✅ A 45-60  minute consultation or coaching session on Zoom or Teleport.
We can work through your fears and concerns to create an actionable plan. Or you can ask me questions. For mindset roadblocks, I can mix my consulting with coaching.
How it works:
All sessions begin with a questionnaire you will be asked to fill out. This will give me information I need to customize my services to your specific situation and personal challenges and to create a strategy to help you maximize your channel's effectiveness in meeting its goals.
 ✔︎ Get personal assistance with your travel goals.
✔︎ Ask any questions you have or target a couple roadblocks in your confidence with travel
✔︎ Session can be recorded for your use.
What I do not cover:
Specifics like bookings, flights/train/buses and timetables to your destination.
Travel insurance & Visa information
Travel guide information on destinations I have not traveled on my blog. I tend to travel deeper into countries by revisiting them (see my blog for my list of destinations)
I do not make trip itineraries or book travel for you. 
What is not allowed:
Anything sexual, romantic or intimate directed towards or at me. I reserve the right to end calls which I feel are of an uncomfortable nature or topic.
Will one session be able to answer all your questions?
It depends on how many questions you've got and how specific or general they are and the type of solutions. Specific questions can be nailed down quicker if we are working with information.  General questions or ones that require engineering solutions take more time to drill down to find your real source of query. For issues where you are dealing with roadblocks in fear, anxiety and worry, it takes at least three sessions.
To be efficient with your time, I recommend writing down your questions and thinking through what you are requesting help with.
Disclaimer and waiver
Christine does not offer medical, health, financial consulting or trip diagnosis or itinerary planning. By purchasing this session, the buyer agrees to not hold Christine responsible for any damage, harm or financial loss related to their situation of query. The purpose of these sessions is to help travelers find their own right fit travel solutions, which will add to a more fulfilling experience. Christine offers insight from her personal experiences, but it is up to the client to do extra research and make their own decisions of what they will implement. All buyers/clients are expected to take responsibility for decisions that will ultimately impact their personal life. Christine & GRRRLTRAVELER LLC do not accept any responsiblity outside of the session.
45-60 minute call
One-on-one video call via Skype or Zoom
Click the Schedule Link
One-on-one video call via Skype
What do you want to achieve with your brand
3 session package for solo travel coaching