Last Updated on June 7, 2023 by Christine Kaaloa
New to this site? Start here:
Imperfect Female Solo Travel Adventures, Travel Survival and Finding your GRRR
.
GRRRLTRAVELER  is a female solo travel survival and solo adventure site and YouTube channel inspiring others to find their GRRR for solo travel.  It's about finding empowerment as a solo traveler by navigating cultural diversity while experiencing the bizarre, foreign, frightening and often times, funny.  I may not always start out with the GRRR, but I film it for YouTube and have it at the end.
I: My Top 5 Popular Posts
A Guide to Cool "Korean" things to Buy in Korea
27 Must Try Foods from Around the World
19 Things to Know Before you Go to Myanmar
10 Shocking Facts about Korean Schools
Top 16 things to Do on Jeju Island
---
II:  Trip Planning for your Female Solo Adventure
Starting out on your first female solo adventure might not feel easy, especially if you're new to travel. One should always expect the unexpected in travel, but  even seemingly negative occurrences can be turned into a positive opportunity with the right perspective and redirection. That is where female solo adventures begin…  They do not need to be epic daredevil challenges. Often they just test the inner obstacles you have about you and your independence.
How to Outsmart Pickpockets & Thieves
10 Things that Ruin Any Vacation & how to recover it.
46 Ways : How to Travel for Cheap
How to Plan your first solo trip
What you should know about Layovers & Connecting Flights
   The 8 Best iPhone Apps for Travelers

---
.
 III:  Female Solo Travel Adventurers
I've been doing female solo travel for over six years and I don't know if I'll ever get over that initial reluctance of travel jumping alone. It's all weirdly mental and for me, the trick is getting myself to leap. As a women, I'm often prone to second guessing or doubting my abilities, even if experience has proven otherwise. But the more I travel alone , the more comfortable I become with it once I'm on the road. Situations become familiar and my instincts kick in. An adventure is what I call it when you challenge your inner wall of who you think you are not… with who you discover you are.
Top Female Solo Travel Questions
8 Safety Tips for Solo Travel (*Watch this before you travel!)
How to Plan your FIRST Solo Trip
How to Make Friends when you travel Alone (Part 1) (Part 2)
14 Ways to Spend your Nights Alone .
The Toughest Challenges of Solo Travel .
Eating Alone
Safety & Fear in Female Solo Travel
  Is it Safe for Women to Travel Alone?
8 Safety Tips for Traveling Alone 
How to Eat Street Foods without getting sick
Female Solo Travel Inspiration
 Is it easy being a female solo traveler?.. Not!
  The Good, Bad & Inevitable of Becoming a Solo Traveler  (my first planned solo trip)
   Is a backpack just another word for  "female mid-life crisis"?
---
IV:  Travel Survival- The Solo Adventure
The vacation part of each trip, only starts after you survive it.  So here's how to survive it…
  How to Deal with Travel Scams
21 Ways to Outsmart Pickpockets and Thieves
Survival Tips for Vegetarian Travelers
How to Avoid Taking Airport Taxis
Toilet Guide: How to Use a Squat Toilet
SteriPen Review: When you need clean water
16 Tips for Traveling Alone by Night Bus
How to Catch the Bus in a Foreign Country (when you don't know the language)
10 Must-Haves to pack in your backpack  Two Ways to Prevent Bed Bugs & Mosquitoes when you Travel

---
.
 V:  Winging Solo Travel Adventures
Winging solo travel adventures depends upon your comfort level with travel and self-trust.
 Change is like redirecting the flow of a stream. When a running stream meets an obstacle, it doesn't stop; instead, it redirects its course and flows around the wall.When I go with the flow, remain flexible and trust my abilities, it becomes like surfing waves.  Like anything, the more you do it, the more experienced and confident you become in it.
  How to survive last-minute trips | Things I did well (Part 2 )
  How to survive a last-minute trip!… Things I SUCKED at (Part 3)
  Tips on how to survive a last-minute trip! (Part 4)
.
---
VI:  Money & Affording Travel
Q: How do you afford your travels?
Quite simply, I work and save for them. No magic wand. Sorry.But seeing as I require activity and movement on a constant basis, there's other tricks I use also. I steer my job search towards jobs/careers that allow or pay me to travel. For instance, teaching English in Korea was an all-expense paid move and my work paid me enough to travel during vacation breaks. I also base my travels on affordability, choosing the countries based on low flight costs and which are inexpensive to travel.
  Art of Hobo-ing: How to Budget for long-term travel
 Long-term solo travel and three mistakes I wish I avoided
---
VII:  How to Teach English in Korea
Interested in teaching in Korea? Click on the photo below for my ESL resource page, where I have links to my YouTube videos and posts on how you can teach in Korea.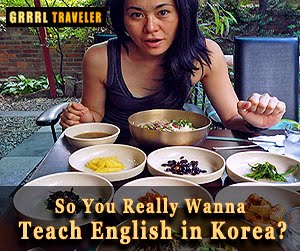 ---
VIII: Travel Blogging Success
Q: Can you make money travel blogging?
Yes. You can. But it's not as easy as some travel bloggers paint it. In essence, it's the equivalent to starting your own freelance company. Be prepared to do a lot of work and to find other ways to diversify your blog services. What's helped me significantly is Travel Blog Success. You can read more about it here. It taught me in one month, what it took over six years to learn on my own. Still, if quick money is your aim, it's definitely easier to get a job and get paid by the hour.  The joy of travel blogging has to be your number one incentive before all else.
How to Grow a Successful Blog
How to Make Money Traveling and Living Abroad ( Travel Jobs)
How to Make Money Traveling and Living Abroad (Part 2: Location Independent)
---