Last Updated on May 23, 2021 by Christine Kaaloa
Street Food Safety Tips: 14 Tips for Not Getting Sick While Traveling
Many of you have been watching my videos where I am eating street food and you're wondering how I eat street food without getting sick.
First of all, I have gotten sick (twice!), but let me get to that later in the video, because I have more to share on that.  I wanted to share street food myth busters and food safety tips for how to eat street food without getting sick. Watch the video for more detail.
How to enjoy street food and avoid getting sick whilst traveling
I love street food everywhere I go. But as a solo traveler, I have to be cautious about it.
There are at least 187 countries where visitors should avoid drinking tap water. It's not because they are all unsafe, but sometimes, they might have properties are bodies are not accustomed to. Americans may feel alien to this, but if you think of it, even Los Angeles has bad tap water conditions.
Additionally, there are countries where the food preparation and practices may not be hygienic or ideal  (i.e. food is left sitting out in the hot sun for hours or attracts flies.) and can invite food poisoning, disrupted bowel movement or a parasite.
14 Food Safety Tips
Here's a list of food safety tips and guidelines set into memory before traveling.  There are Dos and Don'ts and  to help your gastronomic journey flow smoothly.
Food Conditions to AVOID
Let's start with the things to avoid in your street food choices. Yep, you're in a country where you've learned travelers have a tendency to get sick due to the water.
1.  Avoid the tap water.
Avoid tap water in all its forms. Don't drink it at restaurants unless it has been filtered. Don't brush your teeth with it.
Instead, invest in bottled water. Although in countries like India, you might have to make sure it is properly sealed. There have been water bottle scams. Read this post (I cover some of it here)
For long stay travelers,  invest in a UV filter device which treats and kills the bacteria before you ingest it. I recommend a SteriPEN Freedom (read my review), Lifestraw or boiling wand.
2.  Avoid foods that are washed in tap water (aka no raw salads).
If you want veggies in your diet, look for veggies which have been cooked or boiled.
3.  Avoid the ice.
Some restaurants and popular international chains like McDonalds and Starbucks can be safe.  But only if you know they use filtered water to make their ice or not.
In some places, there may be a good ice and a bad ice. Ask locals for advice on this. With eating Thai street food, locals know that the ice which comes in the shape of tubular holes, is made with filtered water.  So yes, in Thailand, you can drink that Thai iced coffee to cool you down.
4.   Avoid foods that have been out for hours or are attracting a lot of flies.
5.   Avoid meat that's been sitting out for a while.
Some countries have butchers with shops outdoors and exposed to the streets. Refrigeration can be minimal to none in these cases. Locally, you don't know which cafes or restaurants source from them, so if you can, I'd avoid meat altogether. But I'm mostly vegetarian so I have backup plans (put into travel, being a vegetarian is actually harder than being a meat eater)
5.  Don't let your guard down.
Travelers who are confident or experienced with a place tend to relax on their "food safety". It happens. You slip (I've done it and voila… ) Don't do that!
Food Safety Tips to Practice
6. Do take fruits and vegetables you can peel and don't require preparation washing.
Head to that fresh market or grocery store and pick up your favorite fruits. Countries like India, I get to missing my leafy green salads a lot, so I often resort to fruits like tangerines, pineapple (yes, I find a knife somewhere to cut it, as pineapples are cheap), bananas. They make great snacks on a bus or train ride.
7.  Do look for meals that are prepared on the spot and served hot.
I do a pinky finger test and slyly dip my pinky into the food, especially soups.
8. Do the food tours and cooking classes
Food tours and cooking classes help with your gastronomic confidence and understanding of the culture, local kitchens and restaurant menus. The insight you'll get from local guides and cooks is invaluable.  Tour guides direct you to safe foods and offer a wide sampling so you don't need to eat an entire dish in order to taste it. For instance, Kathmandu travel blogs will dissuade you from street food because refrigeration is not a common practice. But I went with Backstreet Academy so I could jump safely deeper into local street foods and that opened more confidence to try foods on my own. Getyourguide and Cookly are other legitimate places to find good food tours and cooking classes.
See my food reviews for recommendations.
9. Eat homemade yogurts.
Yogurt is a good source of probiotics (aka good stomach bacteria). It will help you develop a strong gut. If you ever get sick and need to take meds which strip your stomach of all that good bacteria, yogurt will help put it back!  Or take a bottle of probiotics with you (probiotics aren't cheap, even in Southeast Asia).
Street Food: Always OBSERVE
The great thing about street food is that you can see it being prepared in front of your eyes.  In some regard, eating street food can be as 50-50 safe as eating in a cafe… except a lot of local vendors don't always practice good hygiene. But my point being, with street food, you can watch how they prepare your food.
10. Watch how vendors prepare their food and their hygiene habits.
11. Do visit food stalls/hawkers that's frequented by locals and have a high turnover in food.
That means the food is so popular, the food is prepared regularly and not sitting out and attracting flies and dust.
12.  Restaurants don't mean better.
You can very easily get sick from restaurant food and many tourists have (my second time I got sick in Thailand it was off a restaurant buffet i was taken to while on a tour)! Usually they call it food poisoning, but you can't see into the kitchen so you can't tell if it was food left out too long or bad hygiene practices.
Getting Sick from Street Food
Ok, so it happened. Getting sick from street food is inevitable when you travel a lot and get overly confident.  All travelers are human. It's not easy to travel with "safety tips" 24 hours/7 days a week- there are bound to be slip-ups. Don't sweat it. If it happens, it happens. Consider yourself wiser in the future.
13. It's OK to get sick.
The first time I got sick in India, it took the edge off of my travel virginity. I found I was able to cope with getting sick while traveling solo, wasn't bad. I took myself to the hospital in a taxi, took the meds, did a followup check up in Bangkok later. When the second time came around, I was like– I got this down! 
Take your Cipro (for the stomach bugs) and pack an anti-diarrheal like immodium D. If you forgot them, check out the local pharmacy. In the U.S., you need a prescription to buy Cipro, but in countries like India and Thailand, they might be dispensed by the local pharmacy.  If they don't feel like they're working or you feel weak and very unwell, take yourself immediately to the doctor or the local hospital.
Read: Tips for planning your first solo trip
14.  Travel Insurance
I used to foolishly think travel insurance was just another expense to avoid and I could get by with practicing medical tourism. The more I travel, the more I see travelers next to me getting into accidents and I realize travel insurance is necessary.    I use World Nomads now.
What do you think of my street food safety tips on how to eat street food without getting sick? Let me know in comments below!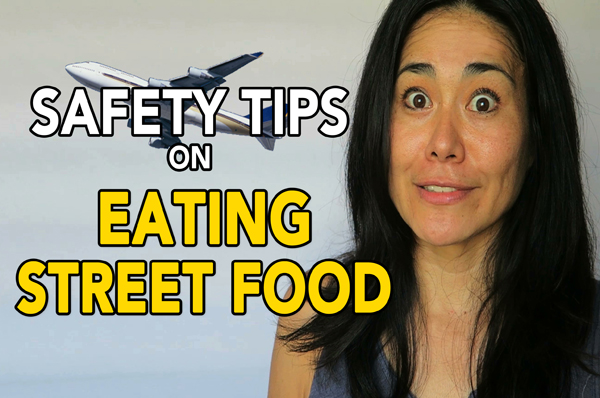 Note: This post may contain affiliate links. If items are purchase through this site, this is of no extra cost to you but helps me to maintain this site and its work. =)