Last Updated on December 7, 2019 by Christine Kaaloa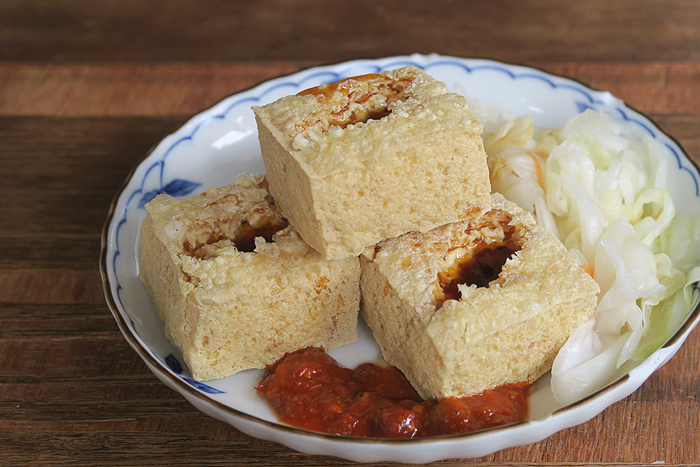 Pigs blood rice cake, Gua Bao, Stinky Tofu… If you're a foodie and you want variety, then Taiwan is going to be your soulmate destination. As an international foodie capital, Taipei is a dynamic city of modernity, street food and fusion foods. From night markets to restaurants, bubble tea shops to Michelin star hawker stands, virtually any type of diet will be find a Taiwanese dish to tempt their tastebuds. Here is a list of must try Taipei foods!
Taipei Food Guide:
22 Must Try Taipei Foods & Where to Buy them
Much of the street foods in Taipei shouldn't break your budget. They range from $20 NT to $100 NT. Some of my favorite night markets, where I've encountered these foods are listed below as well as on my Taipei Travel Guide and my Taipei food tour, but then again, some of these foods are ubiquitous to the Taiwanese streets.
Taipei Food Guide: Top Taipei Street Foods
Watch my top Taipei Street foods video above for more information.
1. Thousand Layer Scallion Pancake (a version of Scallion Pancakes)
One of my favorite street snacks in Taipei are Scallion Pancakes. Often they're made like a thin fried crepe pancake with scallions and eggs. Instead we were taken to one of Taipei Eats' favorite scallion pancake vendors. She makes a type of scallion pancake called Thousand Layer Bread, due to it's several layers.  It was to die for!
2. Chodofu ("Stinky Tofu")
Chodofu or Stinky Tofu is stinky by western standards, but Taiwanese appreciate the smell.   On a breezy day, you can find a vendor based on smell alone. A strong, pungent smell wafts through the air, kinda like the smell of dirty socks.  While tofu is naturally fermented,  the stink comes from the aged brine.  The first bite can be a little off-putting, as it tastes the way it smells. A couple bites later, it will grow on you.  Sometimes, the tofu is accompanied with pickled cabbage and hot sauce. They both enhance the flavor in a good way.  If you want another cool tofu experience not far from Taipei, check out Daxi's Tofu Town.
Tip: Remember to take some breath mints with you!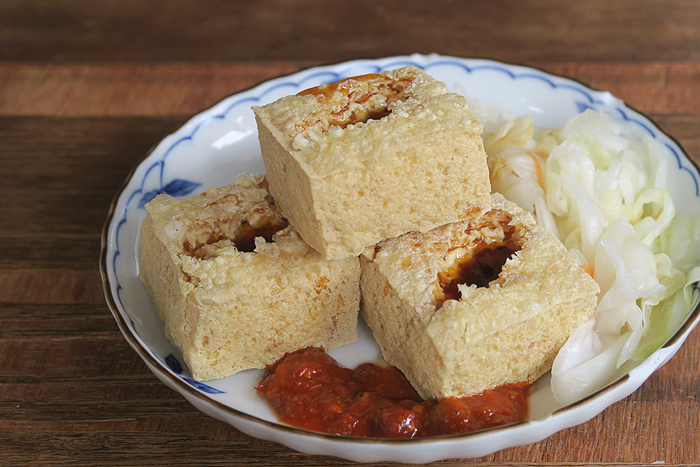 3. Gua Bao (aka "the Taiwanese Burger")
You might have already heard of Gua Bao (or the "Taiwanese Burger") if you're from the U.S.  The popular New York eatery,  Momofuku, popularized it in some of their dishes.  But Taiwanese see it as a little more. It's also made during the New Year as it represents a wallet, which equates to good fortune. Gun Bao is a steamed bun filled with braised pork with sweet sauce, peanut powder and cilantro. The one I got to eat was modified for vegetarians, so it was filled with a steamed vegetable instead of pork.  A signature Taiwanese style are peanut powder and cilantro.
4. Taiwan Betel Nut
So far, we were sampling a lot of different types of food from street to posh. But this next stop was a secret highlight for me and it wasn't food… it was betel nut, a mild intoxicant similar to having a can of beer.  The cheesy blinking neon sign, is unassuming, but if you're a taxi or bus driver in-the-know, you'd probably stop for it.   It is the sign for betel nut. 
Now Taipei Eats was reaching deep into the culture for the more adventurous travelers.
 In countries like India and Myanmar,you'll notice dark red stains on the teeth of those who chew it regularly. I'd long been tempted to try it but as a lone female traveler,  I'm not about to try it unguided.  The seller reached into her refrigerator and pulled out a packet of several nuts wrapped in a leaf. This was my once-in-a-lifetime opportunity to enter forbidden territory and we were being guided instructions on how to chew it.  Location:  Look for shops with a colorful blinking sign like in my video or take my food tour.
5. Cold Noodles with miso dressing
Cold noodles are known as a great for curing hangovers (who knew!) and it's considered another popular dish with Taiwanese.  It's boiled in hot water and then cooled off immediately with cold water. That helps to keep them separated and chewy.  It's a light type of comfort food.
6. Taiwanese Sorbet
in the expensive and trendy Dongchu area.  Beimen Fong Lee Bing (bing means "ice") is easy to miss as a sorbet shop. The shop's furnishings are minimal, due to the high cost of rent.
Pineapple, Salted plum, Lichi, Taro, Dragon Eyes… are the top sellers on their menu. The servings are pretty large (with exception to the lichee which is their most expensive ingredient ).
Raohe Night Market
Taipei has several night markets, which showcase endless varieties of foods.  Although Shillin Night Market was my favorite, Raohe Night Market is one I feel you'll find street foods which are en-vogue for Taipei. The streets are  absolutely packed. Tables and chairs are set up in the middle of the street.  Each hawker has their own type of style.. their own sauces and flavors. Sometimes they prepare it just a little differently. There's a general rule of thumb when you eat. When you're in Taiwan, when you see a crowd,.. It means that the food there is really good.
Ximending Night Market
Ximending is a trendy hot spot in Taipei. It is not always referred to as a night market, because it is really a shopping district and popular night life spot. But it houses a lot of trendy types of street and snack foods which Taiwanese youth love.  Fried chicken, vermicelli noodle soup, bubble tea and fruit drinks and more. It is easy to find. Once you step out of Ximen station, just follow the bright lights!
7. Bubble Tea & Jelly Drinks
In Taiwan you'll find boba and jelly drinks are popular and ubiquitous.  Taiwan is the home of bubble tea, a drink loved by Taiwanese and travelers alike.  This milky tea was originally designed with tapioca balls so that you could "chew your drink".
8. Milk tea
Along with bubble tea, you'll easily find a variety of milk teas. Although it taste of a milky tea is fairly standard across the board, in some areas or even Taiwan 7 Elevens, you'll find there is a subtle flavor to them like Earl Grey, Rose, Banana, etc…
9. Ay-Chung Four Rice Noodles shop
Flour rice noodles are a popular and declicious comfort food in Taiwan. They look like gooey noodles in a thick, pasty soup.  There's different types from pig intestines variation to seafood .   A popular place to try flour rice noodles is at Ay-Chung Four Rice Noodles shop in Ximending ( not far from the station tucked on one of the side streets, you can't miss the line wrapping outside the shop).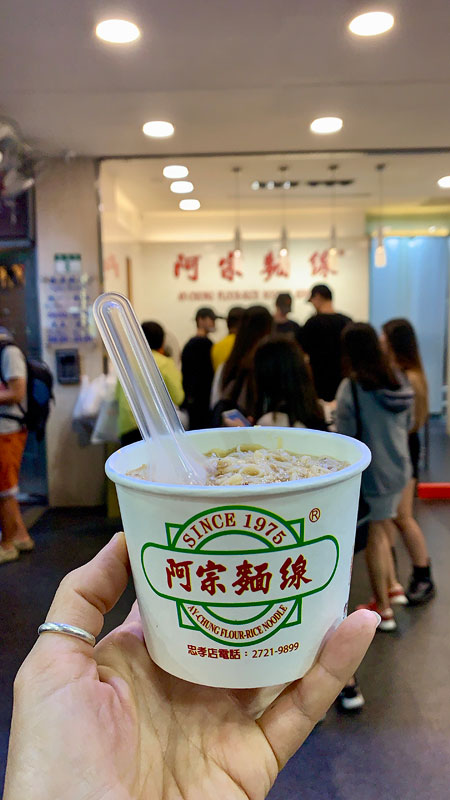 Shilin Night Market
Taipei has a handful of night markets for those who want to shop and eat on the streets at night. One of my favorite markets is Shillin Night Market. A healthy dose of Taiwanese drinks, jellies, dessert snacks and Taiwanese delicacies.
10. Deep Fried Squid Balls
Deep Fried Squid Balls were like the snack of the century for me.  The squid is fried in a circular skillet with garlic. Bonito flakes (aka fish flakes) is sprinkled over it with wasabi sauce. Cost:  Approximately $100-150 NT Location:  Shillin and Dansui.
11. Deep Fried Quail Eggs
Deep fried quail eggs are like miniature eggs made by a street vendor right before your eyes.  Flavor is added by a variety of sauces available at the table from chili sauce to wasabi, sweet-sour sauce, etc…  Location: Shillin Night Market
12.  Candied tomatoes with plum
For 30NT dollars I got these candied tomato with plums. Similar to candied apples, the tomatoes are dipped in a sugar syrup. It dries into a hard candy coating that crunches when you bite into it . The tomato is acidic followed by sugary sweet and plummy li hing taste. Cost: $30NT  Location: Most night markets
13.  Deep Fried Squid with Cilantro & Garlic
It's like a deep-fried squid. It's got garlic and cilantro in it.  It looks really soft when he was cutting into it. it was really kind of soft right? Do you feel like it's buttery? It's not overcooked that's for sure. He cooked it just right. The cilantro really nails it in. and the garlic chunks.  Location: Shillin Night Market
14.  Chi Dan Gao
Chi Dan Gao is a mini bread cupcake . It tastes like an egg sweet bread. The vendor prepares fresh and hot. He makes it right there in front of your eyes.  They can be pretty addictive .  Location: Around town and Shillin Night Market
15.  Michelin Star Flour Rice Noodles
Did you know Taiwan has Michelin star hawker stands? It does! Flour Rice Noodles are a popular and inexpensive ($30NT) dish in Taipei.  They look like gooey noodles in a thick, pasty soup.  There's different types from pig intestines variation to seafood .   I had mine at Shilin Night Market at a Michelin Star rated flour rice noodle hawker. Mine came with oysters, fishcake, fish flakes, vinegar and Chinese parsley.This is really gooey and almost hard to get the noodles on the spoon.  It can really fill you up.  Cost: Approximately $60NT
Tamsui Night Market
Dansui Night Market is a smaller market about a 50 minute metro ride from the heart of Taipei to Tamsui. Resting parallel to the bay park, you'll find one street is similar to a boardwalk of shops, seafood snacks and game centers, while the parallel street tucked further inside houses more street food shops and .. souvenir shops. Definitely smaller than the likes of Raohe or Shilin but still rather interesting.
16. Xiao Long bao  (aka soup dumplings)
Did you know that Taiwan has dumplings which contain soup?  Xiao Long Bao are soup dumplings that often contain a pork or seafood meat but when I was on my food tour, I was given one filled with vegetables and mushrooms at Gai Chi restaurant in the Songshan Creative Park building.   A  ever popular dim sum restaurant chain in Taiwan is Din Fai Tung.  Location: Dansui and food tour.
17. Taiwanese Mochi with Peanut or Sesame Filling
A snack you'll find ubiquitous to the streets of Taipei are mochi balls with either Dried Peanut or Sesame Shaving Fillings.  Peanuts are a flavor of Taiwan, but I appreciated the sesame, which has a little sugar mixed into it.  Cost: Ranges around $20NT
18. Pineapple Tart Cake
Pineapple tart cake is a favorite souvenir for travelers, who want to take home a bite of Taiwan. What are your must try Taiwanese street foods?
19. Taiwanese beer
The Taiwan Beer is a Taiwanese beer lover's favorite. I'm not a beer lover, but let's put it this way– I didn't hate the taste. It was smooth.
20. Taiwanese Tea
In Taiwan, the tea is one of Taiwan's top exports!
21. Tea Eggs
As a country which loves its tea, it comes as no surprise that the Taiwanese lifestyle has tea eggs. These hard boiled, tea-soaked eggs are most often found in 7 Elevens. There is a little soy sauce in the tea, so the eggs are quite salty.
22. Oden
Check out the hot foods section in a Taiwanese 7 Eleven and you might find a partitioned case with a variety of individual foods cooking in soup~ that's oden. You point out which soup items you'd like from fried tofu, turnip, radish, fish cake, boiled eggs and more. The salesperson puts it in a bowl and pours some of the soup its been cooking in, into your bowl and closes the lid. Oden is pretty cheap but full of flavor- you pay per item but each costs well under a dollar. It is one of the cheapest meals you can have that you'll find satisfaction with.
Check out other top street foodie destinations like San Francisco,  Kolkata, New York, Bangkok.
Watch Taiwan Night Markets and food tour video
What Taiwanese do you think should be on this Taipei Food Guide?  What are your Top Taipei Street Foods?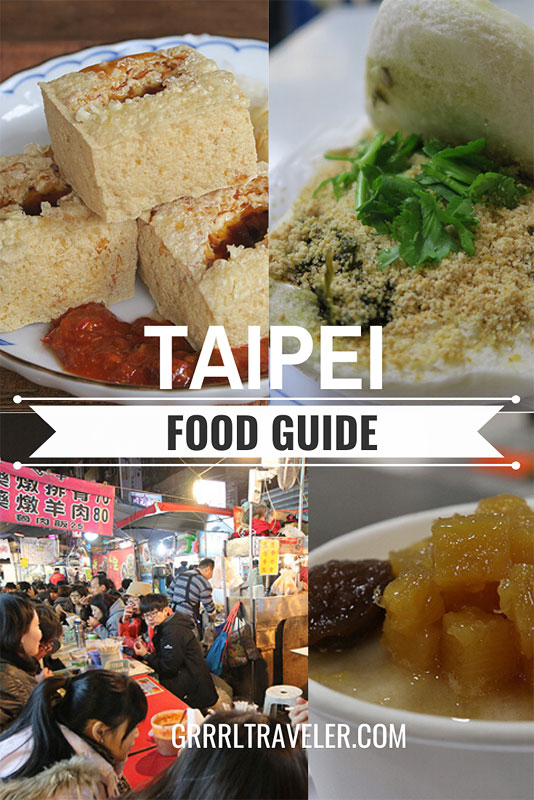 Top Reasons to visit  Northern Taiwan
7-Eleven in Taiwan
Taipei Travel Guide | Best Things to Do Taipei (Part 1)
Quirky Things to Do in Taipei (Part 2)