Last Updated on November 8, 2019 by Christine Kaaloa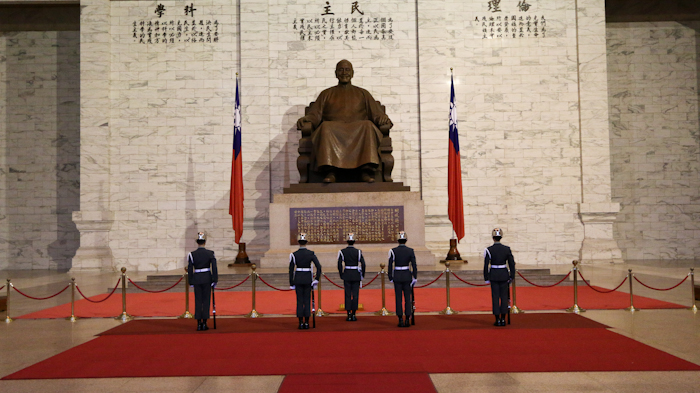 I spent 9 days in Taipei. Did I do everything? Not even close.
A fortune-telling street, a snake and toilet restaurant, night markets… as an international foodie capital, Taipei is a dynamic city you'll want to put on your travel bucket list. Here's a summarized Taipei Travel Guide of the top things to do in Taipei and how to get around the city.
A Historical Summary of Taiwan
As the world's 25th largest economy and its 13th most important trading nation, Taiwan is seems like an independent country; however, it's not.  Once colonized by the Dutch, ruled by Japan and then overseen by the Republic of China (but ruled under the Chinese Nationalist Party– aka the KMT founded by Sun Yat Sen—  political tensions with mainland China are still strained and under a complex balance.  Taiwan is not a democratic country but continues to make dynamic changes in political, economical and social arenas.  Taiwanese see themselves as Chinese but recognize their lifestyle, political system and sensibilities as somewhat, independent.
27 Unmissable Things to Do in Taipei
As always, my Taipei Travel Guide video gives an inside peek into the experience as I report from that location.  The information between written post and video is made to complement each other. Some things can't be said in words or in one photo. That's where video comes in.

Ultimate Taipei Travel Guide | Best Things to Do in Taipei, Taiwan
Historical Landmarks in Taipei
1. Chiang Kai Shek Memorial
Chiang Kai Shek was the president of the Republic of China and general of the Kuomintang (which ruled over Taiwan) between 1928-1975. Thus, the Chiang Kai Shek Memorial is the center focus of a large pavillion called the Liberty Square. It's flanked by the National Theater and National Concert Hall.  Hours:  9am- 6pm
Getting There: Take metro to Chiang Kai Shek Memorial station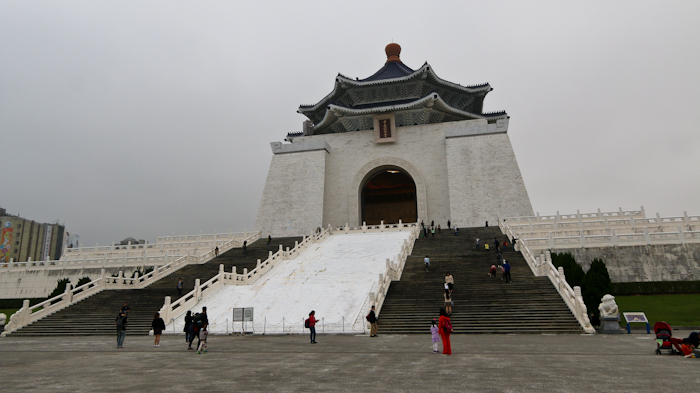 2. Changing of the guards ( Chiang Kai Shek Memorial Hall )
At the Chiang Kai Shek Memorial you'll find two guards standing at the base of the memorial statue. They stand like stone statues. The guards change every hour and everything is choreographed and in sync with one another. Although I did catch a guard slip in his step. Hours: Last change is at 6pm.  The guards will leave, but make sure to go down to the base of the steps by the flagpole, as the ritual of lowering the flag continues there.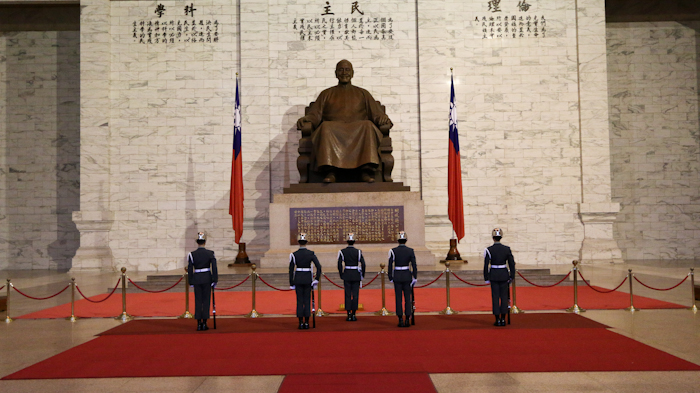 3. Sun Yat Sen Memorial
The Sun Yat Sen Memorial is a memorial to a doctor whose only been to Taiwan four times, but as one of the founding fathers of the Kuomintang (or KMT, the authoritarian rule of the Chinese Nationalist Party), his philosophy lives on in Taiwan's political sensibilities today.  The plaza is a nice people-watching spot. You might see company teams practicing dance cheers for their company party, Tai Chi practitioners and you can get a decent view of the Taipei 101 building.
Getting There:Take the Banqiao Line to Sun Yat Sen Memorial Hall Station.
4. National Palace Museum
The National Palace Museum houses artifacts from China's emperors. It's three floors of impressive artifacts from periods of Chinese rulership. You'll find everything from jade collections to calligraphy art, Buddha sculptures and more. It's the first museum I"ve seen of its kind with unique palace valuables.  If you love history, it's worth a look. There are two wings, a children's center and a garden. Recommended: Buy your e-tickets now and skip the line
Guided Tours: Chinese, English, and French guides are free. Audio headsets cost 200 NRT.  Note: You must store your bags and cameras in the lockers provided. You will need a 10NRT, but token will be returned to you upon bag retrieval.
Getting There: From Shilin MRT station, head out Exit 1 to Zhongzheng Rd to RT side of Main Street and catch R30 (red 30), minibus 18 or 19. It's about 15 minutes to the museum.
5. Lonshan Temple
Longshan Temple is one of the most active temples in Taipei.  It's next to the Huaxi Night market and the metro.  Worshippers go to pray but also to get their fortunes told, by throwing sticks. It's a popular way of temple fortune telling for many Asian countries, where you'll think of your question and throw the sticks. The sticks will have an interpretation and that's your fortune.  Nearby the temple is the famous Fortune Telling Street (more information below).
Travel Tip: Book a Longshan Temple and a Bopiliao Historical Walking tour. Toss fortune sticks at the temple, drink a Taiwanese cup of tea and explore the Bopiliao Block area.
Getting There: Next to the Huaxi Night Market and right outside Longshan MRT, you'll find the Longshan Temple. 
6. Taipei 101 building
The Taipei 101 building is the most well-known landmark of Taipei as it used to be the highest tower in the world.  With time, that's certainly changed, but it does at least still hold a record for having one of the fastest elevators of the world with rates up to 17 m/sec.  During New Year's Eve, the city holds a light and fireworks show from it, inviting a different artist each year to design the light display. Get your advance e-tickets for the Observation Deck.
Admission: $15 USD  Getting There: Take the Banquiao Line to Taipei City Hall Station. Exit 2 there is a free shuttle bus, but the line is often long and it is an easy walk. To walk: take Exit 3 and follow the sidewalk past the park.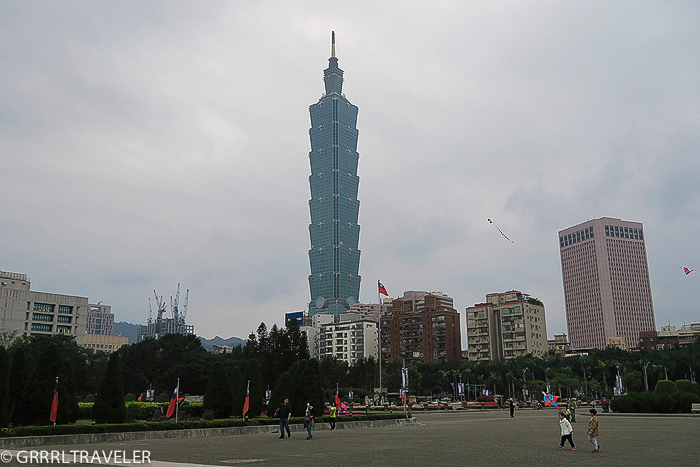 Where to Hike in Taipei
7. Elephant Mountain
If you want the best view of the city and Taipei 101 building, head out to Elephant Mountain. It's a small mountain with at least four different trails (names of animals) to hike, with Elephant being the first view point.  This trail is easy to get to and takes around 20 minutes to hike.  The paved step trail is steep and you will break a sweat, so pace yourself.   Don't settle for the first viewpoint you see, but keep going higher and you'll find a few more options.  There will be maps along the way to show you what other trails you can take.It's a perfect getaway from the city.
Travel Tip: If you're an instagrammer, take a Instagram hiking tour of Elephant Mountain.
Getting There: From Xiangshan MRT head to Exit 2 and follow the signs from there. Signs will direct you past a basketball court and condo area to the base of the mountain.
Quirky & Unusual Places in Taipei
If you didn't know it, Taipei has several quirky museums, factory tours and modern theme cafes (i.e. Barbie cafe, Ninja & Hospital cafe, airplane restaurant, etc…).  I tried to seek many out. Unfortunately, half of these great ideas had closed, but a few continue to linger on… Here's a few unusual places in Taipei that I experienced .
8. Fortune Telling Street
Fortune Telling Street is a line of fortune telling shops in an underpass at Longshan Temple. Each shop has got their own gimmick. Getting There:  Longshan Temple MRT (Underpass) (龍山寺捷運站地下街)
8. Cats & Cafe 1988
As the original cat cafe of Taipei, Cats & Cafe 1988 claims to have the most cats of cat cafes. It's also got two resident dogs and a bird. In order to experience the cafe, you need to order something on the menu. Most options cost.  Honestly, the cafe is not known for its food and is standard at most. More here.
Getting There: MRT Zhishan, immediately turn right.  The cafe front isn't easy to notice and  the sign isn't obvious but there's an awning out front. .  The vertical sign is a sliver on the side of the building. Address: (129 Fuhua Rd, Shilin, MRT Zhishan, 02 2835 3335 
9. Modern Toilet
Modern Toilet is a restaurant with a theme around toilets. Located in the hip and popular Ximending district of Taipei, you'll find the decor ranges from plumbing pipes, to toilet bowl seats, urinals, squat toilets and poo.  It's a fun restaurant and the food is good.  Hours:  11a -10p   Location: 2F., No.7, Lane 50, Sining S. Rd., Wanhua District, Taipei City   Phone: 02-2311-8822
Directions  and more information, here.
10. Tengfeng Fish Ball Museum
Being that Taipei is a foodie's country and fish balls are popular dish in Asia and Southeast Asia, I originally planned to visit the Teng Feng Fish Ball Museum. Call for hours as it is a working factory and may be closed on holidays and weekends.
Location: No. 117, Zhongzheng Rd, Tamsui District, New Taipei City, Ph:02 2629 3312.

.
Best Night Markets in Taipei
There are a handful of best night markets in Taipei:   Shilin, Raohe, Hua Xi,  Ningxia, Tonghua, Shia, Liaoning Street, Guang Zhou Street, Wu Zhou Street… a lot .  You'll find anything from food to clothes and home products.  The three I've listed are my favorite and happen to be the most popular.
11. Shilin Night Market
Shillin Market is one of the top night markets in Taipei. The biggest and most fashionable night market, food hawkers line the street entrance and you'll find everything from stinky tofu, jelly drinks, deep fried squid, mochi balls and more.  Walking down the maze of streets, you can shop fashion boutiques, mobile accessory stores and bag shops.  In the heart of the area, there's a covered area which sports carnival games for children.
Getting There: Opposite the Jian Tan MRT stop. Walk out the exit towards the large intersection.  That signals the entrance of the market.
12. Raohe Night Market
Raohe Night Market (map here) is Taipei's oldest night market and was my other favorite. It's clearly a foodie's market and the dishes you'll find there are what's in vogue! Each hawkers does something a little different to make their dish unique in seasoning and sauce flavor. Tables and seats line the center of the street, as hawkers grill, fry  and boil foods around them. On crowded nights it can be hard to move.
Getting There: From MRT to Song Shan Station, take Exit #5 and take a right towards the temple.
13. Huaxi Night Market | Snake Alley
The
Huaxi Night Market
is a smaller local market with less vendors and more wet market appeal.  However the interesting part is
Snake Alley
or from what I saw, a restaurant that sold snakes. The snakes in the glass cages aren't small either. They looked like boa constrictors. Opposite the cages are cages of mice. UPDATE: The
last snake shop closed in May 2018
Getting There: Take the Blue Line to Long Shan Temple and walk 5 minutes.  Snake alley is under a covered walkway of weird souvenir shops, massage parlors and a food court.
14. Ningxia Night Market
Ningxia Night Market is locally known as one of the best Taipei night markets, albeit it is a slightly smaller local night market. It is one street squeezed with vendors and tables. Foods here are definitely more of the local street food variety and foods are not always straightforward as they appear. You'll find deep fried taro balls, mochi balls, pigs blood cake, scallion bread, noodles and more.  If you're vegetarian/pescatarian, this may not be the best Taipei night market for you. The market is not nearly as large as Raohe or Shilin.
15. Ximending Night Market
Ximending Night Market is in the huge trendy shopping district of Ximending and is right off the Ximen station in the area that is known as Taipei's Times Square due to the fact it is has jumbotrons and the lights from the stores light it up like Manhattan's Times Square. The last time I traveled Taipei, I visited Ximending strictly for to visit Modern Toilet (the themed toilet restaurant), but this time I explored the area a bit more. You'll find a lot of trendy and fun foods shops here which sell Boba tea, various teas, deep fried chicken wings, etc… Definitely check out Ay-Chung Flour Rice Noodle for the best vermicelli noodles, thick and gooey and absolutely delish. For quick and cheap souvenirs check out Miniso and the various electronic shops which sell mobile accessories.
Taipei Arts & Culture
16. Songshan Cultural & Creative Park
Songshan Cultural & Creative Park used to be a tobacco factory but now it's transformed into a cultural park area with a building housing innovative creative labs, artist workshop studios and restaurants. The artist workshop studios are open for public use and holds anything from crafted items to studios where you can learn how to blow glass, make clay sculpture, etc..  Hours:9:00~18:00 . Website
Getting There:Take the Banqiao Line to Sun Yat Sen Memorial Hall Station. Exit through Exit 5 and walk for 550m to Yanchang Road (the intersection of Civic Boulevard and Guangfu South Road).   OR  Take the Banqiao Line to Taipei City Hall Station, and take Exit 1 or Exit 2  and walk for about 400m to Lane 553, Section 4, Zhongxiao East Road.
17. Bubble Tea
If Taiwan put one thing on the international foodie map, it's Bubble Tea Drinks. This popular drink is part of the Taiwanese culture and lifestyle and you'll find many bubble tea places around town.   The dark pearls inside are  chewy tapioca balls, making this a drink you can chew.  Popular bubble tea chain:  Coco but you can easily find a tea shop around town. If not, check out Ximending area.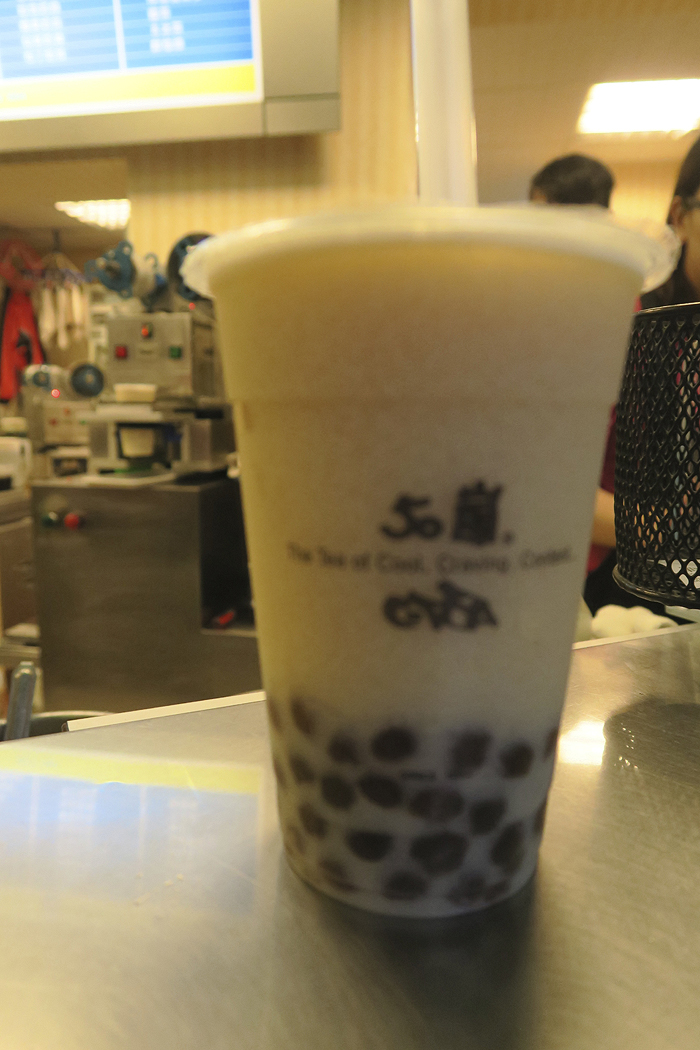 18. Ximending
At Ximen station, you'll find  Ximending, the trendiest and hippest area for those looking for food, fashion and people-watching.You can't help but love it here. At night, it's lit up like New York's Times Square as the hub for strolling, shopping and eating. You'll find the trendiest street foods and bubble teas, along with occasional street vendors or electronics shops spilling out to catch the eyes of pedestrian passerbys.  It is a milder form of Shilin Market and a tad more commercial with standard stores like H&M or UniQlo. The hottest area is near the station. Right outside the station, you'll find Rainbow street, a popular new Instagram spot where the street is painting in a rainbow in celebration of the Gay Pride parade.
19. Taipei Metro Station Shopping
Taipei Metro Station isn't only the main hub of the city (with access to Taipei Train Station, Taipei HSR Station, and Taipei Bus Station). It  houses  underground shopping and eateries.  There's one area dedicated to luggage and traveling, with older budget like vendors.  Other areas of the station offers a resting and gathering spot, where Taiwanese can hang out with friends. You can at boutique stores and grab takeout bites from fast food shops.
The ground level offers a giant rest area with souvenir gift and snack shops. It's great if you need to shop for last minute gifts for a weekend family visit.  If you take time to explore Taipei Metro Station, you'll find it offers a lot of chill amusement and shopping.
Note: Buying bags in Taiwan can be cheap, but not necessarily made to last. I bought a backpack that didn't last longer than a week.
20. Free walking tours of Taipei
Tour Me Away and Like it Formosa offer free walking tours of Taipei. It's held by local volunteers and runs on donations. Both offer a couple of tour options for those who either want to get to know the city, meet people or enjoy a budget day tour.    I took a Chill Out Tour for a chance to learn about Taipei's local lifestyle. It's not a bad way to spend your afternoon and expect a casual tour.  Donations are encouraged by the volunteers as some of college students looking to make a few dollars for school.  Highly recommended if you have time!
21. Food Tour with Taipei Eats
Taiwan is a foodie's country, with an endless and ongoing variety of street foods and small dishes. Taking a food tour with Taipei Eats was a highlight of my trip and one of the most informative food tours I've taken yet.
Easy Day Trips
22.  Taipei Zoo  & Maokong Gondola
Taipei is said to have one of the largest zoos with the happiest animals. I never got a chance to see that in person, so if you get there, let me know. If you get the chance, take the cable car from Taipei to Maokong (aka Maokong gondola). It runs from Taipei Zoo Station (Brown Line 1) up the mountain to the top of Maokong, a mountain-top tea destination.
 Admission: $60 NT for adults. Free admission to preschool children and handicapped. Hours: 9 am- 5pm.  Additional directions here.
23. Danshui
Going out to Danshui can feel like a bit of a day trip. As a lakeside district of Taipei, it has it's own feeling. It may take anywhere from 20-30 minutes by metro and offers a great neighborhood for shopping and food. Next to the lake, you can take a ferry ride out to the island of Bali (not to be confused with the Indonesian island). It's large lakeside park offers relaxation for those who want to hang out for a picnic.
Or you  can stroll down the boardwalk of souvenir shops, where you'll see anything from street food hawkers and carnival gaming shops. Buy an ice cream cone or a plate of deep fried breaded squid.
At night, the walking street parallel to the boardwalk takes on the mood of a popular night market street where you can shop (there's a Hello Kitty dessert shop & a type of Ripley's Believe it or Not museum), eat and indulge a street bubbling with activity.
24. Beitou Hot Springs
Beitou hot springs has a handful of hot spring pools ranging from cheap public pools to more upscale types. Taking a taxi is recommended.  Ask the Tourist Information or your hotel for easy to get to destinations.  The nearest one (in front of Xinbeitou MRT) is Millenium Hot Spring. Admission: NT$40.
Getting There:  Take the Danshui MRT line to Xinbeitou Station.
.
25. Houtong Cat Village
About 45 minutes out from Taipei is Houtong Cat Village in Ruifang.  It is a lovely and small riverside town nestled in a picturesque valley (I went on a dreary and rainy day).  Originally a coal mining village, a local started caring for stray cats and taking them in and the towns people started to continue the tradition. Today, cats roam the area and are fed by locals and tourists.  You can still explore the coal mining area and its museum to understand its history. More here.
Getting There:  Take a northbound train (except Keelung trains) to Ruifang Station.
26.  Juifen and Northern Taiwan
You can take easy day trip to Juifen and Northern Taipei. Juifen is a small hillside town in Northeastern Taiwan. Its recognized in photos for its bright red lanterns, narrow street alleys and freshly made food. Snack shops and teahouses line its alleys selling all types of creative snacks, food souvenirs and street foods which will have you opening your purse and mouth more than once! There is a traditional theater in the town and nearby is the Gold Mine Museum in Jinguashi and the Golden Waterfalls. It's worthwhile to hire a group tour to Juifen or hire a car for the day to see the natural wonders in that area, such as Bitou Cape, the Yin and Yang seas and more!  Read my post on Northern Taiwan here.
27.  The Tofu Town of Daxi, Taoyuen
Just 40 minutes south of Taoyuan Airport and Taipei, is one of the best kept secrets of Taoyuan~ the mountainous and beautifully historical town of Daxi. Daxi is known for its unique historical architecture, its woodwork history, cultural preservation and for being a tofu town with a unique tofu specialty which makes tofu here, brown and firm.
Must Try Foods to Eat in Taipei
Pigs blood rice cake, Gua Bao, Stinky Tofu… If you're a foodie and you want variety, then Taiwan is going to be your soulmate destination.
As an international foodie capital, Taipei is a dynamic city of modernity, street food and fusion foods. Virtually any type of diet will be able a Taiwanese dish to tempt their tastebuds.
Read: 18 Must Try Foods of Taipei
Recommended Accommodations in Taipei
ColorMix Hostel & Hotel  What happens when you mix a hostel with a hotel? Apparently at ColorMix Hostel & Hotel you get a pod hotel! Small, compact and inexpensive, this was a budget friendly hotel was still on the luxurious side for me. I got an all inclusive hotel room the size of an officetel with bathroom ensuite. It literally had just enough room for me to do all the business I needed. Location convenient in Ximending, near three 7 Elevens, free wifi, highly recommended.
Backpackers Inn Taipei has convenient location, just 2-minute walk from the MRT. A 10-minute walk away from Taipei Main Station or Ximen Station.  I haven't stayed here but this was one option I was considering based on friend recommendations. There are Chiang Kai-Shek Memorial Hall, the Presidential Palace and other famous attractions nearby.
Book more accommodations options in the Taipei area here.
Getting from the Airport to Taipei
 Taoyuan International Airport (or the Taipei International Airport) is 40 minutes north of Taipei. The airport  houses  a bus terminal, nearby High Speed Rail station and a MRT link to Taipei. Take the high speed rail directly into Taipei via Taipei Station. Note: The walk from high speed rail station to Taipei Station takes around 8-10 minutes. Taipei station is large, so finding your platform will take time.
Public buses from the airport are available from both Terminal 1 and Terminal 2. Bus stations are labeled in English, and have LCD monitors where you can see the various destinations, schedules, and fares. A bus to Taipei Main Station is $NT 125.  It will drop you off at the Kuo-Kuang West Bus Terminal outside the Taipei Main Station.
Travel Tip:  Pre-book a private Taoyuan airport pickup.
Getting Around Taipei
Metro | MRT
The heart vein of Taipei is the MRT system. The metro will get you to almost anywhere you need to go in a short amount of time. If you plan to use the metro a lot, you can buy an Easy Card. It will cost $100NT for the card and $400 for initial travel. You can reload it at any time in the future. The card will get you 20% off all Taipei MRT rides.  A single ride can cost from $15 -65 NT.
Bus
Taking the bus in Taipei is inexpensive; however, it's not always easy.  Cost is approximately $15NT and it's easy if you have an Easy Card (read above). Bus signs are mostly in Chinese. You may find occasional English translations at popular tourist stops. It's a little tricky using the Easy Card. Swipe your Easy Card upwards if paying when you board the bus and swipe your card downward if you're paying when you disembark the bus. I've only used the city bus once.
Taxi
Taking a taxi in Taipei is inexpensive, compared to other cities.  It's a yellow taxi cab and tipping is not normally expected but your choice.
Bikes
You can rent UBikes to skirt around the city.  YouBike rental kiosks are walking distance from the MRT. Use a credit card with a chip or your Easy Card. The first 30 minutes of your rental are free and you can drop them off at any other kiosk location.
.
Buy a Taiwanese SIM
There is much public wifi available in metro areas. However, the drawback is you need to take your passport and sign up for a password at the Tourism Information kiosk, conveniently located in some metro stations. However, it still might not work. I recommend buying a Taiwan SIM in advance. I had a friend get me a Taiwanese SIM in her neighborhood and we struggled a lot to get a signal or a working login and the language barrier made me feel helpless.
Watch my "How I travel Taiwan" YouTube playlist
Related Posts
7-Eleven in Taiwan
Taipei Travel Guide | Best Things to Do Taipei (Part 1)
Quirky Things to Do in Taipei (Part 2) 
Taipei Culture Shock: Things to Love or Hate
Top Must Try foods in Taiwan