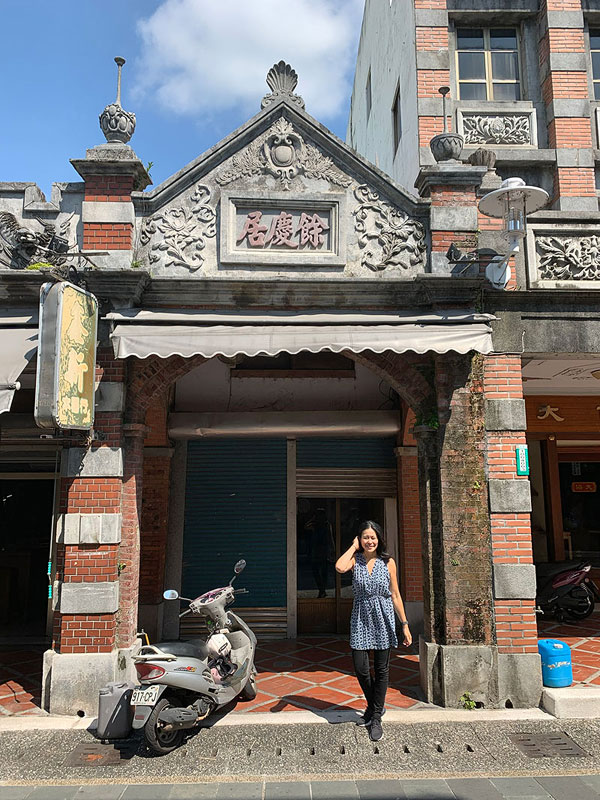 Disclosure: The video is sponsored by the Taoyuan City Government, but my Daxi travel guide of best things to do in Daxi is a result of a two day trip and all opinions are my own.
Just 40 minutes south of Taoyuan Airport and Taipei, is one of the best kept secrets of Taoyuan~ the mountainous and beautifully historical town of Daxi. Here is my Daxi Travel guide, so you can experience of best things to do in Daxi, especially if you're looking for a fun day trip from Taipei!
What makes Daxi different from other towns in Taiwan?
Daxi is known for its unique historical architecture, its woodwork history, cultural preservation and for being a tofu town with a unique tofu specialty which makes tofu here, brown and firm.  Daxi has an interesting history of tea and wood trading in the 19th century.  It also has a history with Japanese occupancy and it having a Baroque and Japanese shinto aesthetic influence over parts of town making it architecturally unique. The aesthetic was once popular with wealthy families, so you'll see the concrete cuts decorating Daxi's wealthiest neighborhood and Daxi Old Street.
Watch : Daxi Travel Guide to see Daxi top attractions
18 Best things to do in Daxi | Daxi Travel Guide
In partnership with Taoyuan city,  I spent two days filming and traveling Daxi ~ one day with a free walking tour guide offered by the city and another day, by myself to see what I could uncover in Daxi top attractions that might further interest travelers. Both days I visited Daxi, there were bus loads of Taiwanese students streaming through the town. Obviously the town is a prime spot for school excursions. If students and Taiwanese tourists are coming, then there's clearly top attractions in Daxi to fuel them. Daxi makes a perfect day trip from Taipei!
Daxi Bridge
A top attraction in Daxi is the instagram worthy, Daxi Bridge. Constructed in 1934 was once a bamboo-wooden suspension bridge over the Dahan River which once flowed with the import/export of wood trading activity. Today, it is revamped into a concrete bridge that is the welcome gate to Daxi Old Street nestled upon the hilly perch set behind it. It is a perfect place for 'gram.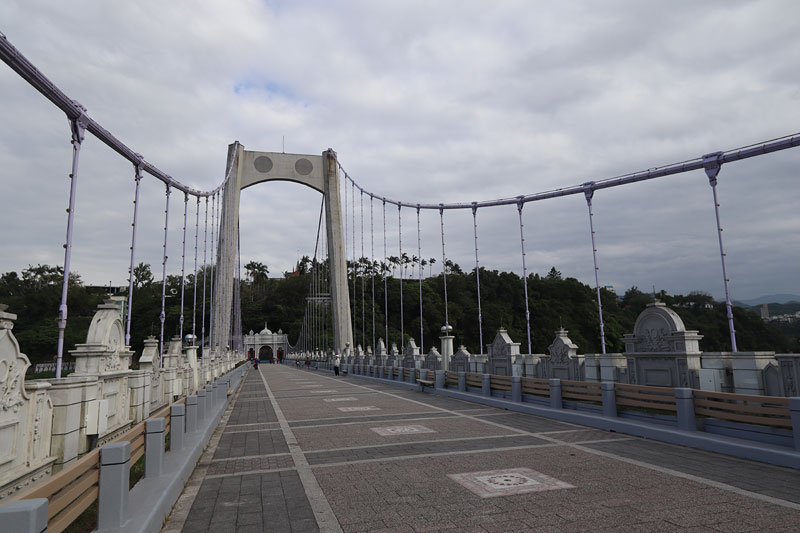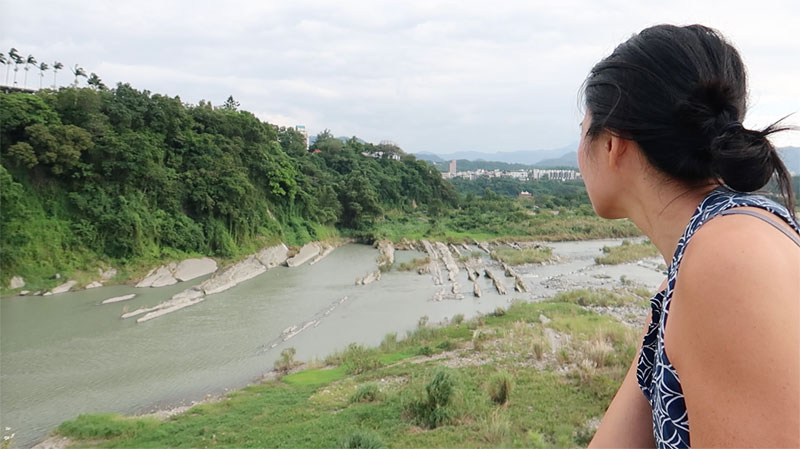 Daqing Cave
Daqing Cave used to be a tunnel pathway connecting the bridge traffic to the old town. Today, murals adorn the small tunnel featuring all the memorable things you'll find and experience in Daxi.
Old Stone Trail
Old Stone Trail is the original walkway up from the bridge to Daxi town and the Old Street. The stone cut steps are small and were made to provide an easy uphill walk for merchant, traders and workers to the town.
Daxi Public Market
One of the Daxi top attractions is the Daxi Public Market. It was one of my favorite spots to visit in Daxi! The colorful heart of the town is the Daxi traditional market, where you'll see local farmers, street butchers, seafood vendors and street food stalls collect to exchange jokes and heated activity with each other, while selling their daily fare. Big and small, farmers from the region come to sell a few or many of their best harvests. A fan of market places, this was one of my favorite spots. Hours: 8-noon
Snack on some local Taiwanese street foods such as hot sweet potato (best during fall and winter seasons), fresh cut fruits or smoothies or visit an old local grandpa who makes egg pancakes from his cart near the triangle park (you'll have to wait for him to make it as he makes them per customer and not in bulk).
Definitely add this to your trip to Daxi!  Daxi Public Market (No. 144, Zhongyang Road, Daxi) several blocks up to the Zhongyanglu Triangle Park.
Daxi Old Street (aka Heping Old Street)
One of the best things to do in Daxi is visit Daxi Old Street also known as Heping Old Street . This old street is the main commercial center of the town. You'll find the architectural facade of buildings display a Baroque stone carved style, which used to be a popular style of prominent and wealthy Taiwanese families. With the impressive facade, it's almost easy to miss the nestled shops below.
Above each store front you'll find the name of the shop carved in the concrete face.  Walk through the covered arcade and visit boutique shops from souvenir shops, toy stores, woodwork furniture and tofu shops and cafes. During daylight hours, a few vendors bring their wares out onto the sidewalk in the hope of attracting customers. Location: Heping Street (see map)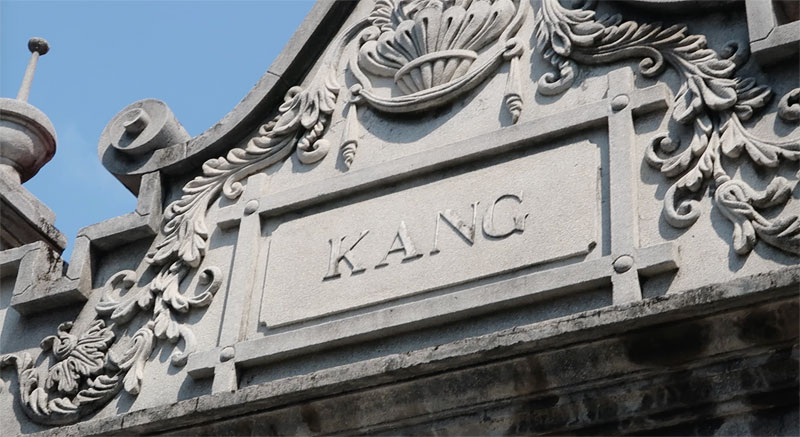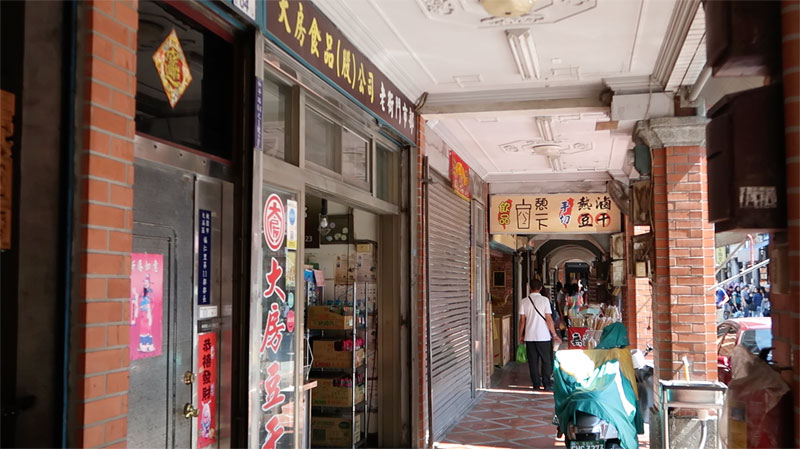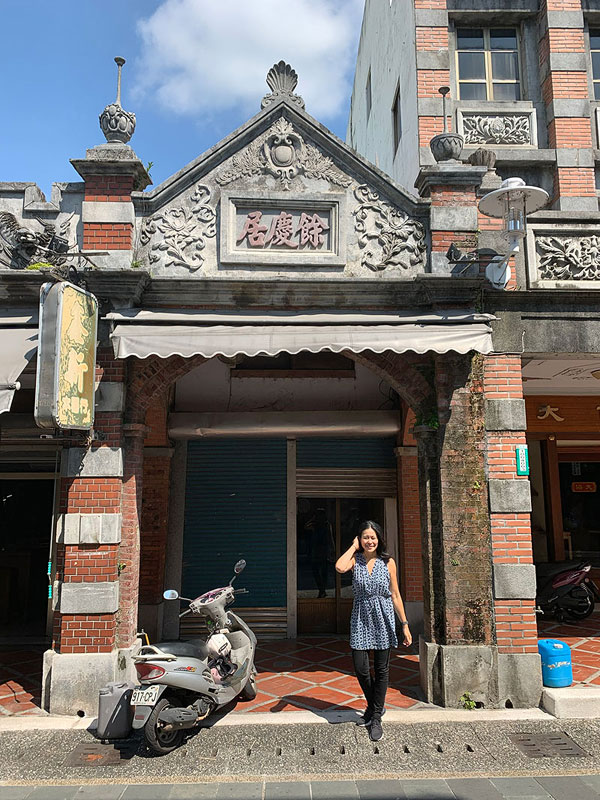 Heping Old Street Shops
There's a lot of toy, souvenir and wood shops on Heping Old street and unless you're into that stuff, you might be put off. The street is actually known for ceylon tea but I've seen a few interesting vendors who make their own products, like Huang Dah Mu for tofu products and tofu jerky. Then there are vendors like this guy (below), selling herbal cube remedies to chase colds and coughs. My girlfriend Sharon bought a bottle for winter cold and flu season. Having a chronic allergy cough and having tried many things, i was less of a believer until I went into a coughing fit from nearby dust from a wood working shop. That cube put a quick end to it.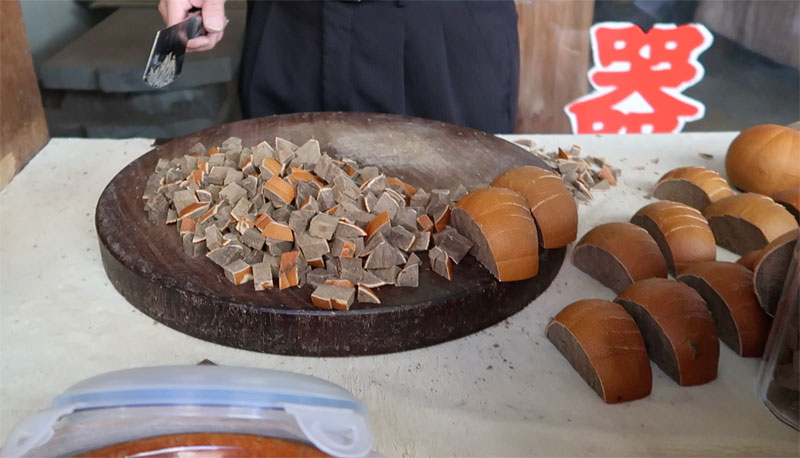 Fu Ren Temple
Located off Heping Old Street / Daxi Old Street, Fu Ren Temple is a century-old temple known for housing deities from several different ethnic religions.  Taiwanese have proud quirks and this is one more, such that a trip to Daxi would not be complete without a visit to this temple. From the outside, Fu Ren Temple casts a stunning and colorful demeanor. This beauty continues inside the temple with intimidating guardian floats flanking the entry. Upon entry you are faced with brilliantly colored artwork before you, behind and on the sides of you, from wall murals to intimidating guardian parade floats flanking the entry and elaborate 3D sculpture-chiseled stone columns, you are surrounded by brilliance, depth and color.
The first inner temple establishes itself as the main platform of worship.  Light an incense, say a prayer, ask your question and cast the fortune sticks for an answer. Use the ancient woodblocks for similar divination. Similar to a magic 8-ball, the woodblocks answer Yes, No and Maybe questions.
Location: No.100, Heping Rd., Daxi Dist., Taoyuan City . Hours: 4am-8:20pm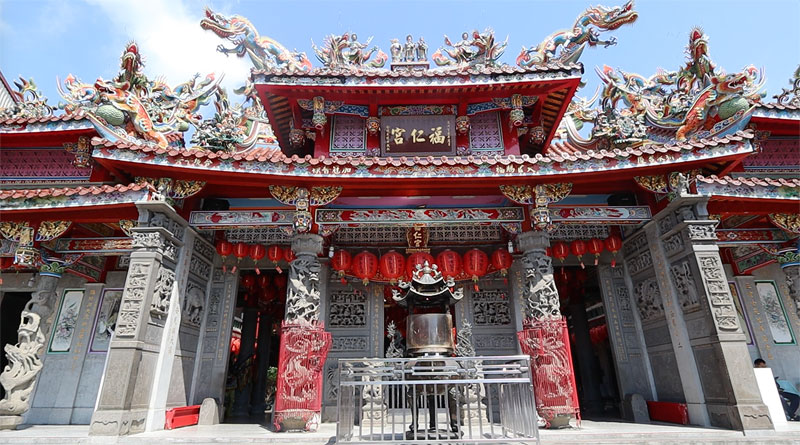 World's largest wooden top collection
Behind the main temple is a both a community hall and an upstairs auxillary temple,  you'll find no lesser grandeur. A special Daxi attraction is a room housing ancient spinning wooden tops called Gyro. Sadly the glass encasing this room is fogged so there is limited visibility. But the tops inside are said to be the world's largest wooden tops and are brought out for a National top spinning festival.
The Daxi sport of spinning wooden tops is still very alive today. These wooden tops are tied to their history in woodwork (Read more about Daxi's gyro history).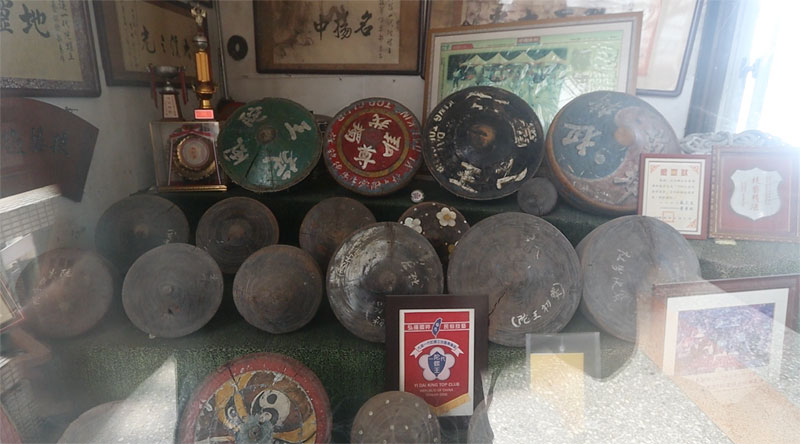 Zhongzheng Park
Zhongzheng Park (aka Chiang Kai Shek Park) sits between the Old Street and the bridge.  Constructed in 1909 under Japanese governance, it offers a lovely view overlooking the bridge, an odd mix of architectural and sculptural themes, such as the ruins of a Shinto shrine and a sumo ring. It is also houses a Spinning Top Plaza  where local can collect for a sport called Gyro, aka wooden top spinning.  You will also find a statue of Chiang Kai Shek.  The park is quite long and is a serene place where you'll see families and seniors hanging out or exercising. Location: Puji Road (see map)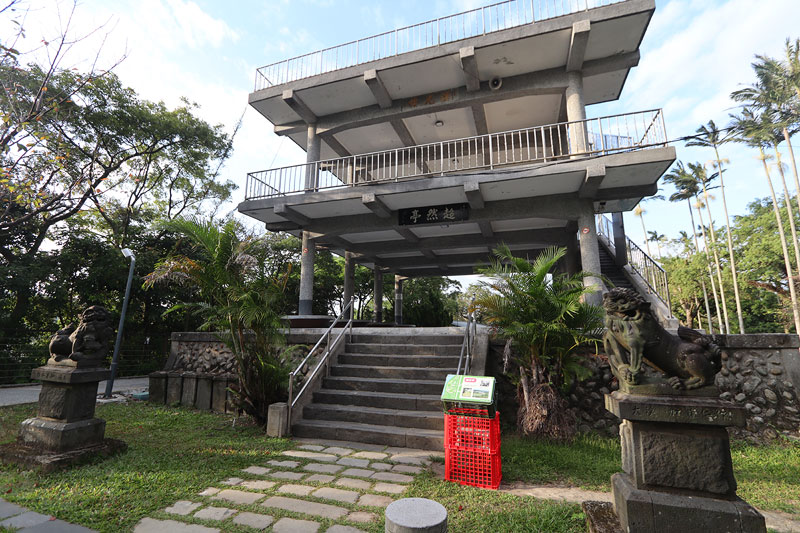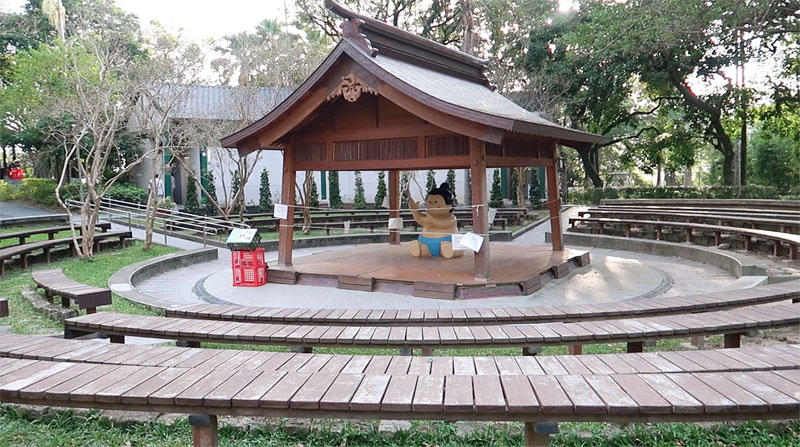 Daxi Wood Art Ecomuseum
Daxi Wood Art Ecomuseum is a neighborhood of museums and living museums, where wood art artifacts are housed and cultural wood craft identity is preserved.  In the area there are several houses which date back to Japanese governance, such as a martial arts dojo renovated into an exhibitions hall, a Japanese dorm which was a quarters for servants and then a Craftsman Story House for carpentry. Beyond that, there are several living museums spread around the town from wood furniture shops to wood shops to workshops, even living rooms. Website:  https://wem.tycg.gov.tw/en/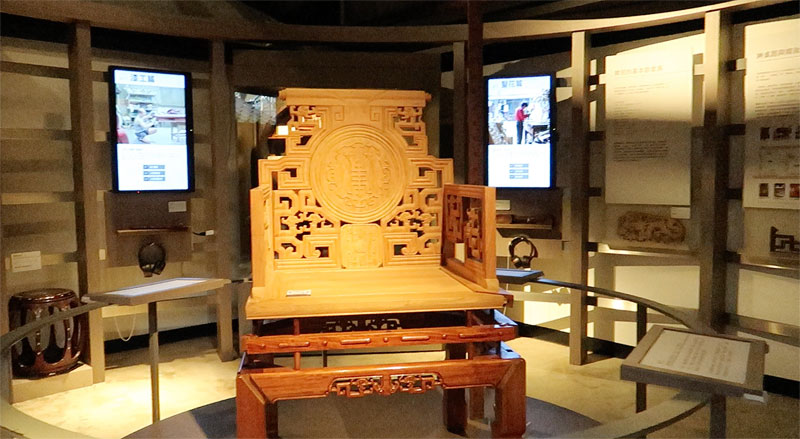 Daxi Living Museums
As mentioned previousy, Daxi Wood Art Ecomuseum has a living museums component.
I visited a living museum on Daxi Old Street/Heping Street, Ku Gallery, which is a preserved traditional grocery store and bakery with the owner's house connected to it. Today it is partially rented out by an entrepreneur who uses it to house his cafe. Walk through the original rooms and you'll find the housing structure preserved and all original wood and brick reused for renovation.
The Public Houses/ Living Museums are located in the old town area of Daxi.
Hall No.1:No. 68, Zhongzheng Rd.
Native History House:No. 17,19,21,23, Puji Rd.
Craftsman Story House:No. 52, Puji Rd.
Martial Arts Dojo:No. 35, Puji Rd.
Craft Exchange House:No. 5, Puji Rd.
Li Teng-Fang Mansion:N.34, Yueimei Rd.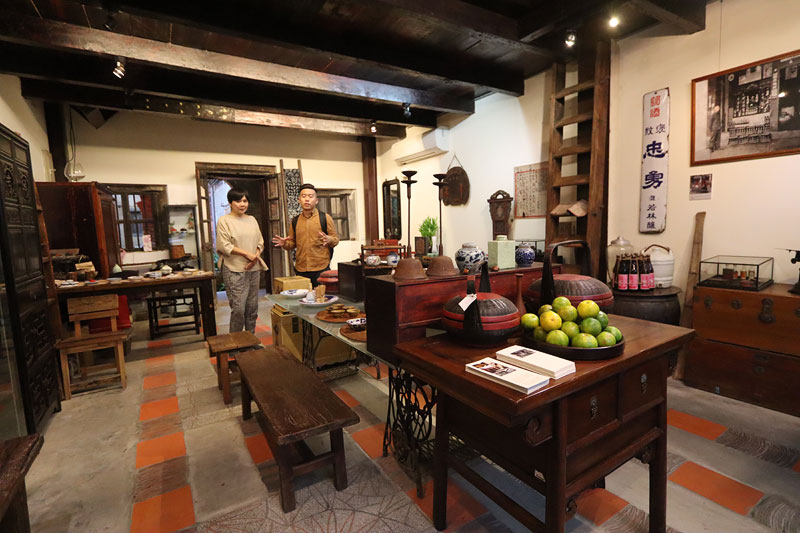 Maze Lane
Located next to Furen Temple off Heping Street is a street called Maze Lane. Locals call it Houwei-a and it is not really a maze but a winding street which housed blue collar river workers. The houses here are quite traditional and modest, made of mud and brick.  It's much more quiet in these backstreets and there was some discomfort walking them, knowing that people still live in them. But it feels like worlds away from the buzz of Heping Street and outer Daxi. A friend of mine spotted an original resident of the area and talked to her–  there is only a handful of original houses left in this area.
You'll find this area a bit run down, preserving the rustic feel it might have had in bygone years. Carts outside are filled with cardboard for recycling, clothes hanging out to dry, a community altar for the light of religion.  The house of famous Taiwanese singer Feng Fei-Fei is somewhere in the maze lane, available for viewing by her adoring public.
Cihu Mausoleum
About 15 minutes outside of Daxi on the Cihu Route (if you're taking the Taoyuan Tourist Shuttle route) is the Cihu Mausoleum. This is Chiang Kai Shek's temporary burial ground in Daxi, complete with changing of the guards and over 200 statues of Chiang Kai Shek. I did not know about this place until later but it looks worthwhile if you have the time to check it out.  Hours: Daily except Tuesdays, 9am to 5pm.
What to eat in Daxi
While foodie spots like Taipei and Juifen offer a variety of Taiwanese street foods, traveling Daxi you'll find its unique food specialties center around tofu. Move over stinky tofu, because this tofu specialty is uniquely Daxi and it is not olfactory offensive.
Tofu Town
Daxi is known as Tofu Town. Daxi has very good water quality for tofu such that they even have their own legendary tofu, a type of dried and blackened tofu.  The tofu in Daxi is more firm than the standard tofu. It is braised in the vendor's special sauce at different durations to achieve the flavor and texture that is sought. One vendor can have tofu of several different firmness, texture, shapes and color.
The families here in this town make the tofu to sell.
Tofu Jerky
On Heping Street / Daxi Old Street , the shop Hwang Dah Mu (stall #39) has a variety of tofu and tofu ingredients and flavorings. You'll also find a special type of blackened tofu, which is a delicious tofu jerky.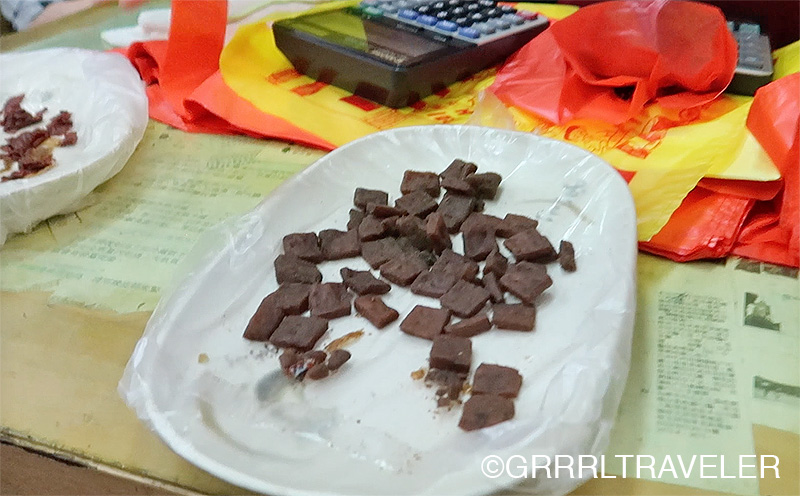 Tofu at Old Uncle
Old Uncle (老阿伯豆乾) is a popular tofu cafe in Daxi which has seen its share of celebrities. They make tofu in various shapes and textures. Some of this special Daxi tofu are in the shape of popular meats such as intestine or chicken. When I went during lunch time, it was crowded with locals and Asian tourists.
While the tofu in this town is one of the Daxi top attractions, it is still considered an appetizer and not the main course.  I tried the mixed platter with all types of meat shapes.  While the flavors were too subtle for me to tell the difference, I could distinguish favorites between textures, which varied from soft to rubbery.
Tofu Pudding
Tofu Pudding is the equivalent of shaved ice with soft tofu. It is flavored by the options you choose to top it with. At Lai Ma Ma Tofu Pudding shop, you get an assortment of selections to choose from base flavoring for the ice, such as ginger and lemon to additions like green beans, rye, red beans, taro and sweet potato squares (which taste like tapioca balls). There was a lot to choose from. Unfortunately, at the moment, the menu is in Chinese. Luckily I had a friend to help me translate it. Location: Zhongzheng Road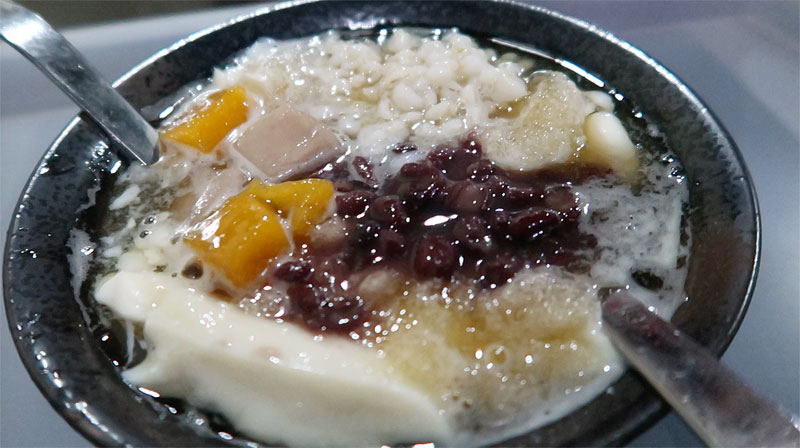 Ice-cream with Chinese parsley & peanut shavings
A popular Taiwanese street dessert and one that's equally popular here is a ice-cream with Chinese parsley & peanut shavings. I found a street vendor on Heping Street selling taro-pineapple ice cream. It is simple fixings wrapped up like a burrito to eat while you're sightseeing the streets.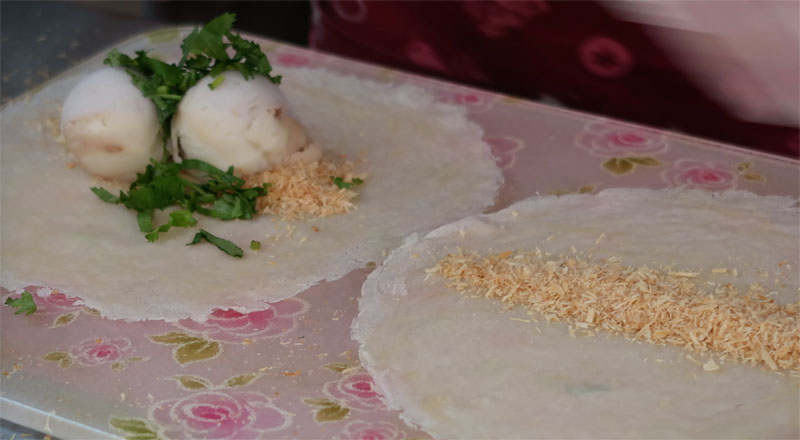 Map of Daxi
I photographed this town map for travelers to see the layout and to find their way. The actual town map kiosk is located on Old Heping Street close to Zhongzheng Street and the Old Heping Bus stop.  I loved that the township marked and placed public restrooms conveniently throughout the town. Also you can see where the bus stops and parking lots are.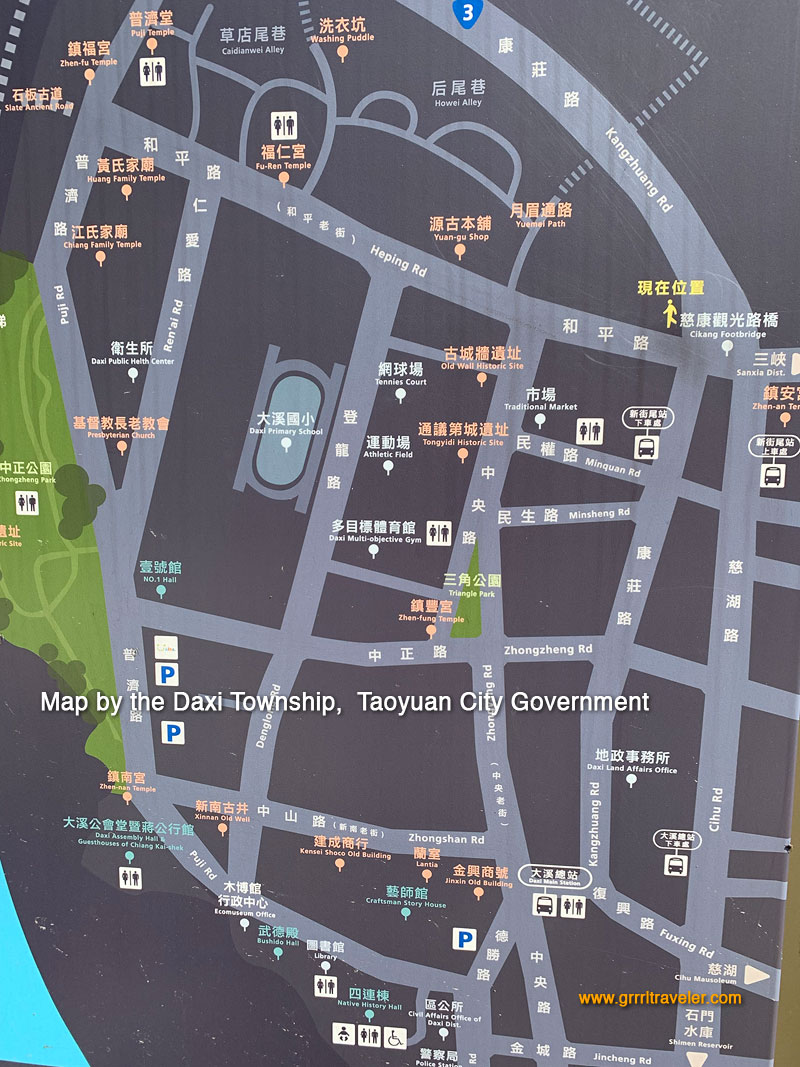 Getting to Daxi from Taipei
Getting to Daxi from Taipei is easier than most think. Check the Daxi travel guide below if you're looking for a great day trip from Taipei!
One of the best ways to travel Daxi is to take a Daxi free walking tour to visit top Daxi attractions. In partnership with the Department of Taoyuan Tourism, the Daxi free walking tour operates like most free walking tours, where guides are volunteers and tips help compensate for their time. The exception is that this tour also includes a free shuttle service from Taipei!
Shuttle Pickup runs from MRT Zhongshan Station, Taipei Main Station and Ximen Station. If you're already in Taoyuan, you can meet at a Daxi meet location. That's a wicked deal if you're looking for a day trip. Make it a full day trip and follow my directions below for returning easily and cheap via public transportation. See website for detailed pickup information and itinerary and check out more of the walking tours offered.
Public transportation from Taipei (MRT + bus)
The route to Daxi is easy and cheap. If anything, the transfer might feel a tad tricky, so follow these directions. Take the Metro to Yongning station, take Exit 4 and walk to the bus stop.  The bus stop for this bus is not at the standard covered waiting stop you'll see bus passengers wait at. Instead, you'll see the white outlines of standing lanes where passengers line up for the bus (watch my video).  That is the line for the bus.  Take bus #710 to Heping Old Street or Xinjiewei (see map)
Getting to Daxi From Taoyuan
Although it's located 40 minutes from Taoyuan Airport, there are easy ways to get there.
Taoyuan Airport MRT Service Counter of the Arrival Hall in Terminal 1 and Terminal 2, take the Tourist Shuttle to Daxi. One day unlimited pass is NT $130. See the route here.
Best Travel Insurance for Taiwan
American travelers often pay a premium on travel insurance.  World Nomads offers economic solutions for travelers who seek security and peace of mind.  It covers 150 countries.
Why not add Daxi to your list of day trips from Taipei? What would you add to this Daxi Travel guide of the best things to do in Daxi?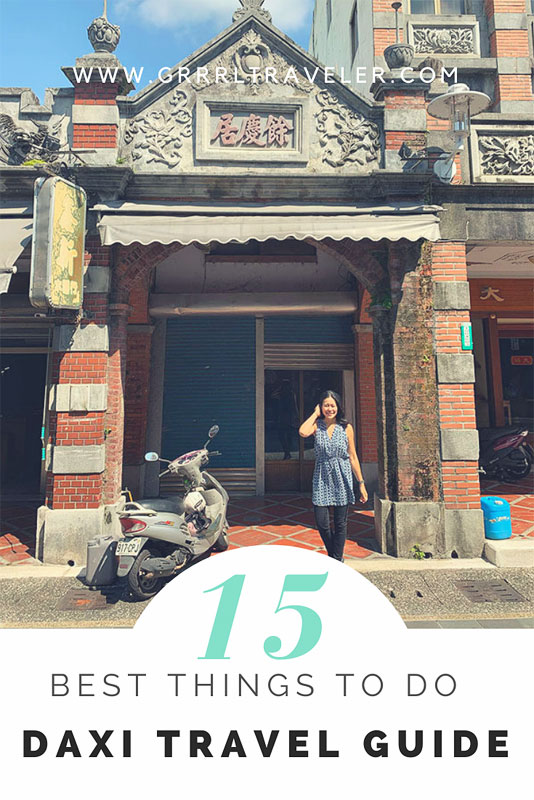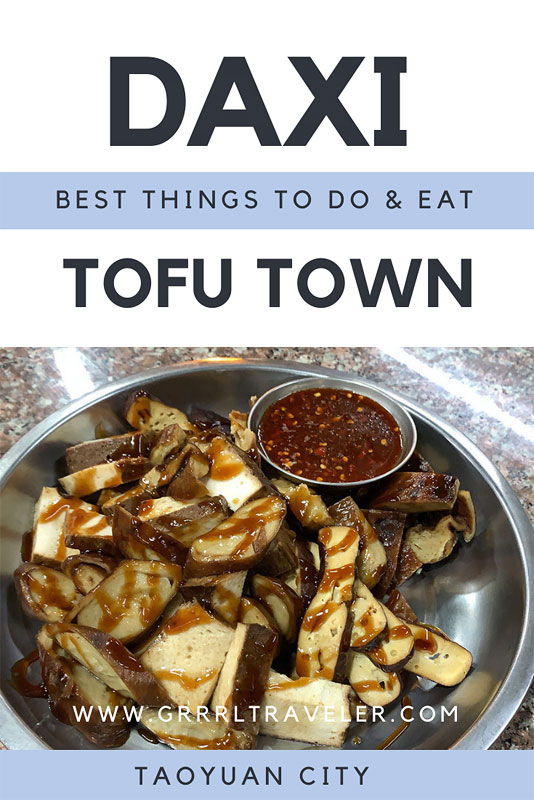 Watch Taiwan Travel Guides (video playlist)