Last Updated on July 22, 2019 by Christine Kaaloa
6 Top Attractions of Northern Taiwan | Taiwan Travel Guide
.
Before I went to Taiwan, I saw a Taiwan travel brochure of the striking natural sights of North Taiwan (Northeastern to be exact) and I knew I had to visit. I'm sucker for landscapes with wow-factor. 
6 Top Attractions of North Taiwan
Who knew Taiwan could have so many beautiful wonders?  If you were planning a trip there, here's a short travel guide on Taiwan and the six top attractions of Northern Taiwan.
Unfortunately it was a rainy and windy day when I went, but I didn't let that hold me back.
1. Bitou Cape
 Bitou means "nose tip" and is named so because Bitou Cape sits at the Northern most part of Taiwan. I wish the sun were out because this was a really gorgeous seascape. Nearby is the Beitou fishing village and a very ornate temple dedicated to the Sea God named Maju.
2. Nanya Rock Formations
Not far up are the Nanya Rock Formations. The site is unmissable as the rocks are all sea eroded and create interesting and alien formations. The shapes are all the effect of wind, rain, ocean, storm slapping against the sandstone rocks.
3. Yin & Yang Sea
Next to the main line highway is the beautiful two-toned Yin and Yang Sea.   Two different colors.  It's the result of the pollution, ironically. This is due to the copper mines up above in the neighboring village.  In the past, pollution or the run-off of metals, ran into the ocean and kind of oxidized the sea. Even though the copper plant is no longer you know working, the sea is still two colors.
4. The Gold  Museum in Jinguashi
The town of Jinguashi is known as the gold-mining town. So  visiting the New Taipei City Gold Museum was a must.  They used to mine copper and gold in this area. There's a tunnel and a gold panning activity you can indulge in. Or you can just roam the large estate and browse the museum's exhibitions of Jinguashi gold history and some of its rare gold artwork. The Jinguashi mining history can get a little dark as it's said that over 1100 POWS were brought during WWII from Southeast Asia to work in the mines and do the jobs that the Taiwanese and Japanese didn't want to do.
The museum grounds overlooks the Cyuanji Temple (勸濟堂), where a 25 ton gold painted copper statue of the god Guan Gong sits overseeing the town of Jinguashi.
Hours: 9:30a-5p weekdays; 9:30a – 6p weekends/holidays.  Closed first Monday of every month, Chinese New Years, Chinese New Year's Eve.  Admission & 40 minute Guided Tours: Free  
.
5. The Golden Waterfall
Not too far from Jinguashi is the Golden waterfall, created by natural rainfall. Absolutely breath-taking, isn't it?  The water from this rainfall runs into the yin yang sea helping it to have colors that are two toned.
6. Juifen
Juifen is a traditional folk village and an absolute must on the tourist stop. It's a traditional Taiwanese village that's grown popular due to its wealth of Taiwanese foods and interesting snacks. This is a haven for serious foodies.  The winding and crowded streets are dotted with food vendors, shops and restaurants. Some shops pass out food samples while others prepare food before your eyes. It's hard to keep your tongue in your mouth and money in your wallet.  (The only reason I was able to do so was because I forgot a large sum of my money back at my friend's apartment.)
The town has some crafts work and artisans as well. It houses an old theater and an odd museum and Sculptor Wu's Ghost Mask Museum. It's said that the sculptor of the latter, crafted his masks from bad dreams. I guess that's one way of expelling one's ghost demons.
But overall, Juifen is a Taiwanese snackers delight. From ice cream sandwiches, peanut ice cream burritos, flour noodles and jerkies, it's got something for every tastebud.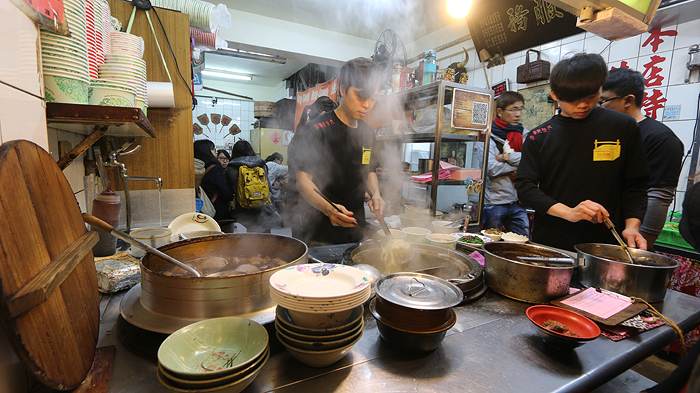 Getting Around
Sightseeing Northeastern Taiwan makes a great day or overnight trip. You can take a day tour or if you want to do a self-guided tour, you can take a train or bus from Taipei to Jinguashi. Then either continue with the bus or hire a taxi to take you around. All of these sites are relatively close to each other give or take 15 minutes.
Budget Tours
Truthfully, this trip can be undertaken only partially by bus, so to see all of these point (and possibly more) the best bet is to either take a Juifen  & Northeast Coast day tour or take a taxi or private car to Juifen. Although I normally opt for public transportation,  I found a day trip can be equally inexpensive in Taiwan and I'd like get to see additional sites I really wanted to see, like Bitou Cape and Nanya Rock Formations. So I took a budget tour through a Taiwanese company  (Best Travel International (02)8973-2973 ) . It was recommended through a Taiwan Tourism brochure. Cost:  $1,000 NT for 8 hours.  Truthfully, I didn't feel like battling the elements with all my equipment and the weather that week was already soggy. I traveled in a minivan with Chinese tourists. The bus driver was the tour guide; he only spoke Chinese. I got an English iPad with the sights loaded in video and written form, so I could read up on each sight before I got there. It wasn't a perfect situation, but it got me to the spots I needed.
Payment felt a little shady initially. It's all conducted via WeChat app, including payment using a credit card. No emailing.   I had to look at the brochure a lot to double-check if it was really written by the Taiwan Tourism Board.
My better suggestion is to check out the tours below:
Trains & Buses
From Taipei to Jinguashi or Juifen: 
By Train from Taipei to Jinguashi: Take the Eastern Main Line from Taipei towards Yilan, Hualian direction and change at Ruifang for the bus #1062 or #788.. Head to Jinguashi from Keelung Bus Company at Wellcome Supermarket opposite of the station during weekdays.  For weekends and holidays, take bus #1062, 788 or 825 at the Land Office next tot he Police Station at Jinguashi.
By Bus from Taipei to Juifen:   Take bus #1062 at Exit 1 of Zhongxiao Fuxing MRT Statino via Juifen (and get off at Jinguashi along the way).
The bus between Jinguashi and Juifen:  Bus #788
Book your Taiwan trip tickets in advance. I used 12GoAsia to book transportation for my Thailand trip.
Accommodations
If you didn't want to wrestle with day trip schedules and stress, tourist sometimes opt to stay in Juifen. Here's some accommodation options here.
What would you recommend as top attractions of North Taiwan?
Watch my "How I travel Taiwan" YouTube playlist
.