Last Updated on May 9, 2019 by Christine Kaaloa
Bali has been a long time tourist getaway… a tropical island of natural beauty, gorgeous resorts, yoga retreats and easy-going beaches…  a peaceful fling. Elizabeth's Gilbert's Eat, Pray, Love put Bali on the map as a solo gal's romantic "finding yourself" destination.  And if you're a weary traveler looking for a home, you might just consider dropping your bags for the next several months. But outside all of that , Bali is so much more. You can dress it up in accommodations or dress it down and still have a grand experience. We'll all still be walking in flip-flops!
The spirit of Bali is steeped in a daily tradition of customary dress, pavillion houses,  flower offerings and  ornate rituals. From architecture, sculpture designs, craftwork to clothing, the Balinese way of life is one of craftsmanship, deep spirituality and beauty.
 18 Things to know before you go to Bali.
1. The real souvenirs are the most expensive to ship
Unique from other islands in Indonesia, Bali has a strong craftsman's demeanor. From wooden furniture to giant stone-carved sculptures, Bali's best "souvenirs" are its artistry and low cost value.
The Balinese are so good when it comes to wood and stone carving, it'll have you daydreaming about opening an imported furniture shop back home (I actually thought of that!). If you're not careful, you'll easily find yourself calculating shipping costs.
2.  WiFi is available, but not always free
Wifi is available in Bali. If your guesthouse doesn't offer it, then cafes and restaurants will, usually with the purchase of something. If all else fails, go to an internet cafe.
3.  Rent a motorbike
The best and most enjoyable way to sightsee Bali is on a motorbike (post coming ).  Motorbike driving is mellow and it allows you freedom to get out to the countryside. In Ubud, they can cost around $6-10/day to rent. Do yourself a favor and splurge!  Keep in mind, you will need to get a Balinese driver's license in order to legally drive in Bali. If you're caught without one, you'll find yourself offering bakshish (aka bribe) to the police officer that pulls you over. Read motorbike tips for Bali

4.   Don't drink the yellow vodka
Where to find a gas station is always a concern, when you're driving in a foreign country. In Bali, major cities have gas stations, but you won't find many of them in the countryside. No worries.  The roadside bottles with the yellow liquid (you'll find many to be in Absolut vodka bottles) are petrol and they're cheap to buy to fill your tank.


5. Do try the street snack, Krupuk
Krupuk is the name of Bali's deep-fried rice sugar and these can be addicting! Sold on the streets, they're super-inexpensive and can tide you over until your next meal.
6.  If not a motorbike, how about a taxi or bemo?
Ways to get around in Bali can feel limited – motorbike, bemo or taxi are usual suspects. If you can't drive a motorbike,  your next cheapest form is the public bus or Bemo. However, if you've a lot of sightseeing to do, hire a taxi for the day or book a day tour. These little Bemo van buses will take you from city to city, but are mildly uncomfortable and never timely. If you take them, make sure you pad your schedule with lots of time. Bemos generally don't leave until they're full.
Tip: If you get into an empty Bemo, let the driver know you aren't going to "charter" it. I didn't know this and when I got off, the driver charged me near to the cost of a taxi ride.
7.  Pay dollars to enter Bali. Save Rupiah to exit
You can buy a 30-day visa on arrival for $25 USD. Money exchange at the airport can help you convert your currency. The depature fee you'll be charged at the airport is 150,000 Rupiah (approx $17) . Only Rupiah will be accepted.
Tip: I put 150,000 Rupiah on the side in advance. I  tucked it away in my passport so I didn't spend it by accident.
 UPDATE:  As of 2015, the Ministry of Tourism in Indonesia began waiving visas to a majority of countries in order to increase tourism in Indonesia.  Today, visas are not required for 90 Countries (In March 2015, Australia was recently added to the waiver) and there is no exit fee to pay upon departure. However, length of stay cannot exceed 30 days (your date of depature counts as a full day). If you are not one of the eligible countries, you will need to apply for a 30-day visa upon arrival for $35.  Visa upon arrivals are allowed visa extension once, but are only available to specific countries.
8.   Take a breather from the tourist cities: visit temples, markets and the countryside
Ubud, Kuta, Sanur, Seminyak/Legian (or any seemingly main city in your travel guide)…  are going to be infamous tourist magnets, populated with resorts, yoga studios, international restaurants and designer jewelry and clothing shops. Occasionally, Balinese folk are employed at these places but this isn't exactly Bali.
The real Bali to enjoy is found through the people, countryside and culture. Get out and explore that.  Drop by the markets, the shops away from the tourist mecca, visit temples and watch women at the roadside husking rice.
18 Things to Know Before you Go to Bali
Balinese culture and clues
In Bali, religion is a way of life. At temples and during ceremonial services, you'll see the Balinese dressed in traditional clothing. Religious rituals occur daily by every household and shop owner and temples are many. The prayers and offerings are beautifully crafted and unique.
Ready my Top 10 Romantic sights of Bali
9.  Festivals, rituals and ceremonies
There's almost always some kind of ceremony going on in Bali and you'll definitely want to see it. From celebrating the birth of a goddess to full moon rituals, village cremations and observing the daily practices at temples.   When I was there, I got to observe Purnama (below), a full moon ritual; I also witness preparations for a cremation.  You'll never see anything so lovely in devotion.

10.  Don't step on prayer offerings
Watch your step!  You're sure to find prayer offerings on the ground every morning. Some are woven baskets cradling flowers (photo above), while others, hold tiny portions of rice on a banana leaf. They're spiritual offerings that's very integral to Balinese life, culture and religion.
11.  Rice is prosperity
Rice is life in many Asian countries. Bali is no different. Rice is the staple dish and you'll find many rice paddy terraces decorating the land. But in worship, it's also symbolic of prosperity.
12.  Why pray to the sky?
There's two types of prayers you'll notice the Balinese perform. One is with hands pressed together at the top of the heads; the other is at chest level. The first prayer is offered to God; the second is a prayer offered to ancestors.
13.  Animism: Good and bad spirits live together
Balinese religion combines elements of Buddhism and Hinduism and interweaves it with  animistic practices . You'll  wonder why there's so many unpleasant-looking gargoyles with grimacing or demonic faces. These are Drua beneda gargoyles. They represent both, good and bad spirits and they co-exist side by side. Balinese pray to both, so that they will be protected both and not be cursed by either.  Great way to cover your bets with heaven and hell!


14.  God is in a color
Also symbolic are the colors red, white, yellow and blue. You'll see them on sashes draped on gargoyles, on ritual umbrellas, etc.. Each color belongs to a god.

15.  A Balinese house is the architecture of a family
The Balinese house is impressively distinct. Rather than one building, it's a courtyard of multiple houses. One household, consisting of a walled courtyard coveting many buildings and one altar area. Anywhere up to 35 families (or supposedly, 100-500 people) live in one household. The modern Balinese family averages around two to four children as children are seen as prosperity.
Tip: Family guesthouses offer a more personal and authentic experience ( I stayed at Indraprastha Guesthouse, Ubud).A small breakfast of fruits, eggs and toast occasionally is included.  Some households have wifi and some, not.  You can also get a lot of plush value from luxury stays such as Komenaka resort chains.  Book your  Bali hotel in advance or try to negotiate a place when you arrive.

16.  One giant funeral coffin for a village
The Balinese are a community-based culture.  In villages, many things are done as a community and cremation are one of them. Most economically-struggling families can't afford an individual service for passed loved ones, so they hold a community or village one.  Much preparation goes into the ceremony. The Balinese women bring baskets of offerings to the community gathering  and there is much festive decor for the giant send-off. It's actually seen as a time of celebration and the dead are seen as sleeping, so no tears are shed.
The blog, Hither and Thither was fortunate enough to witness the ceremonial cremation, which I missed by a day.
17.  Why are all Balinese named:  Wayan, Made or Komang?
You might wonder why every other man, woman or child is named Wayan, Made or Komang. Blame it on the Bali's naming system. It was created to distinguish each person's birthright order in the family. For instance, firstborns are named "Wayan", the second eldest is "Made,"  third is "Komang" or "Nyoman" ,  fourth is "Ketut" and so forth .  Both men and women use similar names. A woman is distinguished by a "Ne" at the beginning (i.e. Ne Wayan), while a man is specified by "I" (i.e.  I Wayan). Personal names can be attached to the birth order names, but there is no family name.

18.  Balinese Traditional Clothing
While much of the world has gone modern, the Balinese still stay close to their culture and perhaps that's the beauty.  You'd think this was only for formal celebrations but there are a lot of celebrations and rituals in Bali to be formal about.  The temple is somewhere you'll see many dressed up.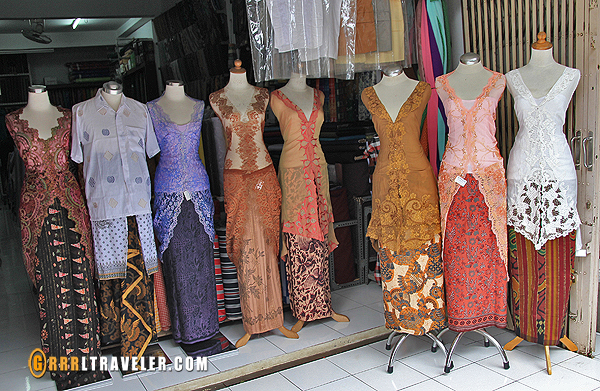 18 Things to Know Before you Go to Bali

19  Bring your sunscreen and sense of romance
It's not hard to fall in love chill vibe that Bali offers.  If can you get away from the congestion of Denpansar or larger touristy corners, it's very easy to feel swept into the care-free romance and beauty of this island and people.
Maybe you'd like to relax in a cafe over a soothing smoothie, take a motorbike stroll feeling the wind run its fingers through your hair, gaze out over lovely terraced rice paddy fields, peruse the ornate artistry of a stone carving shop, get drunken with OMs in a yoga class, visit a temple or be sun-kissed on the beach.  Romance comes in so many forms here. Drown yourself in them and be prepared to fall in love with the spirit of Bali.
What to pack for Bali
The best times to visit Ubud are June-September. January – March may encounter some rains but usually it's a mix of sun to balance the weather.  Its environment is warm, lush and you can choose whether to experience its country or beaches. For the mellow hippy traveler, Ubud offers a lush country backdrop and Balinese feel, without a loss for yoga and cooking classes, boutique shps, spa treatments and delicious food. Seminyak and Kuta are also popular with tourists wanting to experience resorts, beaches, a lively nightlife and shopping spirit, without having to sacrifice a western approach.
 

Travel Survival e-Guides Bali is out

If you like my informative posts, you'll want this ebook for your next trip! These are delivered in an easy-to-read format and pack some information that you won't find on my site.   Created for the traveler, who doesn't have much time to plan their trip, these handy ebooks are a travel cheat sheets packed with useful information about attractions, maps, directions, cultural insights, hotlinked pages and more! You get all this for just the cost of coffee.
Related Bali Posts
Bali's most expensive drinkable poop
18 Things to Know Before you Go to Bali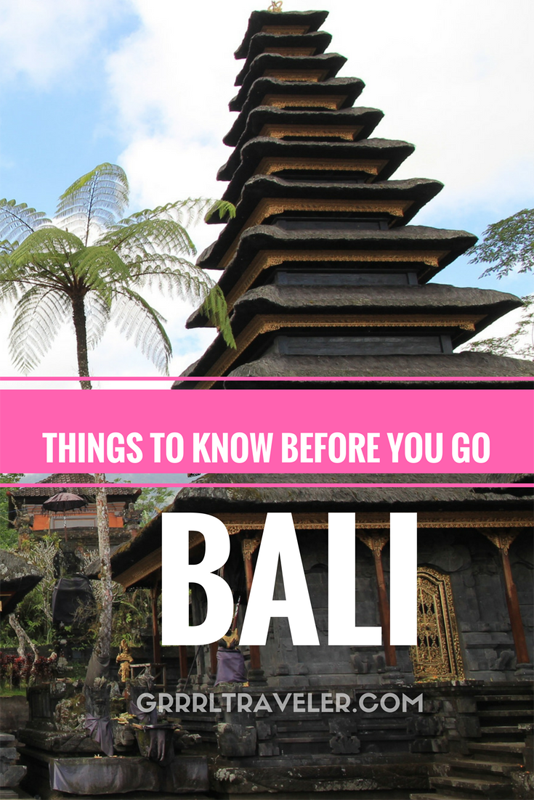 Looking for travel insurance?
American travelers often pay a premium on travel insurance.  World Nomads offers economic solutions for travelers who seek security and peace of mind.  It covers 150 countries.