Last Updated on July 7, 2021 by Christine Kaaloa
Rice is the heart of Asia. Ask any Asian. They'll tell you, meals are never complete without it. Growing up in Hawaii, I was raised with rice on my dinner table as the staple. Living in Korea, it's always served with my school lunches and in Vietnam, well…  what do you think?  The Vietnamese are the second largest exporter of rice in the world after Thailand, and the Mekong Delta contributes to that growth by, sourcing numbers higher than Korea and Japan combined! That's a helluva lot of rice.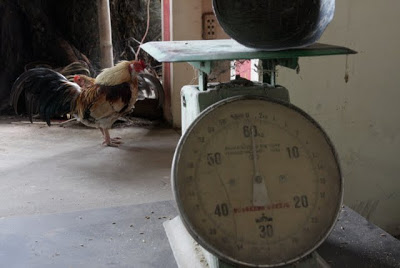 Rice is  Life on the Mekong Delta: How does the grain weigh up?
Between boat cruises, biking and weathering occasional t-storm showers of the Vietnamese monsoon season, our tour led us to factories which made products, such as coconut candy, rice paper and rice noodles. We even took a boat to an old rice husking factory.
I admit, there's nothing adventurous about visiting a rice husking factory; with the exception, it's a detail you don't think about when you open a bag of store-bought rice. But now, standing in a warehouse surrounded by mountains of bagged rice, I felt  like I was in a huge tit which feeds a nation.
To think how destinies are interwoven-  found in a grain and bound together in a bag of rice! A riverboat family of five huddled around dinner and a heaping bowl of rice;  a cabbie on his lunch break, watching passing street life from his motorbike;  a special celebration of friends at a fine dining restaurant; and me, a Hawaii  island girl, standing at the crossroads between a Vietnamese rice husking factory and a mountainous rice tit.
Differences between North and South Vietnamese farming
Stereotypes between the north and south exist in Vietnam, as they do in most places. According to our guide, here are some of them: The North (i.e. Hanoi): conservative, pride themselves on culture and refinement. The South (i.e. HCMC): laid back, liberal, open and dynamic . How does this affect rice farming? Northern Vietnamese farmers painstakingly plant their seeds one by one in neat and orderly fashion (as pictured below).  Women are often employed in this position, as they have the one desired  trait that  men don't … patience. Alternately, the southern method of farming is simple, straight-forward and left to survival of the fittest. Southern Vietnamese farmers take the seeds, throw them out into the fields and what grows,… grows! (Perhaps, the south employs more male-dominant farming?…)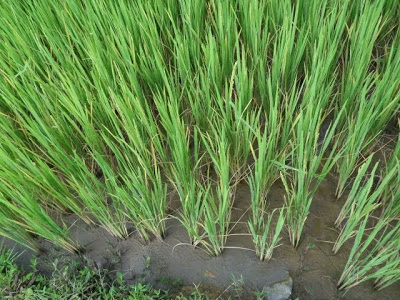 Rice planted in the north. Notice the orderly planting?; (Middle) Terraced rice fields in the north;
A rice field in the south.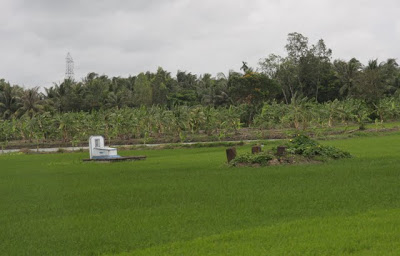 Learning how Vietnamese Rice Paper & Rice Noodles are made
While Vietnam food inspires dreams of  Phở (Vietnamese noodle soup) and Goi cuon (Vietnamese fresh spring rolls) for many westerners; the Vietnamese diet consists of two staples– rice and rice noodles. Rice paper is another thing the Vietnamese are known for producing. Until this point, I've been trying fresh Vietnamese spring rolls, but sadly hadn't tasted "delicious" yet. The two times I've tried it either tasted like paper or it came deep-fried and dripping in oil. Ick! Food-wise, I was hoping things would get better.
Although you get these touristy exhibitions in almost every tour across the country, I rather appreciate them from time to time. Especially when they tell me about something I've experienced about the culture… like pho and rice paper.
The process of making rice paper and pho are quite similar.  The rice is steamed and pressed until you have a milky colored rice water. The resulting liquid is poured over a steam plate and cooked for under a minute. It's a very quick process. When it's ready, the rice paper is carefully lifted the steamer (photo above), or removed via bamboo roller (pictured in the process below).  Finally, the rice paper is laid out on bamboo to dry.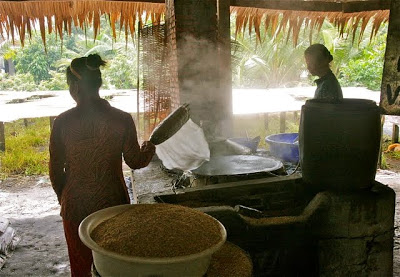 Bim-bam! Lunch -biking-longboat!
We docked at a river village to have lunch and go biking. The lunch I wasn't so fond of– it was a bowl of soup and noodles with an option to buy the catfish meal.
Catfish is what the area is known for and it can grow to lethal sizes.  I opted out of the catfish because although the Mekong is known for their diversity of river life,… I was afraid I might get sick. Other travelers tried the fish and seemed fine.
After lunch, we were given the option to go biking for an hour. Really, how far can you get in an hour? But that's the way it goes with tours, so I geared up and I pressed on.  It rained again, but I wasn't about to let that stop me.
One thing I love about little villages along the canals of the Delta is the timeless and quaint feel of ruralism. Biking around, you can find small country stores, more Asian sick masks, houses with jail-broken chickens running around or an antiquated-looking barber shop.
When I got back, we were all off on a canal tour by longboat.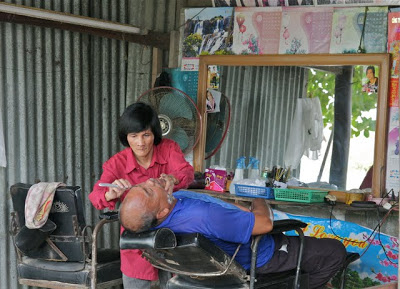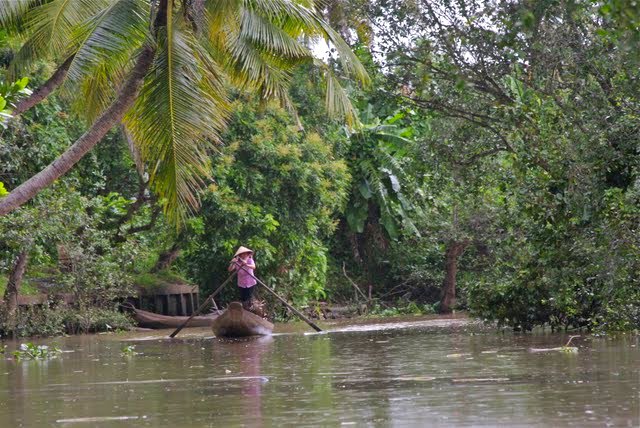 A short jaunt into Vinh Long:
Rain drizzled on us the whole ride back. It was a good thing we all bought those cheap ponchos. We docked in Vinh Long. Vinh Long upon first impression, is a scrappy town, a bit chaotic and rough around the edges. We had a little bit of time to wait for the bus, so I went to explore the market– the one lively attraction in the vicinity. But I love markets. I find them culturally colorful with a unique showcase of produce and foods indicative of the local dinner plate.
Back at Can Tho
Okay now this was the only semi-almost budget tour van horror story. Our entire tour group was wedged into two mini vans for a 1-3 hour (I can't remember which because I passed out) ride. There was much less room and I was squished between people enough so that my shoulders pushed inwards. But out of the entire tour, this might have been the only one slight.
  Can Tho felt much cleaner, more modern, with mall stores and larger buildings. When we arrived back at our hotel, we were given the rest of the night free to spend how we chose.
Firstly, the budget hotel that came packed with the tour… rocked bigtime. It was clean, bright, spacious and it was being renovated. We got one of the newly remodeled rooms. Not to mention, in the morning, a free continental breakfast with fruits, toast and eggs.  Total score. Delta Adventures Tour was a monumental thumbs up ! Secondly, aside from looking for a place to eat near the river (the tourist area), I wanted to explore the shops and stores.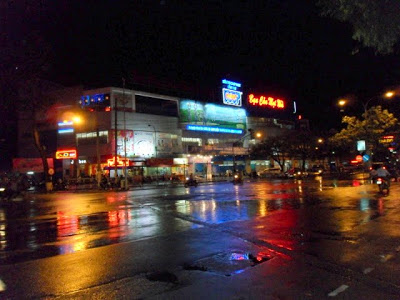 Related Posts:
How to Find Great Budget Tours in Vietnam
5 Risky Things to Do if you're Solo in Vietnam .
5 things to know about Vietnam before you go.
Trekking tips for Sapa on a muddy and crazy hot day (Sapa tour: Day 3) .
Video: How crazy is Motorcycle Mayhem in Vietnam?