Last Updated on October 25, 2019 by Christine Kaaloa
Under our expert traveler series, this guest post is written by travel and food blogger, Markus Kampl of The Roaming Fork. Based in Ho Chi Minh City for the past 18 months but a lover of this city for years, Markus documents his travels through his food explorations of following ingredients to the final dish. He is your guide, showing you the best things to do in Ho Chi Minh in 48 hours
Ho Chi Minh City is a rapidly modernizing city that is both exciting and fast-paced, yet continues to hold onto some traditions through colonial architecture and an impressive range of museums.  48 hours in Ho Chi Minh City will allow you enough time to visit a number of these institutions whilst making time to enjoy the delicious and fresh food with a late night cocktail on a rooftop bar.
9 Best Things to Do in Ho Chi Minh in 48 hours
1. War Remnants Museum
One of the highlights in Ho Chi Minh City are the many museums that capture different aspects of Vietnam's past. With much of Vietnam's history being centred on conflict, one of the best places to visit is the War Remnants Museum (28 Vo Van Tan Street, District 3, Open 7.30am to 6.00pm, Entry Fee 40,000VND) which catalogues the conflicts of the 20th century through the eyes of the Vietnamese. On the grounds there a number of fighter jets, tanks, and helicopters on display, whilst inside over three levels, various rooms are dedicated to the stories of the wars over the last 100 years, with a particular focus on the Vietnam War (known in Vietnam as the American War). The displays are often raw and graphic in nature and provide an excellent way to learn more about the conflicts and their devastating impacts on the local population.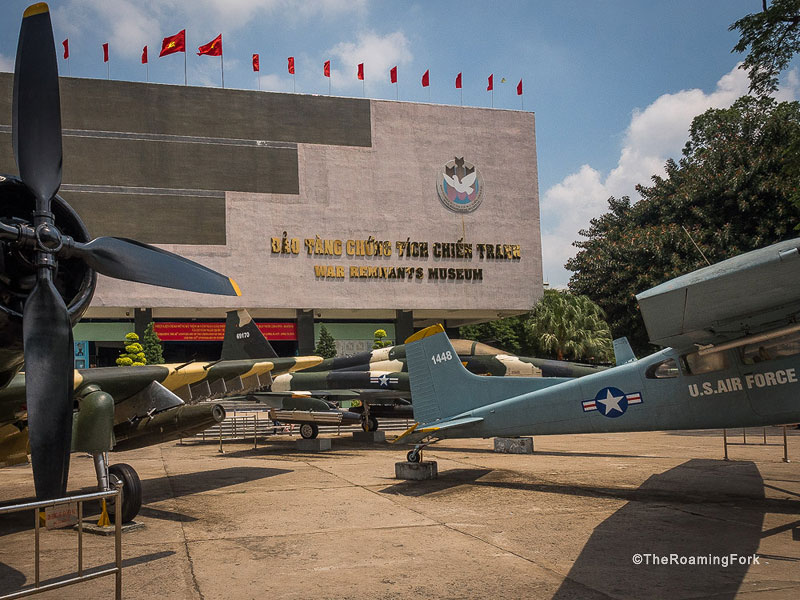 2. Cu Chi Tunnels  (optional day tour)
Cu Chi Tunnels are a 120 km network of underground tunnels and trapdoors used during the Vietnam War. The site is located 40 km northwest of Ho Chi Minh and is often combined as a War Remnants Museum and Cu Chi Tunnels day tour.
3. Independence Palace
A short walk away is the Independence Palace (135 Nam Ky Khoi Nghia Street, District 1, Open 7.30am to 11.00am – 1.00pm to 5.00pm, Entry Fee 40,000VND) also known as the Reunification Palace. Perhaps the most enduring image of the palace is the vision of the North Vietnamese tank crashing through the gates to mark an end to the war in 1975. The interior of the palace has been maintained from 1975, and it really is like stepping back in time. The communications centre in the basement is a must-see display within the palace.

4. Ben Thanh Market
Ho Chi Minh City's best known market is the centrally located Ben Thanh Market (Le Lai Street, Open 6.00am to 6.00pm, Entry Free). There are all sorts of handicrafts, jewelry, shoes, souvenirs, and clothes to buy as well as many stalls selling local produce such as rice, noodles, meats, seafood, spices and nuts. If shopping isn't your thing, the market is worth visiting for the food court, where all the famous local delicacies are available in one handy spot.
At night, the streets surrounding the market building transform into a lively night market.
5. Binh Tay Market
If the touristy nature of Ben Thanh puts you off, then head out of the centre of Ho Chi Minh City to District 6 where the huge Binh Tay Market (57 Thap Muoi Street, District 6, Open 6.00am to 7.00pm, Entry Free) is located. You will find all the same products on sale as with Ben Thanh Market (and probably more) but with lower prices and less hassle from the vendors. District 6 is also home to the city's Chinatown.
6. Ho Thi Ky Flower Market
And for lovers of flowers and unique market experiences, head to Ho Thi Ky Flower Market (Hem 52 Ho Thi Ky, District 10, Open 24 hours) where you can wander the many colourful and perfume filled laneways where flower wholesalers operate in one of Ho Chi Minh City's more serene atmospheres.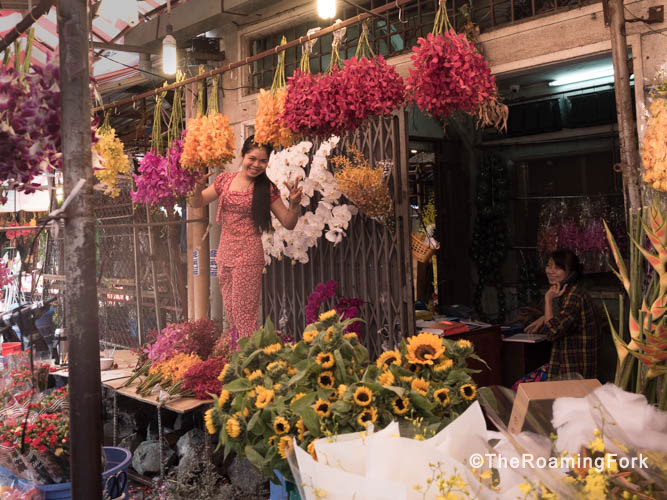 7. Explore Ho Chi Minh's French Architecture
One of the legacies of the 60-year French colonization of Vietnam are the wonderful examples of French Architecture, that not only have stood the test of time, but continue to be an important element of daily life.
The Notre Dame Cathedral (Cong xa Paris, District 1, 6.00am to 7.00pm, Entry Free) and Central Post Office (125 Cong xa Paris, District 1, Open 7.00am to 7.00pm, Entry Free) are conveniently located next to each other and are great examples of the unique French design. A further short walk away is the upmarket Dong Khoi Street, where in the immediate area classic French designed buildings such as the Opera House, The Majestic Hotel, and the Museum of Fine Arts are located.
8. Sky Deck at Bitexco Tower
Dominating the skyline in Ho Chi Minh City is the Bitexco Tower (36 Ho Tung Mau Street, District 1, Open 9.30am to 9.30pm ) with the helicopter landing pad jutting out from the side. Here you will find the Sky Deck on the 49th floor which offers visitors 360 degree views of the city. Grab your camera and head there for a sunset to remember.
[maxbutton id="3″ url="https://www.getyourguide.com/ho-chi-minh-city-l272/bitexco-saigon-skydeck-the-heineken-experience-combo-ticket-t171625/?partner_id=KO7AOJK" text="Get Advance Tickets" ]
.
9. Rooftop Bars
With the year-round warm night time temperatures, there is no shortage of rooftop bars to enjoy a few drinks after a heavy day of sight-seeing. Whether taking a step back in time at one of the classic hotels such as the Rex Hotel (141 Nguyen Hue, District 1, Open 24 Hours) or partying the night away at the Chill Sky Bar (AB Tower, 76A Le Lai, Open 5.30pm to 2.00am), there will be a rooftop bar to suit your needs.
Must Try Foods in Ho Chi Minh
Vietnamese cuisine is world famous, and although most visitors will have tried a few Vietnamese dishes prior to arriving, there is nothing like experiencing the food from the source.
And despite many Vietnamese dishes originating from different regions throughout Vietnam, they can pretty much all be found and eaten in Ho Chi Minh City.
Some of the classic not-to-be missed Vietnamese dishes include the classic beef noodle soup Pho, the French inspired filled bread roll Banh Mi, the fried spring roll Cha Gio, and the fresh version Goi Cuon.
More dishes to add to the list are the breakfast staple, grilled pork and broken rice Com Tam, beef rolled in betel leaves, Bo La Lot, and the fiery noodle soup from the imperial capital of Vietnam, Bun Bo Hue.
These dishes, and more, can be found everywhere. From roadside stalls, to small speciality hole-in-the-wall type establishments, in market food halls, through to restaurants offering the full range of dishes.
A great way to explore the depth of Vietnamese cuisine is to take part in a motorbike food tour, where you can taste a range of dishes in multiple locations all while experiencing sitting on the back of a motorbike through the hectic streets of the city.
When friends visit, the one restaurant that I always take them to is The Secret Garden (158 Pastuer Street, District 1 Open 11.00am to 10.00pm For bookings call 090 990 46 21). This local restaurant serves delicious and fresh Vietnamese cuisine, in comfortable surroundings, with a great rooftop view and at affordable prices.
Getting around in Ho Chi Minh
A large majority of sights worth visiting in Ho Chi Minh City are located in District 1, which means it is easy and cheap to get around.
Walking: Many of the attractions are within walking distance of each other meaning that a little pre-planning will allow you to visit a few places within the one outing.
Taxi: Taxis are plentiful and cheap, and are the most comfortable option for getting around in Ho Chi Minh. To avoid taxi scams, only use the two main companies, Vinasun and Mai Linh, and ensure the meter is on before departing.
Grab Motorcycle: Grab motorcycles are everywhere and offer the cheapest form of transport. A ride can be booked via the Grab App however they can be easily approached on the street and will work out the fare in advance before heading off for the trip.
Grab Taxi: Grab Taxis exist and are cheaper than normal taxis however are not always easy to book. They will usually call ahead to confirm your location so if you don't have a local mobile number, or don't speak Vietnamese, then the drivers will sometimes not pick you up.
Xe Om: These are private motorcycle riders who usually wear a blue shirt and wait on street corners for customers. Prices should be agreed on before starting the trip and be prepared to negotiate.
Buses: There is a bus network running through Ho Chi Minh City and it is very cheap, however if your time is short then the cost saving will not stack up against the inconvenience of working out routes and timetables.
There is no subway in Ho Chi Minh City
Onward Travel from Ho Chi Minh
Onward travel to Mekong Delta to Hanoi to Sapa can be gotten through Ho Chi Minh.
Read my Top 5 Tips for Traveling Vietnam
Safety tips for solo travelers
On the whole, HCMC is a very safe city to visit with very little danger to your personal safety. There is, however, an issue with petty crime such as phone and bag snatching especially around nightclubs and busy tourist areas.
Read 22 ways I outsmart pick pockets
To reduce the chances of falling victim to one of the petty crimes, follow the usual safety tips such as leaving any valuables in your hotel safe, not leaving bags sitting in places where they are easy to snatch, and if you need to wear a bag, ensure that it is strapped across your body, not sitting off your shoulder.
Another precaution to take is with the local currency. Keep larger notes separated from smaller notes, as they can look the same. For example, 10,000 Dong notes look very similar to 100,000 Dong notes, whilst 20,000 Dong and 500,000 Dong Notes are both blue. And sometimes when paying a vendor in a rush, mix-ups can occur.
Read my tips on finding budget tours in Vietnam without getting scams.
And finally, when using your mobile phone, or camera for that matter, make sure you are aware of who is around you, and if possible, avoid using your phone casually as you walk around the streets, as phone snatching occurs more often than it should. Please don't think this can't happen to you.
It's highly recommend to get  travel insurance for added peace of mind during your time in Ho Chi Minh
.
Read 15 Things to Know Before you Go to Vietnam
Where to Stay in Ho Chi Minh
As a majority, if not all, of your 48 hours in Ho Chi Minh City will be spent in District 1, it makes sense for your hotel to be located there. There are few areas within Ho Chi Minh City where you can consider staying depending on your plans and budget, with the following two areas covering all budget and location needs.
Pham Ngu Lao (PNL)
This area, also known as the backpacker district, has plenty of cheaper accommodation and hostels. It is an especially popular area for those looking to spend more time socialising in the local bars, restaurants, spas, and night clubs. PNL is home to the (in)famous Bui Vien Street.
Stay: Saigon Hub Hostel (1.1 miles from Ben Thanh Street Food Market) or Lotus Boutique Hotel (55/29-31-33 Le Thi Hong Gam Street, District 01, District 1)
Around Dong Khoi Street
This area has a majority of the more expensive hotels as well as being next to an area known as the Japanese Quarter, which is a quieter area with many mid-priced hotels.
Stay: Paragon Saigon (22-24 Thi Sach , District 1, Ho Chi Minh City, Vietnam –)
AirBnb: Ho Chi Minh City is awash with AirBnb options (get $40 credit by using my GRRR link) from shared accommodation, entire apartments, to large houses for groups. There are options all across the city.
Packing List for Vietnam & Dress Etiquette
Vietnam climates are similar to other Southeastern neighbors in weather, packing and dress etiquette. Expect it to feel like summer and a bit dry. The rainy season runs from October to early December, with most of the rainfall occurring between October and November.
Vietnamese Dress Etiquette is modest, especially when visiting temples and pagodas. Vietnam is also a largely Buddhist culture in regards to religion. Be respectful. Vietnam has adventure activities such as motorbiking, trekking and at budget prices, so this will be a possibility to pack for.
Read my full Packing list for Southeast Asia
Photo Permissions by ©Markus Kampl of TheRoamingFork
Essential Travel Tips for Traveling Vietnam (Video)
What would you recommend in best things to do in Ho Chi Minh City in 48 hours?
Related Posts on Vietnam Travel
Things to Know before you go to Sapa
Things to know about budget tours in Vietnam
Tour of the Mekong Delta Floating Markets
Best Travel Insurance for Vietnam
American travelers often pay a premium on travel insurance.  World Nomads offers economic solutions for travelers who seek security and peace of mind.  It covers 150 countries.