Last Updated on July 20, 2020 by Christine Kaaloa
I decided to book a day trip to Halong Bay. Price tag?
$19. This included round trip transportation to Halong Bay, admission fee, a boat ride and lunch. Vietnam may not have the friendliest service-oriented people, but they sure have the most affable budget tours!
Table of Contents: Theft and tour of Halong Bay in Vietnam
My Tour of Halong Bay: Actual Tour vs "Ass" time
The one drag about Vietnam are that bus commutes to major cities feel long and half of the buses are mini vans! So at some point, it got to feeling like I was spending most of my vacation, sightseeing Vietnam from a sitting position.
By tour mini van, it took roughly three hours to get to Halong Bay. We were having tire trouble with our tour van so we got a late start, but once fixed, our bus was weaving, dodging, honking and overtaking motorcyclists on the highway to ensure a decent arrival. Watching the landscape change from big city to rice paddy fields and small rural towns was my consolation … along with fresh-cut pineapple spears at a rest stop cafe. There was a lot of riding on this one, but as Halong Bay is a day trip from Hanoi, this felt logical.
Most budget tours find ways to take you shopping, so that they make commissions from shop dealers. So far, my Vietnam budget tour experience was going along swimmingly- all the commission shopping came with actual good Vietnamese tours with solid information. There were the obligatory Vietnamese pho shop where they showed us how they made pho, while also ushering us to their homemade candy section  Surprisingly, this was not that tour.
A Boat cruise of Halong Bay
Halong Bay is a re-known UNESCO World Heritage site,  I wanted to see if it lived up to its hype! But stepping off our air conditioned bus, the heat was scorching hot.  I had to buy a second bottle of sunscreen to nurse the farmer's tan I was getting.
We boarded the boat as a tour group herd amongst many and set off. The boat tour was nice and the seafood lunch served was okay, but not memorable. But for $19 for the whole tour, who can complain. Our boat was large. It felt more like a pirate's ship with many places to stand and watch the scenery and a dining hall below the deck for those who ordered lunch.
Entering the bay felt epic. Karst rock formations shot up out of the sea like mountains. Cue dramatic Hollywood movie music– Pirates of the Caribbean, Lord of the Rings,… ?
The bay holds 1,969 islands made of limestone karsts. The formations are due to erosion called karsts and boy, they stand majestic! Huge rock karsts shoot up from the ocean, standing a mountain high. It makes you feel small. I felt like I was in a different land and time completely,  some mythical movie, like The Land that Time Forgot.   I was waiting for terradactyls and dinosaurs to pop out.
Within Halong Bay there are floating villages. Fishermen houseboats and floating fish markets buoy on the bay. We stopped at a floating fish farm while if you wanted to pay extra you could kayak in the bay and see the formations up close.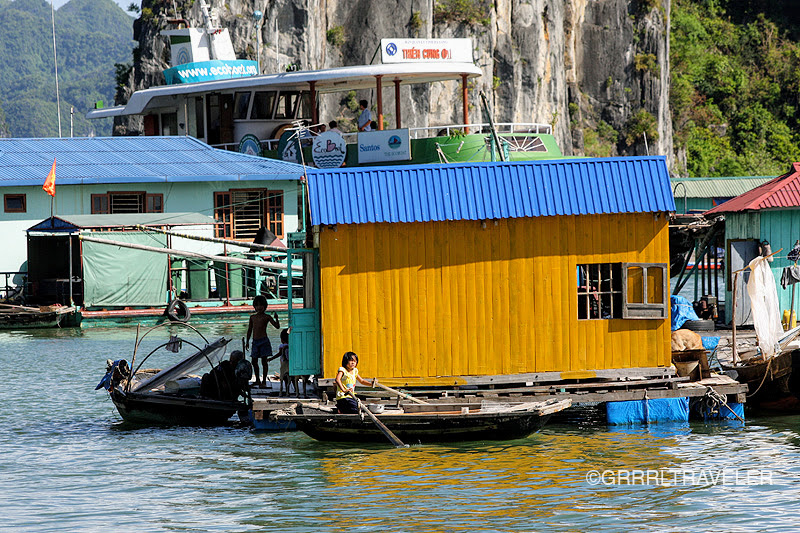 We weren't the only boat tour… not by a long shot. There were as many boats there as there are speedboat tours to the Phi Phi islands in Thailand. It kills the romance a bit to know you're part of a herd in a crowd of several herds.  Make sure you stay with your group so as not to get lost.

Then we sailed to Thien Cung & Dao Gau caves, a grotto with giant stalactites. They Vietnamese have the cave lit up with colorful lights; it's cheesy and a bit like Disneyland.  But I suspect it's to make the cave more beautiful. This is the first cave I've seen, so there!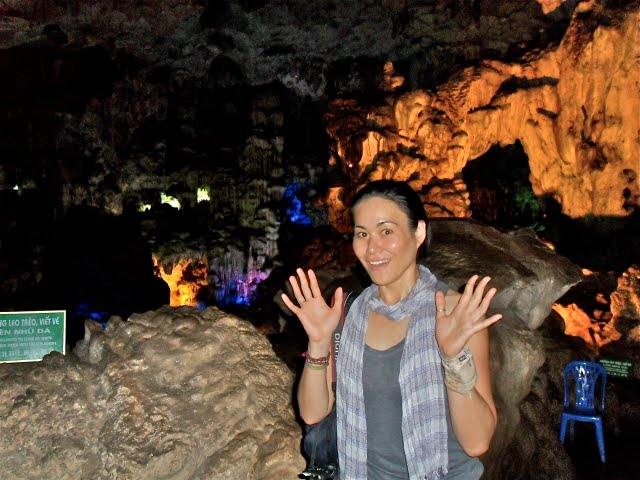 High bay robbery: Encountering theft on the Bay

Many travel forums, even your guesthouse or hostel might warn you of crime in Vietnam. Vietnam is one of those countries you'll want to stay on your toes.
On the tour, I met Marino, a Japanese expat living and working in New Zealand  as an animator for a motion-tracking visual FX  company.  Traveling alone, she had a four-day layover in Vietnam en-route to Japan and her first 48 hours here were going horribly wrong! First, she was pick-pocketed at the airport…
Now, at Dao Gau caves,  her camera got pinched. It got stolen by one of the three saleswomen helping her, when she put her camera in her open bag , while searching for her wallet to pay for a drink.  When she turned back to get her camera, it was gone.
When the incident happened, our tour director wanted to dismiss it to stay on schedule.  But a handful of us stood by Marino, to make sure something could be done.
Theft is every travelers' fear and we all know that single travelers often need just a little more support and help.  With enough stubbornness from the entire group (we weren't getting back on the boat until something was done), the tour director was forced to look into the situation. He called the property management office. We told him to ask them to check the security cameras around the shops to see what happened. Almost instantly, her camera was "miraculously found" by one of its employees. Her camera was returned to her.
To make it worse, the employee that ran the camera out to her wanted a tip for the return. This had to have been a slap in the face to her. I know I was offended for her. The experience had left a bitter taste for Marino. This was the second time within a day that she'd experienced theft. It had ruined her trip.
Theft at Halong Bay
Within a span of 48 hours, I had crossed many travelers encountering theft! The rumor of theft being high in Vietnam no longer felt like a rumor.
Earlier that day, I got an email from my friend, Veronica, saying she got robbed by a motorbike taxi in Hue. The driver made off with about $50  of her money. It was a blow of her confidence and trust. As a traveler alone, stomaching the feeling of being a victim in a foreign country can turn your taste of the country. She sat on the street curb for a long time,  trying to compose and console herself. As a result, she missed the last bus to Hanoi and so, we couldn't meet up today.
No one likes being the victim to theft on their trip.
Two young Aussies on my trekking tour in Sapa got their bags broken into, when they left their backpacks in the hotel storage to do their trek. One guy got his bag was slashed and the other, had his mobile phone stolen. Let me tell you, guys take it badly too. Fortunately for them, the hotel compensated them for their damages and expenses in an effort to make good. But it had tainted their feelings about Vietnam.
Vietnam is safe for solo travelers, but thieves are out there and will prey on anyone. So guard your belongings!
Halong Bay is still worthwhile to see.
Curfews by the time the clock strikes midnight
When it hits midnight in Vietnam, I'd ideally like to be nestled and safe in my hotel. Problem was I didn't book a hotel! Until now, I'd been waiting for traveler's luck to find me a hotel tip from a random travelers I might meet. Unfortunately, none arose.
When our tour arrived back in Hanoi and I picked up my backpack from storage at the Sinh Tourist office, it was close to 11P.   In hot and humid weather, I hoofed my backpack around looking for a place to stay. Winging it solo didn't seem as easy as I imagined.
Nearby Lonely Planet-recommended hotels were booked full, so I ended up at the A-Dong Hotel. An aging dive, it cost me $20/night. Total rip-off, even though it was spacious and had a balcony.At that hour, I was wearing desperation like a perfume.
At A Dong Hotel (not Dong A Hotel in Lonely Planet), everything felt a little "off white". Aged wallpaper, old furniture, lumpy pillows, old bathroom tile  and "off-white" sheets (which carried intermittent hairs of a previous occupant).
Sometimes, a silk liner on a bed doesn't fulfill my own peace of mind safety requirements. Sometimes, I need more… like the huge green plastic rain poncho I bought for trekking Sapa was now going to throw away.
Whenever I have trust issues with my hotel environments, I don't like to put my things on the furniture, so I lay my things in what can conceivably be the dirtiest and most walked over spot of the entire room. On the floor in the middle of the room! Anyways, I had a room for the night! I clicked on the cable tv, falling asleep to the movie, Step Up 2...
Related Posts:
How to Find Great Budget Tours in Vietnam
5 Most Dangerous Things to Do if you're Solo in Vietnam
 Things to Know Before you Travel to Vietnam
Essential Travel Tips for Traveling Vietnam (Video)
What would you recommend in best things to do in Ho Chi Minh City in 48 hours?
Best Travel Insurance for Traveling Vietnam
American travelers often pay a premium on travel insurance.  World Nomads offers economic solutions for travelers who seek security and peace of mind.  It covers 150 countries.