Last Updated on November 29, 2019 by Christine Kaaloa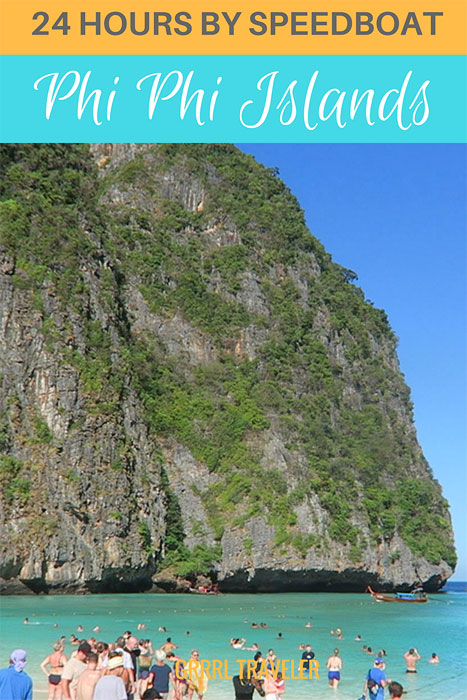 Speedboat tours to the Phi Phi islands are a popular tourist attraction. You can see a lot in a day, but I can't promise you there won't be rough bumps.
eOasia is a trip planning aggregator tour site. They wanted me to review one of their speedboat tour providers because it's one of their more popular tours. In the past, the site introduced me to my Sarawakian cooking class and tour guide, with whom I had an amazing and insightful experience. Thus, reviewing one more tour didn't feel like it would be such a controversial experience.  This tour was different.
,
Phuket to Phi Phi Islands by Speedboat & why I'll never take one again  (watch video)
.
Table of Contents: Phi Phi Islands by Speedboat & why I'll never take one again
Why I will probably never take another speedboat tour
If you watch my video, you'll get some idea of what I experienced on my tour in good and bad. I have mixed feelings about it.
The views you get when you take a speedboat tour of the Phi Phi Islands are unarguably awesome. Speedboat or long tail, these are the only ways to superficially explore a handful of coves, bays and islands in a short amount of time.
What wasn't evident to me were the cons.  My tour was large. There were up to 25 -30 people and I definitely felt like cattle.  One guide spoke English, while another guide spoke German over a PA announcement system.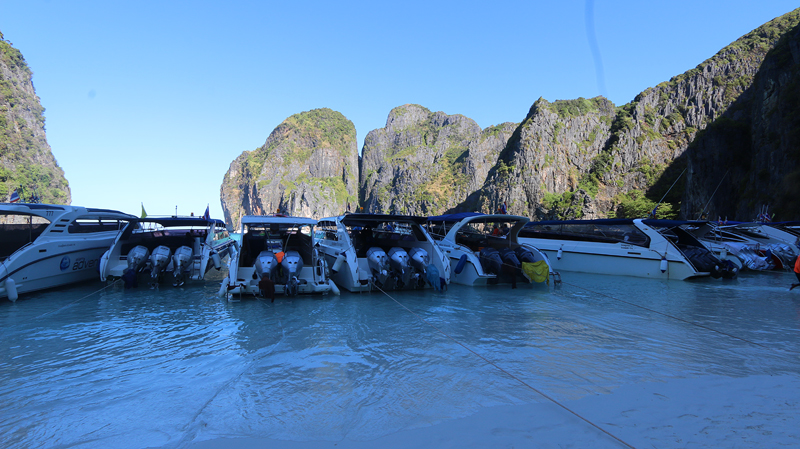 While I can overlook a slightly more impersonal tour, the safety standards of my speedboat was something I couldn't overlook. It was of great concern to me and to other passengers onboard.
"One passenger dislocated his knee due to the fact the waters were rough and the boat has a hard drop", warned our German/English guide.
The guide was right to warn us of the dangers of not sitting during the ride.The speedboat goes fast;  standing up is not advised. Within the first hour of speeding through choppy waters, I was unable to stand or move without "assistance" .  The waves were high. The bounce was high and the drop on the outdoor wooden seat was hard. The boat captain did not slow down. The pressure of a tight itinerary pushed his gas pedal harder. If you needed to use the bathroom during this time or stood six feet tall, you were not in luck. The height of the bathroom ceiling was roughly four foot high.
Wind whipping in my face at 100mph, I was barely able to lift my DSLR camera without fearing a hard jolt would bring it crashing down or that a high jagged lift might knock me in the eye. Most of that first hour, I was concerned about my tailbone and its hard impact upon the wooden benches of the boat.
Fifteen minutes into the ride, I couldn't take sitting at the front of the boat. Two guides assisted me as I made my way to the covered section. One guide held onto me, as the other, held onto my DSLR.
The covered body of the boat was incrementally better. Seats were  padded and the middle section of the boat experienced the least bounce; but passengers still looked miserable. Couples clung together nervously. I sat aghast. Tourists at the tail of the boat were drowned with sheets of back water, due to the bounce.
It was the worst ride of my life.
If you still want to take a speedboat tour…
I would not recommend this tour to a fragile senior or someone with a bad back, brittle bones or alignment problems.  
That said- a day trip to the Phi Phi islands by speedboat tour is the quickest way to see and skirt around Ko Phi Phi. If you're a traveler short on time or are looking for interesting day trip options, this tour does a good job in showing you a lot. The Phi Phi Islands are gorgeous and other than hiring a longtail boat, I really wouldn't know of alternate options.
But if you're fine with the possible hazards, don't mind being on a crowded tour and really just want to see some awesome sites, then I would recommend this tour.
Things to Do in Ko Phi Phi Islands by Speedboat
Getting from Phuket to Phi Phi Islands by speedboat can take up to around an hour. On the tour, you'll have various times at each location, anywhere from 15 minutes to and hour and a half
1. Maya Bay
Maya Beach was brought to international attention as the film location of The Beach
, starring Leonardo Di Caprio. The impressive limestone karst rocks coddle the bay against aqua waters. Sadly, you'll find at least twenty large tourist speedboats line the bay's shores.
2. Pileh Cove
Pileh Cove is not far from Maya Bay and it's known by tourist boats for snorkeling. The cove houses brilliant blue fish.
Being on large tours has obvious drawbacks. The snorkeling equipment can be worn and one-size fits all.   Five minutes into snorkeling, I realized my breathing hose was broken. I was inhaling a lot of water. I had to go back up to exchange it.
My second attempt didn't get me far. I quickly experienced sea lice.  Sea lice are jellyfish larvae, which produce a tiny sting upon contact with your body. This can produce little mosquito bite-sized welts. The lice are harmless and only hazardous and contagious to fish. They are often found near debris or places of dense sediment. Swimming through a patch of them is uncomfortable.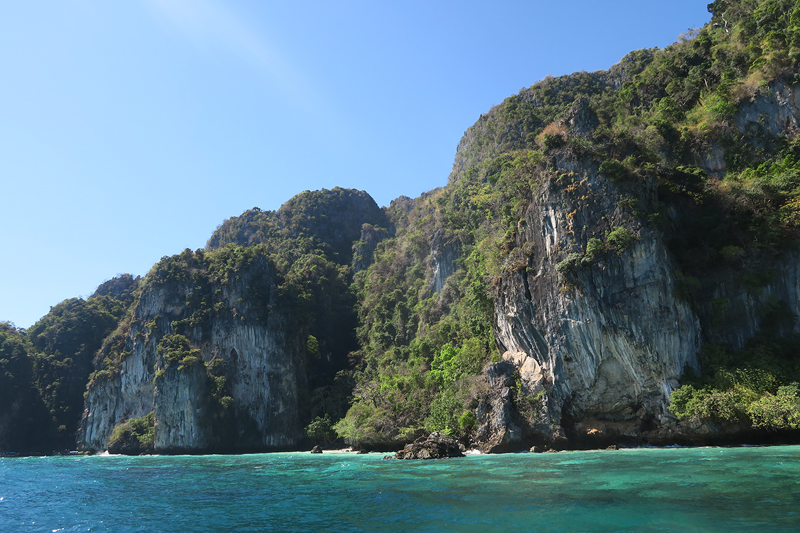 3. Viking Cave
Tourists are not allowed to enter Viking Cave. It's cave where swifts reside and the treasure you won't be able to see is birds nests.  Thai workers enter this cave to harvest bird nests which is a highly expensive delicacy.
4. Monkey Beach
Monkey Beach is named after an island where monkeys reside.  The tour stops for a  ten minute period, enough to jump off the boat and take snaps of the wild monkeys.  You should not get close to the monkeys or have any purses or dangling objects to tempt them.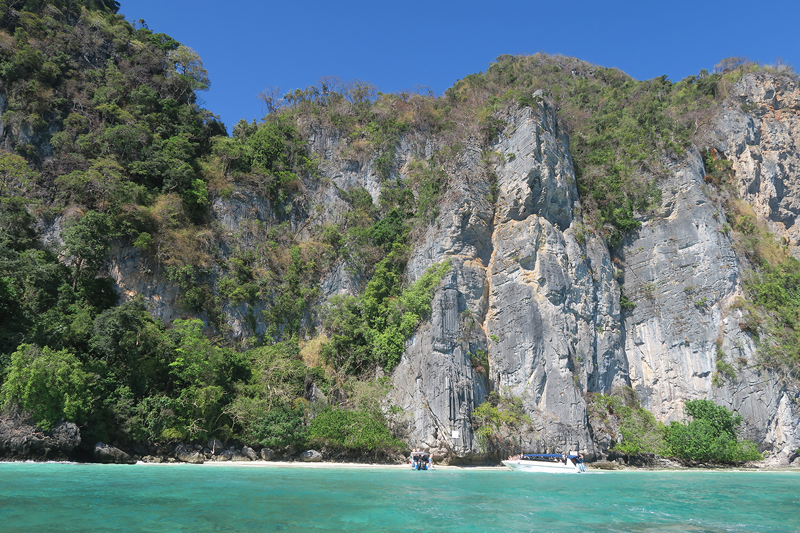 5. Camel Rock
Camel Rock is a tiny camel hump of a limestone island popping out of the waters near Ao Nui Beach Bay.  Some tours seem to go canoeing there.
6. Ao Nui Beach Bay
Ao Nui Beach Bay is a lovely cove with beautiful aqua colors.  It is wonderful for snorkeling. After the run-in with sea lice, only a quarter of the boat passengers decided to risk snorkeling again.  I was not one of them. Instead, I used that time to snap photos.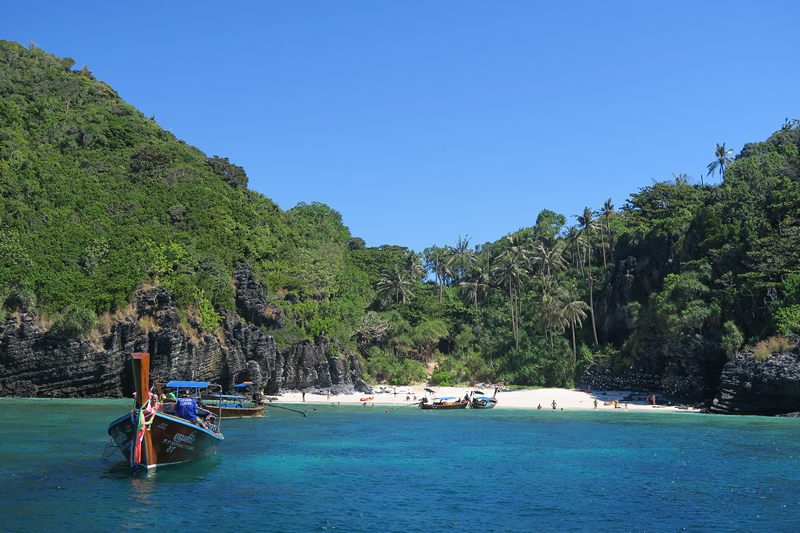 7. Bamboo Island
Bamboo Island is a picturesque island surrounded by white sand beaches.  Many speed boats dock on the shores, as passengers get off for a picnic lunch. The sands are stunningly but it can get fairly hot.  There one big forested shady area for picnicking.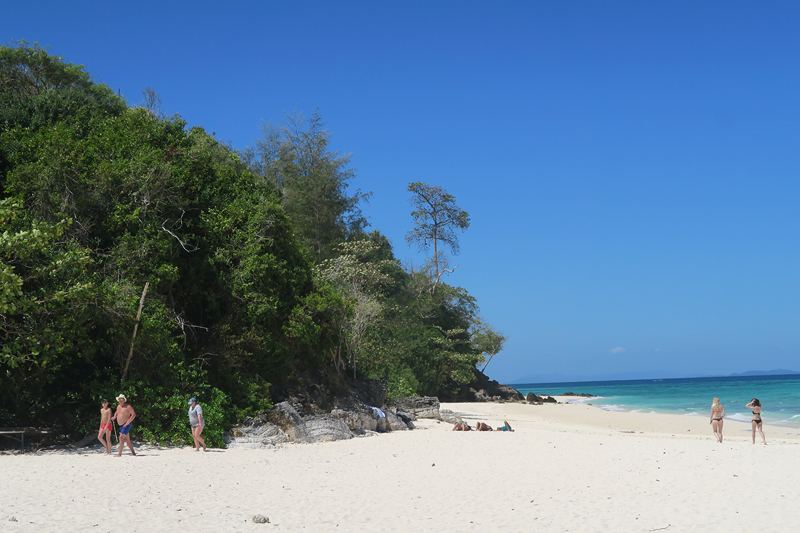 Lunch on Bamboo Island
If there's one thing that redeems the horrible bumps of the our ride, it was the lunch spread. A  lunch buffet  was set up on the beach by the staff and it was a large spread. They had separate dishes prepared for vegetarians and while there were only a few of us, it was enough to feed the entire crew.
After lunch we set off back to the the docks where we began and I hopped the van, which took me back to Khao Lak.
Treating the ocean like a garbage dump is not okay!
Note to all travelers:  It is not okay to litter in the oceans or on the beaches. It harms the ocean, reef and marine life. The boat had ice chests filled with canned soft drinks. Some tourists drank from their cans and threw it over into the ocean. I was appalled. I wanted to scream at them. Nothing angers me more than irresponsible tourists who act like asses. When is it ever okay to use the ocean as a garbage dump?  Be responsible. Use the trash cans on board or tuck your trash in your bag until you find a trash receptacle.
Book your onward travel in Thailand
I often prefer to book my travels in person so I have an idea of the conditions to expect. Many travelers like to book in advance.  If you're of the latter,  12GoAsia allows you to book your onward travel in Thailand, Cambodia and Malaysia. It has timetables and travel options (from trains to buses) to choose from.
What do you think of this Phuket Travel Guide? What would you recommend as top attractions or things to do in Phuket? 
.
.Note: There may be affiliate partner links in this article. Any purchase made from them supports this site's maintenance and is at no extra cost to you. The partner links are from companies I use for my own travel planning. This tour was sponsored by eOasia in exchange for a review.  As always, I express my honest opinions. While I cannot vouch for the safety of this tour, it does take you through a lot of attractions in a day.