Last Updated on July 16, 2019 by Christine Kaaloa
There will always be places that get under your skin.  Places that you'll remember and feel like some day you'd like to return. Sapa Valley is one of those places for me.
Sapa is a lovely hill station town in Northern Vietnam near the Chinese border. The region as also known as "the Tonkinese Alps" and it is rich with hill tribe minorities, lush mountain ranges, rice fields and breathtaking views! Once there, you'll easily understand what the hype is all about.
Shops selling tobacco, trekking clothes and souvenir crafts from the hill tribes will help you burn your dong, but nothing beats a good massage!  The town is completely walkable but if you want to explore outside of town, it's best to do it by motorbike if you can.
18 Things to Know about Sapa Before you Go
Sapa is a unique hill station town and feels like worlds away from standard Vietnamese lifestyles. So I created a Sapa travel guide for you to plan your Sapa trip.
1. Getting to Sapa
How to get to Sapa from Hanoi? You have two options traveling to Sapa ~  overnight train or bus.  The train from Hanoi  to Lao Cai station takes around 9 hours. After arriving into Lao Cai station, you'll need to hire a shuttle bus or taxi to Sapa town. Alternatively, you can book a 2 day Sapa hill tribe trekfrom Hanoi.  I took option but for independent travelers, you
There are sleeper buses that you can book through your hotel from Hanoi to Sapa station. (more information on wikipedia )
How to book train tickets to Sapa
In many regards I might recommend going through a travel agent to get your tickets and there are many in every city! But just be street smart. Vietnam travel tip: One of the trickiest aspects of Vietnam is that there's an abundance of counterfeit travel agencies.  Usually it's just agencies trying to skim customers from more reputable agencies. Read more here.
Or you can easily book your Vietnam travel in advance here. I've used 12GoAsia for my Thailand trip.
2. Roads to Sapa are winding, minibus drivers can be reckless
It takes about one hour to get from Lao Cai to Sapa and the roads to Sapa are winding. Both coming and leaving, there was at least one passenger who got sick.  It happens.  Cost for this shuttle bus is anywhere from around $2.50-$3.00.
Tip: Bring a plastic bag for emergencies.
3. A hotel room in Sapa can be spacious
So the thing people say about the challenges of being a solo traveler and having to deal with single supplement fees?..  I finally had to deal with it. All of $3 more.   On D Phan Si/Fansipan Road, I was put in the Cat Cat Hotel.  My room had a shared outdoor deck, an awesome view and I had three beds all to myself. At night, it was especially romantic with the misty mountains outlined against the night skies and… stars!
Check out hotels in Sapa.
4. Sapa has a problem with touts
"You Buy" and "Buy from me",  you'll hear on the streets.  The Black Hmong women and children are everywhere, stalking tourist hotels to doggedly selling their wares. If you buy from one child, beware… you'll tempt more children, who want you to patron their products as well.  It's a problem- the kids come all the way from their villages to sell souvenirs to help support their families and sometimes they sleep in the market or don't attend school.
Tip: Never answer a tribes person with a "Maybe", unless you mean it. They'll follow you until you purchase something. Also, try to be socially responsible with your purchases or gifts. Gifting children with pens can encourage future begging, while giving them sweets is often bad for their teeth. Read more tips for dealing with scams & touts here.
5. Hire a Sapa trekking guide
If you haven't guessed by reading my Vietnam posts, Sapa Valley is known for its hilltribes and trekking. The hilltribe minorities- Red Dzao, D'zay, Tay and Hmong hilltribe communities- make up the majority of trekking guides in Sapa. They're showing you their backyard and inside their homes. Sapa trekking trip jobs help employ them.
Unfortunately, these regions don't have child labor laws and most minority tribespeople stay in the hills vs the cities.  Often, it's the youth who know English best, so you might get a rather young guide. Mine was 15 years old. It's ideal to hire directly through a responsible tour companies in Sapa, as the hilltribe will only get a small fraction of that money.
I did not know there were hilltribe tour agencies, so I booked an all-inclusive tour to Sapa through a Vietnamese tour agency in  Ho Chi Minh.
Here's tour examples:
Muong Hoa Valley 2-Day Group Trek with Homestay- Muong Hoa Valley trek and stay with a Giay minority family. Forest treks in Hoang Lien National Park
Sapa Waterfalls, Trekking and Villages (Half Day Tour)– Sapa Town to visit the Silver Waterfall, Love Waterfall and Tram Ton Pass. Explore the traditional village of Ban Khoan. 4 hour trek.
6. Trekking to villages requires a permit
Some villages will have pay stations at the entrance. You will need to show a permit, which is bought in advance at the tourist information center in town. If you don't have it upon arrival, you'll need to go back to town to buy one. If you're with a Sapa trekking tour, it's likely this is already included in your Sapa trip costs.
7.  Sapa Market is other-worldly with ethnic tribes
A walk along D Phan Si Road, merges you with Sapa Market, a small fresh market of Sapa, where Vietnamese and ethnic tribe locals sell their stock from produce, herbal remedies and meats. The part about Sapa market that gets intense is their meat department. Freshly-killed you'll find anything from chickens feet, horse legs, even dog. It was enough to give me culture shock with their food.
8. Shop for Hill Tribe crafts and fabrics
The crafts of the Hmong and Red Dzao tribes are interesting souvenirs to bring back.  The Hmong have a certain flair for fashion, while the Dzao lends better to jewelry. There are two main places you can shop for their products
Above Sapa Market are a couple of co-op shops run by the Black Hmong & Red Dzao. There, they sell bags and apparel of genuine quality and pride. The style and outfits that the Hmong wear are stylish for a hilltribe. The casual Hmong wardrobe has layers such as tux-like vests and wrap-around belts, all designed with a folksy flair .  I decided to buy a Hmong vest and belt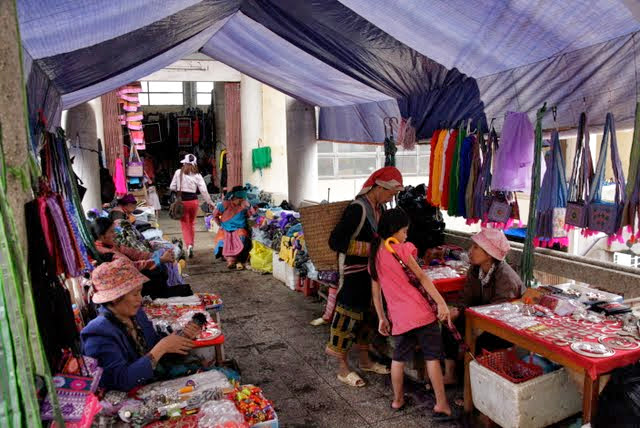 9. Shopping at Sapa Square
Sapa Square is a giant market where hill tribe groups turn out to sell their craft work. You'll find culturally rich objects, clothing and jewelry.  You'll need to wield your rockstar haggling skills, as these women are serious bargainers. But don't haggle too much. Generally, the cost is never too high.
10. Beware the dye on tribe crafts and clothing
You might notice older Hmong women have blue-stained hands.  This is from the indigo dye they use in their fabric work.   Hmong crafts are beautifully colored, but the dye in them is not set and can stain your clothes or skin.
Tip:  If you buy these products:   1)   keep them separate from your clothes and   2)   set the dye before you wear/use any of them (usually several washes with vinegar and salt should help, but it will take time for the dye to seal itself in the fabric)
Why? The moment it gets wet, the ink will stain whatever it touches. Take warning from my travel friend, David (below), a Parisian with a great sense of humor. He wore one of the Hmong belts as a bandana on our trek and proved that indigo dye theory correct.
11. Trekking Cat Cat Village
The trek to Cat Cat Village requires a permit from the Tourist Information Center. It's a leisurely stroll (about 20-30 minutes) down a hill, lined with a cobblestone path going through the village and ending at a waterfall. The village appears idyllic, but also constructed largely for tourists. The Hmong homes residing there are set up as souvenir shops that tourists peruse. 
If you have additional energy, you can take a short trek from the base winding back up to the top.
12.  Massages are cheap in Sapa
Thailand isn't the only country to hold copyright on cheap massages. You can find them in Vietnam too and Sapa has a few salon and massage parlors for you to try.  Foot and body massages can be gotten for around $6 /hour and the Vietnamese are experts at making your feet and body feel like it has wings! It's easy to get addicted.
13.  P.Cau May road is the main street
As main road that runs through the heart of town, P Cau May houses international restaurants, cafes, clothes, massage and souvenir shops.
14. Sapa Radio Tower has the best view
It's said to be the easiest hike in Sapa. Getting to the Sapa Radio Tower has a 360 degree view, which is said to be priceless.
15. Bring or buy poncho
It rains and around winter time (November to February) it can get very cold.  If you don't have one, you can always buy them at a local trekking shop in Sapa.
16. Bring trekking shoes or rent rubber boots
During winter, Sapa rains a lot creating muddy hiking paths. If you're trekking, you'll want good shoes. Some paths can be narrow and with the mud, very slippery. Good trekking shoots will give you traction.
17. Buy trekking clothes knock-offs in Sapa.
Sapa houses a many shops, selling trekking clothes from shoes to ponchos, backpacks and apparel. Be aware: many items are counterfeit brands like NorthFace.
18. Variety of Food
Sapa has a wide selection of international restaurants, cafes and street food. P Cau May road  houses many international food joints and the street perpendicular with Sapa Square houses a string of Vietnamese street food, where you sit on plastic chairs, eating on the sidewalk.
The food in Sapa bats eye-to-eye with Hanoi. The food was fresh, made with care and well-flavored.  Below is my lunch at a cafe. Fresh tomato soup made from scratch. Delicious!
A triple decker cucumber and cheese sandwich.Yum!
How to get Sapa bus and train tickets
---
Sapa trekking tours
Check out these tour options I've curated from GetYourGuide:
Muong Hoa Valley 2-Day Group Trek with Homestay $38– Muong Hoa Valley trek and stay with a Giay minority family. Forest treks in Hoang Lien National Park
Sapa Waterfalls, Trekking and Villages (Half Day Tour)$60- Sapa Town to visit the Silver Waterfall, Love Waterfall and Tram Ton Pass. Explore the traditional village of Ban Khoan. 4 hour trek.
2-day Sapa town, Cat Cat village and Fansipan peak -Ideal for the traveler who is not into trekking but still wants to explore the wealth and hill tribe influence of Sapa.
2-Day Sapa Trek, Homestay, Sleeper Bus  -Best for cultural and active travelers. From Hanoi to La Cai you'll trek along the Muong Hoa Stream and see H'mong, Dzao and Tay ethnic people. Stay at Tavan village with Dzay people in a basic home and trek through rice paddies, bamboo forest to Giang Ta Chai village. Return to Hanoi. 9km hike
To/From Hanoi: 2-Day Spectacular Sapa Town, Trekking and Bus Tour -A bit of rugged for urban travelers.  Pickup/drop off Hanoi. Visit Sapa town and stay overnight where you can explore food and sights on your own. Treks: Cat Cat Village and Y Linh Ho. 9km hike overall.
3-Day Trek Mu Cang Chai Tour  -Perfect for adventure travelers looking to extend their trek of this epic, active and panoramic region.
Travel Survival Tips for Vietnam (Video)
---
Best Travel Insurance for Vietnam
I highly recommend travel insurance. American travelers often pay a premium on travel insurance.  World Nomads offers economic solutions for travelers who seek security and peace of mind.  It covers 150 countries.
Disclosure: Some of the links in this post are affiliate or ad links. This means if you click on the link and purchase the item, I will receive an affiliate commission, which helps me maintain this blog and its work.