Last Updated on November 29, 2019 by Christine Kaaloa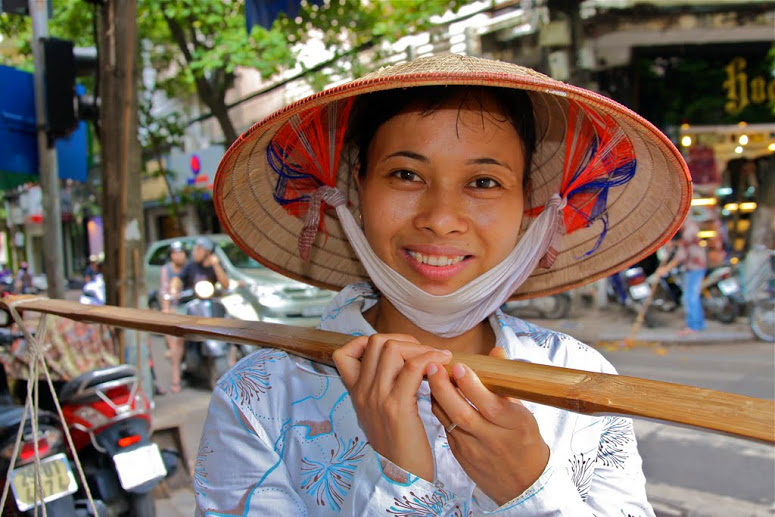 Traveling Vietnam you'll discover a beautiful country of rice paddies, tuk-tuks, water buffaloes and good food, but when I first arrived into the country, I knew very little about it all.  But in a little over a week, I learned quickly.
22 Things to know before you go to Vietnam
1.   Beware of counterfeit tour agencies
There are many nice Vietnamese and don't let what I'm about to share deter you.
Of all Southeast Asian countries, Vietnam will force you to raise your guard and be more streetwise. Theft and counterfeit agency scams are a lingering problem in Vietnam. On
one hand, you counterfeit tourist agencies and there's an abundance ranging from fake airlines shops to tourist agencies, which use the name of a well-known reputable companies. As far as I know, they don't seem very dangerous. .. just trying to nab business from more reputable companies.
Tip: Use your best judgement when deciding upon agencies to go with.   Never trust store front signs and if you're looking for a specific store, have the address. 
Read my tips on how to find fab Vietnamese budget tours without getting scammed!
2. Watch your belongings from snatch theft and pickpockets
I like to think of Vietnam as the Italy of Southeast Asia or more exactly, Rome.  As Rome is known for a lot of pickpocketing gypsies, in Vietnam, you won't find many Tourist Scams (outside of counterfeit companies), but you will find a lot of petty theft, pickpocketing and snatch theft.   During my short time in Vietnam, I ran across four cases of travel theft in Vietnam. In fact, my first night in Ho Chi Minh a traveler got her purse ripped from her right outside the internet cafe I was in. Snatch theft is a common crime in Vietnam and it can come in various forms of purse snatching or taking your wallet out to pay a motorbike taxi, etc.. The owner of my hostel, warned me with what I'm about to tell you….
Tip:     Keep your bag and camera in front of you and hold them close to your body. Practice street smarts and don't make yourself an easy target, by being distracted with all the sights. Be aware of your surroundings and possessions.  Read Ways to Outsmart Thieves
Read 8 Safety Tips for Solo Travelers
3. Leave credit cards in your hotel safe
Vietnam is a cash based culture so you will likely not be able to use your credit cards anywhere other than western hotels.  Additionally, do not leave pickpockets with an extra thing to stealo.
4.   Be prepared to haggle in Vietnam
Haggling is a friendly courting ritual to locals. But the Vietnamese are not very Rico Suave about it. Simply ask how much something costs and you'll see them size you up, as their brain scrambles to calculate a markup! Definitely no poker faces here.
Good sellers might even walk you through if you're a timid beginner to the system.  When I asked the price of a garment, I had one Hmong lady tell me  "60,000 dong. …You go down, I go up!"
Tip:    Know haggling is expected and you'll almost always will be given a markup for being a tourist. My biggest tip would be, don't look rich.  When I know I'm going into a haggling situation, I remove the bigger bills and load my wallet with coins. Usually, when a seller sees my purse and hears the loud jingle, they either assess me as a cheap or poor traveler. When I say, "This is all I have." It's arguable.
5.   Some places have curfews
Even big cities like Hanoi and Saigon seem to sleep around 11:00 pm (though it might be earlier).  Bars and clubs stay open, but restaurants and businesses will definitely be closed.  This means, hostels and guesthouses close relatively early, as well.  Some have a night guard to let guests in or a doorbell outside you can ring. Otherwise, lobby lights are off, front desk person is sound asleep on their cot in the lobby. Internet… off.
Tip:    Confirm with your hostel/guesthouse if there is a curfew. Ask what protocol is if you come home late. If you've reservations but you suspect your flight may arrive late, tell your guesthouse that you may be arriving late so they don't give your room away!
6.   Vegetarians are welcome
Vietnamese food is occasionally vegetarian-friendly and some restaurants will even advertise "Vegetarian food" outside on their signs.
At a seemingly hip Hanoi café called Gecko Restaurant, I ordered a vegetarian shrimp and vegetable curry, while downloading my email on my iPod Touch via free WiFi.  I mentioned being a vegetarian and what arrived was… surprising. The shrimp looked different; it didn't taste, chew or feel like ordinary shrimp. Convinced I got a "chewy squid and vegetable curry", I queried the waiter.
He explained, "Vegetarian shrimp! Mock shrimp, not real shrimp."
There you have it. Vietnam has mock meat! It wasn't the tastiest mock shrimp I've had, but I was grateful that Vietnam recognizes my veggie needs!
7.  DO the budget tours in Vietnam
Vietnam is one place where taking a local budget tour might be more economical than doing it on your own.  I'm serious.
Before traveling Vietnam, I priced online tours I was interested in; some were not cheap or even moderately priced. In Vietnam, the price for an all-inclusive tour dropped to something more of a budget backpacker (even less)!  Often, those costs came to a draw in price had I done the tour on my own! Vietnamese tours are all-inclusive from transportation, English-speaking guide to food and accommodations (hotel stays were better looking than rooms I'd booked on my own!), which makes the prices feel almost scandalously cheap!  Halong Bay, Mekong Delta, Trekking in Sapa,… are three of the tours I took.  Take the tour.
In some cases, you make the obligatory cultural/shopping stop to a rice paper factory, etc.. (a complaint for some), but these can feel educational.  You see how rice paper is made and at the end, you have the option to buy the homemade candy.  Extras like this only enhanced my cultural awareness of Vietnam, the region, and this welcomes a bit of commerce to an area that can use it. With the money I saved doing a day trip on my own, I bought the candy for souvenirs for my Korean teachers back in Daegu. Also, I never knew how rice paper (aka from spring rolls) were made; it's a fascinating process!
READ How to Find a Good Budget tour in Vietnam (and not get ripped off!) 
.
8.   Don't get left behind on your tour
Vietnam is a giant tour factory, where tourists on tours get shuffled around like cattle. You can easily get left behind, if you're not in close to your group (especially if you're a solo traveler.)
There are many Vietnam tours running at the same time; it was easy for me to lose sight of my group several times.  I almost got left and that was scary. Vietnamese tour operators don't give you an tour itinerary or an emergency phone number to call.
When I took my Sapa tour, I met at the agency office,  jumped into a van and rushed to the train station. At the train station, an agency rep gave us our tickets for an overnight train- it was all flash and blur. Apparently, someone with a sign would be waiting for us. I assumed to stay with my group but our group was split up into different train cars and when we arrived early in the morning, I forgot what my group looked like.  I was on the verge of tears when a fellow traveler from our group recognized me from our van in the parking lot… where everyone was already sitting and waiting.
As a solo traveler, I'm not easy to see or remember. Couples and groups are easier to remember than singles.
Tip:   Don't get left behind. If you're a solo traveler, make yourself visible, seen and heard.  Keep the number of your tour agency, hotel and/or guide and keep up with your group. Also, have at least, one person from the group account for you.  
9. Vietnamese carry their houses on their motorbikes
Okay, so maybe the Vietnamese can't carry an entire house on their motorbikes but if there were a country that could, you'd bet the Vietnamese would be the first to try.  The Vietnamese are crazy about their motorcycles!
In fact, the one thing that makes Vietnam very unique of all the Southeast Asian countries is that the  Vietnamese transport a lot on their motorbikes, from a mountain of caged chickens to dresser bureaus and furniture… a whole gamut of things which will make your jaw drop.
This makes the Vietnamese very skilled motorists and … a little dangerous.
10. Do not show anger
Vietnam is a saving face culture and anger is looked down upon. If your temper flares it will be a loss for both of you, so it is important to remain calm and your opponent will do the same.
11. Wear appropriate clothes at the temple
It is important to show respect when entering temples, so you'll want to wear appropriate clothes.  Keep the chest and shoulders covered. Women~ dresses must fall below the knees and avoid tight fitting clothes.
12. Remove footwear in temples and houses
One must always remove footwear when entering a temple or a Vietnamese home.
13. Do not point your finger
It is considered rude to point your finger in Vietnam. Instead you might wave someone to you with your palm down or use your pinky finger if you want to be more specific.
14. Embrace motorbike and car honking (or buy earplugs)
You'll hear a lot of car, truck and motorbike honking in Vietnam.  A lot.  Returning to Hanoi from Halong Bay, my bus seemed to honk every 45 seconds.  Not kidding.  The "honk" is a clear heads up to motorists that you are passing them on the side. Are you a light sleeper and did you book a street side view from your hotel?  Think again.
15. Your hotel will ask to hold your passport
Leaving our passports with a stranger feels scary to most of us. Some hotels and guesthouses in Ho Chi Minh city may ask to hold onto your passport for time of your stay with them.  Some countries can be like that, using it as a type of security deposit. Travel Tip: Take a photo copy of your passport and leave that with them instead.
16.  Walk slowly when crossing the street
Crossing a Vietnamese street can feel scary as there are traffic signals for pedestrians. It will take some time before you feel comfortable with it.  Walk slowly when crossing a street in Vietnam. Give traffic time to see you so they can weave around you. Read more tips here.
17.  Eat street food but carefully…
"Avoid the  street food! " some say; yet many travelers continue to eat it and live to tell its tale.
Street food is a big part of local culture and the fast food preference of hungry Vietnamese. Cooked on the spot, you can cop a squat on a plastic foot stool and look through menus, ranging from a cardboard sign to a grease splattered one page carte du jour. It offers front row ground-level seating to the popular local spectator sport of street watching!
Food Safety Tips:  Always eat from stalls where the food is prepared on the spot and cooked hot.    Never eat raw, uncooked meats or cut/peeled fruits.  Avoid salads, as you don't know if it's been washed with tap water.  Pho is a good dish to try at a stall, if it's made hot. Always go to stalls that you see many Vietnamese at. Observe how they clean their utensils.  For tips on water, keep reading…
18. Avoid the tap water
Avoid tap water at all costs (only drink bottled water!). In Vietnam, the tap water is undrinkable and even the Vietnamese avoid using it for food. In restaurants and cafes, ice is often bought from a vendor, but it's always best to be cautious.  When I was in Vietnam, I used bottled water to brush my teeth.
Tip:  Plan on staying in Vietnam for a while? Get a water purification device like a SteriPen.  Read my review and watch my video here.
19.  Protect your trip with travel insurance
Vietnam is an adventurous country and although it is relatively safe in physical crime, it is always safe to protect your trip with travel insurance.  As a country with adventure activities and motorbikes, but also potential petty theft, I highly recommend World Nomads trip insurance. It covers adventure activities and theft.
20.  Vietnamese buildings are long
Some places in Vietnam, you'll notice buildings are built long vs. wide.  The reason for this ~ rent and real estate is not charge so much by square footage but by storefront width.  The wider your building is on the street, the more you pay.  Thus, Vietnamese build their apartments to be long instead.
21.  Eat Pho
Vietnam is a huge rice loving country! As such, you'll find a lot of rice based dishes from meals with rice, rice paper spring rolls and pho. Pho is a highly popular noodle dish in Vietnam. They are thin rice noodles cooked in a meat broth, occasionally served with some vegetable garnishes on the side. You add the veggies in your bowl when your broth is still steaming and that's how the veggies are cooked.  Vegetarians will be hard pressed to find a pho broth that is not meat based when hitting food stalls on the streets, but some international cafes directed more towards European tastes, may have vegetarian options.
READ Top 5 Risky Things to Do in Vietnam
22. Getting around in Vietnam
There are many ways to get around Vietnam and I'll quickly run through them.
First, Vietnam is the home of Motorbike madness. are like Vietnamese couches.
• Motorbikes  :   You can rent a motorcycle to get around. Vietnamese can do everything on their bike- eat sleep, cuddle, lounge, hangout, text, AND are very distinct in that they're versed in the fine are of  balancing things on it.  What does that mean? Unless you're an experienced motorcyclist, Vietnam is not the place for a newbie to learn, unless you went to the countryside.
  Motorbike taxis (xe om) : You can taxi around the city on a motorbike taxi. Generally they'll let you pack two people (maybe more). You should always be careful of them though. My girlfriend got her money stolen from one. Travel tip: Use GrabBike or Uber-Moto motorbike taxis- they are safer, easily to track and reliable. Download the app before you arrive.
Motorbike tours are for the adventurous.
Cylo  (aka slow rickshaws mostly for tourist sightseeing.  The government is trying to shut them out of the cities, so if they're still around when you get there, give it a try. Generally they charge by the hour),
Hop on- Hop on Buses.  Open tour or Open Tickets: Air-con buses run between HCMC and Hanoi and passengers can hop on and hop off the bus at any major city along the route.  They have deluxe sleeper buses.  Prices are reasonable. A through ticket from Ho Chi Minh City to Hanoi costs between US$25 and US$45, depending on the operator and exact route. Try to book the next leg of your trip at least a day ahead.
Shared vans— Vans don't lèave until they're full. In order to squeeze more people in, the tour operator or bus driver might pull out plastic stools for aisle seating.
Rail ,  taxis,.. sleeper buses and flights
.
Get your Onward Traveling Vietnam
What are things to know before you go to Vietnam?
---
Best Travel Insurance for Vietnam Travel
American travelers often pay a premium on travel insurance.  World Nomads offers economic solutions for travelers who seek security and peace of mind.  It covers 150 countries.
Essential Tips for Traveling Vietnam (Video)