Last Updated on October 13, 2020 by Christine Kaaloa
For the past several weekends, I've been making an effort to get out from my neighborhood of Singi in Daegu and explore other cities in Korea. Why? Aside from the inexpressible gasping-for-air-need for escapism I've been experiencing in culture shock, depression and frustration.
What is there to do in Daegu? Well, not a whole lot. For a "fashion capital", the city has got surprisingly no sense of style. The city is a generic grey and I've yet to experience a significantly special or unique quality in it to make it stand out from other Korean cities. There's the annual Daegu Biennale if you like art, a Costco (which is very thrilling to me), a few Loving Huts if you're vegan/vegetarian and some very good hiking spots. But if you live there, things can get to feeling old fairly quickly. Still, there are a few nice things for you to immediately hook up with to get a feeling of the city.
Top 6 Things to Do in Daegu
1. Shop and socialize at Banwoldang
Banwoldang a shopping, restaurant/bars and nightlife area that is like a sprawling maze and at night, is lit up as if its Las Vegas strip on crack. Most expats come here to eat, clothes shop, get a haircut (my salon does the ever popular magic volume hair style), get coffee and bar hop. In essence, many come to "hang out". A favorite local expat haunt is Buy the Book Cafe, where they serve vegetarian meals and have free yoga classes. There's a nearby local YMCA (sharing the same stop) which offers inexpensive language classes, as well as Herbal Street and Art Street (a street with a couple of art galleries and coffee houses).
Getting There: The Daegu metro makes a stop at Banwoldang.
2. Chilseong Market (traditional)
Chilseong Market is a giant fish, produce, herb & hardware market that has the rugged demeanor of farm and country folk. Exploring this market will either amaze you or shock. Yes, fresh Korean food can give you fear factor. It's not like the United States where your food comes pre-packaged or frozen. You'll see heads and eyes on it here. Taking a trip down the row of pork sellers was a trip for those with the stomach to see pig heads perched for display on each table; one thing is for sure- if you're a tourist, the only souvenirs you're sure to get are pictures. You will smell its waft before you even emerge from the train station. People who enter the train from this stop, usually bear some kind of faint odor on them.
Getting there: The market is located outside the Chilseong metro stop.
 3. Hike to Gatbawi
During exams, it's said that many parents hike to Gatbawi to pray for their children to pass. It's also a great place to hike. Sitting at the peak of the mountain is a giant rock Buddha sculpture, where you can say a prayer and light incense or place a coin on the rock. You can either hike the stairs or the trail. If you want the more scenic route, take the trail. If you want a workout, take the stairs… it's an intense climb.  (Read more and get directions to Gatbawi here)
Note: You can do a day trip to Haeinsa Temple from Daegu.
4. Dongwasa Temple and the Giant Standing Buddha
In Mount Palgongsan, the Donghwasa Temple heralds giant standing Buddha. It's pretty impressive and similar to Bongeunsa Temple's standing Buddha in central Seoul. There's a beautiful Korean Buddhist temple there, which holds a lantern festival during Buddha's birthday.
Getting to Donghwasa Temple: From Dongdaegu Train station,  exit next to parking lot No. 3 and go to the bus stop located nearby and take Express Bus No. 1 (about 45-min). Get off at entrance of Donghwasa Temple Bus Stop and walk about 8 min to the temple.
5. Experience a Korean jjimjilbang in Daegu
Jjimjilbangs and bathhouses are an interesting cultural experience that you won't want to miss. Unfortunately, it demands being comfortable wearing your birthday suit in front of your own sex. A jjimjilbang is a 24-hour bathhouse that allows you to sleep overnight; whereas a Korean sauna/bathhouse is just there for bathing. The waters are generally herbal and all tout medicinal properties to help heal different ailments (so Koreans believe). There's a handful of these all around town:
Sungwon Nexus Jjimjilbang- located in Manchon-dong,Daegu, not far from Dongdaegu station. Website: http://www.swnexus.co.kr/
Goongjeon Lavender – located in Shinam-dong, Dong-gu, Daegu, near the Pyeonghwa Market and Dongdaegu Station. Website: http://www.goongjeon.com
Palgongsan Spa– located on Mt Palgongsan (has hotel accommodations). Outdoor hotsprings, oxygen room and more. Take bus Palgong1(팔공1), Palgong3(팔공3) to Palgongsan Donghwa Facilities Complex.
Hwangso 25hour Goodle-bang Sauna is located in Eegok-dong, Dalseo-gu, Daegu.
Read: Sleeping at a jjimjilbang and check out my favorite jjimjilbangs in Seoul.
6. Daegu City Bus Tour
When you feel like you need to know more about Daegu, take the Daegu city bus tour! It makes a round of stops of Daegu's highlights. Many of these spots are on it, as well as some odd choices. It's where I discovered my first jjimjilbang (outdoor naked spa) at Palgonsan Mountain. Also, during specific seasons, there will be special events like Strawberry Picking or farm tours. Here's one of the Daegu farm tours (a farm tour, Herbs Hills, Herb street) that we got to do via EPIK.
Getting There: Outside Dongdaegu KTX station, near the taxi pickup/drop-offs
Visiting Daegu? Take the Daegu City Bus Tour
Medical and Dental
The list of English Speaking Doctors and Dentists in Daegu
Where to Shop in Daegu
The most popular and convenient spot for tourists to shop in Daegu is Banwoldang to Jungangno and the underground boutiques in the metro station. Some boutiques do not allow you to try on clothes.  There are many Emarts and HomeMarts, large one-stop shop for anything from home appliances, groceries, and clothing. Daegu also has a Costco, so bring your membership card if you home to go there. You will need to use cash or a different credit card, however. Family Marts are convenience stores like 7-Elevens for fast snacks and incidentals.
Where to Stay in Daegu
Novotel Ambassador Hotel  Classic, modern international hotel in the business district near the KTX station, metro and airport. Not an abundance of things to do in this area but safe and clean. My parents stayed here when they visited me.
Daegu Prince Hotel  Slight older hotel but location convenient in heart of Daegu, with easy access to sightseeing. I stayed here for a university interview.
Hotel February Dong Seong Ro Boutique hotel. Location convenient, near Jungangno and Banwoldang stations, in the heart of the shopping/social scene in Daegu. Good reviews.
Getting Out and Around Daegu
Daegu is smaller than Seoul so it's easier to move around. With a great metro and bus system, you can hit major attractions. There is a simple domestic airport. There is also a KTX station at Dongdaegu Station and secondarily at Daegu Station (the cost to Seoul is approximately $75+). A KTX train to Busan takes roughly 2 hours or a little more for Pohang. Tip: During winter, train stations are not heated. Website: http://korail.com
Taking taxis are also inexpensive and nowhere near the cost of a taxi in New York. Black sedan taxis cost more than regualr taxis as they are private.
Long Distance and Express Bus terminals in Daegu can be confusing as there are four bus stations in Daegu, mostly positioned towards the directions of the cities they're headed to, but not always. Thus, they are slightly named with the Korean word for north, south, east, west.  You can see schedules at: https://www.kobus.co.kr/main.do. But you must go in person to book or have a Korean resident book it online for you.
From Daegu long distance bus terminals, I've visited Andong Mask Festival, Jinhae Cherry Blossom Festival, Boesang Tea Fields, Jeonju.
Main bus station Dongdaegu Dongyang & Hanjin Express Bus Stations (to Seoul, around $24 OW) is a couple of blocks across Dongdaegu Station (location:148, Dongbu-ro,  대구광역시 동구 동부로 148 (신천동).  Here's a breakdown for Daegu bus stations and transit info.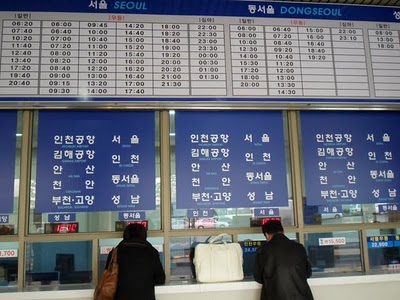 Getting to the Airports from Daegu
Daegu to Daegu Airport
Daegu airport is a small domestic airport. It's easiest to take a taxi. Don't forget to bring snacks with you. The airport is limited in snack shops and restaurants.
Daegu to Incheon International Airport or Gimpo Domestic Airport, Seoul
You can take the express bus from Daegu to Incheon Airport (Seoul) : 4 hours, Seats 35,800 원 . Take this bus through Hanjin express bus terminal.
Or you can take the KTX train from Dongdaegu terminal to Incheon Direct. An alternative option is to take the KTX to Seoul and transfer to the AREX train to Incheon or Gimpo.
Daegu to Gimhae International Airport, Busan
Daegu to Gimhae International Airport (Busan)  takes a little over an hour, depending upon traffic. General seats 7,200원) Take this bus through Hanjin express bus terminal.
You can also take the KTX, but you'll need to do a couple of transfers to get to the airport. See my Busan city guide. I do not advise taking the earlier morning flight from Gimhae if you're planning to travel overnight during winter. Train stations are not heated. See how I made that mistake.
What are some of your top things to do in Daegu? 
Related Posts:
Korean Culture & Etiquette
Travel Tips for Seoul
10 best things to do in Seoul
Things to Do in Suwon in 48 hours
Things to Do in Busan in 48 hours
9 Best Neighborhoods in Seoul

Watch Top 5 Tips for Korean Culture & Etiquette
Disclaimer: This post contains some affiliate links. By making a purchase through them, it helps me maintain my website.  I only recommend services I would use.
Looking for travel insurance?
American travelers often pay a premium on travel insurance.  World Nomads offers economic solutions for travelers who seek security and peace of mind.  It covers 150 countries.