Last Updated on August 23, 2017 by Christine Kaaloa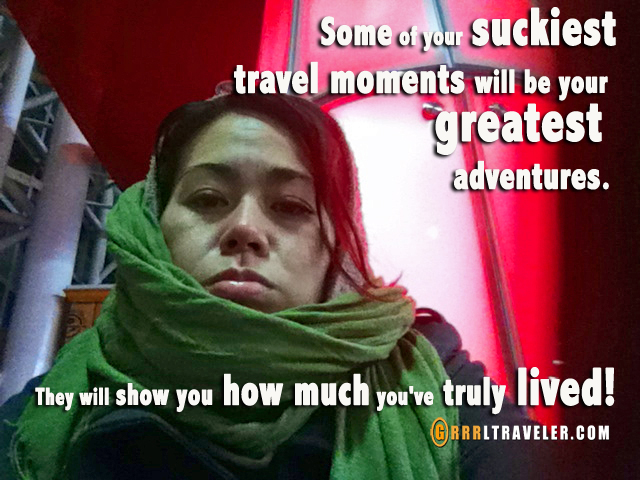 In my last post about survival trips, I told you the things I did well.
But obviously, everything wasn't smooth-sailing.
If you're pulling a last minute trip with multiple desitinations, you're bound to have flaws… big ones.  So while I aced most of my trip, there are a couple of things that I failed big time in too.
Here's some of those more memorable car crashes.
Things I didn't do well…
1.  Beware of layovers when booking cheap tickets.
Double-check those dates and times before booking that cheap ticket. Not all layovers and connecting flights allow for sufficient time to get to the next gate, which could be in another terminal or worse, another airport. Sometimes, there's other troublesome factors, such as a transit visa requirement or having to exit immigration and go through through the check-in process again.
I had an evening flight to Fukuoka, with a connecting flight to Korea.  My layover appeared to afford a two hour leeway to get to the next gate. Upon closer examination and research, I discovered my connecting flight was nine hours later and the airport didn't allow sleepovers in its terminals.
.
2.  Never assume

all

airports let you sleep in their terminals
Most travelers assume you can sleep in terminals, when you have a layover flight.  80% of the time, they may be right.
Fukuoka International Airport stood for that other 20%.
The airport closed at 10pm and didn't open until 6 am, so I was forced to find lodging for the evening. If you have to book a hotel only for sleeping, then guess what?… that cheap ticket ain't so cheap. Luckily, I researched backup options before arriving. I was able to see Fukuoka and then bed down at the cheapest (under $15) accommodation in Japan, a manga cafe.
3.  Winter seasons are the worse times to go hobo and sleep in a train station
Between budget traveling and last minute planning, one is bound to encounter rough times. Peak winter conditions make it worse.
I had to get from Daegu to Gimhae Airport (Busan) for an early morning flight.  So I decided to catch a 2:30 am train out of Daegu to Busan. In Busan, I'd wait an hour, before catching a 5:30 am train to the airport. It felt like a perfect plan.
There's one  thing I wished I remembered about Korea…
Public places aren't heated during winter.
Do you know that there's no place to hide from the cold in an unheated train station during winter? It was the first time I wished I could bundle my entire face
I spent nightmarish hours freezing in a lonely train station at midnight, before losing all inhibition and digging out my sleeping bag to bundle myself from hypothermia. That sleeping bag was a life-saver! But it was so uncomfortable, I couldn't even nap.
On the train, I was cozy. But arriving at my transfer train station, I was back to an hour of deep-freeze, standing huddled and shivering in front of a heater, which only blew out luke-warmish air.  It was the most miserable night of my life!
4.  Plan (and book) your itinerary first, then change it later.
I was almost homeless in Hong Kong, because I wanted to leave my last night open to surprises… try my hand at Couchsurfing or take a sponsor up on a hotel offer.  But when my hostel said that they were over-booked on that last night, my insides churned. Shit. I didn't have a backup.  I had two days to find a place and though the time frame was adequate for finding a hotel, my bank credit card kept getting flagged by online foreign bookings and the only two computers at my hostel, were always full.
Eventually things worked out. My hostel opened a bed for me on that day. Meanwhile, a cry for help on my Facebook status, also turned up a reunion with a fellow yoga school alumnist, who lived there.
5.  Know your hotel check-in and check-out times.
Is this how a homeless person feels in winter?
That's a thought that crosses your mind, when you're wandering around an ice cold station, looking for a warm place to hang or even sit!  It was 7:00 am at Kyoto Station and it was too early for shops to be open. It was also so cold, I could've licked the ground and not caught a single germ. I roamed up and down the hallway of a Japanese hotel, trying to look like a normal guest, so they wouldn't chase me out of the warmth. I was waiting for the tourist office to open at 8:30 am.
When I finally got to my cozy guesthouse at 10:00 am, I asked the hostel receptionist if I could store my luggage until check-in. She told me that I could've checked into my room as early as 8:00 am, at no additional cost!
Always check your hotel check-in/out times. Nuff said.
All in all, my trip did turn out to be pretty great though.
As bad as the rough times get for any traveler, they only add to the story, serve as future lessons and test how remarkable we truly are in surviving things.
It's actually these moments, which make me feel alive,  like I'm living on the edge, which is not how I usually see myself in normal everyday life.
It shows me I've got GRRR.
Perhaps after all this traveling, I'm ready to join the army, be a penniless hobo or even move back to New York. =)
Who knows…. I'm capable of many things.
Next:  Insider tips on how to survive a last minute trip (Part 4 of 4)
Related Articles:
Insider tips on how to survive a last minute trip (Part 4 of 4)
Surviving a last-minute trip: Things I did well and things I didn't  (Part 3 of 4)
Surviving a last-minute trip: Things I did well and things I didn't  (Part 2 of 4)
Taking a last-minute trip that saved my life (Part I of 4)