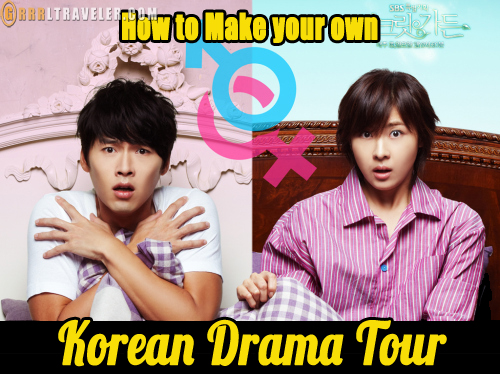 Koreans seem to own the formula on great drama. Korean dramas are a growing addiction around the world.  Popular in Asia, in parts such as Japan, Thailand and India; the rage has even been making itself known in the U.S.
My mother has watched 92 dramas (probably more than any Korean) this year alone! I cannot imagine watching that amount of dramas in one year less a lifetime. Her friends, bitten by the k-drama bug years earlier,  surpass her ranking. Hard to imagine, right?
If you're planning your Korea trip, you'll want to see your favorite film spots to relive your favorite dramas. Here's how to make your own Korean drama location tour…
Table of Contents: How to Make your own Korean Drama Location Tour



The popularity of Korean dramas
Korean drama clubs and film tours are beginning to spring up, with sightseeing itineraries to feed drama-hungry fanatics. Thanks to the Korean Tourism Organization and its publishing drama locations on its tourism site, fans don't have to waddle up steep cash for a guided tour to locations of  their favorite shows. Instead, they can make their own itinerary. Although sitting with a busload of crazed fans to share your passion is equally fun, I imagine…
How to find Korean drama locations in Korea?
Korea reels with locations and you may accidentally stumble upon a few and not even know it! That's how I've come upon some in Gyeongju, Seoul, Jeju Island… and if the drama is really popular, it may sport an advertisement banner to  recognize  the spot, like the Pasta drama sign outside a restaurant.
How to make your own Korean drama location tour?
The Korean tourism website shares basic travel information with addresses, directions and website information. It has sights and attractions many western guidebooks and blogs lack. Navigate to their Theme Tours tab. Click on Film Location Tours . It will show the popular Korean drama shows and movies and when you click on them, they reveal some of the film locations they shot in.
2. Research and map your itinerary.
It's as easy as that.
3. Seoul and Jeju Island are the best spots for multiple dramas.
Many Korean dramas film in Seoul and Jeju Island, so the locations are endless. Some obvious Seoul spots are: Inhwa Mural Village, Bukchon Hanok Village, Hondae (for theme cafes), Namsan Seoul Tower (locks of love). Meanwhile, Jeju Island is known to Koreans as the Hawaii of Korea, a romantic island paradise for honeymooners. Jeju Island itself is a beautiful island with a quirky spirit, if you get the chance to tour around it. There are a lot of natural beauties from waterfalls, Mount Halla, rock formations and is the home of Korea's mermaid divers, the haeneyo.
4. Check for signs advertising the drama
If the Korean drama or movie was especially a well-loved and popular one, you will likely find a movie poster banner posted there.  Even if you didn't know you were visiting a film location, you will realize you are! Korea's tourism is very good about that.
My Korean drama location tour for my mom:
My mom visited me over the holidays, so we traveled Jeju Island and Seoul. I tailored her Korea trip itinerary to three main Korean dramas we both loved. Along the way we found more locations but these are the ones we liked best. Here's an example:
Seoul Film locations

Myeongdong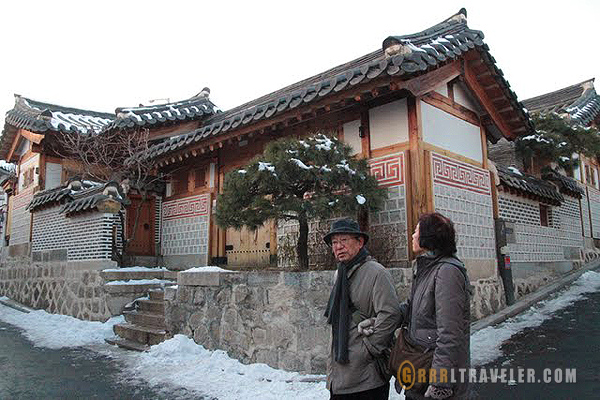 Bukchon Hanok Village in Samcheong-dong boasts Personal Taste & a handful of other shows.


Jeju Island Film Locations
Read: Top 8 Things to Do on Jeju Island
Teddy Bear Museum, Jeju
Read: Teddy Bear Museum on Jeju Island

Seeas  Hotel, Jungmun Resort Area, Jeju Island
See inside the hotel here.
Oedolgae Rock, Jeju Island
Where to buy Korean drama fan paraphernalia 
So you're a fan and want to build your fandom of you favorite K-pop or Korean drama star with pictures, notebooks, keychains, socks. Where can you buy it?
Seoul has a handful of shops selling celebrity paraphernalia.  There's the gift and souvenir shops in Insadong (on the main walking street), Namdaemun Market, a small corner shop in Myeongdong's subway near one of the exits (wish I could remember which one!).  The latter you can even buy K-pop CDs and subtitled versions of the K-dramas or films for cheap.
Read Top 5 Souvenirs to Buy in Korea
If you walk through the markets or underground subway stores of big cities, you'll find skin care shops with Korea's most popular pin-ups. The skin care shops such as Faceshop, It's Skin, Tony Moly, Missha occasionally offer freebie sample products with celebrity faces on them. I'm a fan of Faceshop. I took my mom in and she got a free face pack with Rain on it; another time, she got a free box of cottons with 2PM and Kim Hyun Joong on it!
What are some of your tips to planning a Korean Drama location tour? Which dramas would you love to visit sites for?
Related posts:
Jeju Island Travel Survival Guide
Bukchon Hanok Village
Top things to do in Seoul
Related Posts on Art & Film
My top 13 Fave Bollywood Films
10 Things you learn from watching Korean Dramas
Hi Seoul Festival & Media Seoul
How to Make your own Korean drama tour