Seoul makes my blood race. Sometimes there's an ongoing list of things of events taking place or sometimes, I just have to create my own ways of having fun.
People often ask me if traveling in Seoul is expensive. It doesn't feel that way.  Gauged by the U.S. dollar, Korea is inexpensive.  But the great news is that there's a lot of top attractions in Seoul that you can do for free or inexpensively.
Top 10  Things to Do in Seoul
1. Seoul City Bus Tour
For a first timer to Seoul, this is my top recommendation for your very first day. Korea's government-run city bus tours   make a budget tour and vacation possible, across the country. Starting with the Seoul City Bus Tour, it's easy to get around and see the main sights within a day with this tour. The service is cheap and it's fastest way to see the city's highlights. A hop-on/hop-off course tour, it hits almost every tourist area you'll want to see from your guidebook. It offers a day, night and palace tour route. Best of all, it costs only 10,000W ($9 USD), which is cheaper than a cab. I threw my family on it– knowing my parents are old and don't like walking much, the tour made their getting around more efficient and easy.
The entire course (without getting off) takes 2 hours. Buses run every 40 min and there are headsets aboard if you'd like a short summary (very short) of each place as you pass by.
Where to buy tickets:  At Donghwa Duty Free Shop in Gwanghwamun ( Gwanghwamun Station, Subway, Line 5, Exit 6) . It's also the start of the tour.
Recommendation:  The  last section of the tour, whizzes by the Blue House (aka the President's House) near the Samcheondong district. You won't actually see it, but you'll see the guards standing outside the gate. The last tour will miss this section, so make sure you're on one of the earlier tours.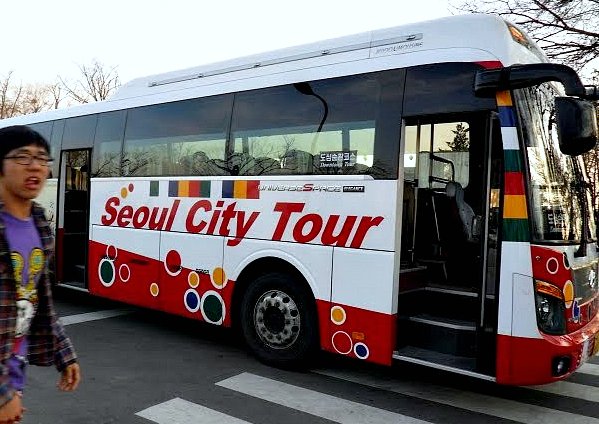 2. The DMZ Tour

As the tensions between the North and South mount, why not take a Demilitarization Zone and Joint Security Area Tour to understand the history (and occasional humor) of what goes on at the front line. I won't lie, it's pretty intensely cool and a bit haunting. Tours range from full day and half and include lunch. Itineraries vary from: DMZ, JSA, Dora Observatory, Freedom Train and 3rd infiltration tunnel
Joint Security Area . The area between North Korea and South Korea. This is the closest you'll get to North Korea.
Mount Dora Observatory: You can use the binoculars there to see into Korea
3. See Seoul from the back of a friend's scooter
I hear Seoul drivers are pretty crazy on the roads (Read my post on driving in Korea). But it's actually the food delivery scooters, who literally make up their own rules at times. Nevertheless, Seoul is pretty impressive, when you're viewing it from the back of a scooter, shooting over bridges and weaving through traffic.  You feel like you're getting to understand a bit of that crazy local energy that Seoul is and you've got front row seats!  If you have a friend with a scooter, no other form of transportation will beat it!
 4. Brush up on Seoul's arts and festival scene
While other cities and towns in Korea offer you a taste of  a "historical and traditional Korea", Seoul is your gateway to more a modern, international and contemporary scene.  Check out the art museums and galleries, like the National Museum of Modern and Contemporary Art of Korea, a traditional contemporary museum of Korean artists (near Gwangbukgung station) or the Seoul Museum of Art, the Korean version of the Tate Modern and Saatchi Gallery combined.
 Also, Seoul has festivals like Buddha Birthday and an annual Hi Seoul Festival in October to kick off contemporary performance arts and artists around the city.
Check out  Korea Tourism Organization website.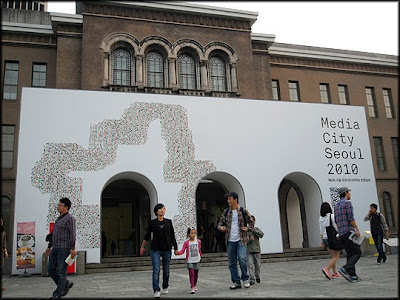 Media City Seoul exhibition at the Contemporary Museum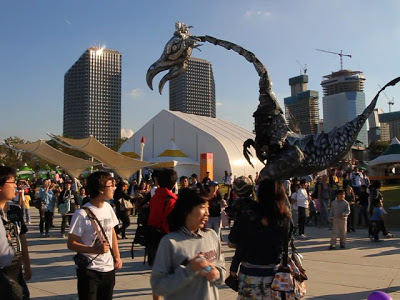 Hi Seoul Festival


Buddha's day lantern festival
5. Best Shopping in Seoul
Cultural gifts or fashion… what is your thing? Seoul sprawls with neighborhoods for eye-shopping (the Konglish term for "window shopping") .  Explore its nine famous neighborhoods and what they have to offer in entertainment, nightlife and shopping.  A few shopping faves are:
If you're twenty-something, you'll love Hongdae ( Hongik Univ. Station ,Exit 6 ) and its quirky theme cafes. A trendy spot for Hongdae University collegiate shoppers, you'll find boutiques, bars, hostels, restaurants and more!
Insadong ( Itaewon Station,Exit 1 ) handles traditional arts of Korea and there you will find art galleries and arts (such as traditional paper, teas, hanbok and pottery), souvenir shops, high-end boutiques, street craft vendors and restaurants.
Myeongdong (Myeongdong Station,Exit 5, 6, 7, or 8 – ) is for the shopaholics seeking the latest in skin care and fashion. At night, street hawkers come out for more shopping and food.
Coex Mall (Samseong Station,Line 2, exit 5) is a favorite to those looking for Korean brands (and an Apple reseller store). It's a nice mall with boutiques, restaurants, a kimchi museum and a noteworthy Coex Mall aquarium with some exotic breeds and exhibits which can only be labeled at Korean fun (but quirky).
Cameras, computers, electronics and appliances… Yongsan Market (Yongsan Station, Line 1, Exit 2 or Sinyongsan Station, Line 4, Exit 5) is up your alley
Skin care shops are also popular with everyone. The skin care products in Korea are hitting their competition hard with great skin and naturally flawless beauty (with some BB cream help!). Generally, they'll have posters of popular celebrities and a girl outside offering a nice package of freebies!
Are you a fan of Korean drama and K-pop? Seoul isn't only the capital of Hallyu, but it's got  paraphenalia to dress your Kpop fandom with (at Insadong, Namdaemun, Myeongdong subway station= can't remember which exit!).
Read Top souvenirs to bring home from Korea.

Where to shop in Seoul for skin care and clothes: Myeongdong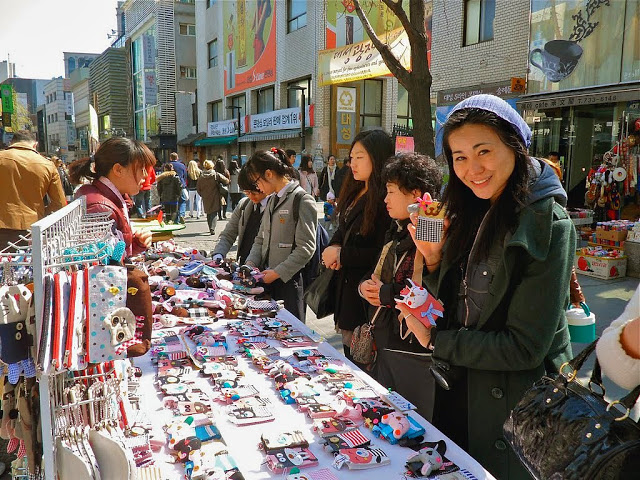 Where to shop in Seoul for crafts and traditional souvenirs:  Insadong

Where to Shop in Seoul for clothes: Migliore and Dongdaemun

Where to shop for Korean drama and K-pop stuff: Namdaemun, Insadong.


6. Traditional Korea: Palaces, museums & villages
Seoul may look impressively modern on the outside, but the city is steeped in tradition. Seoul has a handful of palaces and some like Gyeongbokgung Palace shows historical re-enactments to boost your cultural education. Changdeokgung Palace was built in 1405, lasting through the Joseon Dynasty and is a model palace which showcases principal Korean values in architecture.
There is also the residential house of the President of the Republic of Korea,  Cheongwadae (aka the Blue House), nicknamed by its blue roof tiles.
Recommended: Take Seoul City Bus' palace tour route if that's your thing. If you want more general sightseeing, take the day tour. It also offers a stop at Namgansol Traditional Hanok Village (a living museum park), the Historical War museum, and  Namsan Seoul Tower, where you can see the Locks of Love.
For another traditional hanok village in Seoul, is Bukchon Hanok Village, a popular film location for Korean dramas.

Top Attractions in Seoul: Gyeongbok Palace has historical reenactments

Top Attractions in Seoul:  Namgansol Hanok Village in Seoul (one of the stops off the Seoul Tour Bus)

7.  Meet a local : Take a Goodwill guide tour
The Korean tourism organization offers a free service to travelers called goodwill guides. The guides are  local volunteers, who speak English.  They offer tips and recommendations to top attractions in Korea. Some will share  insight into the history and culture, which will be informative.
Recommended:You must apply for a guide  in advance. They volunteer to make your stay a welcome one, so please show them appreciation.



Our Korean goodwill guide, Ken recommended eating at a restaurant in the traditional Korean market.
8.  Explore Korean Traditional Markets
If you're feeling adventurous, you may want to pull away from the  bb cream and  bibimbap and start sampling traditional Korea. You can shop the markets for traditional Korean hanbok, ginseng and electronics, you name it.
There's food stalls and restaurants to sample traditional Korean food, which may appear scary.  For a taste of blood sausage, bindaetteok (deep-fried korean pancakes), kimbap, maekeoli, etc…head out to Seoul's famous Gwangjang Traditional Market.
Traditional Markets in Seoul:   Seoul Jungang Traditional Market,  Gwangjang Traditional Market, Dongdaemun Market, Namdaemun Market .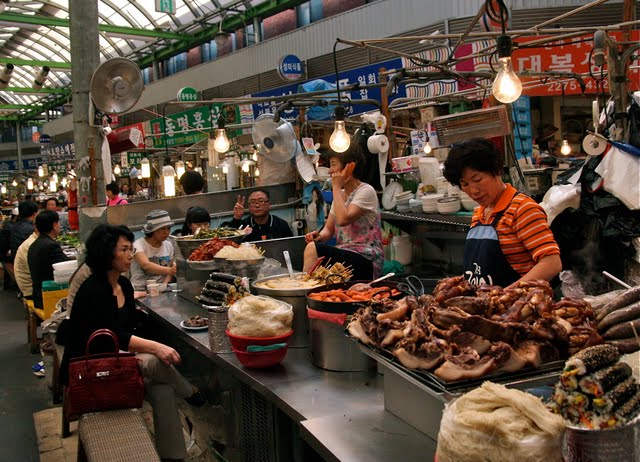 9.  Spend a day (or night) at a Korean spa and jjimjilbang
If you've watched Korean dramas, you may already know that going to the bathhouse/spa is part of Korean culture. You can relax in one of the assorted saunas which bare crystals, jade, salts, charcoal, ice… and soak in the herbal waters which are said to help cure different ailments.
Best of all, you can spend a whole day there (even overnight) for under $13 (usually it's more like $8, depending), making it cheaper than a hostel.
The drawback: Although the bathing sections are separated by sex,  westerners tend to be shy with nudity and that is unavoidable when showering. There are no private stalls as Korea is a community-oriented culture.  Just think of it this way…. you won't be the only one naked.
Jjimjilbang faves in Seoul:Silloam Sauna, Dragon Hill Spa

10. Namsan Seoul Tower & the Locks of Love
Namsan Seoul Tower is a must-see landmarks and is the best lookout spot to see all of Seoul. At night, it has a light show. For those who have big wallets and want to splurge on a  romantic affair, the tower also has a revolving restaurant.
Otherwise, it's simply nice to take a cable car up and check out the city while pouring over the thousands of lockets left by couples and friends, engraved or written on with loving sentiments. Directions to namsan seoul tower
Essentials for Seoul
More Seoul Travel Resources
Download a pdf of the Seoul Metro map

Download free Korea travel apps:4 Essential iPhone/iPod Apps for Korea
Need to rent a phone or use yours in Korea, read here.
Watch my Korea travel tips on YouTube!
Read/Watch:  
Top 5 Travel Tips for Seoul

Top 5 souvenirs to bring back from Korea
What are your Top things to Do in Seoul? Share your favorite hot spots in this sparkling city.