Last Updated on August 25, 2017 by Christine Kaaloa
Sometimes you're better off not knowing what you're eating; in this case, Korea is just a land of too much information. Why? Korean food is delicious, but pushing it past the gates of your eyes won't be easy. You might just lose all desire to order anything more than a pizza!
Welcome to Fear Factor Korea!
I've had bamboo worms and crickets in Thailand, tiger penis and cobra whiskey in Myanmar, so Korea?… I'm thinking, Easy, right?  But after I had the popular Korean silkworm larvae snack during my first week, and had to live with the sight, smell and taste of it bronzed in the back of my mind, each time I passed it on the street.Woof! Needless to say, Korea has a lot of mystery meats and Halloween-looking "country delicacies" and it has westerner mouths agape, not knowing what to make of it.
Silkworm larvae snacks are popular Korean protein snacks. You'll find these at many food stalls at hiking spots, festivals or when you don't want to see it near your food…
Clockwise & left to right: 1) sea-something,  2) flat fish, 3) dried flatfish?, 4) pig's head, 5) live octopus, 6) silkworm larvae, 7)dried centipedes sold in a bunch, 8) sea cucumber, 9) dried frogs.
Really?!
For short-term travelers and food adventurists, daredevil dining in Korea might be a snap. But for an expat who must experience the sights and smells of these foods on a daily basis, the fear factor can impregnate your mind, solidify distrust and create repulsion over time. While I like to entertain far notions of being a Travel Channel host, I have to face the sad reality… I'm not a daring foodie! I am not Anthony Bourdain.  Andrew Zimmern? Hardly. …And if I were ever cast on Fear Factor, I'd be the first eliminated. My career as a travel host?…
Dead on arrival.
What's your Fear Factor Threshhold on Seafood?
Level I:
Fish. Pretty tame, right?

Level II:
Dried Squid. Still okay?

Level III:
What about this? Some mystery fish. Not too scary, but I wouldn't buy it…
Level IV:
Whoa- yikes! What the hell is this?!  (… a favorite in  seafood restaurant fish tanks)
It's a sea cucumber. Tasty!
Level V:
Woof! Live Octopus (a Korean delicacy!)
They say it's inevitable for  vegetarians to give into eating meat
Not only vegetarians experience difficulties in adapting to a foreign food lifestyle; meat eaters do to! Yet, living in a meat loving country, it's understandable why many vegetarians yield to that white flag.
Between:
–   experiencing the seismic foreign-ness of the Korean food palette.
–   seeing seemingly strange creatures called "country delicacies",
–   a lack of western food options,
–  food menus written in a foreign language (with no translations or pictures)
–  struggling with language barriers,
… and being faced with overall starvation, it's just too damn hard!

My threshhold? Maybe between Level I and II.
Some people would say, "Awww Chris, it's not that bad" and I'm positive they're correct. It's not that bad;  it just doesn't look easy! Based on visual presentation, some of these foods not only reconfirm my fear of meat, but make me lose my appetite for food entirely.
Adapting to a foreign food lifestyle (aka Just give me a simple 'ole pizza):
Whether traveling or living abroad, you'll  be re-learning or negotiating your ABC's of food. Even something as simple as ordering pizza can yield unexpected results– you never know what the country's version of it is! The novelty of Bulgogi and mayonnaise on your pizza can wear thin after a while.
Inevitably, some expats' vacations abroad to other countries become unconscious scavenger hunts for comfort foods that are missed. As Gina & Joel of A Year in Daegu (a cute couple, who took a year's sabbatical from the advertising world to experience life in Korea and who recently went to Japan to seek out great sushi… and spaghetti) told me– "I wish Korea would stop trying to Korean-ize everything!" Yes, even something as simple and comforting as a good old-fashioned spaghetti, can give way to expat frustration when constantly bungled by a Korean-ized version of it.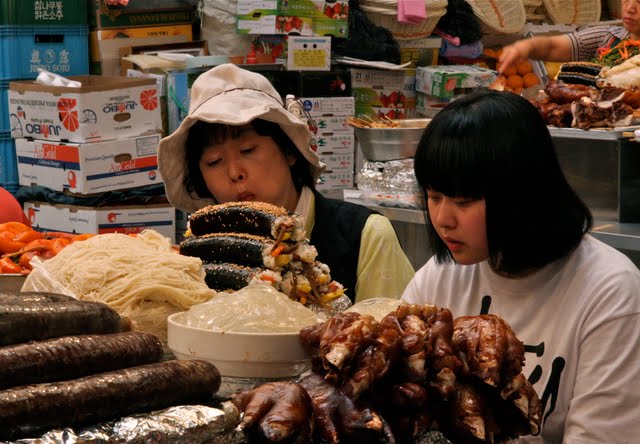 Fear Factor cures
While I realize a whole nation can't be wrong about its culinary cuisine; as a western expat adjusting to "foreign foods", I'm not used to unrecognizable things on a dinner plate, our food alive and still twitching. In fact, you kinda get turned off. So how do you get through it? Well, here's what I do…
My GRRRL food trash basket (My biggest food survival secret…yogurt cups & yogurt drinks !)
…Or you can have a native Korean friend (or knowledgeable host) help detonate the fear factor mysteries surrounding Korean food by showing you what it's all about! This is certainly very helpful and it will make your experience of Korea more enjoyable.
Take my friend and fellow EPIKer Anika, who absolutely loves Korean food! I remember the day she raved about her co-teacher introducing her to the most awesome dish that inspired her taste buds on an orgasmic level– blood sausages …or pig intestines (one of them…).

I'm not saying I don't like Korean food; I enjoy what I either know of or can eat of it. But sometimes, you don't even need to see some Korean foods for your stomach to clench!
Ever experience fear factor as a traveler or expat? What are some of your fear factor thresh holds?