Last Updated on August 17, 2017 by Christine Kaaloa
Does Korea have a pulse on art? Maybe.
October appeared to be the month for festivals and surprisingly scintillating art. Korea and art? Perhaps this country isn't just all world heritage sites, bundegi (my silkworm arch nemesis) and traditional crafts.
Could Seoul swing with the likes of New York City, Los Angeles, Venice Biennale and Art Basel, jet-setting continents to bring together brow-raising shows.
If last month was a sample of the future, then Korea might be on the rookie list of international contenders. I took in three world-class international art and performance exhibitions; one of them was even in.. (gasp) Daegu!
*My Daegu Biennale review is posted here

Hi Seoul Festival

2010, Seoul (October 2-10)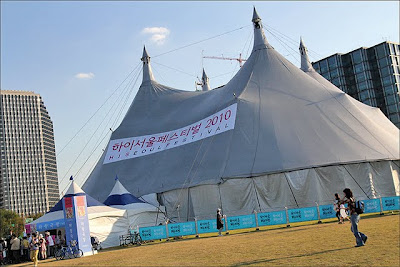 I've seen good performance art and bad, but I'd never heard of a non-verbal performance before. It was Friday night and I had to decide my weekend : Jinju Lantern Festival (according to Chris in South Korea, Seoul also has one in November; nevertheless, check out fellow EPIKer Chance's exquisite photos here) or Hi Seoul Festival ?
A non-verbal performance festival? Doubt entered my mind… The festival program seemed to offer a variety of possibility, so I took the gamble. The result was a carnival of creative flair and fun, which got me craving for more!
Hi Seoul festival wasn't merely for the art-inclined. Festivities offered much in family picnics along the Yeouido Hangang Park river, booths of interactive arts for children and an overall circus-like playfulness both, under and outside the big tent! Fresh, innovative, international art and best of all, if you were foreign entirely…free!
Okay, but what is a non-verbal performance?
The "non-verbal" part should tip you the clue that there's not much speaking involved.
These are performance arts which entertain through body, dance movement, puppetry, music and mime. Imagine a ballet duet on bungees suspended under a bridge, giant monster-sized puppets, a Belgium marionette master, Korean mimes and a spectacular showcase of fireworks!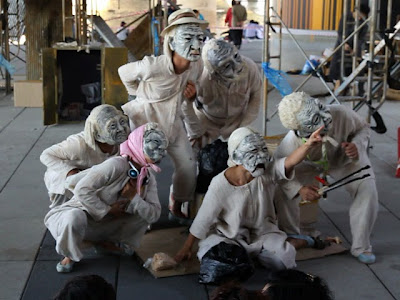 As for the grand finale of fireworks, I hear it was pretty massive and enough to stop all traffic on the bridge. Drivers shut off their car engines and got out of their cars to watch the display as lit up the sky. I fled just before the fireworks began, in order to avoid the post-fireworks crowd.
Here are video clips and photos from that day:
"Saurus" (giant interactive puppets from a group in the Netherlands)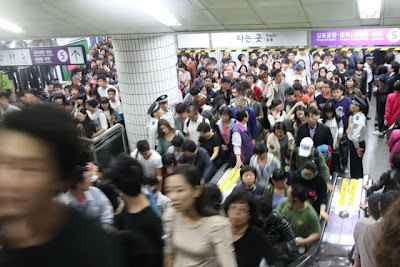 ..
---
Media City Seoul 2010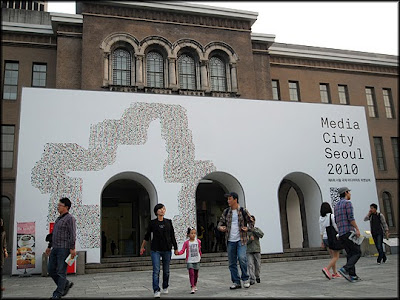 I met up with Sean, my old School of Visual Arts Computer /Video Arts alum buddy (now a media arts professor in Seoul), to see what was going on in the contemporary art world today. He led me through the exhibition, with a tour of some of the works he found inspiring.
Held in three different locations: Seoul Museum of Art, Ehwa High School  for Girls and Seoul Museum of History, the Media City Seoul 2010 (website) takes a look at the theme of "Trust" in regards to media and it's re-chartering of relationships with culture (religion, politics, social), individual and network.
Three of my memorable picks (though there are more):
1) Kim Beom's Untitled (News) is a single channel video is a witty piece which surfaces the Korean news broadcast staging.  Korean newscasters hold the same position daily and in this piece, are edited to say funny things. It makes you wonder with all the editing that's done to video and news media these days~ What is real? How much do you trust your sources?
2) Cho Duck Hyun's Herstory Museum is an interactive sound installation drawing from stories from 100 women. Audio stories are woven into various mediums from painting, installation and video and examines how the female voice is "excluded or omitted" from history.  The pieces have many connotations dealing with history's preservation of female oppression and the stifling silence of the feminine voice.
3) Kim Soun Gui's sound installation, Silence of the Well takes live sounds from an unknown room source (in the building) and filters them into the installation. Where are the voices from, no one knows; yet it's occurring in real-time and a history is occurring.