Last Updated on August 17, 2017 by Christine Kaaloa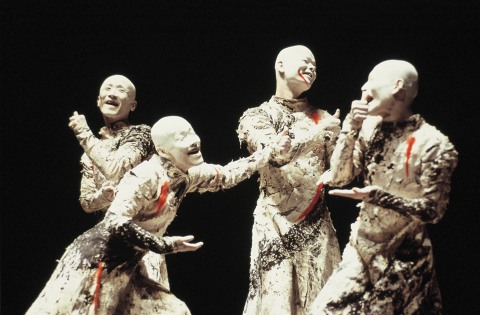 Today, I'm going to talk about something I have a passion for and I still consider it travel… DANCE!
Sometimes, I wonder if dancers don't make the best travelers… Their home is the stage, the bar or the body… there is no color or country; and as a dancers/choreographers, they hold a universal passport and gateway to language! When I watch a dance concert, I feel like I'm watching great birds with wings- it's inspiring!
So whenever I travel, I check out the Events section of the city I'm in, to see what local/international dance companies are performing; you never know what hidden treasure you might find, even in a small town! Occasionally in the past, I've even traveled to attend festivals or dance workshops (one thing I'll miss about NYC is the accessibility to all of this!).   It's been tough narrowing it down to just my fave of fave top 5 international dance companies…there's really much more. But here they are…
My Fave Top 5 International  Dance Companies
1.  Sankai Juku – Japanese Butoh Company in France
What do I not love about Butoh? I've only practiced it for a handful of years but Sankai Juku performs it with such poetic fluency to herald them as the butoh masters they are world reknown for. They are hypnotic, mesmerizing and definitely not of this world. Whatever their subject or theme- they simply are.
2. Pilobolus Dance Company– Washington
The human body is an enigma- where does the body begin and end? With this group you'll never know as languid bodies melt, spiral, fit and collapse into each other with such grace and flow.
3. Pina Bausch & Wupperthal Dance Company– Germany
Pina Pina Pina… you saw a little of her choreography in the film Talk to Me and she just kept you wanting more.  She was the Anais Nin of dance- sensual, poetic, emotional. Her choreography is reminiscent of a bittersweet love letter or the sensual kiss of a lover and after seeing a performance, I'm sure you'll agree…it's a memory which lingers all over your skin.
4. Nacho Duato- Compania Nacional de Danza de Espana–  Spain
"I watched it with all of my dreams and awakenings, through all the joys, sorrows and passionate silences of my Being. I watched it and I could not fall asleep.  I could have watched it all my life…. I am watching it still".-  Christine on the choreography of Nacho Duato.

5. Mark Morris- New York
Fun, witty, biting,… who knew that ballet could have an edge. But for this cigarette-smoking in the dance studio diva, no topic is taboo.  To have his dancers perform the tango flat on the ground and on their backs (vs vertical)  ?… What would this innovative artist not think of next?

For the armchair traveler :
Dance on Camera series 1 & 2 (2 DVDs)
Choreographers across the globe contribute innovative ideas and expressions of dance pieces for the camera.
Related Posts on Art & Film
My top 13 Fave Bollywood Films
10 Things you learn from watching Korean Dramas
Hi Seoul Festival & Media Seoul